.
Garden Diary - April 2021
---
If you have any comments, observations, or questions about what you read here, remember you can always Contact Me
All content included on this site such as text, graphics and images is protected by U.S and international copyright law.
The compilation of all content on this site is the exclusive property of the site copyright holder.
---
April
---
Yayoi Kusama: Cosmic Nature
at the New York Botanical Garden
Wednesday, 28 April 2021
---
Covid 19 shut everything down. The major event scheduled for 2020 at The New York Botanical Garden was to feature works by Yayoi Kusama. It was prudently put on hold, delayed for a year. There are changes. There will not be a media preview. There are rules and guidelines for visitors. Garden tickets include the outdoor installations. Restricted numbers of advance tickets with timed entry are required for the indoor installations. Face masks must be worn. I've made my plans, the weather cooperated, and this morning I took hold of the steering whell and set off on the 85 mile drive to the New York Botanical Garden. It will be my first visit since March of 2020.
A surprising number of people are also taking advantage of the fine weather with which to enjoy an outdoor event. Some arriving by car - gate guard patiently telling them to exit the Mosholu gate, make two turns to reach the parking garage and then come back. Others arrive on Metro North, as there is a convenient stop just across the street from Mosh gate. In fact, that's how my sister-in-law traveled to meet me.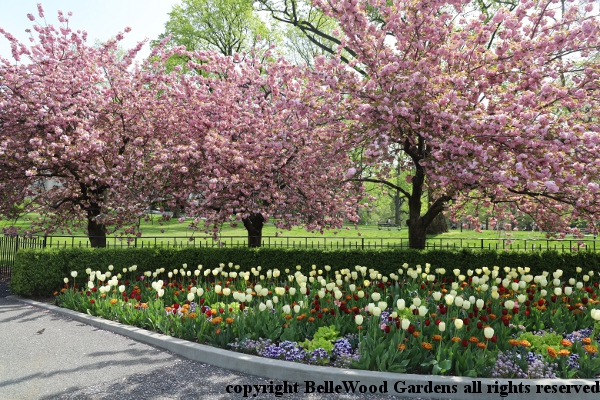 The planting beds on either side of the entrance booths (where tickets must be presented.)
Obviously the double pink late flowering Kwanzan cherries are a permanent feature here.
They are fronted with seasonal plantings. At the moment there's a tapestry of mixed tulips
embellished with pansies, sweet alyssum, and some very charming frilly pale green lettuce.
As Susan and I stroll into the gardens we pass the museum building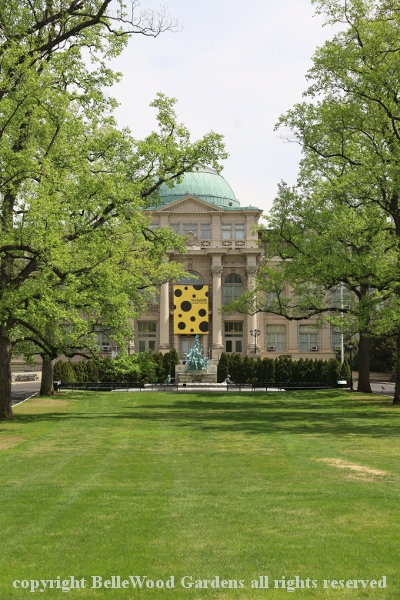 with an enormous banner featuring Kusama's signature polka dots.
There are paintings, drawings, sculptures in the library's gallery . . .
But it is such a fine day with much to discover outdoors. We walk on.

Trees, tightly wrapped with white polka dotted red polyester fabric.
"Ascension of Polka Dots on the Trees"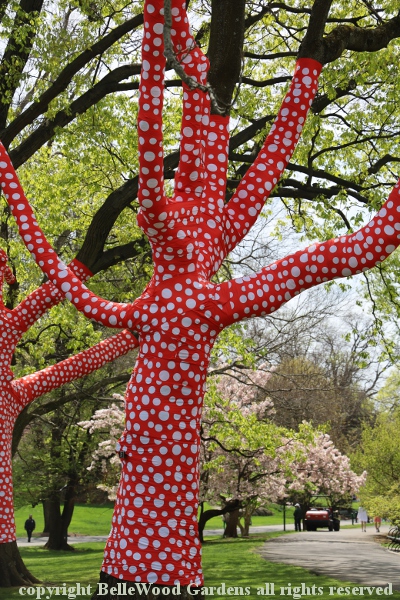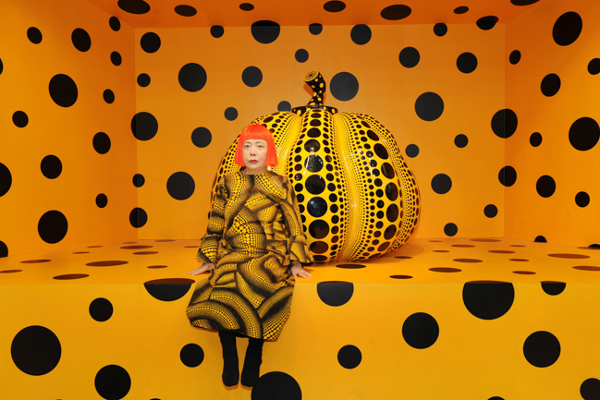 image courtesy of The New York Botanical Garden
Polka dots in various sizes appear as a trademark, with use of just a a couple of colors.
Repetitious patterns covering every surface. The intention, so I've read, is to obliterate
the viewer's perception of shape and form, a distorting orientation of physical space.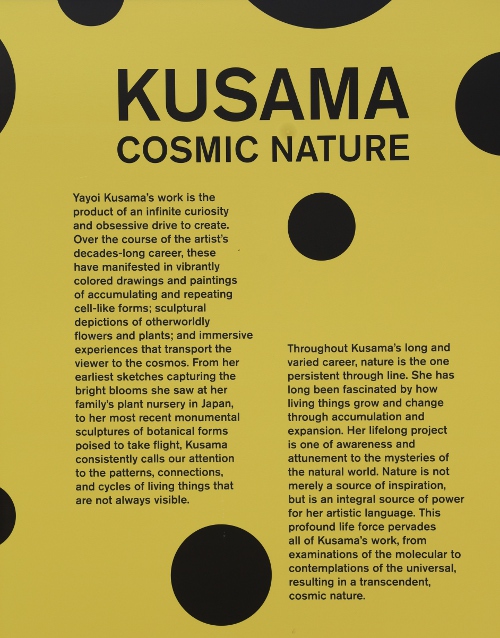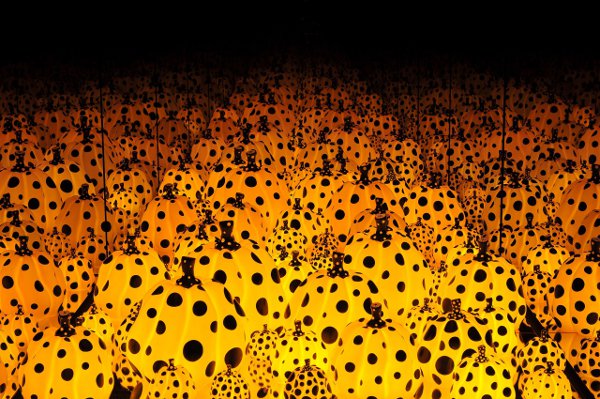 image courtesy of The New York Botanical Garden
"Pumpkins Screaming About Love Beyond Infinity"
There's a small stone building near the visitor's center. People enter only a very few at a time. It's dark, black, when you go in but a guide shines a flashlight at the floor to show the way. Stand in the dark. A yellow pumpkin with black polka dots lights up. First there's just the one that appears, then a few more, then many more - above, below, beyond. The interior of the case is mirrored and reflections seem endless. Pumpkins in a few sizes, and polka dots. Kusama is famous for her interactive optical illusions, spaces that use mirrors and lights to create infinitely enfolding experiences.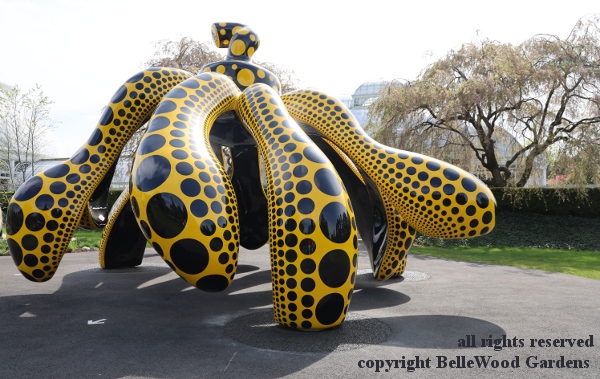 This sculpture stands outside the Enid Haupt conservatory. Kusama calls it
"Dancing Pumpkin." Created in 2020, the urethane paint on bronze piece is
a massive 16 feet tall. Painted golden yellow with black polka dots it seems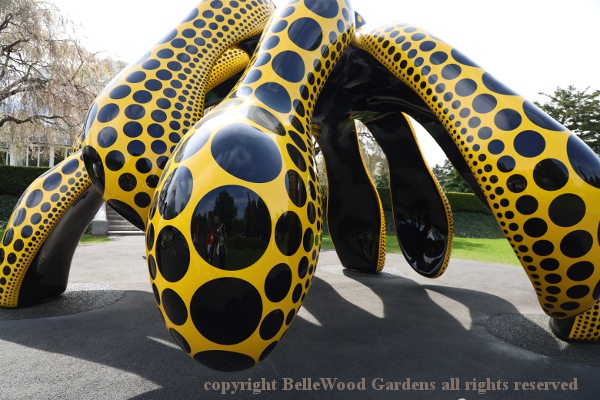 Susan and I see more of a resemblance to an octopus rather than a pumpkin.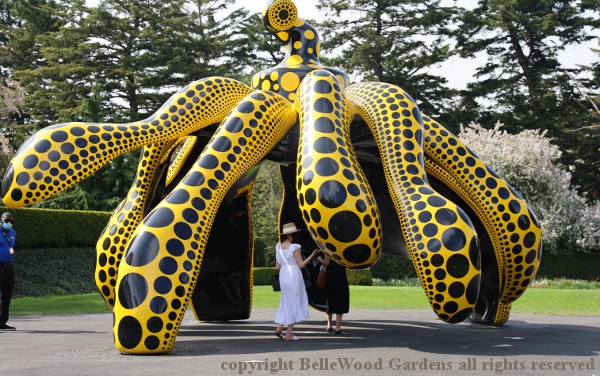 People queue up. following the painted arrows on the pavement and watched
by an NYBG staff. What for? "Dancing Pumpkin" is ideal for Instagram, of course.

We enter the conservatory. The Palm Court pool is filled with flowers, colorful
and cartoonish with polka dots and ladder-like patterns. Created in 2019,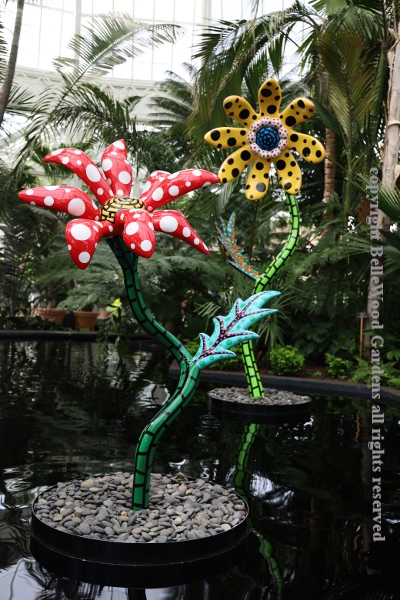 .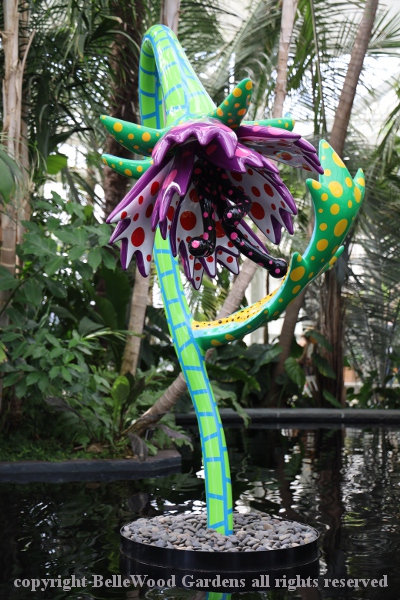 "My Soul Blooms Forever"
We walk into the display gallery at the right of the Palm Court, which has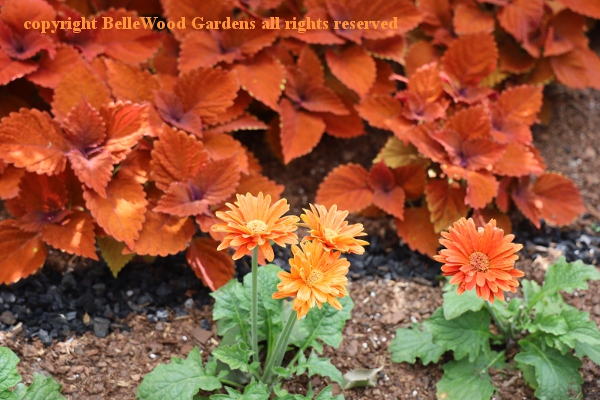 colorful annuals beautifully paired such as this coleus and gazania duo.
They are a planted interpretation of


Kusama's 2014 painting "Alone, Buried in a Flower Garden".
Strolling through the gallery to the smaller dome at its end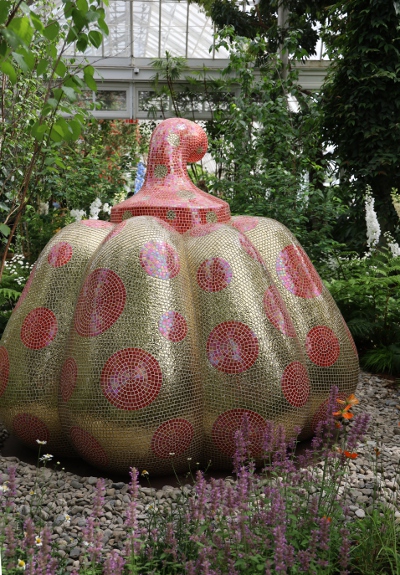 and discover the charming pink-and-gold mosaic "Starry Pumpkin" .
I start to go left, for a photograph. A staffer directs me to turn right,
maintaining a one-way traffic flow. Reassuring attention to safety.
From there we go back outdoors into the courtyard and the hardy water lily pool.
They are not showing signs of growth and I didn't even look for the goldfish because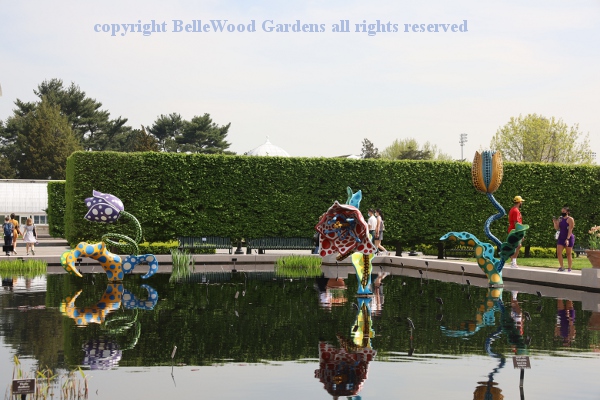 the exuberantly colored and patterned "Hymn of Life - Tulips" are blatantly obvious.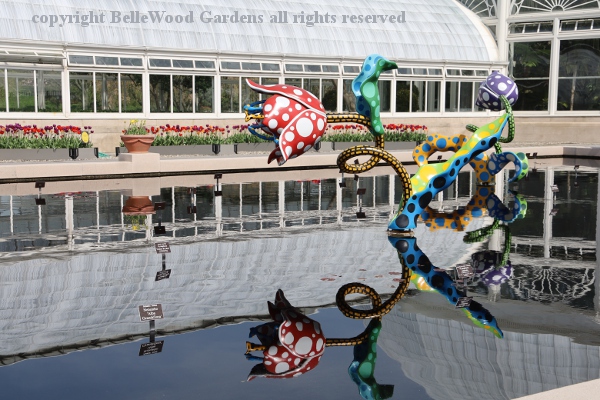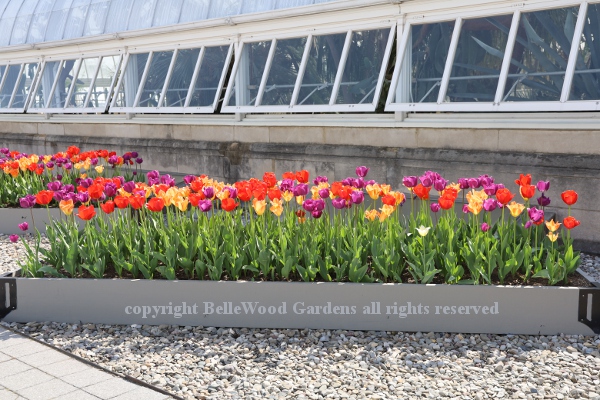 As are the planters arranged on both sides of the courtyard filled with a tapestry of tulips.
The reflecting pool near the shop and visitor's center has another of Kusama's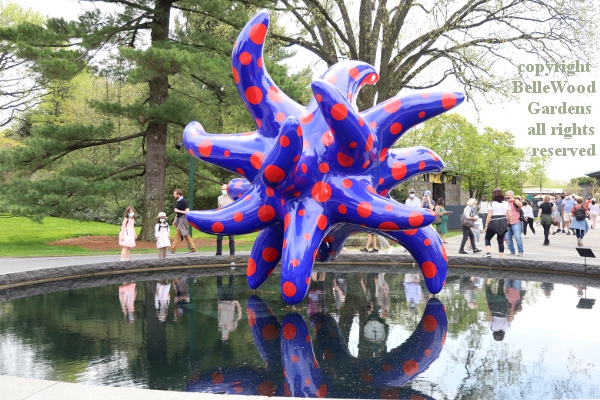 biomorphic sculptures. As Susan and I approach we first see the vividly colored
purple and red reverse of "I Want to Fly to the Universe." By now we realize that
physical reflections in water as well as mirrors are a feature that Kusama favors.
An aside: curious, I previously asked about the creation of these massive pieces. Joanna Groarke, director of public engagement and library exhibitions curator informed me that "Some works were created from maquettes (I Want to Fly to the Universe and Dancing Pumpkin). The artist works with foundries and fabricators to realize her large-scale visions, and then we (New York Botanical Garden) worked with our curator and the foundries and art professionals to site and install in the landscape."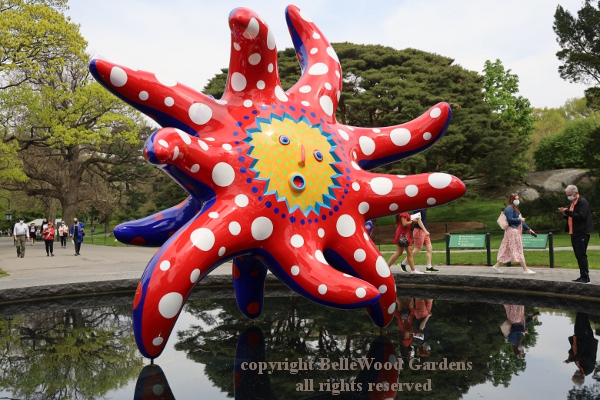 Circling the pool we discover the 13 foot tall form has a face. And polka dots.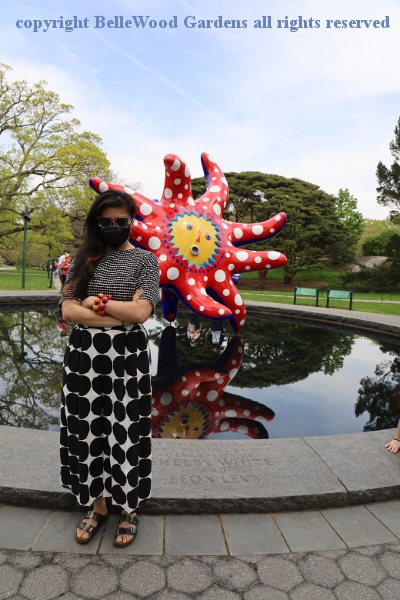 A few people have really gotten into the spirit of "Cosmic Nature" and are
wearing some clothes with more or fewer polka dots. This woman's outfit
is so appropriate without seeming forced. She told me that the pants and
top are Marimekko, that wonderful Finnish design house. Coordination.
From here it is an easy stroll to the Native Plant Garden. Let me just say that the app on Susan's phone said that we walked 2.2 miles by the time we got back to my car. My feet felt like significantly more than that. When you make your visit be sure to wear comfortable shoes.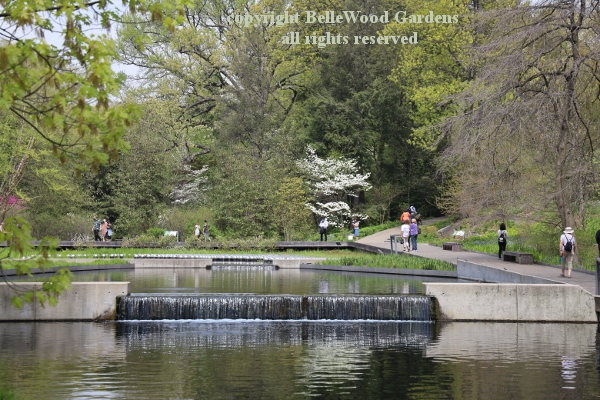 A view of the long pond, three tiers with cascading water from one to the next lower pool.
Wait a second. What's that at the very back of the highest pool. Looks sort of like water . . .
But it's not. It is over a thousand mirrored balls, 1,400 floating mirrored steel balls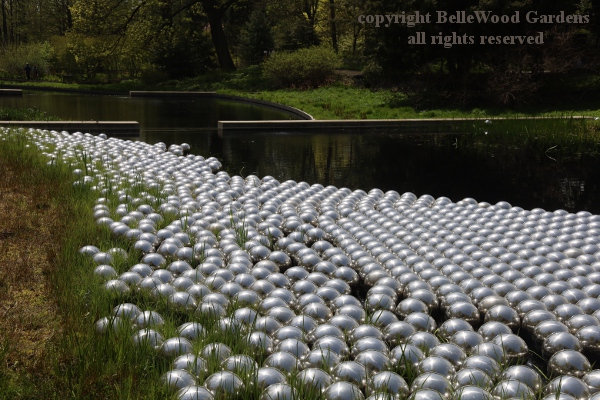 corralled by the breeze to the upper reaches of the pool, some trapped in reeds at water's edge.
In Greek myth Narcissus was a beautiful young man who fell in love with his reflection in a pool of water. Narcissism. Here the reflections are of sky and nature, reflections that change with wind and water shifting the spheres, faintly chiming as they click together when in motion. "Narcissus Garden" made its first appearance in 1966 at the 33rd Venice Bienniale with silvered plastic spheres laid closely together on the ground. All subsequent "Narcissus Garden" events have used steel spheres: on a pond in Brazil in 2009, for example, on the floor of a graffitied warehouse in Fort Tilden, New York. And created here in the Native Plant Garden's long pond.
Here is a link to a recent NYBG Kusama webinar that I attended.
Kusama: Cosmic Nature will run through Sunday, October 31, 2021.
Plan your visit

To purchase tickets
---
Back to Top
---
Back to April
---
Back to the main Diary Page