.
Garden Diary - April 2021
---
If you have any comments, observations, or questions about what you read here, remember you can always Contact Me
All content included on this site such as text, graphics and images is protected by U.S and international copyright law.
The compilation of all content on this site is the exclusive property of the site copyright holder.
---
April
---
Yayoi Kusama: Cosmic Nature, a Webinar
Thursday, 15 April 2021
---
A pairing that seems so obvious - Yayoi Kusama with her mystical, magical insights into botanical forms becoming art, and The New York Botanical Gardens, 250 acres of landscapes and gardens with more than a million living plants. Such exhibits are the culmination of multi-year planning, three years prior to the scheduled opening. That was to have been in 2020. But covid-19 shut it down. There have been some changes to the presentations such as no walk ins, only advance ticket purchase and timed entry, changes to allow social distancing and safety for visitors.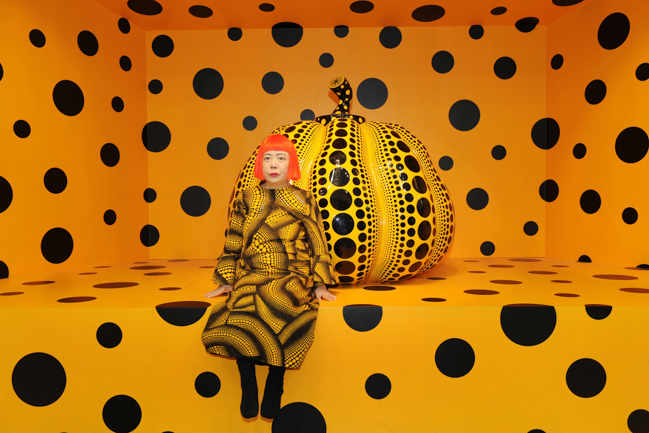 image courtesy of the New York Botanical Garden
Heightened interest. Curiosity. Today there was a webinar provided by The New York Botanical Garden's education department. The presenter, Mika Yoshitake, Ph.D., is an independent curator with expertise in postwar Japanese art. In the first part of her presentation, Mika Yoshitake discussed the organic forms central to Yayoi Kusama's unique vision that integrates nature and human nature, the earthly and the cosmic. Emphasizing the pivotal role of biomorphic imagery from both microcosmic and macrocosmic perspectives, Yoshitake examines the visceral impact of Kusama's artistic language and the ways life and afterlife profoundly coexist in the artist's lifelong journey of embracing the unknown.
Well. That description from the education department's schedule of classes is quite a mouthful, a statement rich in meaning . It must have attracted attention because I was just one of 200 people who registered and Zoomed in for the event.
The event itself has numerous reviews here, there, everywhere. So why bother with the webinar? Because what was shared and discussed primes the visitor for what they will see. It also shares facts, images, tidbits from Kusama's life. As a female Japanese artist in a very white male dominated world in the 1960s her anthropomorphic treatment of plant life, plants taking on an animality in her paintings, was, early on, dismissed by art critics as "feminine". A very singular, visionary outsider, her work - call it bio-cosmic - deconstructs materials / form / colors in order to reconstruct powerful emotion and a perspective much deeper than the foundation from which she began, developing her selected path towards a process of non-differentiation.
Born in 1929, Kusama was a child in wartime Japan during World War II. As a progressive post-war artist drawn to plant forms it was the full cycle of growth, cycles of birth, growth, death, decay, nature alive and becoming / growing, dying and decay.
A few images presented during the webinar stand out in my memory: a double exposure black and white photograph of Kusama with an overlaying net of dots. Infinity Net paintings of the late 1950s and early 1960s with repeated single touch of a brush, minimal, repeated touch, touch, touch, to create mesmerizing loops and dots, infinity. Kusama frequently uses dots in her work.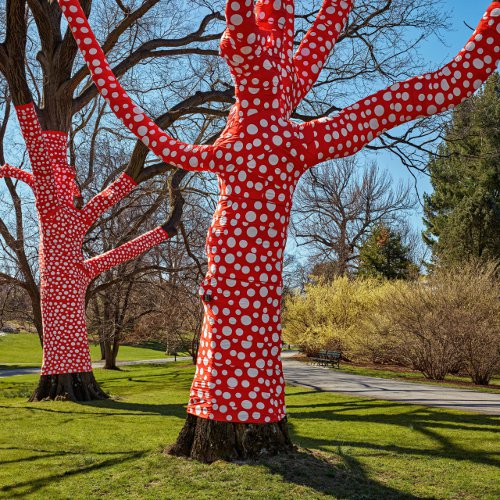 photo by Robert Benson Photography, image courtesy of the New York Botanical Garden
At the exhibit there are trees, wrapped in red fabric with white polka dots.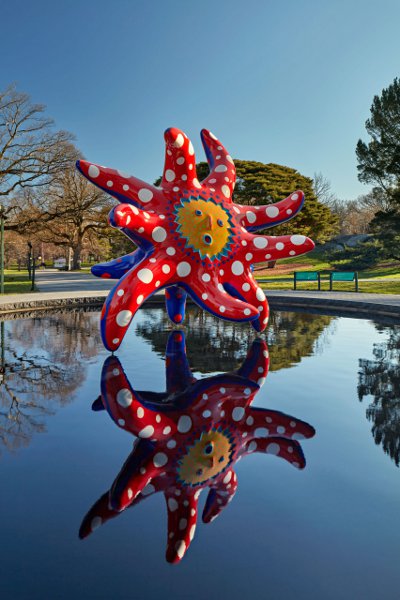 photo by Robert Benson Photography, image courtesy of the New York Botanical Garden
"I Want To Fly To The Universe"
The circular pool near the visitors center entrance has a dancing, 13-foot tall anthropomorphic
flower head of red petals and white polka dots around a yellow face, reflecting in the water.
Another mesmerizing image from today's webinar, a still from a black and white film, of Kusama half submerged in a lake in Woodstock, New York. She's wearing a straw fisherman's hat and painting red dots on the water's surface . . .
While the presentation was on-going participants could write questions in the Q&A, or comment in Chat. I was especially intrigued by two somewhat related questions.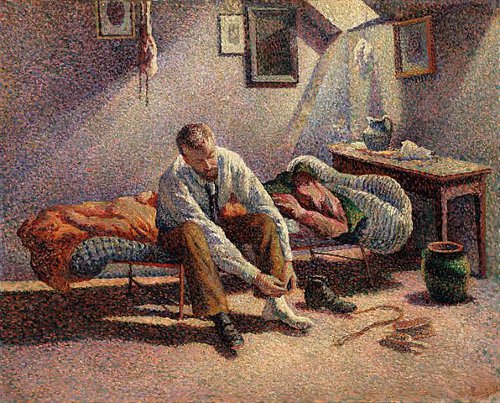 image from Wikimedia Commons, available under Creative Commons Attribution-Share Alike
The first asked if Kusama was influenced by the French Pointillist painters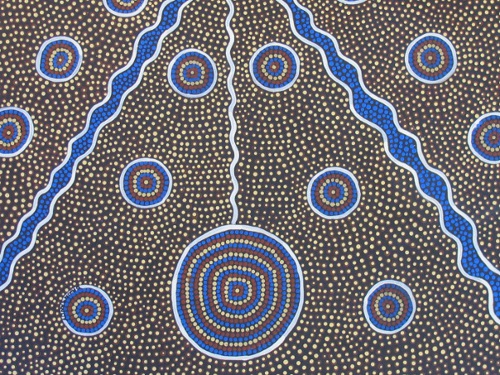 Image from Wikimedia Commons, available under Creative Commons Universal Public Domain
and the other question similarly referenced Australian Aboriginal art.
Our presenter said that Kusama is very confident in her art, also not forthcoming about influences. I supposed that Kusama's infinity nets and recurring dot might be taken as reflections (no, I am not referencing her mirrored rooms but perhaps I should) of her obsessive compulsions. But clearly, dots as an artistic patterning has a recurring human appeal.
Plan your visit for Kusama: Cosmic Nature, Embracing the Unknown. Timed entry tickets required. Dates are April 10 through Sunday, October 31, 2021, hours 10 a.m. - 6 p.m. Admission varies.
---
Courtesy registration for this webinar provided by The New York Botanical Garden
---
Back to Top