.
Garden Diary - August 2021
---
If you have any comments, observations, or questions about what you read here, remember you can always Contact Me
All content included on this site such as text, graphics and images is protected by U.S and international copyright law.
The compilation of all content on this site is the exclusive property of the site copyright holder.
---
August
---
About Supplies and Making Foraged Ink
Saturday, 21 August 2021
It's been an ink-focused week since last Saturday's Make Ink class. I started assembling supplies. And for a trial run I made a couple of simple inks with white vinegar as the carrier liquid.
---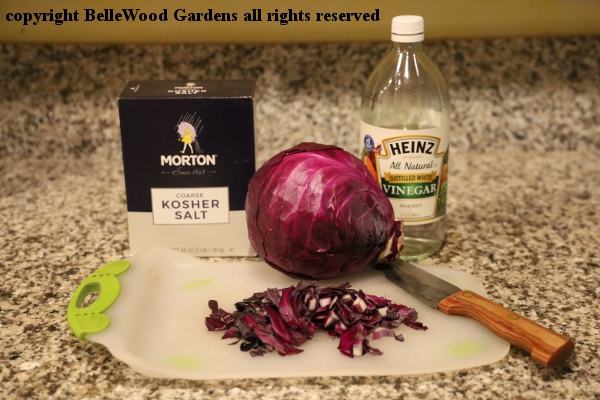 First was chopped red cabbage with about a tablespoon of salt and white vinegar.
Mashed the cabbage with salt, put in jar and covered with vinegar. Capped loosely.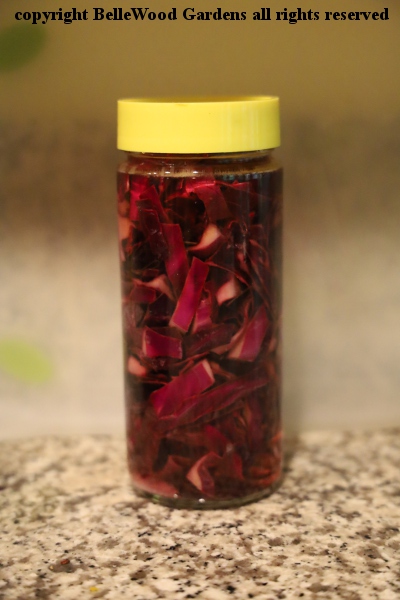 Then microwaved on high for about a minute. Remove, tighten cap and invert while
shaking vigorously. Turn upright, loosen cap, again microwave but for two minutes.
Remove, set on hot pad and wrap well with a towel to slow cooling. Let sit 24 hours.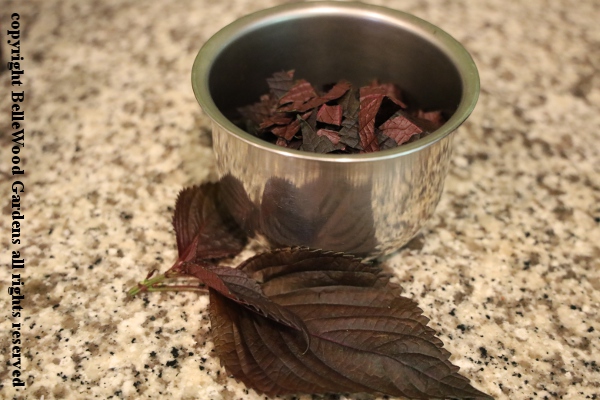 Next ink: I prepared red shiso, Perilla frutescens, slivering the leaves with a pair of scissors.
In the mint family, shiso is used in Japanese cooking, to color umeboshi plums for example.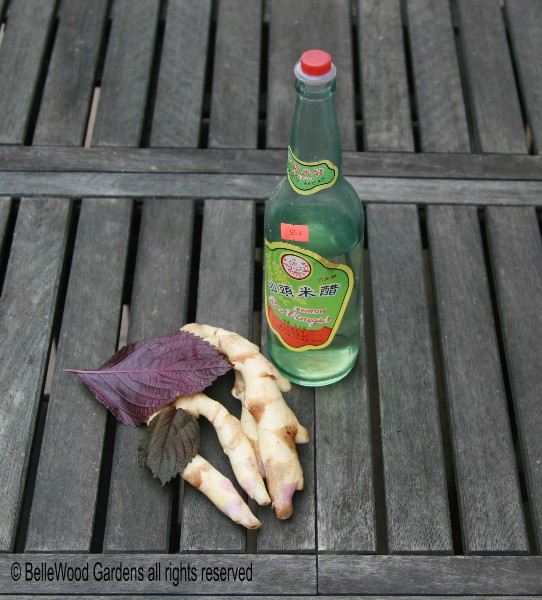 I use it when pickling baby ginger, to add the appropriate red color to the sliced ginger.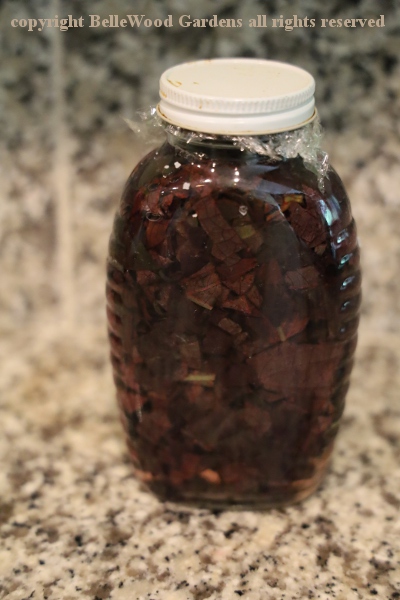 Processed the same as the cabbage: salted, bruised, filled jar, covered with vinegar, and so on.
---
It's 11:00 a.m. Time for the second session of Make Ink: A Forager's Guide with Jason Logan. We all Zoom in and here's Jason, who tells us he's in a hotel. He was in New York City for two days, midweek. Double vaxxed and a negative covid test to get there. He feels fine. But about to leave the city he had a positive covid test so cannot depart for Toronto and home. Jason is now sequestered in a hotel room at LaGuardia airport for 10 days. BUT our class is going forward (subject to the occasional vagaries of hotel Internet connection.) We're all going to share what we've been doing over the last week. And it turns out to be a really interesting, informative, and good class. Five! pages of notes.
I mentioned that my test strip for the red cabbage in vinegar with salt ink was a pretty rose pink when first dipped but dried to a soft blue. Jason responded that red cabbage gets its color from anthocyanins, and it responds to pH. With acid pH it will be red, alkaline pH turns it blue. There must be some coating on the watercolor paper test strip that is alkaline. He suggests adding a squeeze of fresh lemon juice, even onto the dried ink.
This surprises me, because this ink is a vinegar / salt extraction. I ask about using a "wash" of something acidic on the paper, letting it dry and then dipping. "Try it." Jason replied. The scientific method, with experimentation.
UPDATE: A dribble of lemon juice on my test strip promptly turned the area under the juice pink. It dried almost white with a thin pink line at the edge. More experimentation required.
Oak galls: Katy got a pale brown washy color from crushed oak galls, lots of them. "More iron." said Jason. She had tried over the counter iron supplements but who knows what form of iron / how much iron is in the tablets. Jason quickly explained how to make "iron water" - put rust in a jar with vinegar and salt. Aha! This will be easy for me.

I just collected some rust at the garage where my car had been serviced.
Chokecherry: Katy also made chokecherry ink from those dangling clusters of mostly pit, astringent native wild fruit. Wonderful vibrant red color. She used the juice extracted from the fruit, no carrier. Note: chokecherries can be used to make jelly.
Acorn caps: Older acorn caps are better for making ink. Katy created a silvery gray ink. Jason suggested using 2 cups of washed acorn caps plus some rusty nails for a mordant. Cover with water, bring to a boil and then simmer for two hours or until the liquid is somewhat reduced.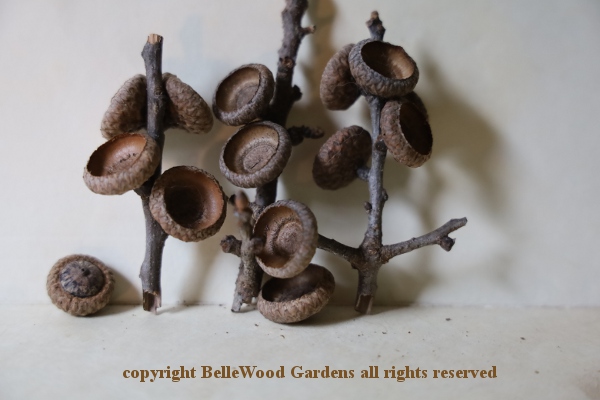 Black walnut hulls, black eyed susan flowers, and horse chestnuts: Hudson showed us the excellent results created from black walnut hulls, black eyed susan flowers, and horse chestnuts. As well as the test blotches, lined up across a page there was actual art - a starfish created with black walnut ink and masking fluid that made bubbles with a texture like an actual starfish. The masking fluid becomes rubbery when dried, and was rubbed off.
Multiple samples: Bambi had test strips with marigolds in alcohol and also in water, cabbage with vinegar and salt, mixed berries, sumach, black staining polypore mushroom, and petals from red flowering gladiola. She mentioned that colors changed with the length of time something was immersed, and there was also a difference in hue between paper and silk organza fabric.

Another Aha! moment for me - mushrooms and color. Rock tripe, Umbellicaria, yields a purple dye suitable for yarn if the color is extracted with ammonia.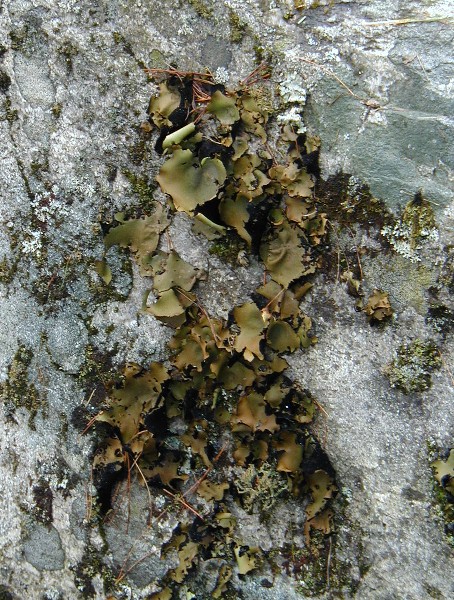 The original directions I had found in an old book suggested extracting the color from the fungus using fermented human urine, preferably from a prepubescent male child upon first arising in the morning. But ammonia is easier, agreed? Yes, Jason respond to my question, we can make ammonia-based inks.
Dry black beans: Anthony made a lovely silvery gray ink using whole beans. He boiled them with vinegar and salt. When strained and cooled, he used the ink in a fountain pen and just started writing. Jason suggested trying some lemon juice (acid) and also baking soda (alkaline) to observe changes that occur with pH changes.
Pokeberries and black walnuts: Ellie used a little gum arabic with the pokeberries and is very pleased with the results. She wants to make printing inks, so is searching for propylene glycol to use as a thickener. Jason suggested perhaps trying dry gum arabic, a powder, as a thickener. Or, he said, make a lake.

"Lake" in connection with printing is a new term to me. Apparently it comes from lac, the secretions from a certain kind of insect.

This is what Wikipedia had to say once I got past bodies of water / lakes.
"A lake pigment is a pigment made by precipitating a dye with an inert binder, or "mordant", usually a metallic salt. Unlike vermilion, ultramarine, and other pigments made from ground minerals, lake pigments are organic. Manufacturers and suppliers to artists and industry frequently omit the lake designation in the name. Many lake pigments are fugitive because the dyes involved are not lightfast."

Keep in mind, Jason mentioned, that anthocyanin pigments are fugitive to sunlight. For example, pokeberry is very bright, easy to make, fades to brown in the jar. But, he added, he has some in notebooks that remain bright for years closed away from the sun.
An Ink Journal: El has been keeping an ink journal -a pair of facing pages, left hand side with text for ingredients and techniques, right hand page for samples. She doesn't drink coffee so bought a cold press and used it for ink. Because she has a juicer she used it for red cabbage, also wheat grass, blackberries and buckthorn berries. With elder and buckthorn, she used a dropper to splop on paper, then added baking soda to change color from red violet to bluish. The color wheel El tried to make, she discovered the colors kept changing.
Saffron and turmeric: Chrislyn used saffron with water, turmeric with alcohol. The turmeric was brighter, she said, the ink itself almost neon bright.

As the class wrapped up Jason said something poetical,
that the place, the story, the meaning attached to our foraged materials adds so much.
---
As I already mentioned I started assembling supplies.
I went to a nearby Michael's and bought a small pad of watercolor paper. But they didn't have liquid gum arabic. Susan, my sister-in-law, suggested Blick's. I ordered Newton & Windsor, 75 ml bottle. Good price, absurdly high shipping. Probably it's their minimum fee.
In his book, Make Ink, Jason Logan suggests using isopropyl alcohol, 91 or 99%, to extract the color from turmeric. It is available on-line in sizes from one liter to one gallon, also multi-packs. How much alcohol based ink will I making? In what volume of each color? I decided that one liter, just under 32 ounces, was a goodly amount with which to start.
Alum, said Jason, is something we could find in the canning aisle of the grocery store - it is used for making homemade pickles that will be crisp and crunchy. I tried a large supermarket, small local supermarket, local hardware store, Wal-Mart. Alas, canning supplies are yet another covid-19 empty shelf syndrome item. Alum is available online but . . . a pound is more than I need and the four-pack of McCormick's alum for pickling was outrageously expensive.
Then I had a brilliant idea and emailed my friend Betty at The Spinnery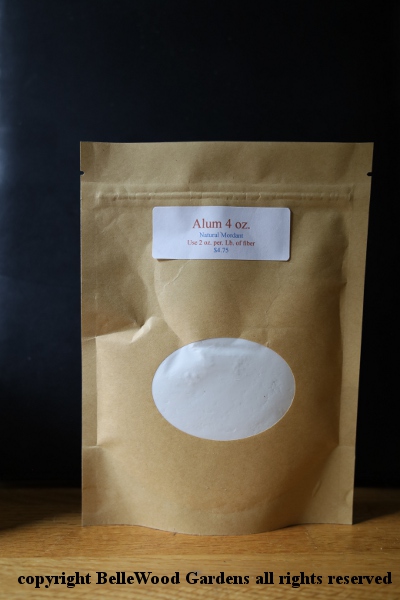 .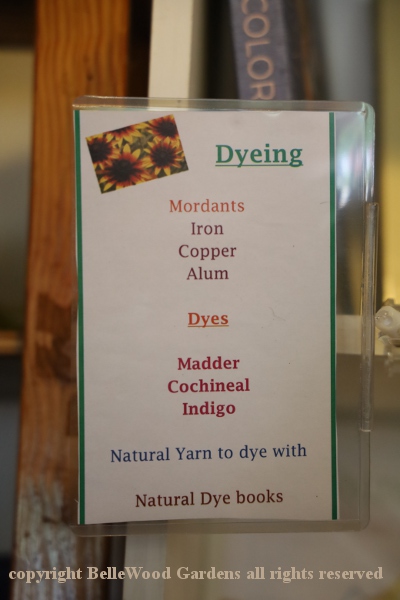 Yes and yes! She has it, the price is right, store is open! Betty has much more than just
yarn and needles in her shop. She demonstrates and teaches classes on natural dyeing.
---
Check online for the New York Botanical Garden's Adult Education department's wide range of topics from botanical art and illustration, floral design, horticulture, landscape design, and more. They range from one day personal enrichment classes to certificate level courses. Even topics you might not have thought of, such as making ink.
Gratis registration for this class was provided by the New York Botanical Garden.
---
Jason Logan's book, Make Ink, A Forager's Guide to Natural Inkmaking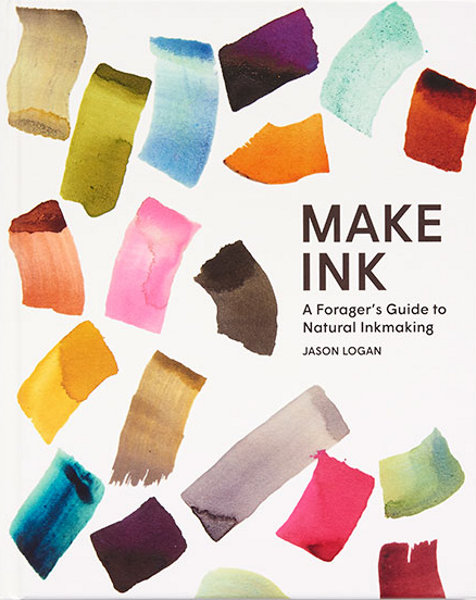 image courtesy of Abrams publishing
A review copy of this book was provided by the publisher.
---
Back to Top
---
Back to August
---
Back to the main Diary Page