.
Garden Diary - June 2020
---
If you have any comments, observations, or questions about what you read here, remember you can always Contact Me
All content included on this site such as text, graphics and images is protected by U.S and international copyright law.
The compilation of all content on this site is the exclusive property of the site copyright holder.
---
June
---
Natural Palettes
Inspiration from Plant-Based Color, a book review
Saturday, 13 June 2020
---
When my daughter was very young we used to read this Little Golden Book together.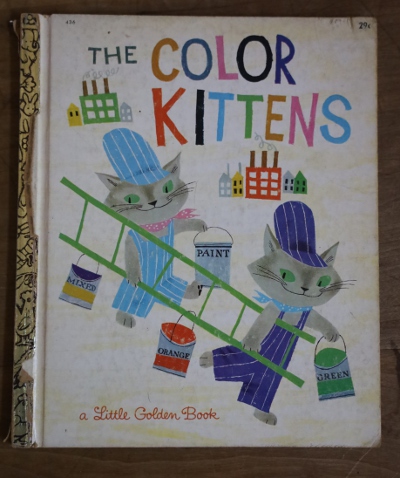 .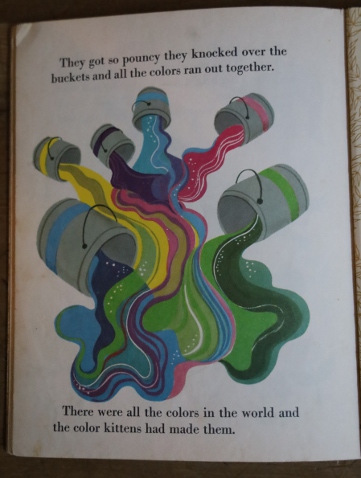 Written by Margaret Wise Brown and illustrated by Alice and Martin Provensen, The Color Kittens tells how Brush and Hush liked to mix and make colors by splashing them together.
My daughter has daughters of her own, even a grandchild. Grownups need books for adults,
"Oh well," you say. "Why buy a book. The big box stores have paint chips."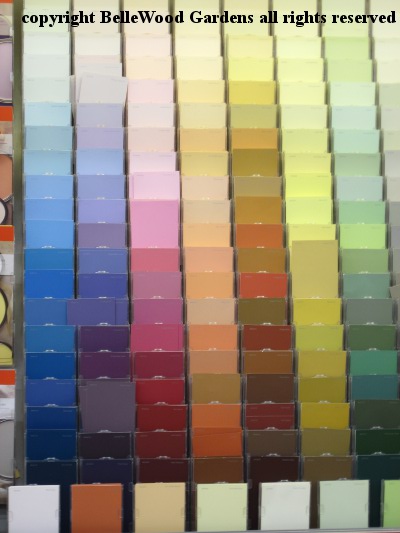 Let me guess. Do you also praise Pantone with their standardized color reproduction system, proprietary color space, that's used in graphic design, fashion design, product design, printing and manufacturing. Do you change your wardrobe every year, to stay trendy and au courant with their color of the year? Are flowers in your garden swapped out to match ascending color trends . . . Bah humbug! Instead, says Sasha Duerr, turn to nature.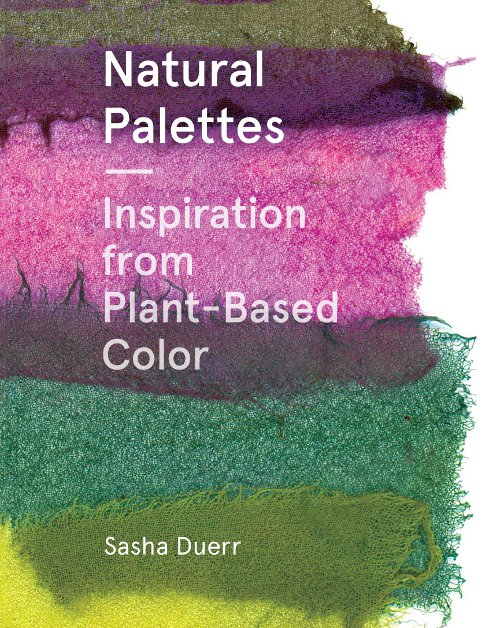 Image credit and copyright Sasha Duerr
Natural Palettes, Inspiration from Plant-Based Color
Understand that Sasha Duerr is a renowned natural dyer, teasing color out of seeds and leaves, roots and shoots, pits and peels. I am in awe of the work done for this book, using silk with a limited range of mordant options from none to aluminum sulphate (alum), ferrous sulphate (iron) to both aluminum sulphate and ferrous sulphate. From the range of plants and these basic ingredients Natural Palettes offers twenty-five palettes with 500 color swatches, colors for textile fabrics, interior design, and other creative disciplines. Double back, and think of these as colors for your garden, or a floral arrangement. The grouping options and possibilities include Landscape Alchemy, Weeds to Wonder, Cultivating Color as some overview headings, then subsets with playful titles such as
Good Things Come in Trees. Leaves, branches, wood chips, even sawdust make beautiful colors.

.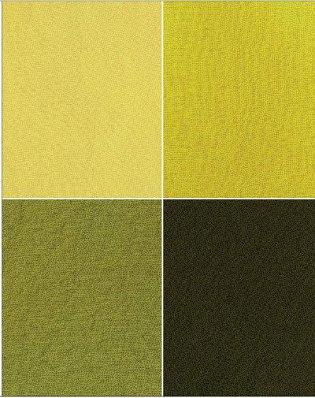 Images credit and copyright Sasha Duerr
Osage orange, Maclura pomifera. Clockwise from top left: no mordant, alum, iron, alum + iron.
The focus of Natural Palettes is to provide inspiration with a focus for sustainability. There are the ecological benefits of using organic materials to create colors, but use care when collecting dye stuff, disposing of residues, and the exhausted dye bath itself. Just as the Slow Food movement suggests options other than fast food from a microwave, fabrics with natural colors require gentle loving care - perhaps cool water wash, no bleach, line dry.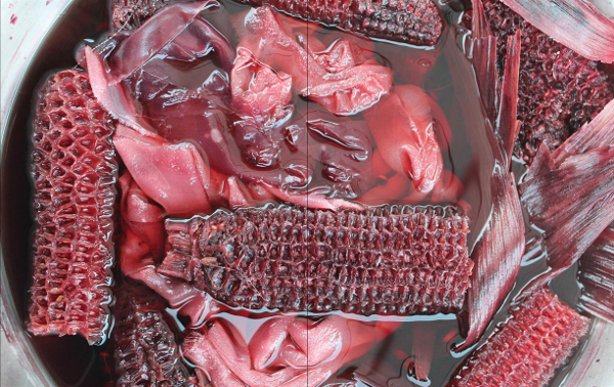 .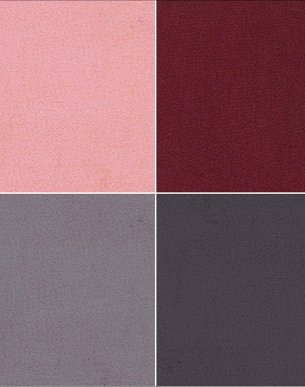 Images credit and copyright Sasha Duerr
Color is all around us. Look at this dye bath using the cobs of blue corn (perhaps you've had blue corn tortilla chips?) Then, the four color options created with no mordant, alum, iron, or both. Not that this book will teach you how to create dyes from nature. You'll need another of Sasha Duerr's books, perhaps The Handbook of Natural Plant Dyes for that. There are brief essays and commentary that joins the color subsets, perhaps with Weeds to Wonder with weeds, garden discards and prunings; Cultivating Color in a garden; Deepening Our Color Senses takes us to shinrin yoku, forest bathing with a palette of spruce cones, pine needles, and balsam branches.
Surround yourself - your clothes, the painted walls of your home, plants in your garden for visual beauty then perhaps as dye stuff, color from your kitchen (the water boiled cabbage was cooked in makes pink, blue, purple, green) - with colors of Natural Palettes, Inspiration from Plant-Based Color. Turn the pages and enjoy. Here are a number of soft evocative range of green.There, warm yellows to orange to red. Sky and sea tones of blues, lavender, and purple. Moody shades of gray to black. So many colors to inspire you.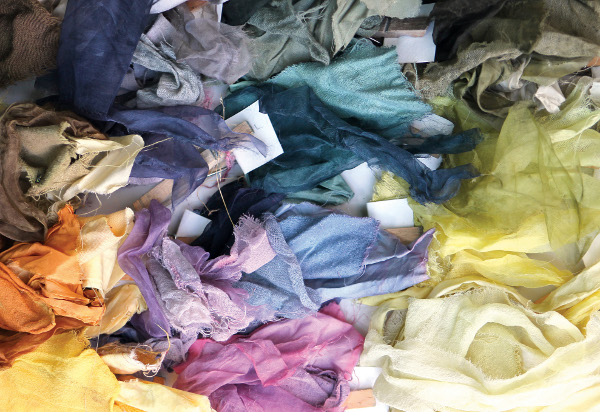 Natural Palettes, Inspiration from Plant-Based Color
by Sasha Duerr
published by Princeton Architectural Press, Hudson, New York
Paperback with flaps, color images throughout, $29.95, April 2020
ISBN 978-1-61689-792-5
A review copy of this book was provided by the publisher
---
Back to Top
---
Back to June
---
Back to the main Diary Page