.
Garden Diary - April 2020
---
If you have any comments, observations, or questions about what you read here, remember you can always Contact Me
All content included on this site such as text, graphics and images is protected by U.S and international copyright law.
The compilation of all content on this site is the exclusive property of the site copyright holder.
---
Cooking in the Days of Covid-19
With Updates
These are strange, strange times. A corona virus that spread from Wuhan, in China, reached the United State . . . was it in January? for sure in February, definitely by March. Our lives have changed. We are told to stay home, wear a face mask, wash wash wash our hands. Being a woman of a certain age I am considered to be in one of the high risk groups. I did begin prepping at the end of February, my years of reading post-apocalyptic science fiction informing my choices.
Grocery stores made adaptations. First they canceled rain checks and returns. Next there were changes to shop-from-home with curbside pickup: items would be unavailable, substitutions were common. One instance I'm aware of - yautia for sweet potato in New York City. Pickup times in our area can be a week or longer from placing an order. Stores are limiting how many people are allowed in, if at all. Generally this is 50% of allowed capacity. If that limit is reached the extra people queue outside, maintaining the recommended six foot social distancing separation until one person comes out and the next one is allowed in. There was and continues to be a panic driven run on toilet paper. Flour and yeast are in short supply. Fresh produce is irregular in terms of what might be available.
Living as we do on the western edge of New Jersey, a scant couple of miles from the Delaware River, delivery services such as InstaCart are not available. Frenchtown Market, our local IGA, has, for the first time ever, begun offering Tuesday and Thursday curbside pickup for at-risk customers. And Traugers, a favorite farm stand across the river, is offering phone in, pay by credit card, and pick up what's been ordered that's available without ever seeing a person.
Has this changed what I cook? Yes, and no. Some habits and recipes such as
defrosting a 2 pound piece of venison and some fresh pork belly,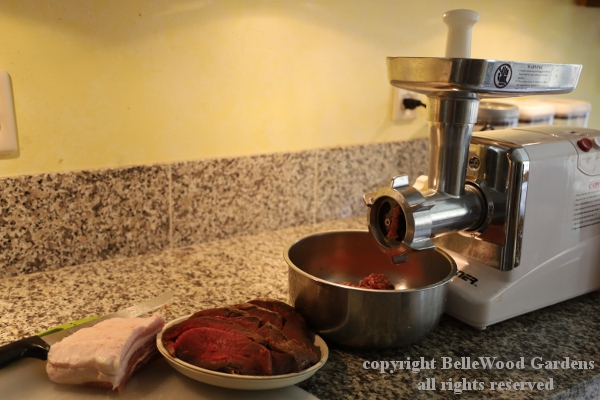 running the meat through my meat grinder, and making a large pot of chili -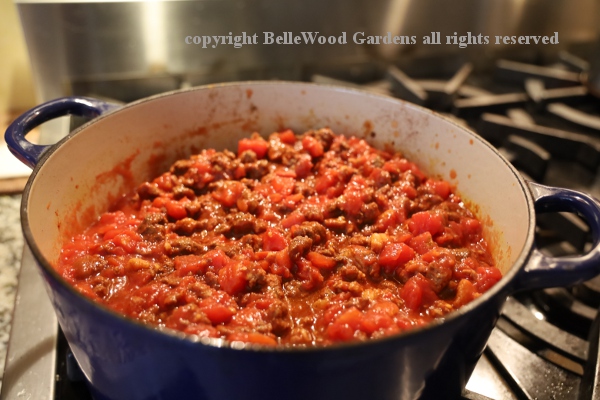 most of which goes back into the freezer as prepared meals - remains the same. But
will I be able to replace the packets of chili seasoning? I just don't know. 10 April 2020
Milk has been available. Rather than buying yogurt I use my InstantPot. Makes two quarts at a time. Options and possibilities: strain one quart yogurt in cheesecloth lined colander to make yogurt cheese. Save whey for baking. Or, in hot weather, come summer, add some mint leaves to whey for a refreshing drink. Use vinegar or citric acid (which I happen to have on hand) to turn milk into fresh acid set cheese. Think farmer's cheese, queso fresca, or press to become paneer.
---
Thursday, 16 April 2020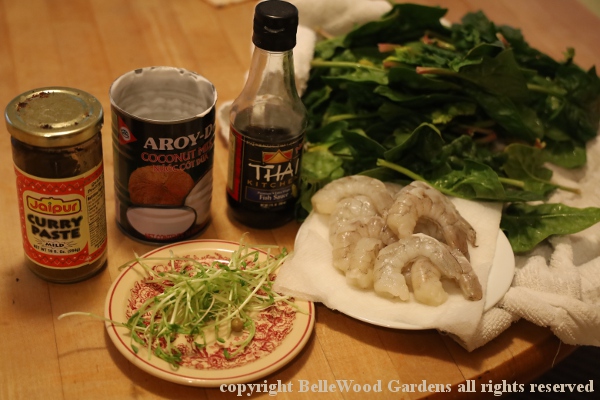 When the farm stand had some beautiful fresh young spinach I seized the opportunity to make Thai style shrimp with spinach, upending the heretofore usual "I want to make this so shall go and buy spinach."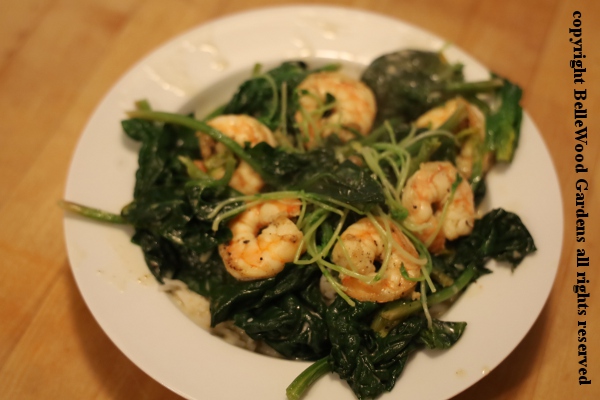 ---
Friday, 17 April 2020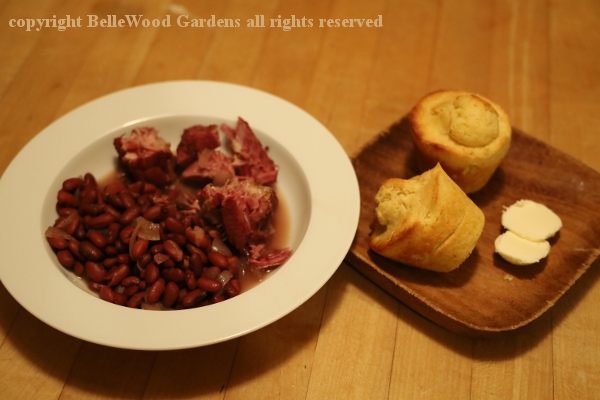 Dry beans are a common prep item. I made red beans with some smoked ham
out of the freezer, and corn meal muffins to sop up the juices.
---
And I have been trying out new recipes, generally very pleased with the results.
---
Wednesday, 29 March 2020

A deep dish black olive and mushroom pizza, cooked in a cast iron frying pan. Made
pizza sauce, had bought mozzarella cheese. The 3 portions of sauce and cheese that
weren't used for recipe are now in the freezer because this will definitely be repeated.
---
April
---
A Stir Fry with Sprouts
Wednesday, 8 April 2020
Ironically, I haven't had a vegetable garden for lo these many years since we moved to the Garden State of New Jersey. In these current days of covid-19 I am growing a windowsill victory garden of sorts. Sprouts, the sort of thing I did back in my hippy days. Didn't we all?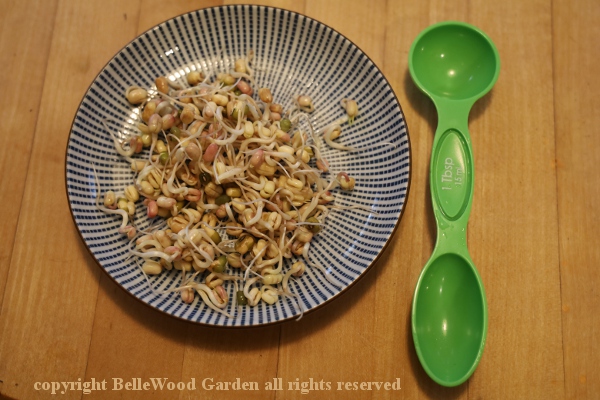 Takes about a week, and a tablespoon of mung beans produces a plateful of sprouts.
Stir fry ingredients from the top: thin sliced beef with soy sauce, sliced onion, sprouts,
sliced mushrooms, sliced celery, and carrots in the center. Not shown, basmati rice.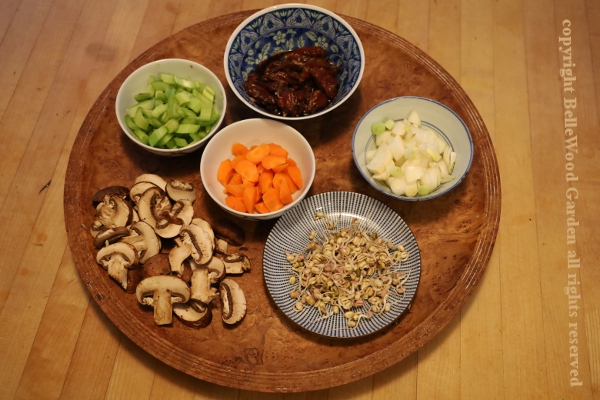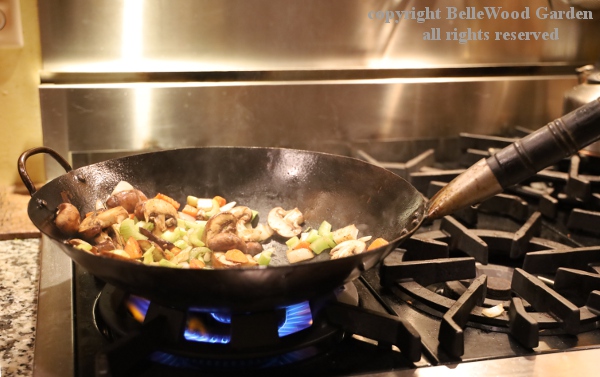 Slicing and dicing is what takes the time as the bite sized pieces cook quickly in a wok.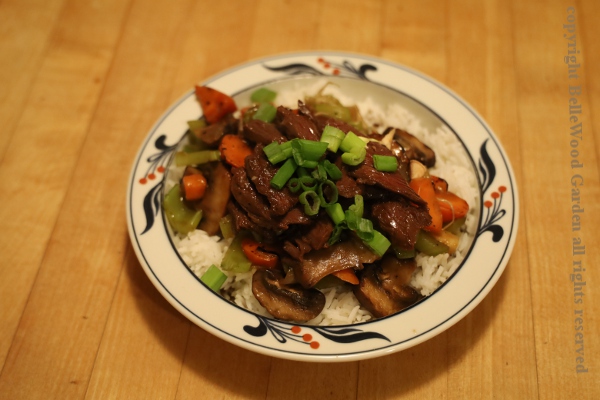 ---
A Mexican Style Dinner
Monday, 13 April 2020
Mexican dinner grilled pork with salsa verde and refried beans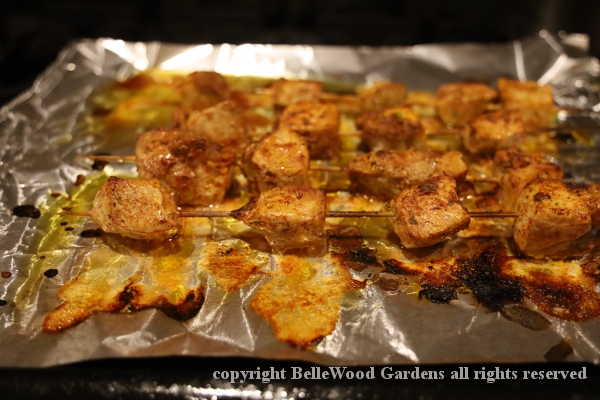 Marinated cubes of pork threaded on a skewer and grilled under broiler in oven.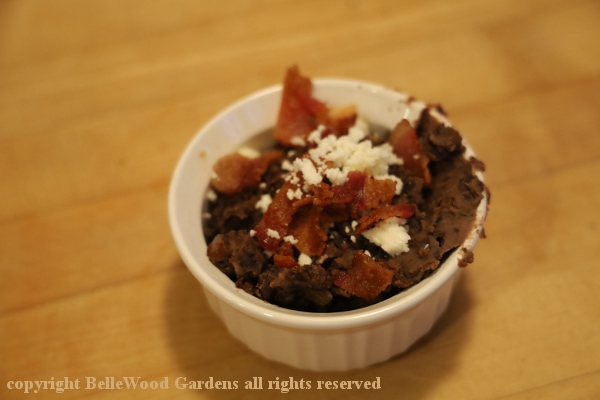 Side dish of refried beans topped with some crisp bacon and queso blanco, plus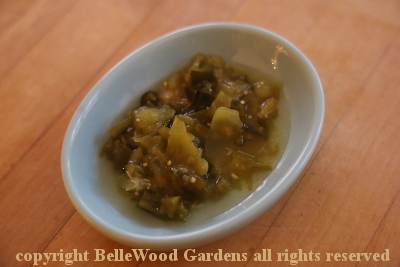 salsa verde made with tomatillos, poblano peppers, a little habanero pepper too.
---
Rhubarb
Wednesday, 15 April 2020
I like rhubarb. There is something about it that just says "spring" for me. Have not found any on my infrequent excursions to a grocery store. Not even at the farm stand. So I harvested three stalks from my one plant. I grow it more as a bold foliage ornamental than as a food plant but in these days of covid-19 . . .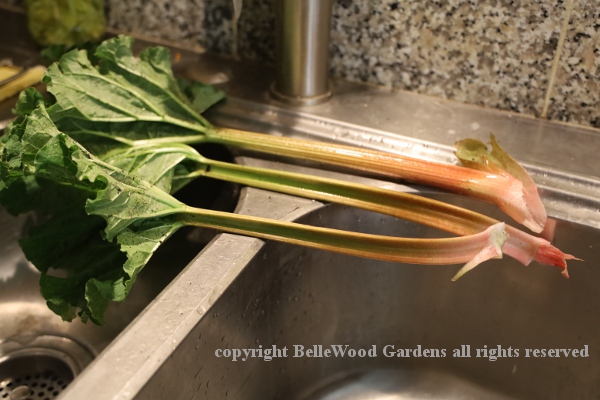 Harvest rhubarb by twisting the stalks loose. Then wash and trim, discarding leaves.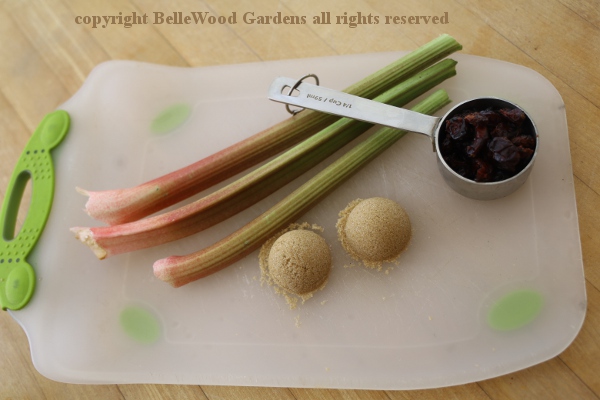 Rhubarb is tart. A little bit of sugar - I used dark brown - to temper it. And craisins.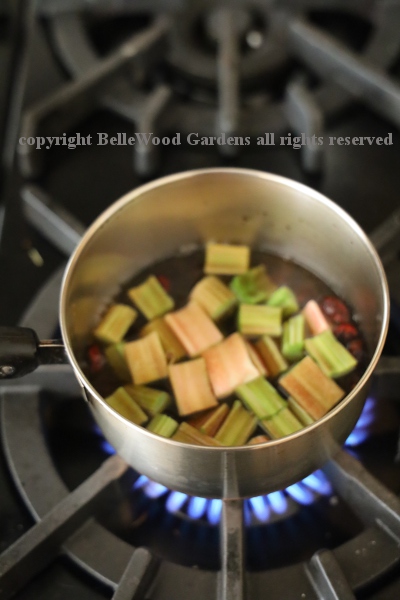 I prefer the pieces tender and still intact, not cooked into disintegrating strings.
Bring some water to a boil, then turn off heat and cover pot. Let sit until tender.
---
Bagels
Monday, 20 April 2020
My mother used to say that you could not get real bagels more than 50 miles from New York City. It had to do with the excellent water that the city receives, coming from the Catskill Mountains. Bagels, you see, are first boiled and then baked.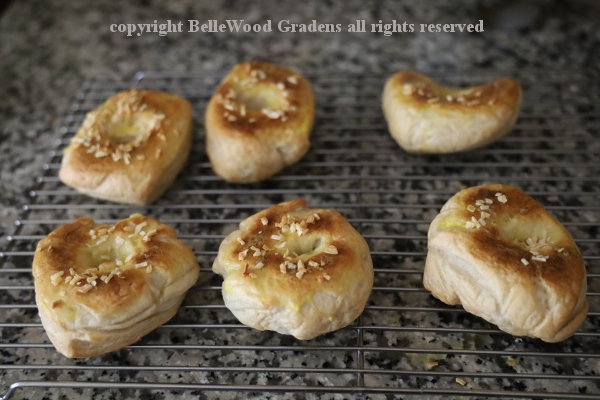 My first attempt at bagels was O.K., even using our own well water. Last time too.
They were good - nice flavor, properly chewy. But not worth the effort involved.
---
Foraging for Fiddleheads
Tuesday, 28 April 2020
I may not have a vegetable garden but I do forage, here at BelleWood Gardens. Several kinds of mushrooms, in season, and greens.

Spring brings fiddlehead ferns - I harvest from ostrich ferns - and garlic mustard.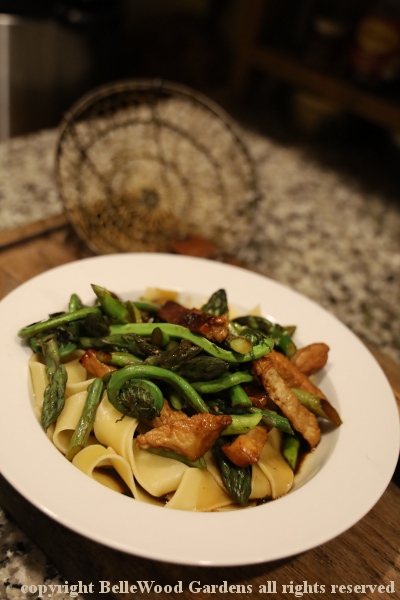 Call this chow fun, pork with asparagus and fiddleheads over wide noodles.
---
May
---
Kasha Varnishkes
Friday, 1 May 2020
I'm the only one of the two of us who likes kasha varnishkes. Good thing the recipe makes lots, because it is a simple but complex recipe. You'll see. And no, I've never tried freezing it. The recipe comes from "The Gefilte Variations" by Jayne Cohen. Two things to keep in mind: kasha basically means porridge. However in the United States kasha is used to mean buckwheat. And the recipes in The Gefilte Variations are a revamp of the traditional, historical recipes.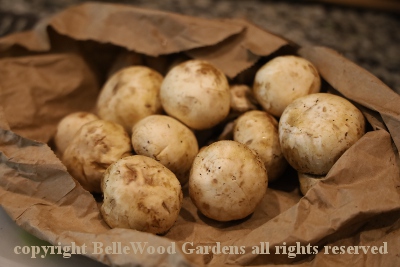 .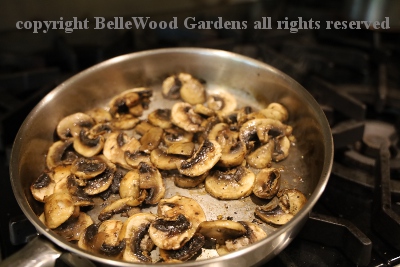 Mushrooms, sliced and sautéed with oil. Chicken schmaltz would be traditional.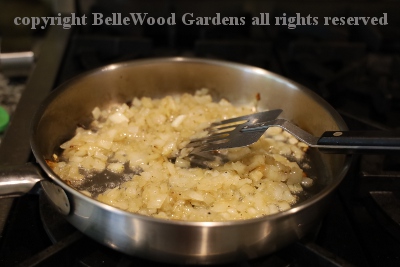 .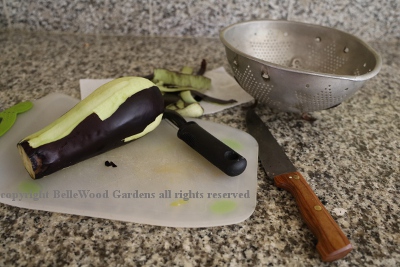 Onion, diced and sautéed until soft. Eggplant, definitely not a traditional addition.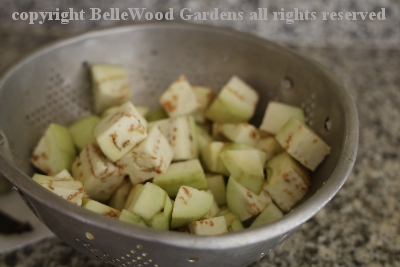 .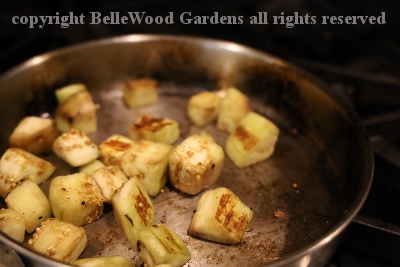 Cube the eggplant, toss with salt, place in colander and weight down. Dry, then sauté.
Kasha, coarse is preferred, is tossed with a beaten egg then cooked in a dry frying pan
stirring constantly until the grains separate. Add onion, mushrooms, eggplant and broth,
then simmer until tender. Doesn't take long. The finishing touch is varnishkes, noodles,
cooked separately and tossed with the kasha. Bow tie pasta, farfalle, is also traditional.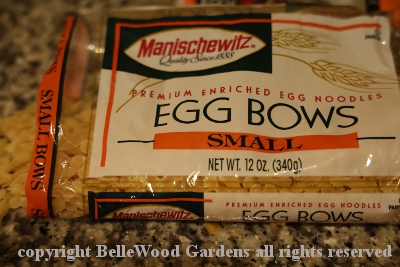 I like farfallini, little miniature bow tie pasta which is easy to incorporate.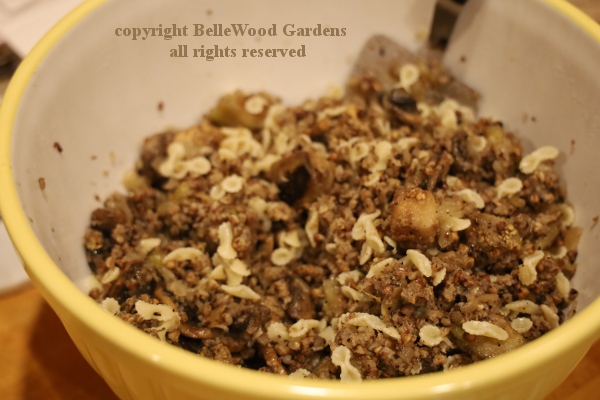 The finished kasha varnishkes. Perhaps a sprinkle of chopped parsley. Or scallions. For color.
---
Stir Fry with Sansai
Wednesday, 6 May 2020
Sansai is a Japanese word literally meaning "mountain vegetables." Originally it referred to vegetables that grew naturally, were foraged in the wild, and not grown and harvested from fields. With the cool weather we have been experiencing I can still gather ostrich fern fiddleheads. Bamboo is also striking out for new territory and needs to be kicked back. My golden bamboo is edible but what I have after cleaning is rather puny.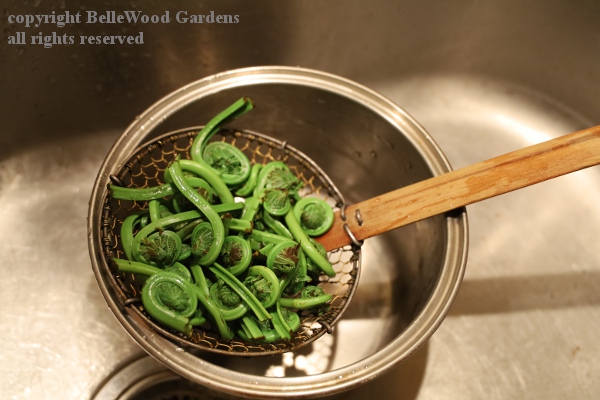 Fiddleheads after blanching in boiling water, then quickly chilled in ice water. <>

In the wok and ready to be plated: beef, bamboo shoots, fiddleheads and asparagus.
---
Birthday Dinner
Sunday, 10 May 2020
Some restaurants are closed. Others are offering curbside or window service. For a birthday dinner? I don't think so. I made an elegant meal that was not especially complicated. For him. Will have to think about if I would do it for myself.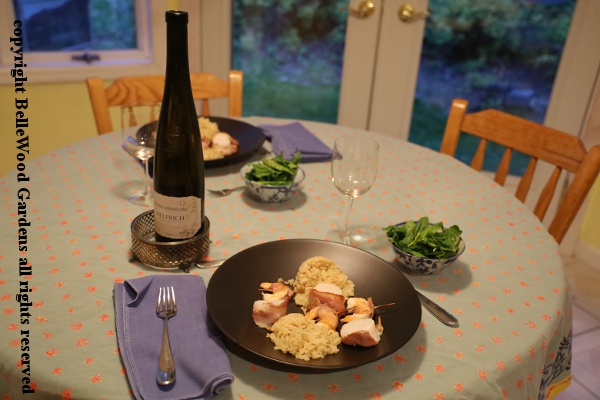 Fresh spinach salad, tender baby spinach from the farm stand. Risotto, very good.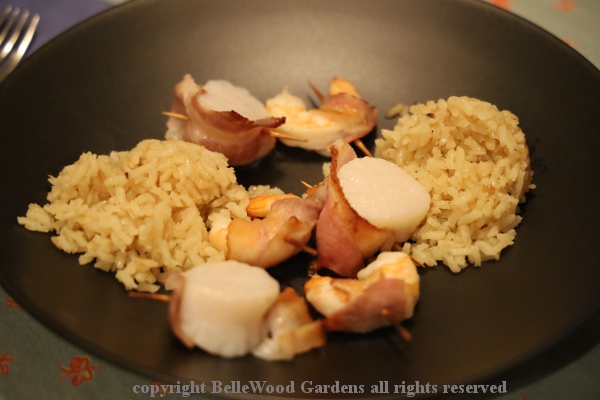 Scallops and shrimp, three of each, bacon wrapped and broiled in my Wolf range.


Himself prefers white wine so that's what we had. Good choice.
Steinklotz Alsace Grand Cru Helfrich Gewurztraminer. First had
gewurztraminer back in 1973 at the Hotel Canterbury in Holland
and ever since we have enjoyed it when a suitable meal allows.
Dessert was a Wellsley fudge cake Made half the recipe, used cake flour sifted twice before measuring. Baked as an 8 inch square single layer. Very light and tender. Thought about cutting into two, went for three. Two would have been better. Filling / frosting was dark brown sugar, shaved chocolate, milk, cooked together, butter stirred in, then vanilla.
---
Shrimp Fried Rice
Tuesday, 19 May 2020
From last night's dinner there's some leftover cooked rice and leftover cooked shrimp. Obvious choice - shrimp fried rice for tonight's dinner. For fried rice you must have previously cooked, cold rice. Break it apart, no large lumps. Some vegetables. Soy sauce, Good to go.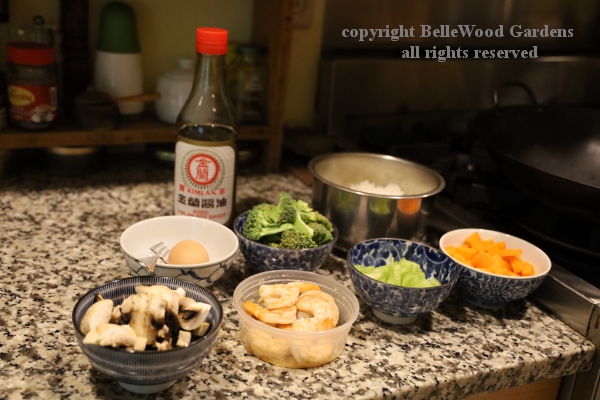 Front row: sliced mushrooms, shrimp, sliced celery, carrots sliced with rolling cut.
Back row: egg, broccoli separated into small florets, cold cooked rice, soy sauce.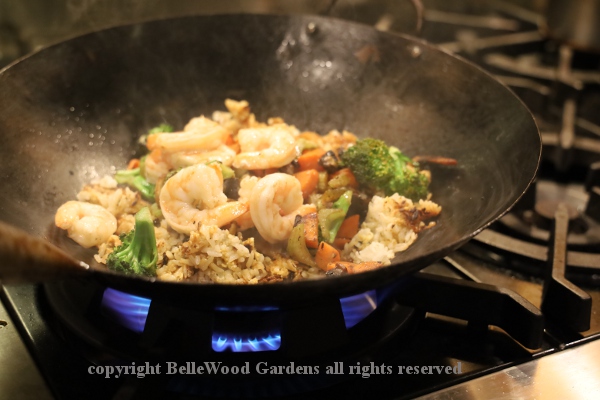 Stir fry vegetables, set aside. Add beaten egg to hot wok, scramble. As soon as
it starts to set, seconds really, add rice. Toss with egg. Spread around, then let
crisp against the hot wok. Return vegetables, add shrimp, add soy sauce, cover.
And just that quickly, dinner is served. And a very nice dinner it is too.
---
I think that we do eat well. Thus far into the covid-19 shutdown, week after week, I've made all of our meals. Understand that mixed in with what I'm sharing with you here there are also dinners from the freezer: chili, pulled pork, spaghetti sauce, all of which were bulk cooked, then portioned out, and frozen.
Supply chains are disrupted. There was New York Times article about pig farmers having to euthanize tens of thousands of pigs. Why? Slaughterhouses such as Chinese-owned Smithfield Foods closed down for three weeks, reopening on May 20. Workers stand shoulder to shoulder on the processing lines and over 800 had become infected with covid-19 . Costco limited how much meat may be bought by members: three items. Not three each beef or pork or chicken, Three total. I bought a two-pack or roasting chicken, a two-pack of hanger steak, and an ten-pack of tillapia. Froze one chicken, divided the two steaks in half and froze three of the pieces, and froze all except two of the fish fillets.
I had prepped yeast and flour. Additionally bought a 25-pound bag of King Arthur all-purpose flour when Costco had it available. For a while yeast was impossible to purchase, along with flour. That's beginning to ease. Cake flour is still in short supple. I did find just one box of Softasilk brand at the Frenchtown Market and took it, even though it is usually Swansdown that I get. Not to worry - you can make your own cake flour from all-purpose flour and cornstarch, provided you have those two items. Measure 2 tablespoons of cornstarch into a measuring cup, then fill with all-purpose flour. Lisa, a superb professional baker of my acquaintance, suggests doing it by weight: 14 ounces of all-purpose flour to 2 ounces of cornstarch. Then refrigerate of freeze what is not promptly used.
The Frenchtown Market is really providing heroic service to its customers. When I was there earlier this week they had bulk 16 ounce boxes of instant yeast, an unfamiliar brand . But they had yeast! They are getting huge bags of frozen vegetables from their wholesale vendors who are now not selling to restaurants closed due to the virus. Frenchtown Market staff repackage the vegetables down to a retail size that their customers can fit in their freezers. My friend Ashley told me today that at some store she had found excellent frozen beer batter onion rings in a larger package.
We have to, we are all adapting to these strange, strange times.
---
Back to Top
---
Back to April
---
Back to May
---
Back to the main Diary Page