.
Garden Diary - February 2020
---
If you have any comments, observations, or questions about what you read here, remember you can always Contact Me
All content included on this site such as text, graphics and images is protected by U.S and international copyright law.
The compilation of all content on this site is the exclusive property of the site copyright holder.
---
Hope for the Best: Prepping for Covid-19
.
February
It Begins
---
with Updates on 29 February, several in March, April and May, another in September & October
---
Friday, 28 February 2020
I enjoy reading science fiction, even the "what if" of post-apocalyptic stories such as "Alas, Babylon" written by Pat Frank and published in 1959. But this is not a story.
It began in December 2019. People in Wuhan, China were falling ill with fever, cough, and shortness of breath. Reported illnesses have ranged from mild symptoms to severe illness and death. Apparently transmissible before people are showing any symptoms, but primarily from person to person through respiratory droplets produced when an infected person coughs or sneezes. Air travel means that by now, Covid-19 has spread from China into 57 countries: Asia, Australia, into Europe, North America, South America, Africa. The CDC notes that "For the general American public, who are unlikely to be exposed to this virus at this time, the immediate health risk from COVID-19 is considered low."
Paul had ordered face masks in January - they have yet to arrive. I am not extremely concerned about becoming infected. Living in a semi-rural area, away from large cities should reduce the risk. It is more a matter, I think, of societal disruptions. Superstorm Sandy in November 2012 was disruptive for about two weeks. This could be significantly worse. I decided it would be prudent to do some prepping. We have a whole house generator, thanks to Superstorm Sandy, and a large in-ground propane tank. That means we should be O.K. for electricity, which has the ancillary meaning that - as we have a well - we should also be O.K. for water. Propane also means that there will be a working kitchen stove. Even so, I decided that most if not all of the food preps should be shelf-stable. And small point in choosing anything that we would not normally eat. If I prove to be over-thinking things we'll still consume what I buy.
My list included staples such as pasta and rice, and canned vegetables. We prefer frozen corn when fresh is out of season but in keeping with my shelf stable mantra I decided to get some canned corn. I can make corn fritters, corn chowder, mix with black beans to go with chili. Canned crushed tomatoes and diced tomatoes - useful for chicken cacciatore, pasta dishes, soups, and more. Canned tuna. Some more canned soup - we usually have a few cans on hand for quick lunches. A 10-pound bag of all purpose flour and a 5-pound bag of bread flour.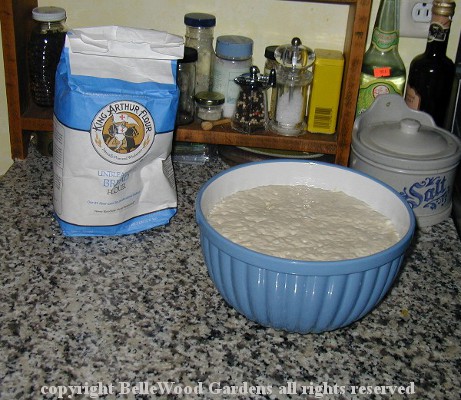 .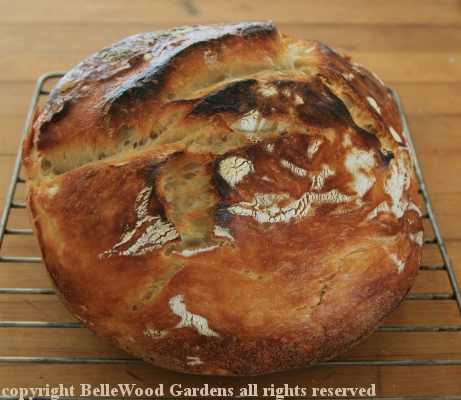 While I don't bake all our bread we do enjoy it when I bake a loaf of the easy, no-knead bread.
Very simple: for a 1½ pound loaf you need 3 cups of bread flour, a generous 1½ cups water,
salt, ¼ teaspoon instant rise yeast. Wait 18 hours, flip, shape, bake in cast iron pot in hot oven.
More oatmeal - I like it, and there's always oatmeal craisin pecan cookies. A 10-pound bag of sugar, which is how I usually buy it. A 7-pound bag of light brown sugar. I usually I buy the 2-pound size, and dark brown. Which does not come in larger sizes. An extra bag of chocolate chips for cookies - I've baked so many batches that I have the recipe memorized. Six one-pound boxes of unsalted butter. It freezes well and is useful for more than cookies.
We eat a lot of fruit. This will be an issue. Most canned fruit is packed in syrup and I find it overly sweet. I did buy three cans of pineapple packed in pineapple juice. There are blueberries, strawberries, peaches and sour cherries that I put up last summer, in the freezer. And homemade sweet preserves - one dessert option will be a jelly roll.
I'll buy some apples, make applesauce, and easily bottle it using a water bath canner.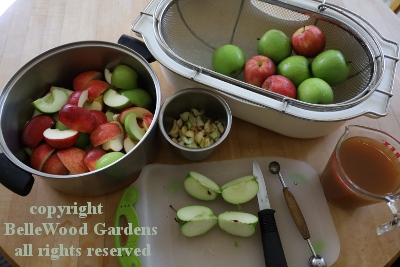 .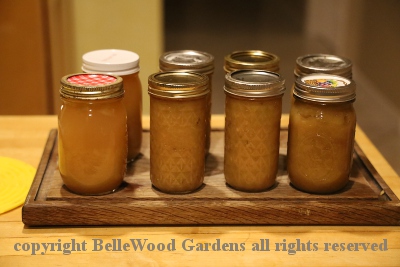 I used three pounds each Granny Smith and Gala apples. Cut in quarters and core. Simmer with
four cups of apple cider until soft. Puree, add 1 cup brown sugar, juice of 2 Meyer lemons. Bottle.
Yield: four 12-ounce and two pint jars of applesauce, plus two pint jars of cider cooking liquid.
Depending on how lengthy a self-quarantine proves to be, if it comes to that, it might become a matter of boredom: I don't want that for lunch / dinner again. I seriously doubt that malnutrition, starvation, scurvy, rickets, or other deficiency diseases will become a matter of concern.
Non-food items. At Costco I bought toilet paper, facial tissues, and paper napkins. I had thought to buy a gallon of bleach at Wal-Mart on Thursday, 27 February. All out, two large empty shelf sections. Inquiring, I was told that there was no idea when Clorox would be stocked, and the Wal-Mart brand was not expected before March 7. Bought a small container of bleach tablets, dissolve one in a gallon of water for use. Doubled back to Costco. Passing a couple whose very full cart included a three pack of 3.78 quart jugs of bleach I asked "What aisle?" and headed straight there. To find only four remaining boxes, one with an opened top. As I wrestled one box into my cart the young man returned - he'd decided to get another three-pack. A man came by and also took one. As I wheeled away yet another man came over and was looking at the last remaining three-pack with its open top. Paul has an unopened box of nitrile gloves, 30 in the package. They'll be good when I might need to wipe / wash anything down with a bleach solution, and should be re-usable for that use a time or two. But I'll check.
NOTE: To make a solution for disinfecting door knobs, countertops, and other hard surfaces add ½ cup of bleach to 1 gallon of water. That's the same as 8 Tablespoons to one gallon, or 2 Tablespoons to one quart, or one Tablespoon to a pint of water. It is better to make modest amounts more often. The solution only keeps its usefulness for a few days, degrading with warmth, light, and exposure to air. Store in a glass container well capped, in the dark, and at cool room temperature. Do Not add other ingredients such as ammonia, vinegar, window cleaner, or alcohol to bleach. Dangerous fumes will be released. This is not a hand sanitizer.
Today I went to Shop-Rite for some "normal" shopping. Decided to get some powdered milk, as long as I was there. They are all out and have no idea when it will be available. They did have a very few jugs of bleach.
Also today I ordered more canned cat food for Domino and Mr Poe. Should be delivered tomorrow, and will provide 36 days of food in addition to what we have on hand.
Storage. There are several large plastic tubs, with lids, in the basement. Items are somewhat arranged in them - canned goods in one, baking supplies in another, etc.
There's nothing we would not use in the ordinary way of things, just more of them. We will see if I have been prudent or absurd. Hope for the best but prepare for the worst.
---
OCTOBER UPDATE
Thursday, 15 October 2020
Early morning senior hours offer an opportunity to shop with less people in the store. Larger communities have services such as Instacart and Doordash - you post to the site and someone goes shopping for you and delivers the items. Or you can do curbside pickup. Use the store's app, place an order, and at a specified time you pick it up without ever entering the building. A friend over in Pennsylvania does that using the Giant supermarket. But she's never sure if all of her order was available or if there are gaps. Or substitutions. Or if the order picker was as picky as my friend would have been: will she get the four nicest apples or merely the first four that come to hand.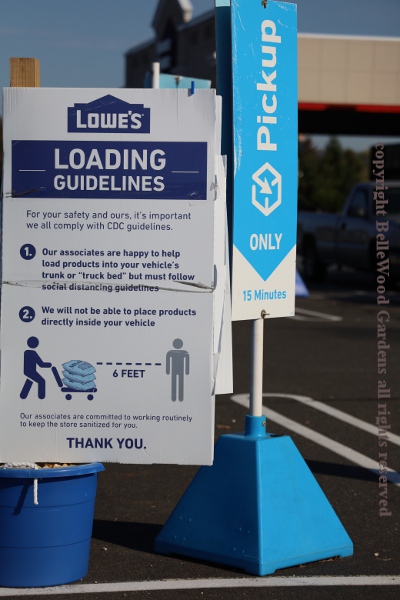 What about curbside ordering at a big box store such as Lowe's.
Would that be O.K.? I've been known to cherry pick 2 X 4 lumber


to avoid cupped, checked, warped boards. But curbside stays out.
---
32 WEEKS AFTER THIS BEGAN: Friday, 8 October 2020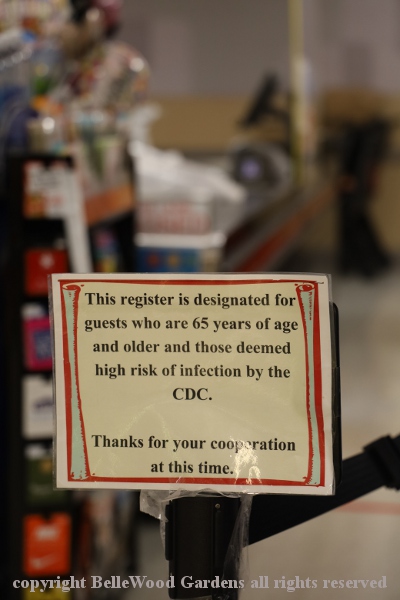 I just got around to taking a picture. Shoprite has a dedicated checkout register
for seniors and those at high risk of infection. Much appreciated. Another change.
Cashiers and baggers are not allowed to touch bags you brought from home. So
either you bag your own groceries in the environmentally correct reuseable bags.
Or it all gets bagged up in new bags.
---
SEPTEMBER UPDATE
28 WEEKS AFTER THIS BEGAN: Saturday, 8 September 2020
When I began stocking up at the end of February no one really knew what would happen. A few weeks, perhaps a couple of months . . . Covid-19 is not like the flu. Here in the United States over 200,000 people have died. Millions, are out of work. People who can are working from home. Schools are closed, with children learning remotely via Zoom. Restaurants closed to inside dining. Takeout. Some outdoor dining. Prudent people are wearing face masks when indoors in public places where prudent social distancing of 6 feet, minimum, is not possible, as protection against the aerosolized droplets spread while breathing or talking. Other are convinced it is all a lie. Strange times, we live in very strange times.
Six months on there are so many changes to how we live our lives. What's unknown is if and how many of these changes will be permanent. Grocery shopping, for example. In populous places such as New York City, or even Flemington, New Jersey there are services that will do your grocery shopping for you. Give them a list, they do the shopping and deliver to your home. I'm too rural-suburban, doesn't exist out here. But even before Covid-19 Shoprite had Shop from Home. Provide a shopping list, an employee collects your order which you then pick up curbside. Now even the Frenchtown Market IGA provides this service two days a week. It is for customers who are older than 65 or have an underlying condition that puts them at risk should they become infected, asthma for example. Prefer to do your own shopping but still concerned? Food stores are offering a seniors only hour before their regular opening time. And once you get in the store there are changes.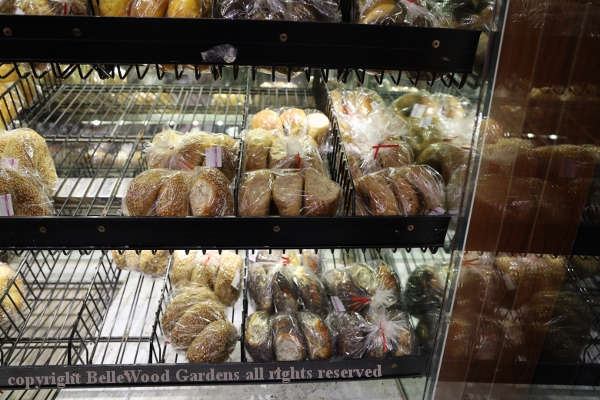 At Shoprite's in-store bakery we were always supposed to use a provided waxy paper square
to choose however many bagels and rolls. Now they are pre-packaged, three of a kind to a bag.
UPDATE Friday, 8 October: It's changed. Customers must first use provided hand
sanitizers and then wear a disposable plastic glove - also provided - to chose items.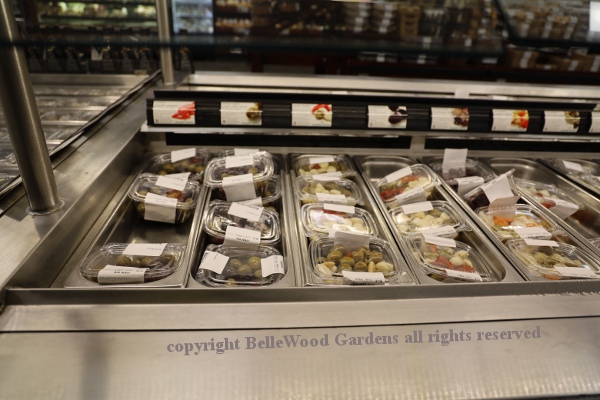 The olive bar has also changed to pre-packaging. No more selecting
only black cerignola olives from the tray of mixed green and black.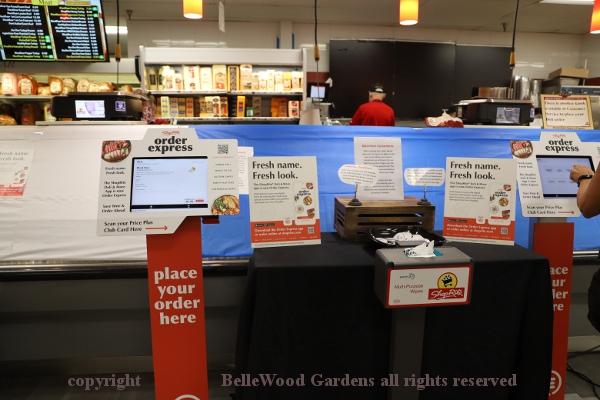 There has always been an app that allows you to place a pre-order at the deli.
Only now it looks like this is the only way to place an order. No free samples.
---
MAY UPDATES
Saturday, 16 May 2020
An observation, not a prep. Another thing I just realized, looking at the sky. We're an hour's drive away from Newark Liberty Airport. It used to be common to see multiple contrails criss-crossing the sky in daylight hours, hear the airplanes and see their blinking lights at night. Now? Maybe one contrail every few days. The passenger jets are not flying as they used to. I've seen articles mentioning some are transitioned into carrying cargo, even in the cabin area.
"In the United States, each of the three largest airlines started running cargo-only flights in March. American Airlines had not flown an all-cargo trip in more than three decades. Now, it is flying 140 a week. . . . But a new category of goods has emerged in force in recent months: medical supplies. . . . Masks, gloves, ventilators and the like caused peak demand and these absolutely high volumes . . ."
There are small public and private small airports near BelleWood Gardens. Corporate - Exxon Research Engineering in Annandale has a heliport - 52NJ. Hunterdon Medical Center in Flemington also has a heliport - JY01. There are a few small public airports such as Sky Manor - N40 in Pittstown, offering services to local and transient pilots. A surprising number of private airports such as Malone Airport - NJ61 on Tinsman Road in Frenchtown. It has a turf runway, soft when wet or during spring thaw, and operational under VFR only. Bud Malone hangers his plane on his property and takes it up every now and then. There was a nearby medical emergency on Thursday, 14 May, and the med-evac helicopter landed and took off from this field.
---
ELEVEN WEEKS AFTER THIS BEGAN: Thursday, 14 May 2020
Still strange, very strange times. What little shopping I have been doing has been at the Frenchtown Market IGA. Better availability but strange gaps on the shelves. Pasta is very sparse but I did find pappardelle, wide noodles. Unfamiliar brand but these days that doesn't matter. Baking supplies also limited. Milk has become an important item because I am now making yogurt in my Instaport.
Two trips to Traugers Farm Stand in Kintnersville, Pennsylvania. First time when I phoned in and said what I wanted. They would tell me if they had that item. Or not. Second time - by now their site has a very long list of items so when I called I knew what was available. They are selling more than what they grow themselves, such as bananas, grapes, and more. Not produce items too - I bought 2 pounds of semolina flour. Place order, provide credit card information, drive over (about 30 minutes) and a box is waiting on a table under the roof but outside the store.
Last Tuesday, 12 May, I decided to make a run to Flemington and go to both the Walmart Superstore and also to Costco. Left home about 7:30 a.m. and reached Walmart right about their general opening hour of 8:00 a.m. Gaps on shelves, gaps in meat case. Do my shopping including a 35 pound tub of Tidy Cat Continuous Action kitty litter. It is now almost 9:00 a.m. which is when Costco opens its senior hour shopping, available Monday through Friday. Much easier both timewise and more days than Walmart.
Very long line to enter at 9:00 a.m., people spacing nicely. Some rather young looking seniors. Everyone masked. It is a New Jersey statewide requirement. Other things I noticed: I did use the restroom and they have clear plastic dividers separating each hands-free water and soap dispenser station. People entering / exiting store are kept separate. To check out - long single line reaching almost to back of store, with people again spacing. Employee at head of line directing member at head of the line to this or that register. And they had all registers open. Moved along very quickly. Cashier asked me to put small items on conveyor rather than the previous two person team, where one would be unloading, the other running register. And when you leave rather than someone leaning over cart counting items and looking at your receipt as previously the employee was behind a plastic "wall" you just held up your receipt, then left the store. I noticed that as well as the clear plastic barriers there was a line of folding picnic tables in front of the service desks, distancing members from staff.
SUPPLY LINE ISSUES DUE TO COVID-19: There are reports that at least 13 major meat processing plants slowed or shut down operations in April. Chinese owned Smithfield Foods processing plant in Sioux Falls is just one of the plants in Minnesota that has shut down, as have others in nearby Iowa. Workers in the plants became ill with covid-19, and the crowded line conditions mean that the disease spreads rapidly.
Hogs are sent to market at 6 months, at about 300 pounds weight. New piglets are coming along and farmers have now where to house them. With no other options some farmers are slaughtering the animals and burying or composting the carcasses, and / or injecting pregnant sows with abortifacient drugs. Crops are being plowed under, milk is being dumped. This comes at a time when demand on food banks by the unemployed is rapidly increasing. Why discard the food? It is difficult to change over from bulk order to retail size options. Compare a 50 pound bag of potatoes with typical grocery store packaging, or a commercial size 15-pound package of bacon with the 1-pound size a home cook would buy. School are closed down. Restaurants are closed for dining in. Even those that are serving take-out only options need less.
Costco has instituted limitations on meat - only three items total of beef, pork, chicken, fish. Not three of each, three total. I bought a two-pack of whole chickens, a package of tilapia fillets, and a package of two skirt steaks. There's a limit on frozen shrimp - one unit per member. Other items - the store did have 25 pound bags of King Arthur flour, limit two. I bought one. Ten pound bag of granulated sugar, limit one, which is what I got.
---
APRIL UPDATES
SEVEN WEEKS LATER: Tuesday, 21 April 2020
No images. I could not figure out how to handle camera plus bleachy
wet washcloth in my gloved hands, or where to put it while I shopped.
Strange, strange times we are living in. I have made a list . . . We could manage without the 24 items on my list. None are critical, yet, but they would be nice to have before we run out - laundry detergent pods, ingredients for making my own detergent, pods for the dishwasher, chocolate, some produce, vitamins, etc. I discovered that the Walmart super store in Flemington, New Jersey has a very nice on-line app. Search for the item you want. The app will note whether the item is in stock, has limited availability, or is out of stock. Also, in what aisle the item may be found, specific to the store you are examining. The Flemington Walmart does have an hour specifically for seniors. It is only on Tuesdays, one hour before their usual opening. Which is 7:00 a.m. I set my alarm for 5:00 a.m. and headed out the door 30 minutes later, having already A) fed the cats, B) made (and drank) my coffee, and C) had a load of laundry swishing around in the clothes washer.
When I arrive at the store I see something new. There is a walking path fenced off adjacent to the building to control heavier traffic. Not an issue at this time of morning. Everyone masked - it's a requirement in New Jersey. I saw one couple with cowboy style bandanas over nose and mouth, with tails drawn up and through the elastic strap on the back of a baseball cap, where your ponytail would poke through. Didn't seem especially close fitting. Or secure. One door to enter, different door to exit. Staff ready to direct you in / out, and provide a sanitized cart. And I'm off!
The app was not completely accurate. I found 14 of my 24 items and think I should have done better. None of the candy in larger size, just one of the two different multi-vitamins, only two of the three make-your-own laundry detergent ingredients und so weiter. Did get a small size of the laundry pods, nice baking potatoes, onions, and bananas, two frozen orange juice concentrate, etc.
Back home. Unload, dropping my face mask in a bowl of bleachy water, wash hands, wipe down refrigerator / freezer items with washcloth soaked with bleachy water. Also wipe down a few hard sided containers that come indoors. Some items will be staying in the garage for three days until I decide they are safe to bring into the house - my usual routine.
I decide to check the listings for missing items at the smaller Walmart in Clinton, New Jersey. Their senior hour is also on Tuesdays, before regular opening. They seem to have 7 of my missing items available and one more that's in limited supply. Leave home at 9:30 a.m. This time Paul drives and waits outside.
As I'm entering I see a store employee tell a woman with a toddler in the cart's child seat that all children two or older must be masked. She, fortunately, has another mask with her, masks the child, and they enter. In this store I saw a couple wearing what looked like eye masks, the kind you wear for sleeping when it is bright daylight, wearing them as face masks. Rather skimpy, and awkward, I thought.
This Walmart doesn't hand you a cart. But I have a fresh bleachy washcloth and as a precaution I wipe down the handle. What this store does have are floor markings - Do Not Enter at one end, Enter Here at the opposite end - for one way flow up / down the aisles, not that everyone is paying attention. Found the other multi-vitamin, which was listed on-line as limited. There were three, I took one. Had a larger size container of laundry pods. Figured "why not" and into the cart it went. Also found borax, the missing third ingredient for the make-your-own detergent version. Had the chocolate I was looking for. And a few other items, some that were on my list, some that were impulse additions. Still looking for copper polish for my cooking pots, and keep forgetting to look for oven cleaner.
I was thinking that on Wednesday I would place an order with the Frenchtown Market IGA for meat and milk, with a curb-side pickup on Thursday. Turns out that there is a $5 service fee for orders under $100. That's reasonable / appropriate. However I know I will not be spending that much. Will mask up, glove up, and bleachy washcloth in hand, make an entry.
---
MARCH UPDATES
ONE MORE UPDATE: Wednesday, 18 March Every time I think I'm done with this entry something else crops up. Today I discovered that I did not have "reserve" packages of plastic wrap, plastic bags, tin foil in the cupboard as I thought I did. Rather than try for a crack of dawn visit tomorrow morning I went to Wal-Mart Super Store in Flemington this afternoon. I prepared myself with a disposable plastic glove for my right hand and an inexpensive washcloth saturated with a bleach disinfection solution in a plastic bag in my left front blue jean pocket. Thinking things through, I put my credit card in my shirt pocket so I don't need to fumble with my purse, get the wallet out, remove credit card, etc. The idea was to pick up items in the store with my right hand and as needed use my left hand to remove that bag and wipe whatever seemed to need it with the bleachy washcloth.
I was there mid-afternoon. Except for obvious couples and pairs everybody spacing out, and store not crowded. Some people with face masks and gloves on both hands. The store is trying its best to keep shelves stocked. Pallets filled with stacks of shrink wrapped boxes and restocking efforts under way. Staff is looking frazzled. So when I would pass someone doing the stocking I'd pause and say thank you, and how much I appreciated their efforts to deal with things at this scary, hectic time. Each one seemed a little startled, and then they'd say "thank you." To me!
Not bad, not fabulous. The plastic wrap, plastic sandwich bags and freezer bags in 1- and 2-gallon size, also tin foil I wanted were somewhat spotty on the shelves but I had no problem getting them. Produce - there were ample supplies of bananas and clementines so I happily got some of both. Did get poblano peppers and tomatillos. I wanted some ginger root. But there was absolutely none! No idea if some word is out on the Internet that ginger root is effective against covid-19 or some other lunacy. I do have some baby ginger I pickled last spring, guess that's what I'll be using for cooking. Big gaps in the meat cases. Breakfast meats - empty. Sausages - mostly gone except for hot dogs. Gaps in the cheese case but I did get mozzarella. No Smart Balance, had to get one of the few remaining Olivio for the reserve not-butter I wanted.
As an aside: Seeing as we're down to one full and one partial tub of kitty litter, about a 3 week supply, I decided to call Chewy's this morning and order some. Firstly, I was on hold for about 30 minutes or more. When I did finally speak to a representative she told me that they are completely out of the Tidy Cats Instant Action that I usually get - no 35-pound tubs that I wanted, also no 40 pound boxes or 20 pound jugs. They did have the Continuous Action. I ordered three 35-pound tubs. A follow up email said that rather than the usual 1- to 2-day delivery my order will be shipped in 5 to 8 days. Good thing I ordered today and not next week.
I surely hope this is it.
---
YET ANOTHER UPDATE: Monday, 16 March I thought I was done with this, but this morning I went to Delaware Valley Farm and Feed to get eggs, and then on to the IGA in Frenchtown. What I learned at the one and saw at the other resulted in this update.
I went to the Delaware Valley Farm and Feed store for eggs, which is where I always get them. As long as I was there I got wild bird seed too. Jack has had to limit some people on livestock feed - if they would have gotten 5 and want 6 or 7 that's O.K. he said. But if they try to buy 10 or 15 bags of feed he's saying no.
Then I went onward to the small IGA in town. I have NEVER seen it like this.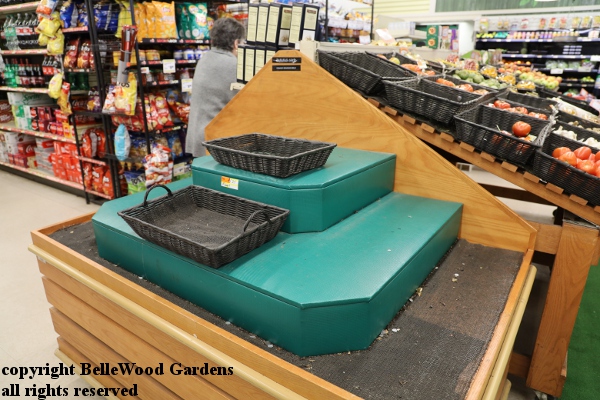 No bananas, cleared out of everything, including the organic ones.
Asked about when bananas would be back in stock. Maybe today
but the store is being shorted on what they order. Can live without.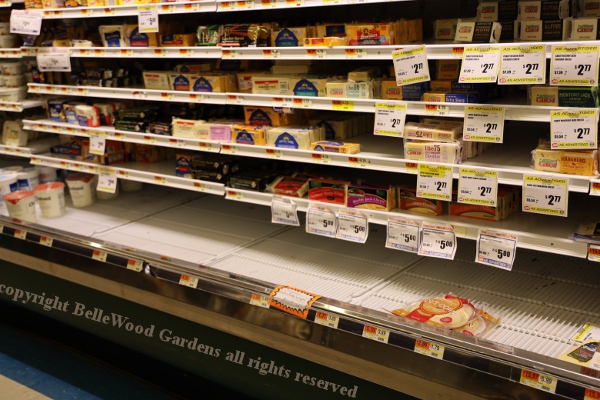 No wraps. No tortillas. And as anticipated, there's no packaged bread.


The "good" packaged bread by the deli county is in stock. Got one loaf.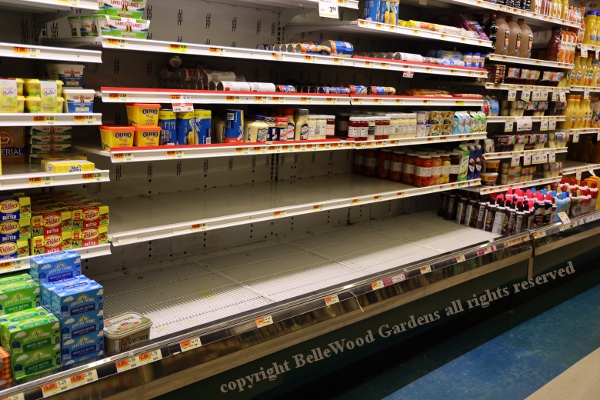 Milk was nicely available but no eggs. Glad I stopped at the farm and feed store.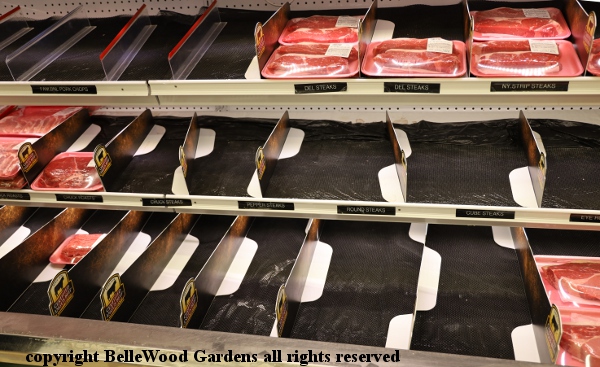 The IGA has really excellent meat, always ample supplies. Today there's not much beef left.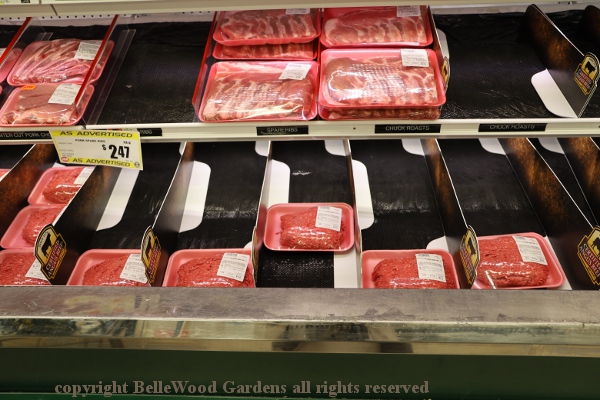 Very low on chop meat and what they had were smaller packages of the 85/15.
No larger family packs. No limit on what could be purchased. Ample ground pork
though, so I bought some of the pork and my usual twice as much ground beef.
Hamburgers tonight, freeze meatloaf to cook later. Freeze pork for Asian recipes.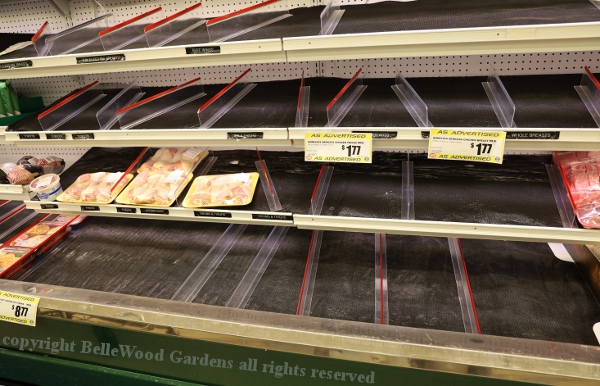 Out of chicken, both whole and parts, except for 4 packages of drumsticks.
.

No bagged onions. No loose onions, and mostly out of potatoes, both loose and bagged.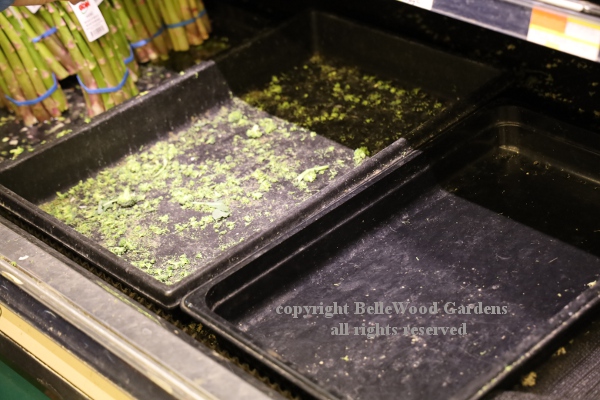 Broccoli, all gone. There's asparagus though.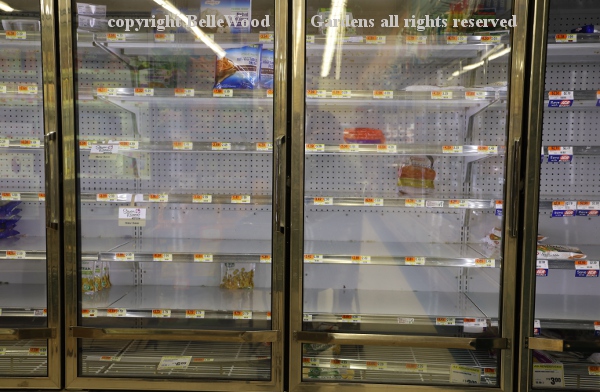 The freezer cases are empty of vegetables.
I though I was being a little paranoid when I started this exercise on 28 February.
Here it is, just 18 days later. Now I wonder, was I paranoid enough? I do hope so.
It is time to hunker down. Cancelled Saturday's class. Arboretum closed anyhow.
Wednesday morning knitting group staying home. Besides, cafe now takeout only.
I can crochet at home, go outside and garden. We are living in interesting times.
---
UPDATE: Tuesday, 10 March This morning I went to the nearby Costco while Paul was at physical therapy. Primary reason was to fuel up my car, which was down about a half a tank. That's when I usually fill it. As long as I was there I went inside to see what was going on.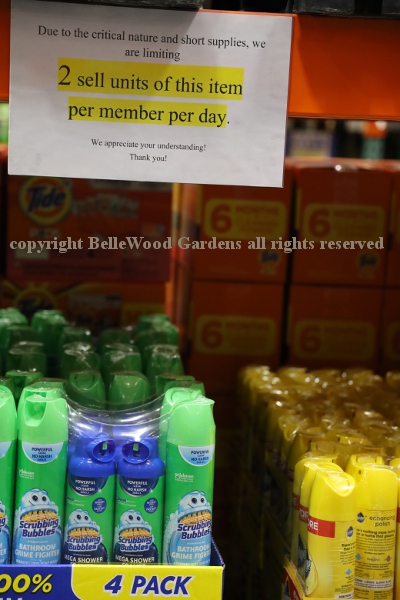 .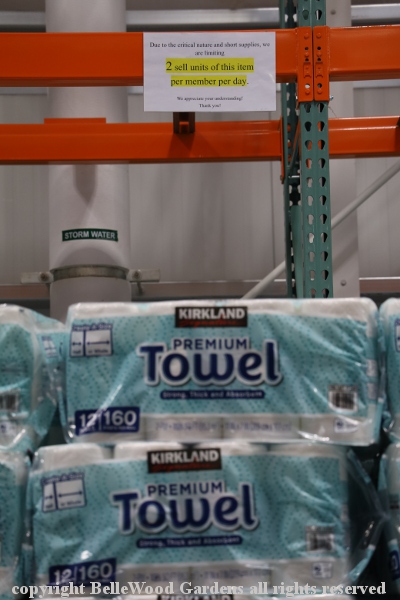 Some items are limited to two only per member per day. Various surface cleaner/sanitizers, paper towels, toilet paper. One woman told me that the store was sold out of the less expensive toilet paper. She'd had to buy the premium kind. I asked about disinfecting wipes. The man stocking shelves told me they'd gotten one pallet, which promptly sold out. He could not say when more would be available - they keep ordering but that doesn't mean they receive the item.

There are work arounds. I saw numerous shoppers observing the limit of two items.
But doing so with the selection of two each of different brands or packages of water.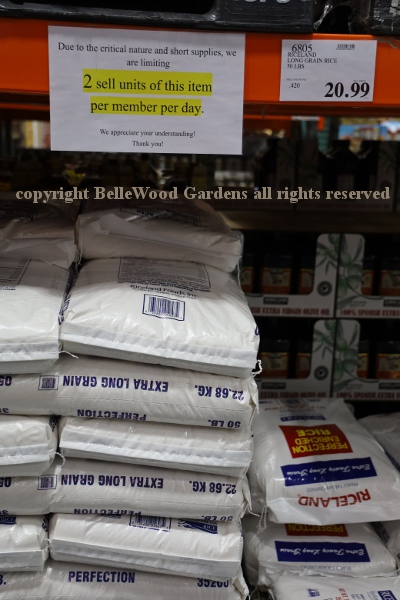 I understand sanitizers and paper goods. Apparently there is also
a rush on 50 pound bags of rice. No idea how people will store it.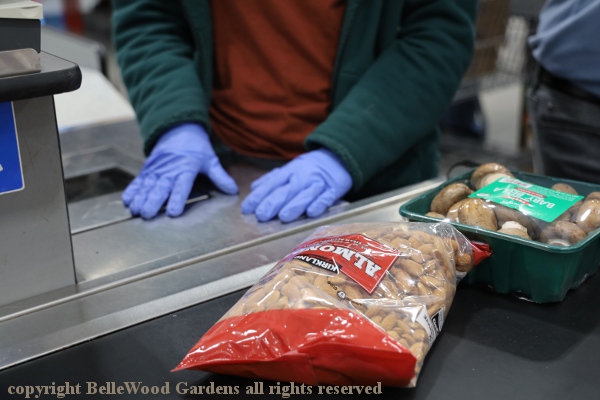 Some shoppers wore disposable gloves. At checkout I noticed that some
(but not all) cashiers and cart loaders were wearing sturdy purple gloves.
---
UPDATE: Thursday, 5 March I feel that my preparations are complete. Did I panic? I do not believe so.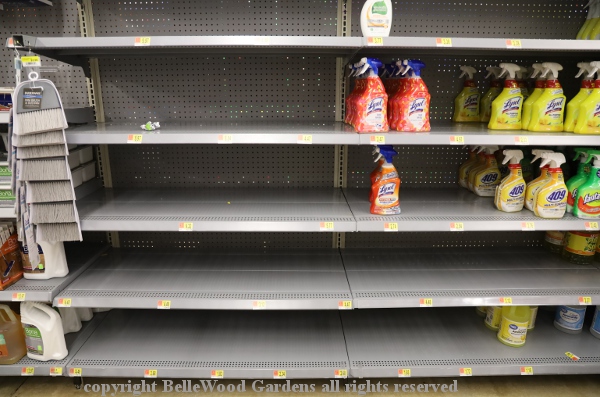 Empty shelf syndrome continues - this is the area for disinfectant cleaners at Wal-Mart today.
My concern is not so much on becoming ill as needing / wanting for whatever reason to sequester at home for a matter of weeks to - at the worst - for a couple of months. It just seemed sensible to acquire consumables in the way of food and non-food items. (And there was an ample supply of yarn already on hand.) Primary choices were shelf stable canned or dried items. Ordinarily we're spoiled for choice. For fresh produce I went back to the days before food with more frequent flyer miles than I have. I'm talking potatoes, onions, carrots, cabbage.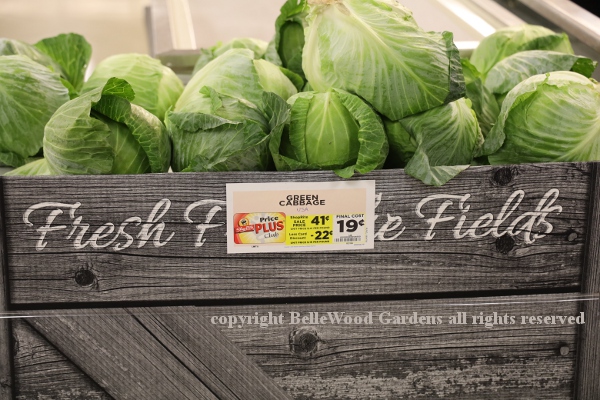 Note: Tuesday, 10 March
As anticipated, the price of cabbage has sharply dropped in honor
of St. Patrick's Day. I can but wish that they would do the same for
the always costly leeks on St. David's Day, 1 March.
Back to Thursday, 5 March: A friend doing her grocery shopping today made her regular visit to Kimberton Whole Foods in Pennsylvania today. At our Wednesday morning knitting group I had mentioned that I was looking for tincture of echinacea, so far unsuccessfully. My "personal shopper" walked down a different aisle, asked the nice (and very helpful) lady in that department if they had it, and proceeded to the checkout. My friend was glad I had described what I wanted as the store was very well supplied with three tinctures, each different, as well as capsules. She chose the one made with fresh echinacea root & flower. Turns out it is produced locally by Herbalist & Alchemist Inc in Washington New Jersey.
---
UPDATE: Tuesday, 3 March Paul had his physical therapy session this morning. I decided to drive. Then, while he was leaping and bounding or whatever he does, I would go to the nearby Wal-mart Superstore, looking for more soup and some echinacea.
.

Wal-Mart - empty shelves where immune response vitamins etc should be. Including echinacea.
Progresso soups - mostly empty. No varieties of chicken. Or beef, or, actually, much of anything.
Went to the nearby CVS. Their only echinacea was not tincture They only had the capsule form, from the above ground portion of Echinacea, I was going to buy it as a fall back. That's until I read the label. You are supposed to take 7 capsules per day, individually, preferably with meals. Anyone here eating 7 meals / day? Didn't think so.
Went to Costco. They don't carry echinacea at all. I had wiped the cart handle down with the wipes available as you enter the store, same as I did at Wal-Mart. Some people apparently believe in stronger measures. I saw an older couple in Costco, shopping. They were both wearing disposable gloves. I mentioned it and the man replied that they always did.
---
UPDATE: Sunday, 1 March Thinking about hand washing, touted as better protection against Covid-19 than wearing a face mask. If concerned about your hand washing skills you are not scrubbing for surgery so no need to remove jewelry. If in public rest room without automatic paper towel dispenser get paper towels before washing. If bathroom door opens inward get an extra towel to open door afterward washing. Also, echinacea helps boost the immune system. Cannot take it like a vitamin, constantly, or it loses efficacy. Take when needed, three times a day added to liquid such as water or juice for a week or 10 days. I am of the opinion that the tincture is better than capsules.
---
UPDATE: Saturday, 29 February Shop-Rite was very crowded, even more than usual on a Saturday. More people than typical using the free disinfectant wipes on shopping cart handles. Between Shop-Rite and Wal-Mart I found: a small container of powdered milk, got my usual powdered buttermilk, three 10-packs of vinyl gloves (one at home, one in Paul's car's glove box, one in my purse.) Bought some potato flakes - not a usual purchase, would not try to pass them off as mashed potatoes, but I think could be alright in something like kartoffelklosse, potato dumplings.
---
Back to Top
---
Back to all month of February entries
---
Back to all month of March entries
---
Back to all month of April entries
---
Back to all month of May entries
---
Back to the main Diary Page