.
Garden Diary - September 2018
---
If you have any comments, observations, or questions about what you read here, remember you can always Contact Me
All content included on this site such as text, graphics and images is protected by U.S and international copyright law.
The compilation of all content on this site is the exclusive property of the site copyright holder.
---
September
---
Garden Decor at Willowwood Arboretum
Saturday, 15 September 2018
---
A visit to Willowwood Arboretum of course has a wonderful focus, a diversity of trees and shrubs, perennials, annuals, plants native and exotic, long established and new this year. But that's not all. Remember the pithoi I showed you?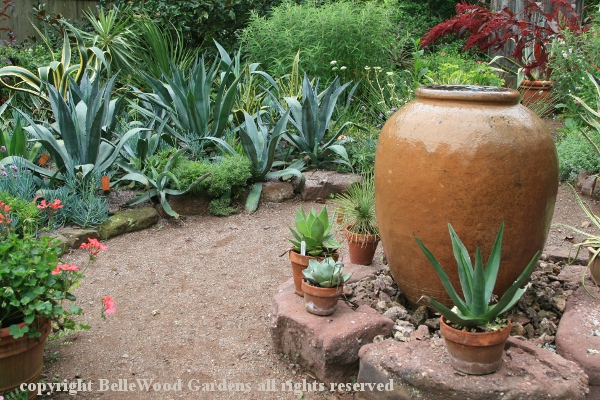 This one. Definitely not a plant. Call it garden decor, a garden ornament,
call it garden art. Willowwood Arboretum has some splendid examples.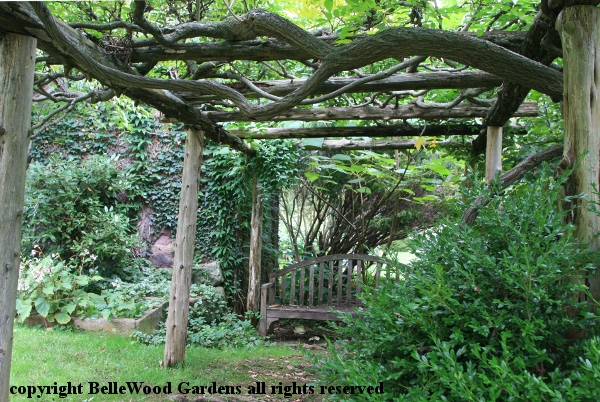 Some are functional and somewhat rustic in appearance, such as this arbor.
Built of cedar poles, supporting a wisteria, shading a bench. And, attractive.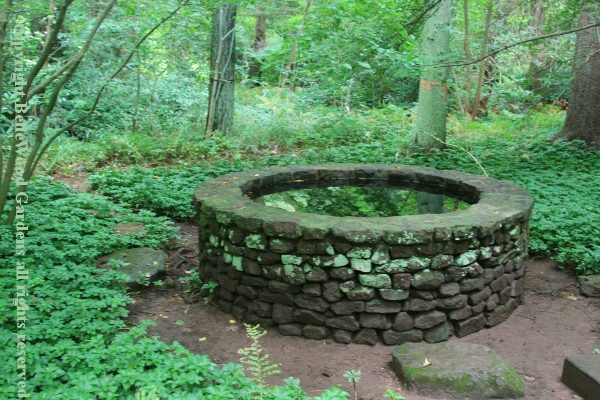 The well in the woods is perhaps my favorite for its mirror-like surface,
and the peace and quiet that envelops it. In winter it has a wooden cover -
perhaps to avoid disturbing a nixie, hibernating away in her watery home.
The brothers Tubb, who created Willowwood Arboretum back in the early days of the last century (that sounds almost antediluvian), were interested in all sorts of plants. They corresponded with and received Chinese plants from Charles Sprague Sargent and E.H. 'Chinese' Wilson of the Arnold Arboretum.
It was a couple of decades on, in mid-1940s that their good friend Benjamin Blackburn was stationed in Japan as a captain in the army. While there, he visited many of the gardens, and befriended Japanese botanist Yoshiharu Matsumura of the Nikko Botanical Garden. It is reported that after World War II ended, Blackburn returned to Willowwood once again, bringing Japanese statuary and accouterments for later garden use.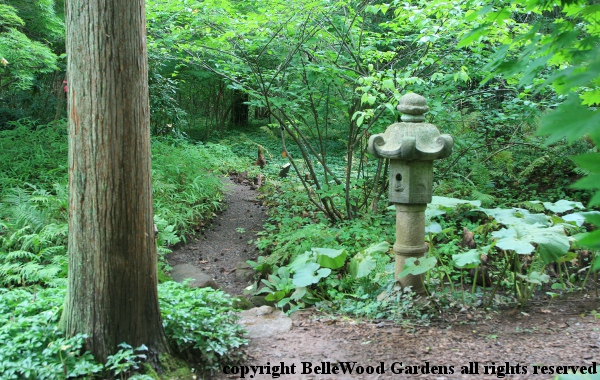 Come, let us follow the path, its beginning by a Japanese stone lantern,
and enter the woods. This area is quite wet, and there's a little stream.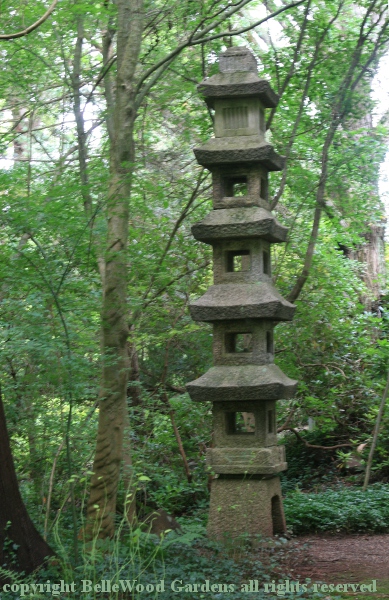 There is a tall, multi-story stone pagoda, near the house.
This is something new. Not a lantern, but it is drilled
through the base. It is possible that it could support
an electric light. Or maybe some subtle water feature.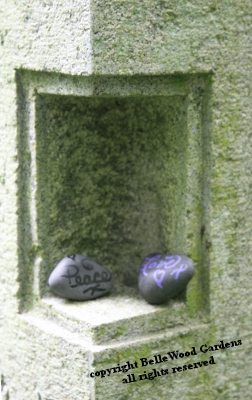 Meanwhile, it harbors two thought rocks,
peace on the left and love on the right. I
wanted to turn them over, hide the writing.
But did not.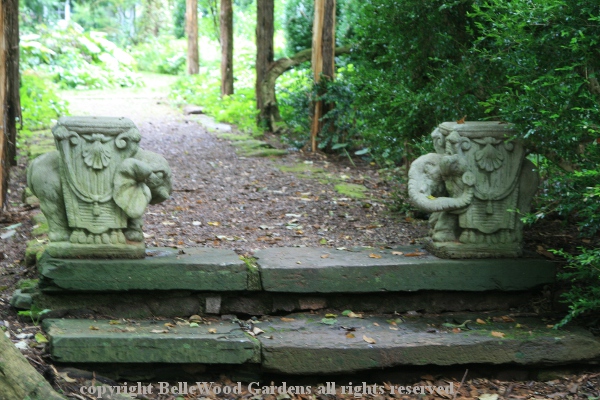 A pair of sturdy elephants, ready to support two urns or flower pots.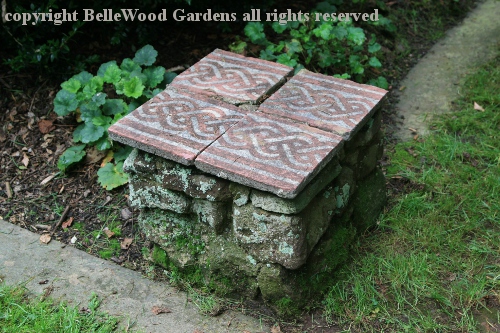 Four decorative glazed tiles, too pretty to conceal with anything.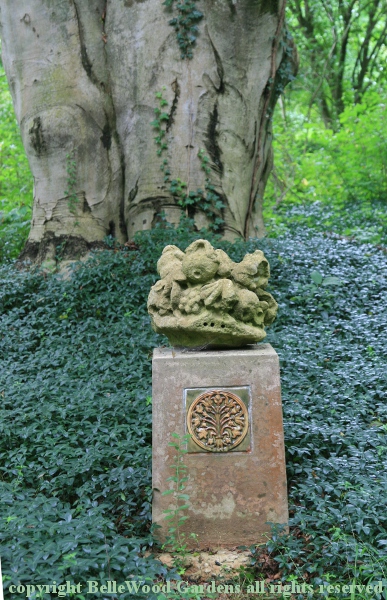 A time-worn concrete fruit basket
on a beautiful, simple plinth.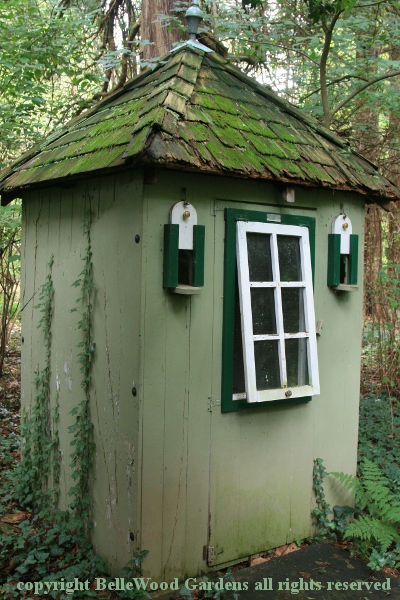 And a little hut, off in the woods. The two open windows -
doves could fly in and out. Or squirrels easily slip through
to store an abundance of acorns. The glazed window is
in the door. I peered inside but there wasn't much to see.
There is a special day this weekend, when Fall arrives. On Sunday visitors can enjoy the meadows and late summer gardens at the Willowwood Fall Open House from Noon to 4 pm. The Tubbs House will be open and there will be both horticultural staff tours as well as the self touring cell phone experience with its new E.H. 'Chinese' Wilson plant trail. Light refreshments will be available. Admission $5 per car.
---
Back to Top
---
Back to September 2018
---
Back to the main Diary Page