.
Garden Diary - September 2018
---
If you have any comments, observations, or questions about what you read here, remember you can always Contact Me
All content included on this site such as text, graphics and images is protected by U.S and international copyright law.
The compilation of all content on this site is the exclusive property of the site copyright holder.
---
September
---
A Visit to Willowwood Arboretum
Saturday, 15 September 2018
---
I got an e-mail from John Beirne a couple of days ago, in which he "wanted to tell you that the gardens at Willowwood are peaking now and we are flush with color, fragrance and wildlife. I hope you can steal away for a visit!" When the director of Willowwood Arboretum tells me that it is looking rather splendid, well, behooves me to clear the decks and find some time to make a visit. Accordingly, after the meeting of the rock garden society's local chapter on Saturday morning I happily managed to detour for a couple of hours to see for myself.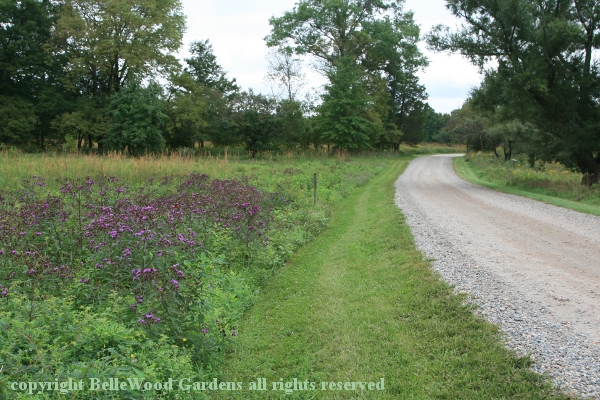 Enter on the long road through the meadows where goldenrod and
deep purple ironweed, Vernonia novaboracensis, are richly in bloom.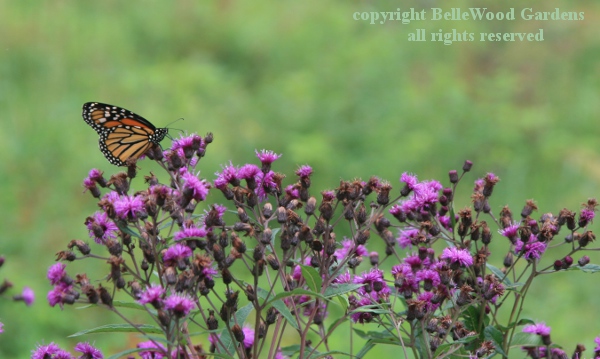 Monarch butterflies are nectaring, feeding up before their long
migration to Mexico. Colors so bright, they must have recently
emerged from their jade green, gold embellished, pupal cases.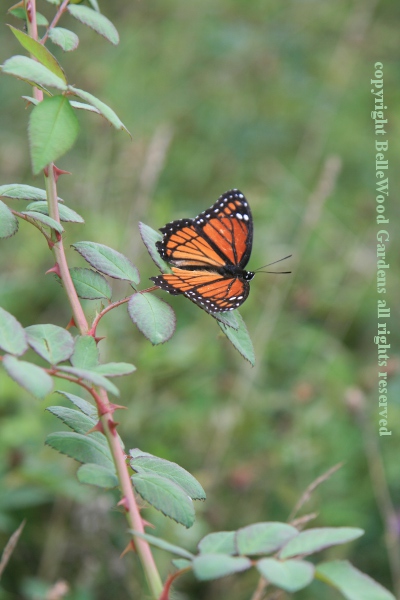 .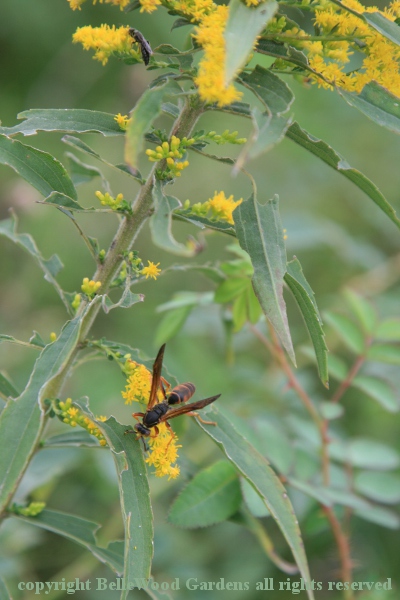 Nor was the goldenrod overlooked.
Got back in my car and drove to the upper parking area. Willowwood has always had lovely containers planted up with seasonal plants. Up by the barn is a simple display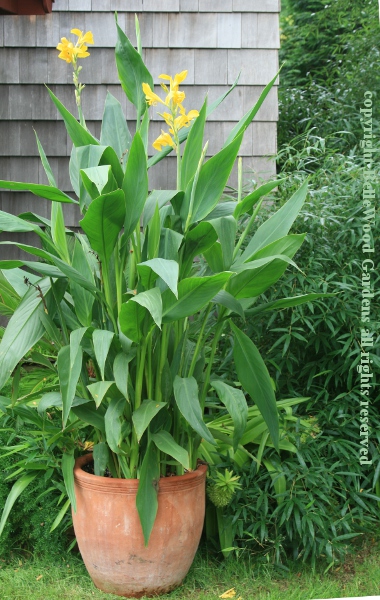 using Canna glauca 'Ra', one of the four Longwood water cannas.
John has always been fond of lush tropical plants with bold foliage and colors other than green. Where better to show them off than in the more public, more "cultivated" areas of Willowwood, near the buildings.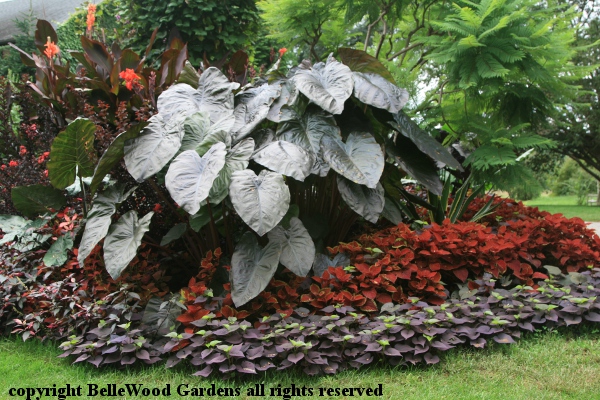 Consider this bed of red flowering, purple leaved cannas on the left, anchored with an elephant ear so dark and shiny it reflects the light. Could it be 'Painted Black Gecko'? Maybe. Finish the display with a tutu of red coleus and a ruffle of Ipomoea 'Ace of Spades'. Simple color scheme effectively carried out.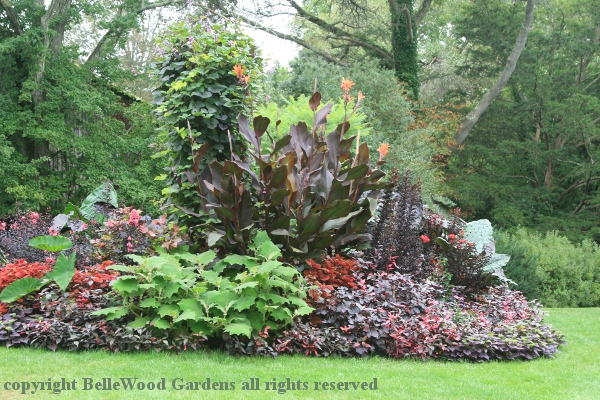 The fuzzy looking plant slightly left of center is Solanum quitoense, called naranjilla in Ecuador and Panama. Yes, "little orange" does have edible fruits, even though it is a member of the nightshade family (but so are tomatoes, potatoes, and eggplants.) Keep your fingers to yourself, though, the fuzzy look is deceiving - its leaves are quite prickly.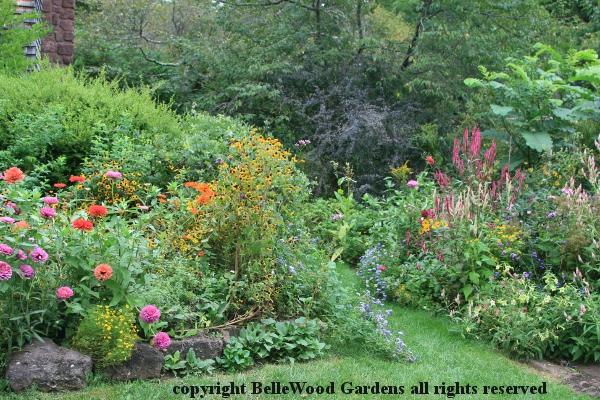 Onward to the garden across from the Tubbs family house. Annuals
lean in to the path to greet you in colorful welcome as you stroll along.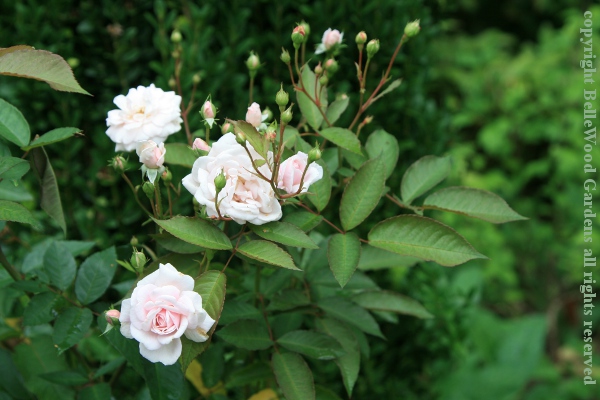 A deliciously pale pink rose offers a swooning cluster of flowers.
Follow the road, keeping left and passing the house and its attached little greenhouse. Go passed the large barn or equipment shed or whatever. Bear a little to the right up the slope, and there's another garden.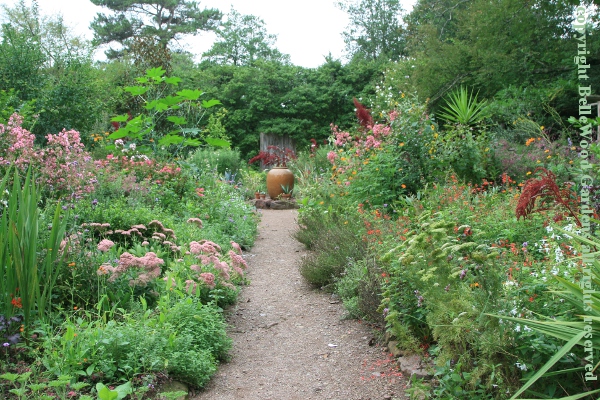 It's an eclectic mix of perennials, shrubs, hardy and tender plants. There's
a pithoi as a focal point at the end of the path. Shall we go take a look?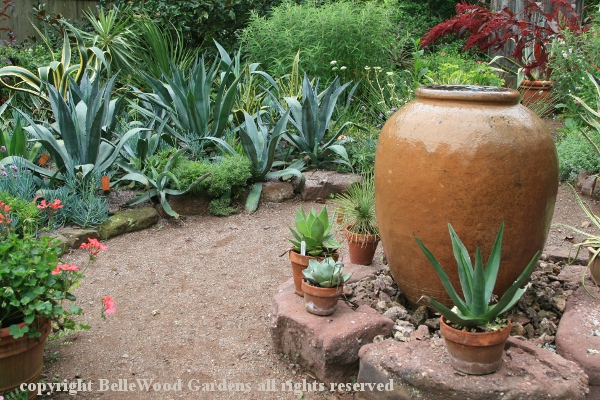 Why not. This pithoi is not storing liquids. It's bubbling up water,
having become a fountain. Off to the side are blue-green agaves.
As an aside - there's more garden decor to admire, here and there around the grounds.
They look quite cool, in both senses of the word.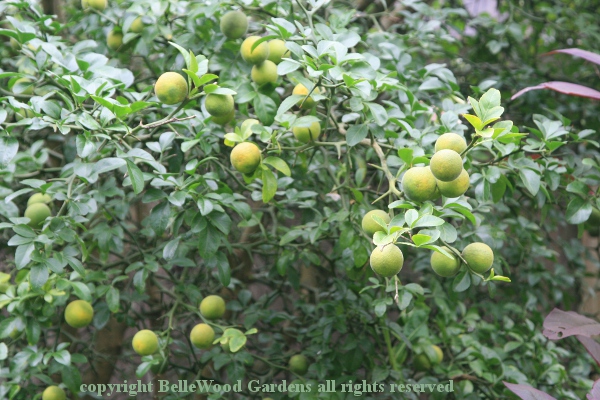 At the back of the densely planted border there is a charming little fruiting tree. It's the hardy orange, Poncirus trifoliata. The fruits will turn yellow when mature but there's not much to use them for - a thick rind and what little flesh there is, is dry and mealy. But the idea of growing an orange tree, outdoors in New Jersey, that's good enough to grant it space in the garden.
A new planting makes use of that old barber shop plant, Sanseivera, with its sturdy, tolerant-of-abuse, leaves. Some silvery fuzzy (you could pet this one) panda plant, Kalanchoe tomentosa. And the copper colored plant . . . I'm not sure. Looks sort of like Euphorbia cotiniifolia but not exactly. Whatever. It is very nice, picking up the dark brown edging on the panda plant's furry leaves. UPDATE It is Euphorbia grantii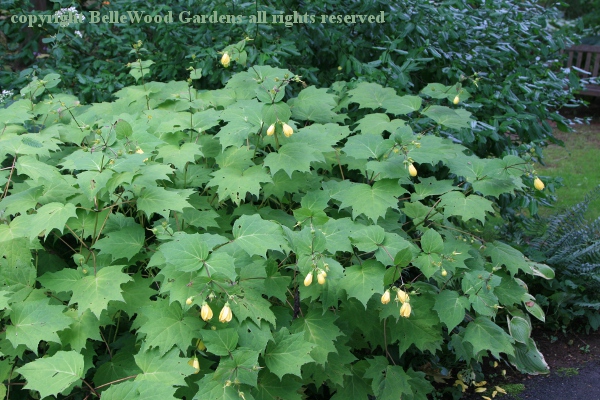 Not all herbaceous plants here at Willowwood are tender tropicals that need to be dug and brought indoors once colder weather arrives. Consider this late summer flowering beauty from Japan. Kirengesholma palmata. If it has a common name I'm unaware of it. Shade loving, in growth it gives the appearance of a shrub but is herbaceous and will die back to the ground in late autumn.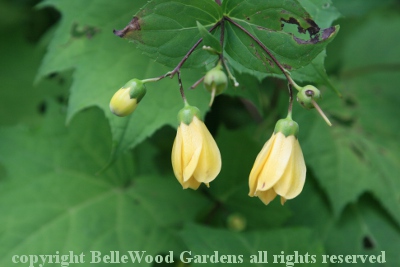 Dangling golden bells look as though they
should chime, but it must be music for the fairies.
There is a special day this weekend, when Fall arrives. On Sunday visitors can enjoy the meadows and late summer gardens at the Willowwood Fall Open House from Noon to 4 pm. The Tubbs House will be open and there will be both horticultural staff tours as well as the self touring cell phone experience with its new E.H. 'Chinese' Wilson plant trail. Light refreshments will be available. Admission $5 per car.
---
Back to Top
---
Back to September 2018
---
Back to the main Diary Page