.
Garden Diary - November 2018
---
If you have any comments, observations, or questions about what you read here, remember you can always Contact Me
All content included on this site such as text, graphics and images is protected by U.S and international copyright law.
The compilation of all content on this site is the exclusive property of the site copyright holder.
---
November
---
Football Mums at the New York Botanical Garden
Thursday, 8 November 2018
---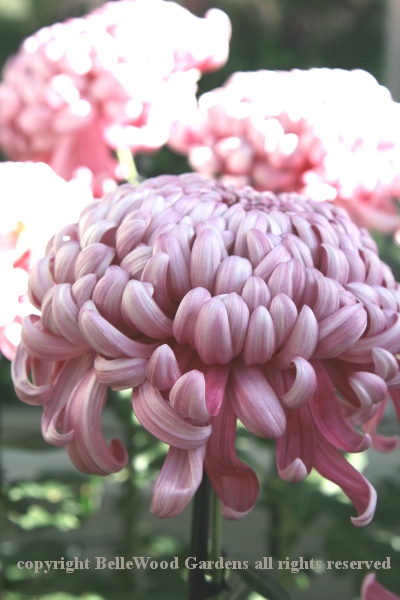 Football mums are known for their large, dense blooms
that are available in a wide range of colors.
Why football mum? Well, it's like this.
In 1911, Mizzou (that's University of Missouri) athletic director Chester Brewer encouraged alumni to attend the homecoming football game. He gave them incentive to attend by having a huge celebration around the game that included parades and rallies. At some point not too long after this first homecoming celebration in Missouri, the tradition of a boy giving a chrysanthemum to his homecoming date as a corsage was born in Texas. For decades, the corsage was simple, just a small flower with perhaps a few ribbons.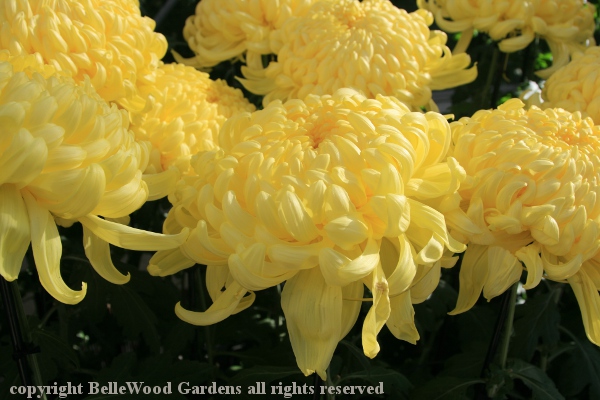 'King's Pleasure' is classed as an irregular incurve. These are the giant blooms among chrysanthemums, with flowers 6 to 8 inches across. The petals loosely incurve, making fully closed centers. The lower florets present an irregular appearance and may give a skirted effect. The moderately short plants are grown as a disbud. Like the spider chrysanthemums this means pruning out all but a few stems, and removing most or all of their side shoots. Only one to several flower buds are left to develop at the tip of each stem, resulting in exceptionally large blooms.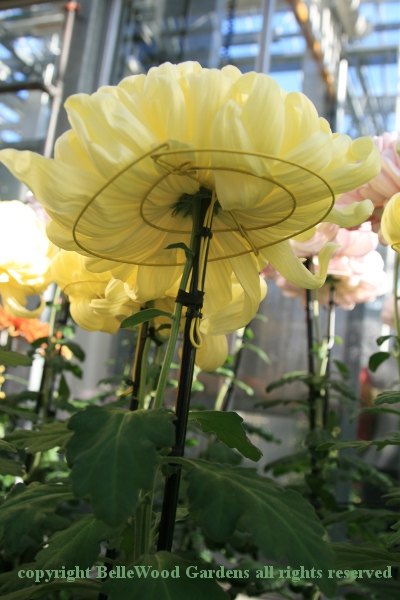 Looking at 'Primrose Mt Shasta' from underneath, it becomes obvious why -
as well as a stake to which the stem is fastened, the flower needs support also.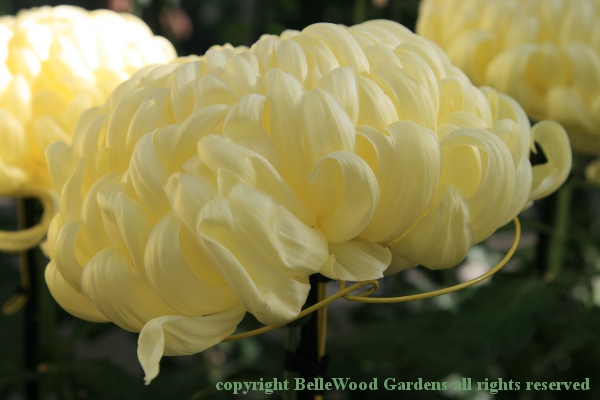 .
My daughter-in-law, Kimberly, (who was born and grew up in Texas) tells me that when she was in high school the tradition was that on homecoming your homecoming date purchased a single mum for you that had hanging ribbons in the school colors. The ribbons often had glitter that specified the year, maybe school mascot or school name, a pep cheer like "Go Oilers" in her case. Parents often purchased them for their daughters who did not have dates. If you were in band, like Kimberly, you might get one, but not be able to wear it at the football game.
And when she was in college, at Texas A&M, the same tradition was in place for dates to give to their girlfriends, but for every home game, not just homecoming. She hasn't been to an A&M home game in a while, but doesn't think the tradition still occurs. She looked through a 1949 Texas yearbook and didn't see any reference to homecoming or mums. But people say the tradition goes back to the 1920s.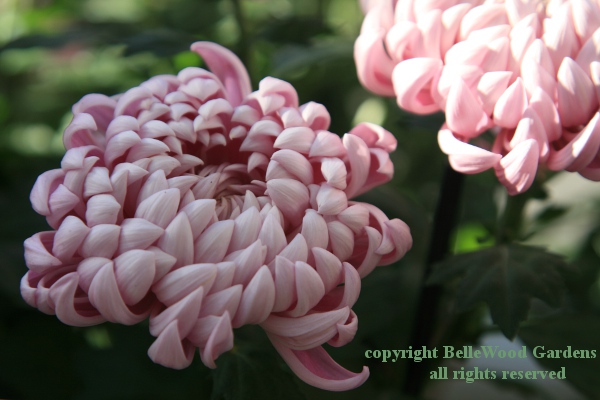 Chrysanthemums in the intermediate incurve bloom class, like 'Le Mans', are smaller than the irregular incurve. They have shorter florets, only partially incurving with full centers, giving a more open appearance. Many popular commercial incurving types for the florist trade are in this intermediate class. Flowers are 6 inches across, or more.
There are also reflex chrysanthemums, such as this stunning 'Lili Gallon', a unique short-growing French cultivar. The unusual color combination features very long deep wine purple florets that curl to show stunning reverse color of silver.
From what Kimberly can tell me that she's heard from family and friends, the high school mum tradition has morphed into the mums (I think that's Texas speak for corsage) being so large that the girls can't wear them as a corsage.
Curious, I looked online and found out that homecoming mums have exploded, becoming ever more elaborate as they continued to grow to the mammoth size they are today. Think something that covers the girl from neck to knees, covering her entire front. Now they include a huge flower (with a silk flower replacing the real chrysanthemum as the centerpiece), tons of large ribbons, charms, bows, bells, cowbells, stuffed animals, perhaps the high school mascot, and even LED lights in some cases! Even guys have their own version of the mum, called the garter - an elastic band worn around the upper arm that has the same features as the mum only on a much smaller scale. Not quite sure where, today, an actual chrysanthemums might fit in. They seem to have gone by the wayside.
I think I will stay with the real chrysanthemums, and enjoy
Kiku: The Spotlight on Tradition exhibition, admiring
the football mums like this irregular incurve 'Luxor', and all
the other chrysanthemums as they display their living beauty.
Kiku: The Spotlight on Tradition continues through Sunday, November 18, 2018. The Bourke Sullivan Display House is open from 10:00 a.m. to 5:00 p.m. Tuesday through Sunday.
The Bourke Sullivan Display House of the Nolen Greenhouses is located near the Lorillard Snuff Mill (now known as the Lillian and Amy Goldman Stone Mill) and the Benenson Ornamental Conifer collection of dwarf and specialty conifers. There is a convenient nearby tram stop, an amenity available with the purchase of an All-Garden day pass.
---
Back to Top
---
Back to November 2018
---
Back to the main Diary Page