.
Garden Diary - November 2018
---
If you have any comments, observations, or questions about what you read here, remember you can always Contact Me
All content included on this site such as text, graphics and images is protected by U.S and international copyright law.
The compilation of all content on this site is the exclusive property of the site copyright holder.
---
November
---
Kiku at the New York Botanical Garden
Thursday, 8 November 2018
---
The notice arrived in my in-box: Starting November 3, meticulously trained chrysanthemums will be on view in the Nolen Greenhouses' Bourke Sullivan Display House. The chrysanthemum - kiku in Japanese - is the most celebrated of all Japanese fall-flowering plants. For 11 months of each year, New York Botanical Garden horticulturists use traditional Japanese techniques to nurture and train these chrysanthemums into both modern and ancient styles, including the striking, sculpted designs of plants in the bonsai style; the tumbling flowers of Kengai (Cascade); and the monumental Ozukuri (Thousand Bloom) form.
A look at the weather forecast indicates that today will be cool, but sunny. Sounds good. Put the trip on my calendar, and made plans.
Opened in 2005, the Nolen Greenhouses are very modern. Two sleek linear glass buildings form a network of eight growing zones covering an area of 43,000 square-feet. You are not likely to stumble across the glasshouses, located as they are near the Lorillard Snuff Mill (now known as the Lillian and Amy Goldman Stone Mill) and the Benenson Ornamental Conifer collection of dwarf and specialty conifers. There is a convenient nearby tram stop, an amenity available with the purchase of an All-Garden day pass.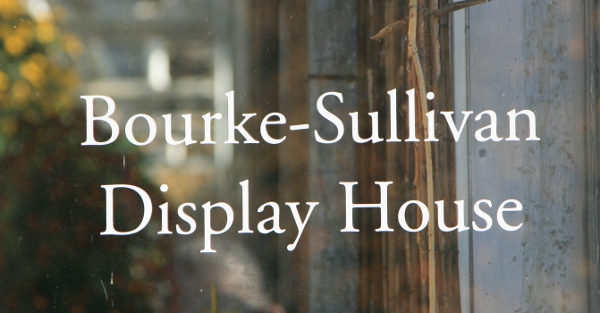 Primarily a facility used for research and maintaining special living collections,
there is also a display house featuring exhibitions that is open to the public.
Classical kiku displays take an extended period of time, nearly a year. Many of these - the kengai cascades, the ozukuri thousand blossom, were started in December 2017. Each begins with a small cutting, followed by 11 months of meticulous training. All this for a couple of weeks on display in November. And then it is time to begin the cycle all over again. Different chrysanthemums are suitable for particular styles. Cascade cultivars have a very rapid growth, quickly respond when pinched back, and flexible, freely branching stems with a multitude of small, single daisy or anemone blooms.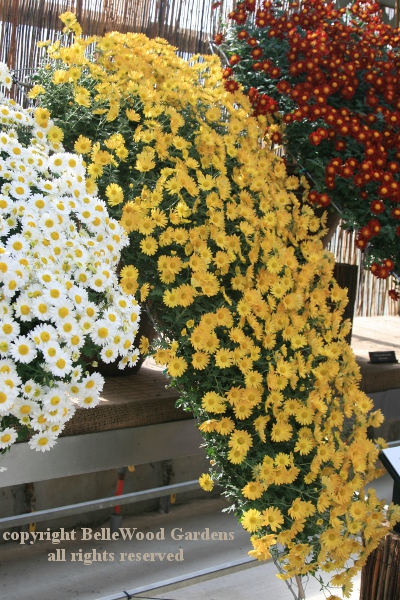 Each kengai "overhanging cliff," and its multitude of flowers
is just one plant. There is a row of them in the display house.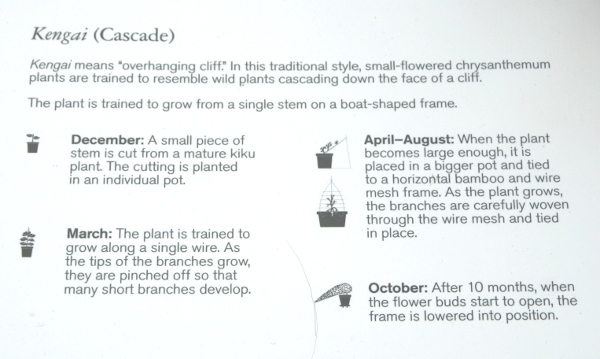 Here is how it is done.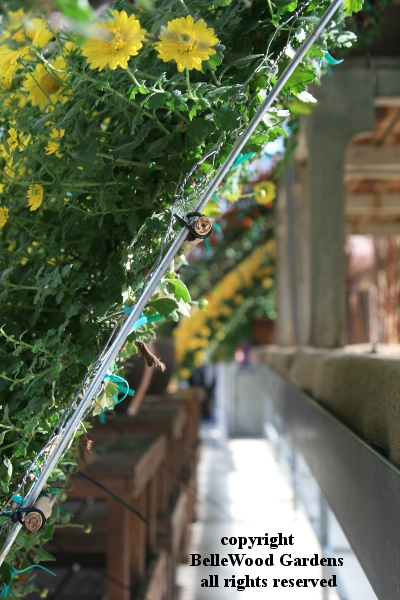 A trellis is made of bamboo and wire mesh to allow the necessary numerous attachment points. All new growth is fastened to the wire mesh with paper covered twist ties while the stems are soft and flexible, something that needs to be done weekly, or even more frequently. When buds begin to form, generally by mid September, the cascade is placed in the display location, and the trellis lowered into position, something that may take several days.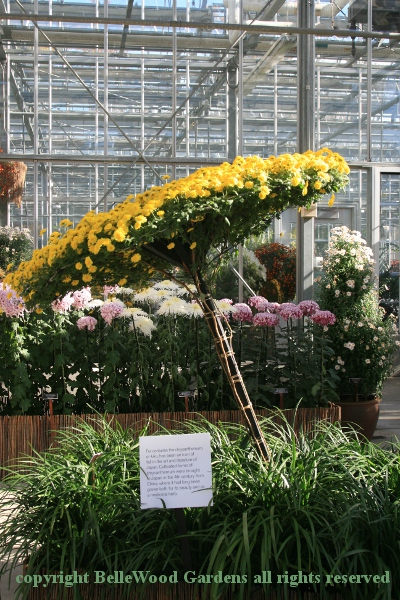 Here is an innovative adaptation of cascade style that reminds me of a tilted umbrella. Yellow anemone flowered 'Megumi' is a very popular choice for cascade style displays.
Just look at the necessary sturdy supports that underpin the display.
Wonderful plasticity, with a sunny flower covered sphere. But how
did they manage to train all the little shoots through the guiding mesh?
And a sturdy stake to which the stem is fastened, keeping thing upright.
As fascinating as are the cascades, here's something even more astonishing.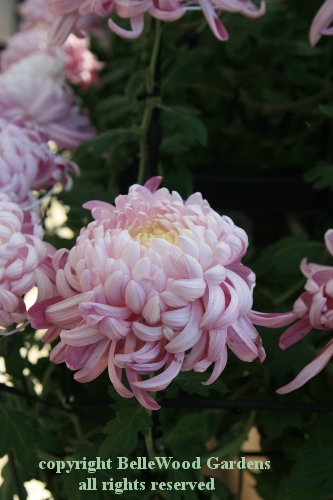 A beautiful 'Hoko Yukai' flower. It is just one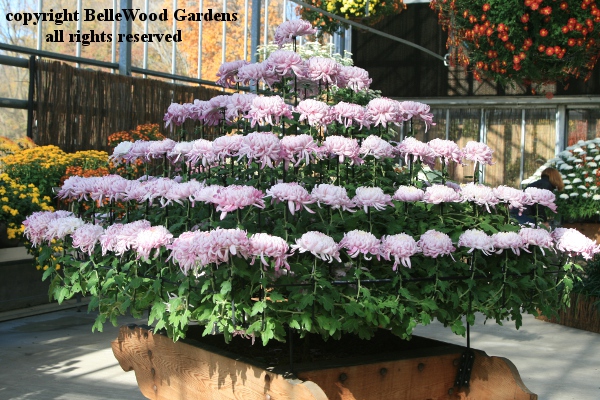 of these 126 'Hoko Yuai' flowers, all on one plant
trained in the ozukuri, thousand blossom style.
Perhaps you'd rather admire 'Susono no Tsuki', with 210 flowers.
The difference between these two magnificent examples of ozukuri: 'Hoko Yuai' is symmetrical, and may be admired from all sides. 'Susono no Tsuki' has one flat side, up against a glass wall. This is fascinating because if you pause while walking down the gallery it is possible to peer in and see the support framework, like a miniature, plant-scaled version of a skyscraper's girders.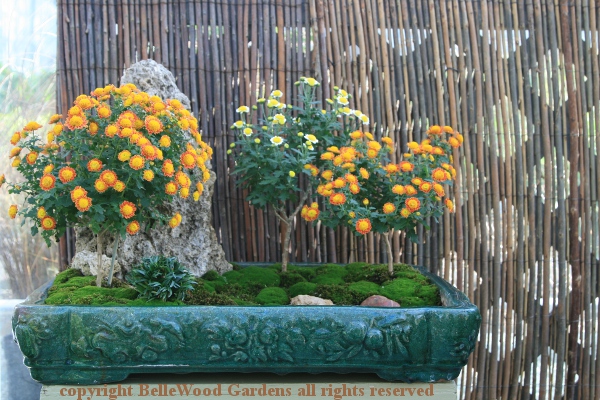 From large ozukuri, to dwarf: chrysanthemum trained as bonsai. Takes but a year,
rather than decades for woody plants. Even so . . . But what a pretty little forest.
Chrysanthemum cultivars for bonsai are low growing, mounding types with small leaves. Naturally low growing, only about 8 to 15 inches tall, free branching, with strong stems, and bush-like in form. Most were developed specifically for training to bonsai style, not garden use.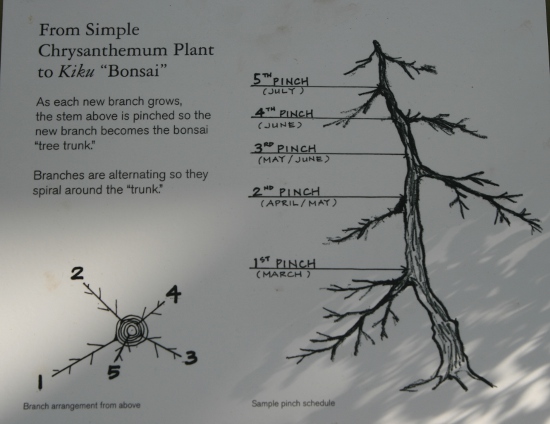 I've looked at this explanatory sign and still don't quite understand it.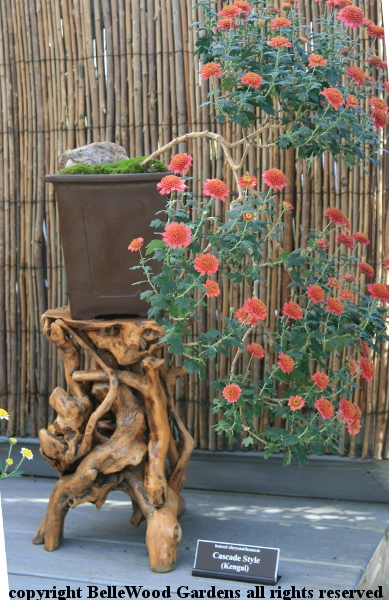 Charming. It's a different type of cascade from the kengai
solidly covered with flowers. But doesn't quite look like bonsai.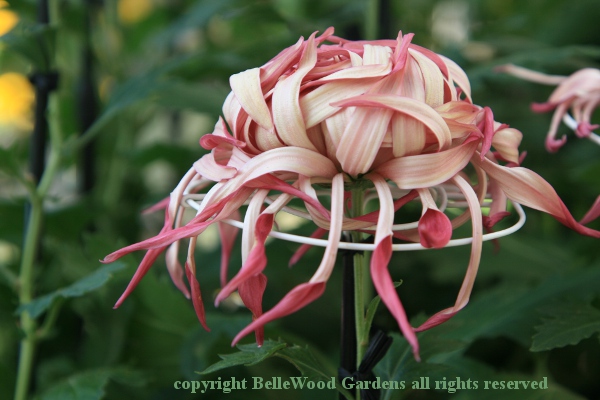 Tousled looking Edo chrysanthemums have three types of petals. Once open, they start to close and never open again. They are used for the shino-tsukuri, driving rain style, an arrangement of 24 blossoms and stems made to resemble falling rain.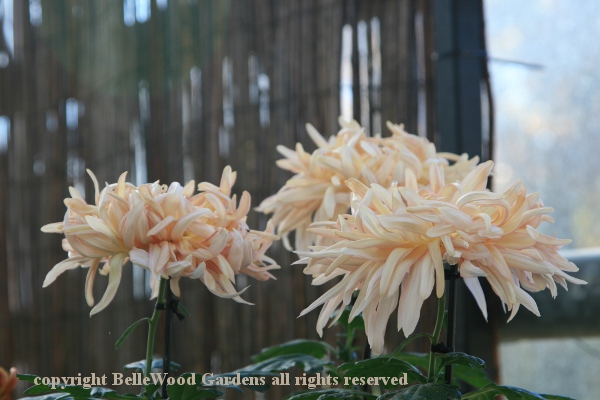 As well as the various kiku in both traditional and more contemporary styles there are chrysanthemums that might be said to be on display "just for pretty," like this pale apricot pink 'Amber Harry Gee'.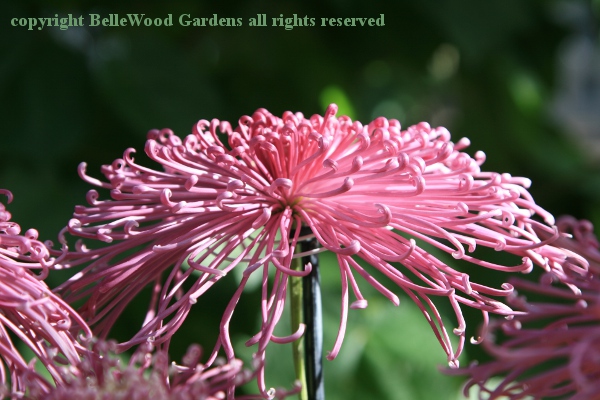 There are also chrysanthemums raised especially for exhibition and
as cut flowers, such as these unique spider chrysanthemums.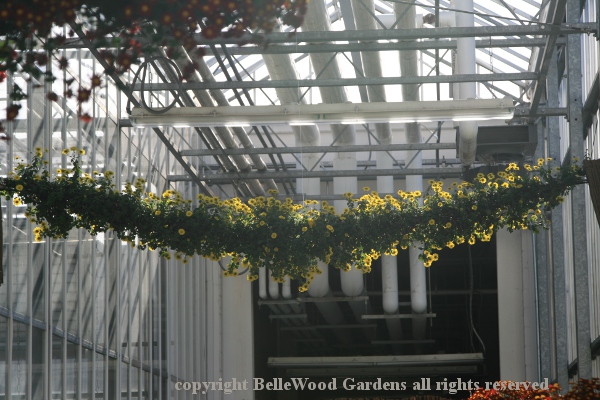 There are garlands of chrysanthemums overhead, looping from side to side.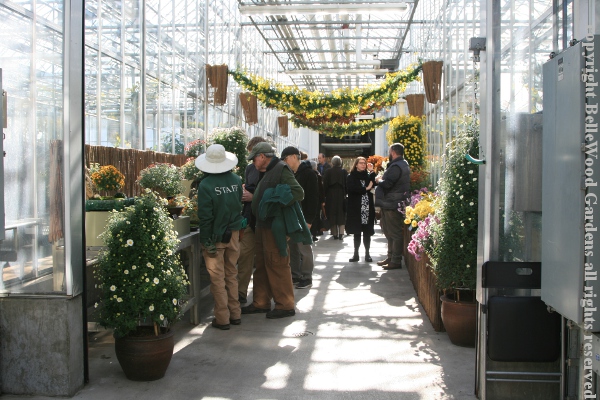 Visitors from near and further away. Today there's a group from Smith College in Northampton, Massachusetts. They are visiting the New York Botanical Garden especially for the kiku exhibition. They're here to learn. The college has an annual fall chrysanthemum show of their own, which begins the first Saturday in November and runs for two weeks including the third weekend. A popular college and community tradition since the early 1900s, it features an extraordinary display of blooms in a variety of shapes and colors, showcasing the hybridizing experiments of the horticulture class. The public gets a chance to vote on their favorites. Sounds lovely, but different from the New York Botanical Garden's Kiku. Fortunately, while I may live out of state I do not have to travel as far as did these folk.
Kiku: The Spotlight on Tradition continues through Sunday, November 18, 2018. The Bourke Sullivan Display House is open from 10:00 a.m. to 5:00 p.m. Tuesday through Sunday. You still have time to come visit and see chrysanthemums, the flower of November.
---
Back to Top
---
Back to November 2018
---
Back to the main Diary Page