Garden Diary - May 2012
---
Garden Writers Region II Meeting
---
Friday, 25 May 2012
Garden Writers Region II: Longwood Gardens
---
By the car full we transport ourselves from Nemours to Longwood Gardens. Three dozen of us, members of the Garden Writers Region II and even a couple from far off Minnesota. First an excellent luncheon, delicious food from mushroom soup to salad, grilled vegetables, salmon with braised fennel and onion, chicken breast with cippolini onions, dessert of individual cream brulee and little pastries. Good thing dessert is spelled with two ss-es so you can always have seconds. Longwood Garden's Terrace Restaurant is a certified green restaurant with 144.64 points for a 2 star rating. They scored especially high in the waste and food categories - no styrofoam, compostable ware goes to their large scale compost facility, sourcing only sustainable seafood, sourcing food from local farms and raising some vegetables and herbs themselves.
A brief Garden Writers business meeting, followed by an enthusiastic look at Longwood Gardens plans for the future presented by its director, Paul Redman. In less than 6 years since he was hired in July 2006, there have been some wonderful renovations to gardens and greenhouses, and also new buildings. Exciting plans for future expansions were described to our attentive group. Just one example: PennDOT is redesigning and rerouting the intersection of Route 52 and Route 1. Longwood is using the opportunity to improve access from Route 1 and improve parking. The latter is critical as visitorship is increasing by leaps and bounds. Longwood has removed the paving from the old Route 52, restored the soil, re-graded the site, and planted it to a meadow. There's nothing to see today but give it a year . . . . I, for one, want to see it. Longwood is also creating a wetland as they restore Pocopson Creek where it had formerly gone under the now-defunct old Route 52.
Ground-mounted, fixed tilt solar panels in a 10 acre field produce 1.5 megawatts of electricity. This, the first phase of the project is expected to produce about 20 percent of their electric needs. By 2018, this will have increased to three megawatts and a much greater portion of Longwood's required electricity as they also upgrade systems. Their goal is to quantify all the different factors of Longwood's ecological footprint. With the goal of increasing their sustainable practices, the understanding of the different inputs from electricity, energy, carbon, and waste, comes the understanding of their energy consumption and reducing pollution.
Our modest group becomes even smaller as we divide into three tours. One for the Longwood Soil-to-Sky environmental stewardship program which includes their state of the art composting facility, solar fields, and Route 52 restoration project; Performing Arts tour of the newly restored Longwood organ, see about half of its 10,000 pipes, listen to music from the same Duo-Art rolls that Pierre du Pont enjoyed in the 1930s; and the tour I join which is for garden highlights and what's new at Longwood Gardens.
The magnificent 4-acre conservatory has these beautiful windows and doors. The patterning is similar to
that of Paxton's Crystal Palace of 1851, built for the Great Exhibition in London. The metal framework was
said to be inspired by the structure found on the underside of giant water lily's massive leaves.
See here from a previous visit, Longwood Gardens excels at growing these aquatic plants
with leaves 6 feet across. It was here that 'Longwood Hybrid' water platter were developed,
a cross between Victoria amazonica and V. cruziana and intermediate between its two parents.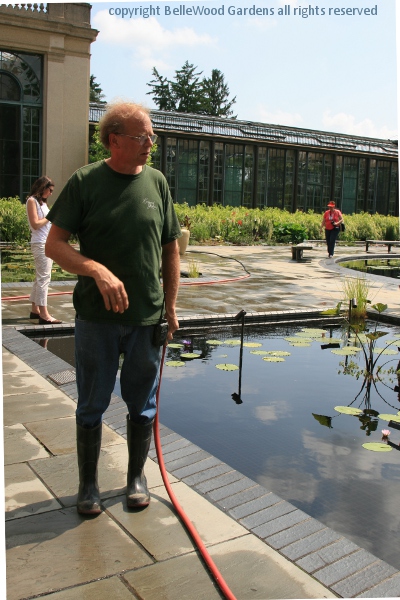 We're introduced to Tim Jennings, senior curator of the water gardens, told of some
plans and possibilities for the future but sworn to not reveal any details. Off to see more.
The East Plaza, closed since 2003, opened again in autumn of 2010. One important aspect was the addition of 17 new restrooms. That hardly sounds terribly exciting, necessary for sure but their design definitely raises the "necessary" to a pleasure. They are fantastic. Our little group went into one, collectively, and it was a "Wow!" moment. Each of the new restrooms has an oculus in its ceiling that bring natural light into the space. And what's outside them is the largest living green plant wall in America, 14 feet tall and a surface area of over 4,000 square feet. What's above the corridor is a stepped terrace of turf grass. Its curves follow the curve of the corridor.
The green wall has 3,590 modular panels mounted on a steel framework. Each is filled with a soil-less mat made of composted bark and coconut fiber. Each panel houses 13 plant plugs now grown in, a carefully selected variety of plants, about 47,000 plugs in total. There are many kinds of ferns including holly fern, rabbit's foot fern, button fern, arranged on the wall by the different light conditions from floor to ceiling. The plants grow in a coconut fiber substrate, watered by drip irrigation, and fed with 4 different liquid fertilizers. IPM controls any insect pest problems that might arise. Constant monitoring allows for adjustment of watering as requirements change with sunlight and cloudy days and seasonal variation.
To answer a couple of questions that might come to mind: "Integrated Pest Management (IPM) staff battles these pests with a non-chemical approach called biological control. Biocontrol, as it's known for short, has been part of Longwood's IPM program since the mid-90s and is the use of one live organism to combat another. We do this by purchasing beneficial insects and mites from commercial insectaries and then releasing them according to a schedule." Also, "The living walls (which have multiple water benefits) help connect visitors with plants, dampen noise in the area, provide moisture and oxygen to the air, and moderate the temperature of the microenvironment in that area."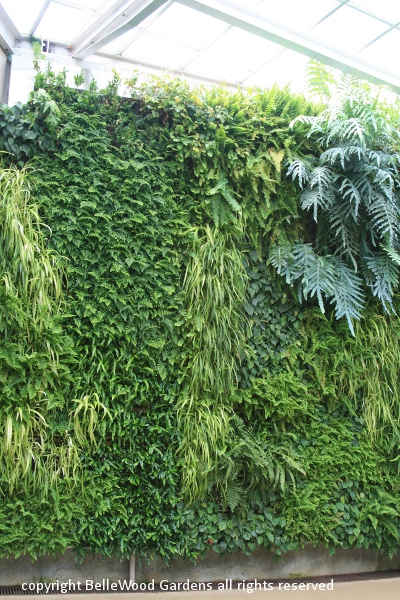 Magnificent. Texturally rich. The glaucous blue bear's foot fern, all the shades
of green. So often when focus is on flowers we forget that green is a color too.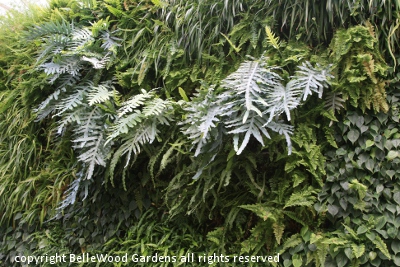 .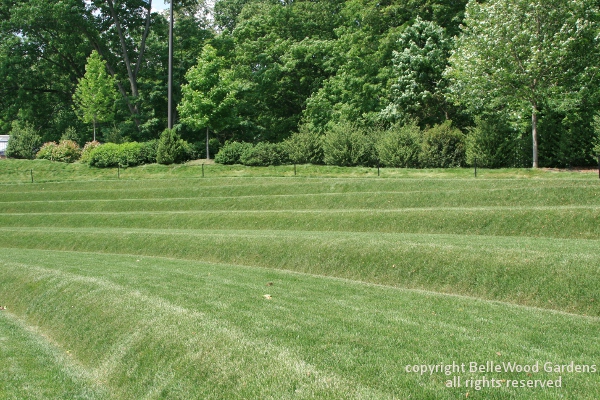 Up above there something else to see. It looks very simple. Like the restroom pods and green wall also designed by British landscape architect Kim Wilkie this grass terrace undulates across the landscape on several levels. Completed in fall 2010, the five tiers gently emerge from the site, sweeping around the East Plaza. What you don't see here are the portals, like little round greenhouse roofs, A mix of Kentucky bluegrass and tall fescue, the grading for sculpting the earth was quite complicated. The sloped banks are watered by subsurface irrigation, the turf supported by a mesh substrate.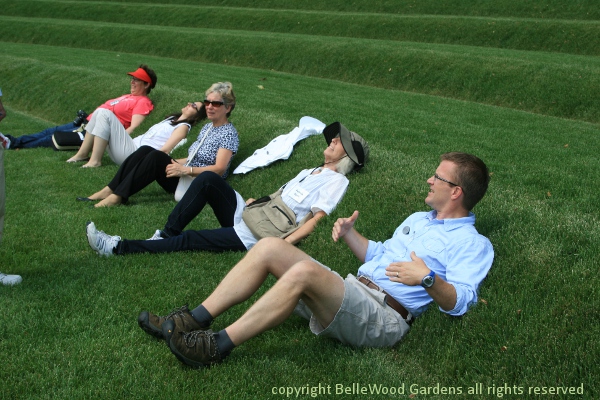 Now that the turf is well established the barriers have been removed. We're among the first people
to enjoy the gentle support of the sloping grass bank. So very comfortable. Didn't want to leave.
.
Opening on 9 June 2012 will be a fascinating exhibition by the UK light artist Bruce Munro. LIGHT will have seven large scale installations, outdoors and around the grounds, and two in the conservatory. How does this coordinate with sustainable energy use? Low-energy output lights, fiber transmission.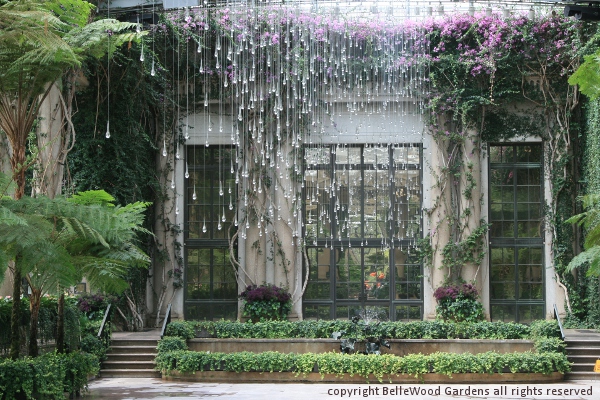 One of the conservatory pieces, Shower of Light. Superb even turned off and in daylight.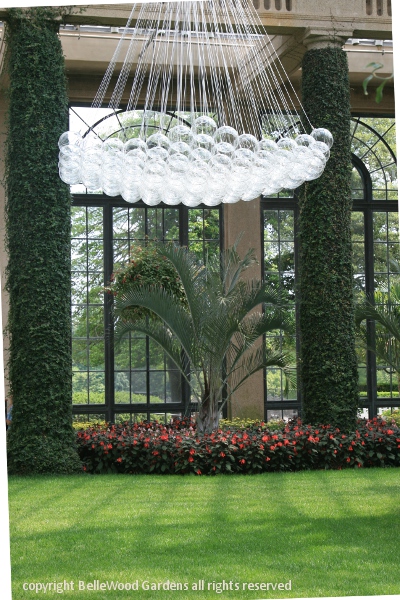 The other conservatory installation reminds me of clouds made of bubbles.
This is just one of several parts, suspended over the grass in the conservatory.
There will be changing colors when it is illuminated. Can't wait until the preview.
UPDATE: See here for Fiat Lux after dark.
Moving right along we come to the student gardens. As well as their education classes for the general public, Longwood has an impressive training program for future estate managers and head gardeners, directors of public parks. They're expected to design, create and maintain a garden. This one in particular caught my attention.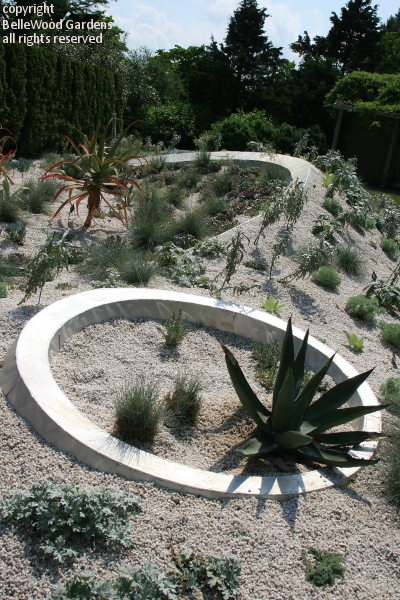 The concept is If Plants Grew On The Moon. The path at the back edge has small glass cullet mixed in
with the bright stone mulch. It glitters in the sunlight, as does the metal dune crest and circle. Different
cacti and succulents indeed look other-worldly. They will fill in, expand, and thrive in th summer sun.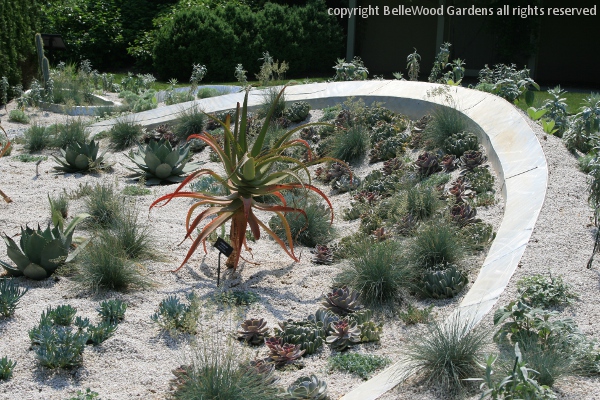 I'm a little footsore. My mind is buzzing. So much to be assimilated. The Garden Writers Region II attendees are having a fabulous outing.
Back to Top
---
Back to May 2012
---