Garden Diary - May 2012
Garden Writers Region II Meeting
---
Friday, 25 May 2012
Nemours, Mansion and Gardens
---
It seems that everywhere you turn in the Wilmington area various du Ponts, their kith and kin, had homes and wonderful gardens. Last Saturday I was at Mt. Cuba, which had been Mrs. Lamont DuPont Copeland's home. Margaretta du Pont owned Goodstay Gardens, where we'd been earlier this morning. Her nephew, T. Coleman du Pont gave Goodstay to his daughter, Ellen Coleman du Pont Meeds in 1923. Gibraltar, our other early morning photo shoot garden visit, was purchased in 1909 by Isabella Mathieu du Pont Sharp and her husband, philanthropist and preservationist Hugh Rodney Sharp. There's Winterthur and Longwood Gardens. And Nemours. I glimpsed the carillon rising above the trees and wall as I drove by on my way home from Mt. Cuba last Saturday. Metaphorically, I tipped my hat and thought "See you on Friday."
Some of us came from the photo shoot. Others might have made this their first stop. Regardless, the enthusiastic three dozen or so participants of the Garden Writers Association Region II meeting arrived at the Nemours visitors center before 9:00 a.m. Some coffee, some chatting, then we trooped into the small auditorium for a moving, extremely well done, brief video about Alfred I. du Pont's life and times. After which we were divided into two groups, loaded into small coaches and driven to the gardens and their mansion.
Built in 1909 / 1910 completed in just 18 short months, the 47,000 square foot mansion in the Louis XVI, French Roccoco style and its luxurious gardens are patterned after the gardens of Versailles surrounding the Petit Trianon at the Château de Versailles.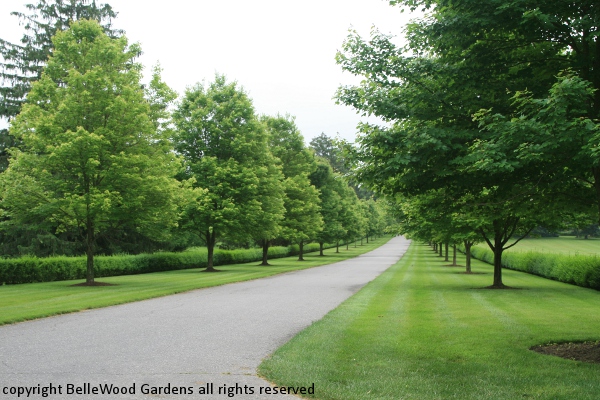 The gardens central axis extends 1/3 of a mile from the mansion's facade, paralleling the main avenue leading to the house.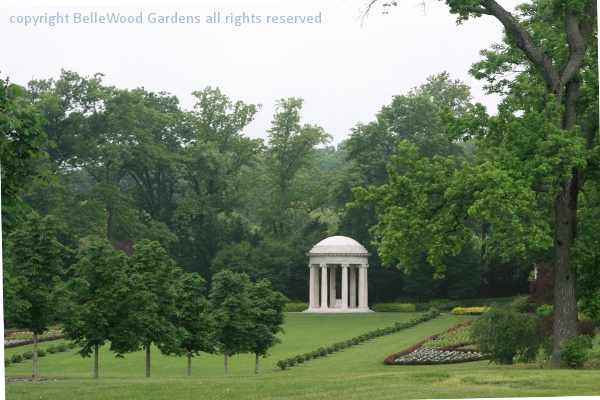 I glimpsed this charming folly away from the mansion, beyond the colonnade.
As I later learned, this is no mere folly but rather a classically styled temple
and the setting for a statue of Diana the Huntress cast by Jean-Antoine Houdon.

image courtesy of Louise D. Clarke
Today I am so coordinated. Fortuitous, but doesn't my jersey coordinate beautifully
with the purple barberry parterres. My umbrella even matched the fuchsia impatiens.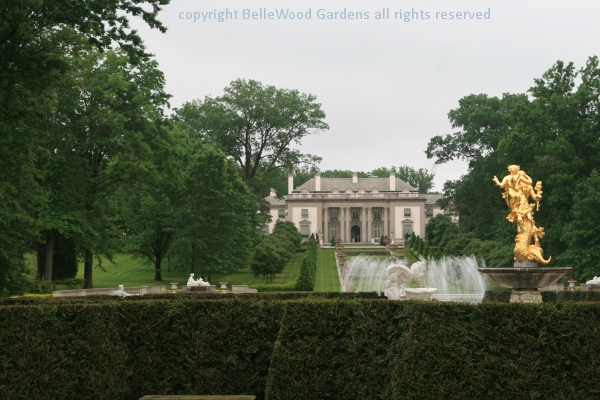 Perhaps the crowning centerpiece of the Nemours Vista, gilded in 23-karat gold leaf, Achievement,
is a spectacular work. From the pool it rises over the parterres of dwarf crimson barberry planted in
a fleur-de-lis pattern. Carrara marble fountain-statues of Triton face each other across the pool.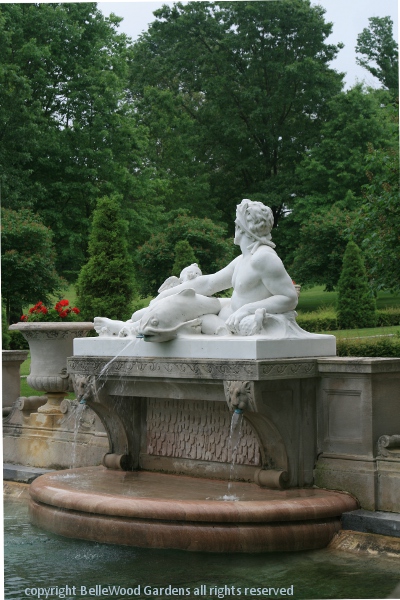 The four Art Nouveau-style statues around another, acre-size pool represent the Four Seasons.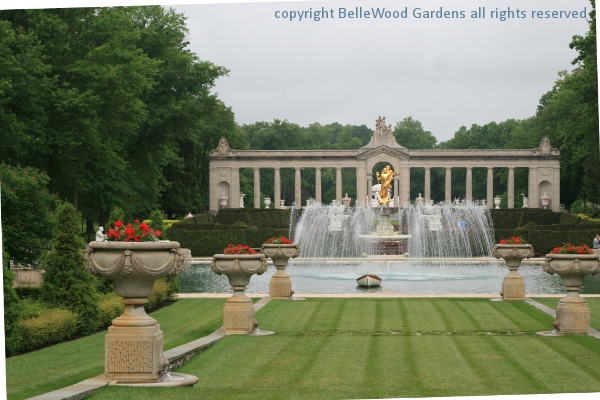 Looking from the mansion back towards the pool (40 feet in diameter) with its 157 water jets shooting 12 feet into the air.
Designed by Thomas Hastings, the imposing colonnade was built in 1926 as a memorial to Pierre Samuel du Pont de Nemours
and his son Eleuthère Irénée du Pont. It was during the French Revolution that the patriarch, his two sons, and their wives
emigrated to the United States. The son was founder of E. I. duPont de Nemours and Company, one of the most successful
and wealthiest American business dynasties of the nineteenth and twentieth centuries. It began with black powder, gunpowder.
The Long Walk, a sweep of lawn gently rising to the mansion. So beautifully proportioned, it appears suitably in scale rather than imposing.
Each of the massive urns has a small water spout and catch basin at its base. At the top of the
Long Walk two life sized, cast iron elk dating to the last half of the 19th century stand guard.
I had intended to spend all my time outdoors in the gardens. A quick peek inside and I succumbed to a house tour. So glad I did. The docents took us around in groups of 4 to 6 people, which is apparently the standard for all tours. We may not have seen the attics but we were brought through the main floor rooms, the bedrooms and bathrooms upstairs, and down into the basement with its bowling alley, an equipment room for making 30 pound blocks of ice (there's a recipe for fig ice cream, which Mr. du Pont enjoyed), massive generator, bottling room for both still and sparkling water (although, we were told, sometimes Mrs. du Pont and the butler made and bottled wine.) The house had a central vacuum system - and keep in mind that it was built in 1909 / 1910. Exquisite Aubusson tapestries, Tabriz and Boukhara carpets, crystal chandeliers, object of vertu that the family found on their travels and brought home to enjoy and to use. There is a painting of the family's three dogs, up on a sofa. When asked by the artist if he wanted the dogs there Mr. du Pont replied that he could always get another sofa. One, little Mummy, was an ill and injured street dog in Cairo. The du Ponts rearranged their travel plans, nursed her back to health, and brought Mummy home with them.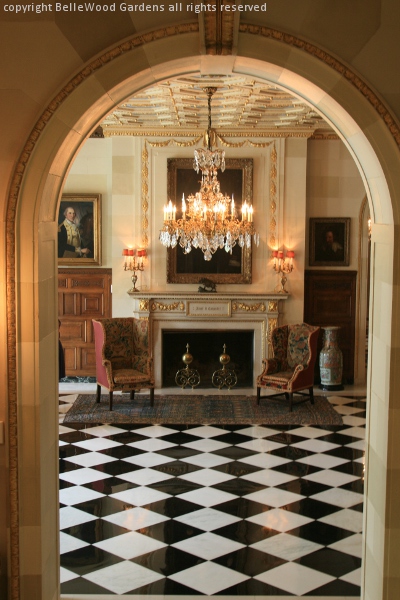 The grand reception hall, 30 feet by 35 feet, has a black-and-white marble floor.
A painting of George Washington by James Peale hangs to the left of the fireplace.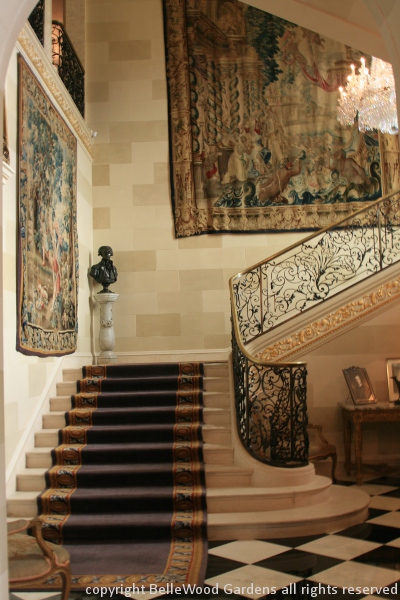 An Aubusson tapestry graces the staircase, its delicate scrollwork railing adapted
to fit the dimensions, for it had been obtained in Europe where it adorned a different one.
The walls are of granite, covered with a layer of plaster scored to resemble huge blocks
with each one individually painted and glazed to resemble limestone. No two are alike.
The Library. According to information on the Nemours web site, there are nearly 2,000 books in this room.
As might be expected there are works by such French authors as Voltaire, Balzac, and Victor Hugo. An octavo
edition of Audubon's rare work, Viviparous Quadrupeds of North America. The oak paneling is Jacobean.
Mrs. du Pont's sitting room. The Scalamandre upholstery was so worn that during the three-year-long,
$39,000,000 restoration of mansion and gardens (completed in 2008) the company recreated the fabric.
Outside her sitting room there is a - do I call it a balcony, because it is up in the air, or a terrace,
for its spacious dimensions? Never mind. There is a place to walk outside and gaze at the parterres.
Much the best way to enjoy them, looking down at their patterns embellishing the earth that they divide.
This space also provides an excellent eagle-eye view of the perennial borders.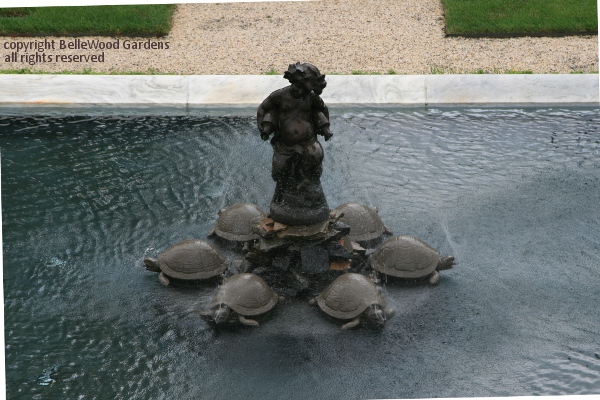 Stroll along the balcony's railing to the left and see the charming turtle fountain. The chubby
little child pours water on their heads while they in turn spit water into the pool. Playful and amusing.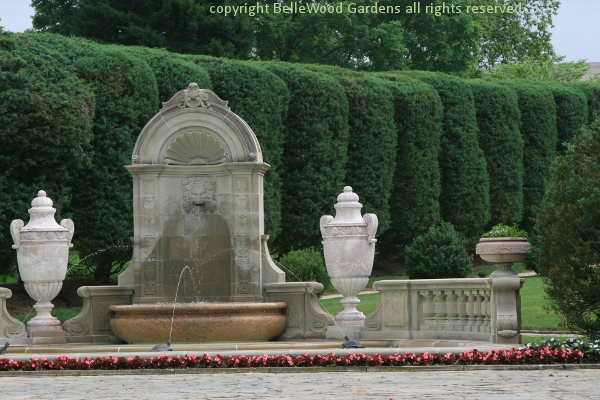 The turtles repeat in a different fountain, located at the far end of the dive seen in the first image.
Artfully designed and proportioned to the graceful sweep of land, the elements of this, one of the largest jardin à la française, garden in the formal French style in the United States has fountains and statuary beautifully arranged to complement the landscape.
Nemours Mansion and Gardens is open for tours between May and December. Led by expert guides, the tour takes a minimum of two hours and includes a comprehensive view of the mansion and surrounding gardens. Reservations are highly recommended for individuals and required for groups. The tours only take place three times a day and limited to just 48 people. On arrival by bus from the visitors center, groups are divided into four or five people with their own docent for a very personalized visit. Tour Hours: May through December: Tuesday thru Saturday, 9:00 a.m., noon, and 3:00 p.m. Sunday, noon and 3:00 p.m. Call Monday thru Friday, 8:30 a.m. - 4:00 p.m. to schedule a tour. Admission: $15.00 per person whether individual or for groups. It is recommended that you allow one week advance reservation for individuals, 4 weeks for groups.
---
Back to Top
---
Back to May 2012
---