Garden Diary - September 2011
---
If you have any comments, observations, or questions about what you read here, remember you can always Contact Me
All content included on this site such as text, graphics and images is protected by U.S and international copyright law.
The compilation of all content on this site is the exclusive property of the site copyright holder.
---
September
---
Sunday, 25 September 2011
Fungus Fest
Rain, rain, rain. Looking for a silver lining? Mushrooms! It's been a fantastic season for mushrooms. Just last Tuesday I found some wonderful, delicious hen of the woods, Grifola frondosa. (See here and scroll down past the flowers.) While searching for additional recipes I came across the New Jersey Mycological Association's web site. Even better, they're hosting an event this coming Sunday at the Frelinghuysen Arboretum in Morristown, New Jersey. Count me in. I'll be there.

The auditorium was filled with booths, displays, and visitors. One especially delightful setup recreated
a piece of forest floor, with plants, fallen leaves and branches, a box turtle's carapace - and mushrooms.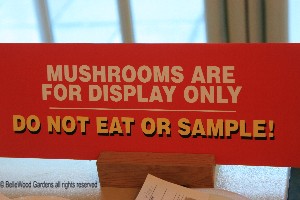 There were several warning signs. Look, Touch, but Do Not Eat.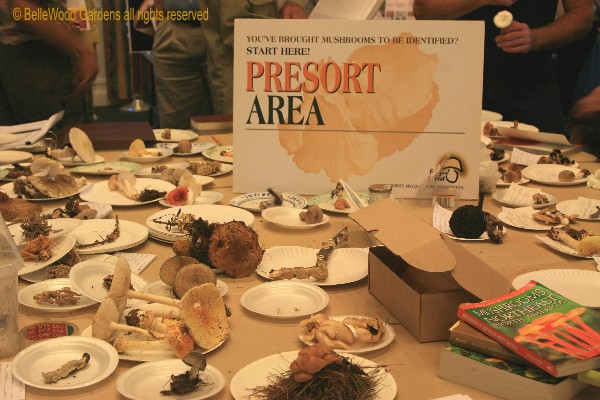 Why the warning? Because the largest display, several tables pushed together, featured mushrooms
brought by visitors to be identified. Club members carefully examined mushrooms, checked multiple
field guides, and assiduously did their best to accurately provide each unknown with a proper name.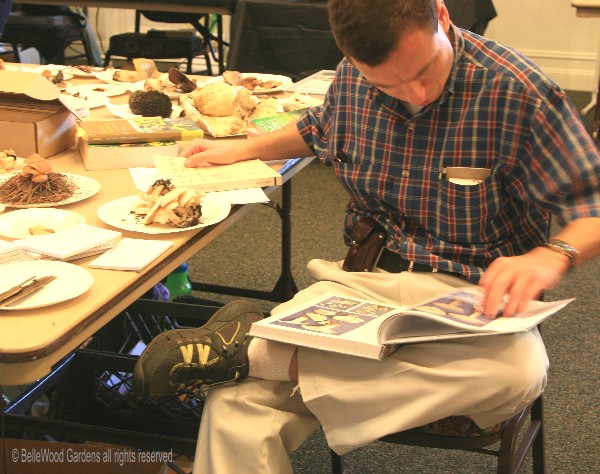 .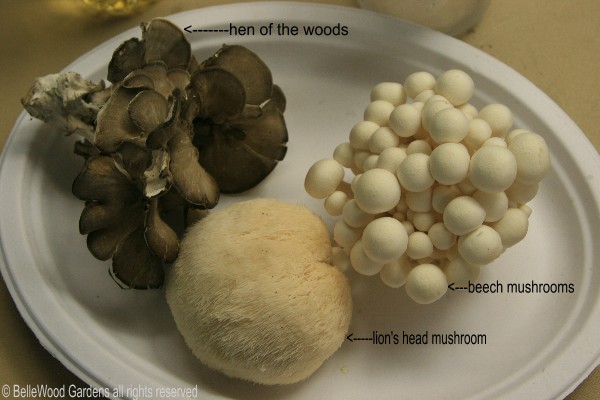 An enticing aroma wafting up the stairwell lured me downstairs to a classroom where - among other
demonstrations - mushrooms were being cooked and samples passed around to eager eaters. A plate
with 3 different kinds of mushrooms gave us an inkling of the culinary possibilities about to come our way.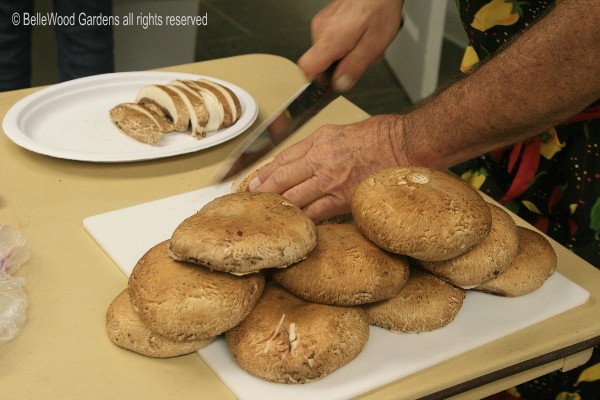 A sous chef was preparing the mushrooms, slicing the cleaned caps.
At first I thought this was a plate of bread, slices of baguette to mop up mushroomy sauces. No, it's
sliced lion's mane or pom-pom mushroom, Hericium americanum. NJMA's chef extraordinaire,
Bob Hosh, set to work. He explained that this mushroom gives off a lot of moisture so the first step
is to sauté, evaporating the liquid while constantly stirring and moving the mushroom pieces in the pan.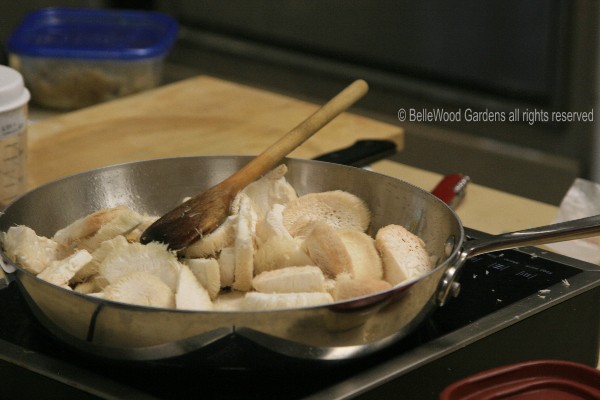 They shrink quite a lot. After they begin cooking and the liquid evaporates, he added another splash of
olive oil, a generous scattering of diced shallots, a touch of diced garlic and another of diced ginger.
Keep stirring. A knob of butter. Dust well with flour. Keep stirring. A splash of water. Stir. More water.
Some goat cheese, mashing and stirring all the while to incorporate it into the sauce. Heavy cream. Sherry.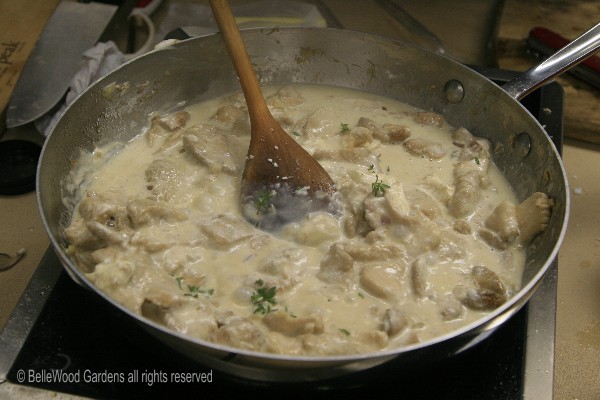 Looks good. Smells good. I'm salivating. Bob finishes the dish with a few leaves of fresh thyme, then
hands the pan off to a side table where a woman is ready to offer spoonfuls for sampling to the eager
eaters while Bob starts on his next culinary improvisation. I licked my spoon clean, was too polite to
line up again for seconds. Besides, there were more displays to visit, both downstairs and upstairs.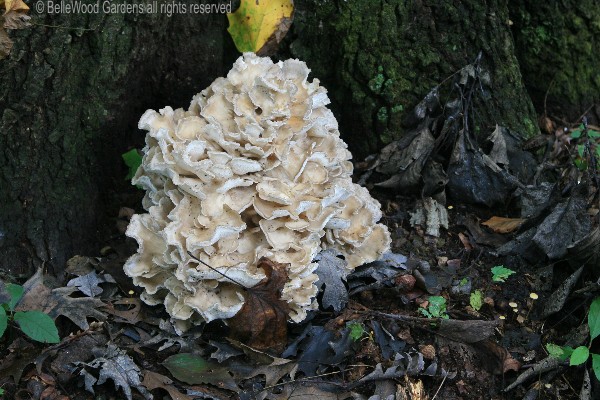 And on the way home I stopped off at Jerry's. We went into the woods and yes! more hen of the woods.
These were still better than store bought, in good condition, if not as prime as last Tuesday. Good to know,
they grow quickly, just a couple of days. Pasta with coarsely cubed left over roasted chicken and a nice
white sauce with hen of the woods. What shall I call it . . . . double chicken, hen and chicken . . . .
Who cares. Let's just eat. Bon appetit.
---
Back to Top
---