Garden Diary - September 2011
---
If you have any comments, observations, or questions about what you read here, remember you can always Contact Me
All content included on this site such as text, graphics and images is protected by U.S and international copyright law.
The compilation of all content on this site is the exclusive property of the site copyright holder.
---
September
---
Tuesday, 20 September 2011
Maitake!
"Come visit." said Jerry. "The Brugmansia are magnificently in bloom and I know you'll enjoy them." So I did, with a not-so-hidden agenda. We had a cup of coffee. We chatted. We walked down and enjoyed the truly magnificent angel trumpets.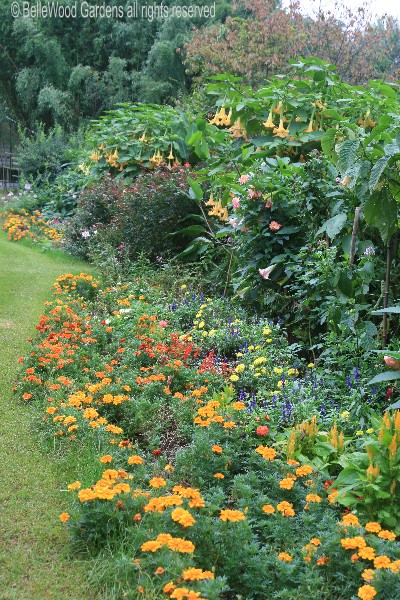 The rich shades of orange and apricot came to glowing life under the overcast conditions:
French marigolds, red salvia, apricot celosia, tall dahlias, and my all-time favorite angel trumpet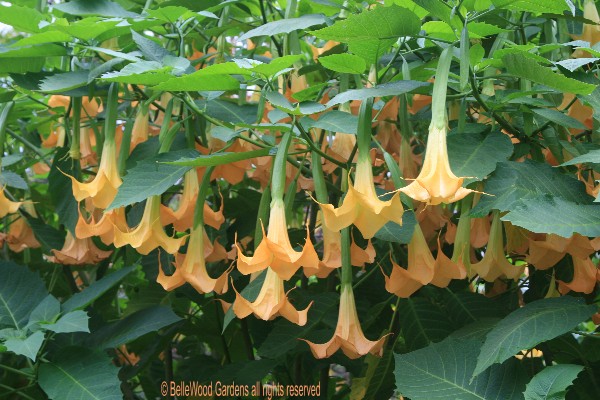 Brugmansia 'Charles Grimaldi'
.
Now, my not-so-secret agenda. I wanted to go searching for hen of the woods. In Japan it is called maitake. More formally, it is known as Grifola frondosa. Whazzat? Just one of the most marvellous mushrooms a forager might find. Early October 2009 was a banner year. Last year was a bust. This year? This year we've been having rain. Monsoons, veritable deluges of rain. And the last few nights have been downright chilly. These are conditions said to trigger the growth of maitake. So Jerry and I got into the Gator and started to drive the long loop through the woods. The trail was rutted from the August rains of Hurricane Irene and the following Wednesday night's tempest. Branches down - periodically I'd hop out and clear them away. And then, and then . . . . . what's that I spy at the base of a towering oak tree? Barely waiting for the Gator to slow to a stop I leap out and start stumbling through the briars and poison ivy . . . . . Yes!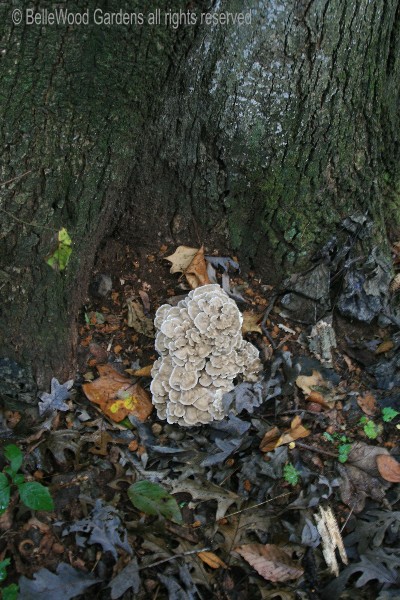 Roosting among the roots are four or five "flocks" around the one tree.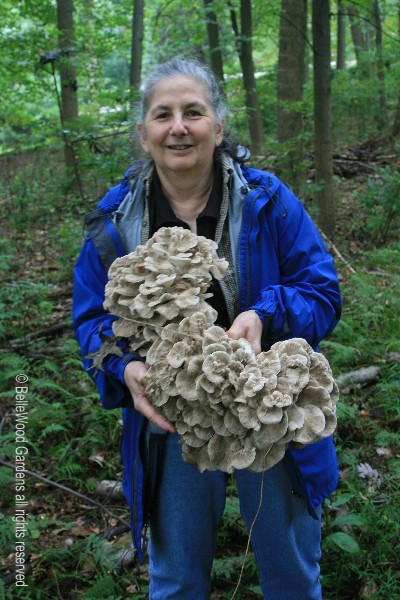 Look at this one. And in prime condition. Two were large enough to harvest.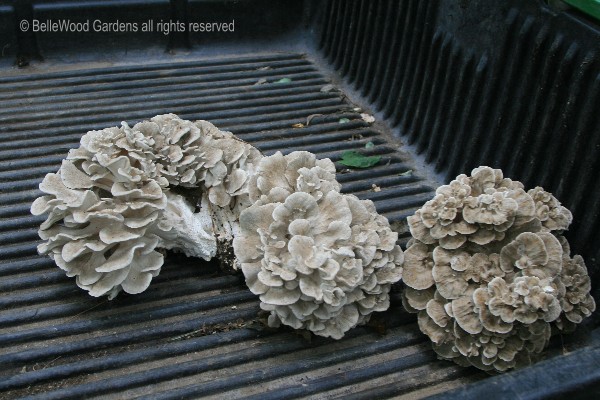 What a wonderful haul. We left the smaller ones to grow. I shared my generous portion with two friends.
Two other trees that had mushrooms in 2009 are bare right now. It's early yet. Suddenly I like the rain,
because more rain could easily mean more mushrooms. Tonight I made grilled salmon with brown rice,
shredded carrots, steamed broccoli. And sauteed hen of the woods. What a fine dinner we had tonight.
---
Back to Top
---