Garden Diary - April 2010
---
If you have any comments, observations, or questions about what you read here, remember you can always Contact Me
All content included on this site such as text, graphics and images is protected by U.S and international copyright law.
The compilation of all content on this site is the exclusive property of the site copyright holder.
---
April
---
Tuesday, 6 April 2010
And A Visit to Willowwood
After our pleasant morning at Leonard J. Buck Garden and a delayed lunch (too busy exploring the grounds and admiring plants to take a noon break) Joan, Sabine, and I took a brief journey over to Willowwood. It is a very different garden. It has no rock outcrops or big hills. There is a huge meadow as you drive in, and this year they've done a rejuvenating controlled burn on a portion of it. I adore the charming meander of a woodland stream feeding into a pool with large Japanese maples. Wonderful trees, especially now when crab apples, flowering cherries, and magnolias are in bloom. We quickly arrive, park the car, and I walk around the back of the stone barn so we can all enjoy the magnolias I know are there.
Magnolia ×soulangeana 'Lennei' is in fabulous bloom. Huge flowers, deliciously
scented, are opening their wine pink petlas to reveal the pale creamy interiors.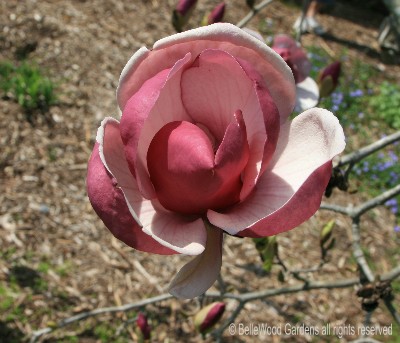 Difficult to tear ourselves away. We just got here and are entranced with the very first tree to which we came. Look at it and tell me that you would nod, say "That's nice." and then just keep on walking. Don't think it can be done, to just walk on by.
.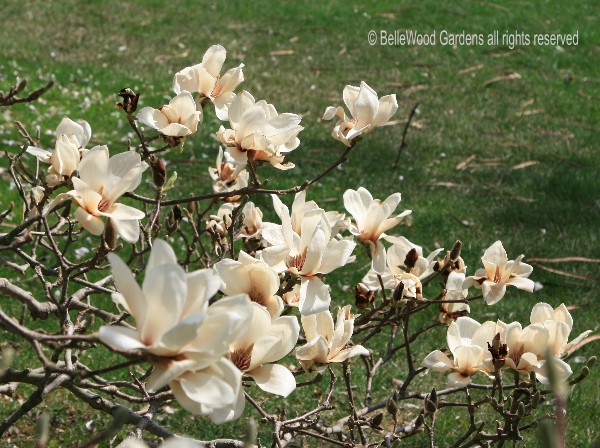 Across some lawn was a beautiful Magnolia ×soulangeana 'Alba Superba'
that had, perhaps, just a hint of frost damage. Not sheltered by the big building's
mass of stones. Interestingly, none of us could detect any hint of fragrance.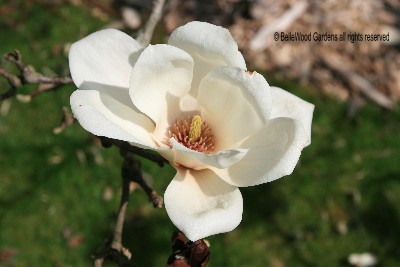 .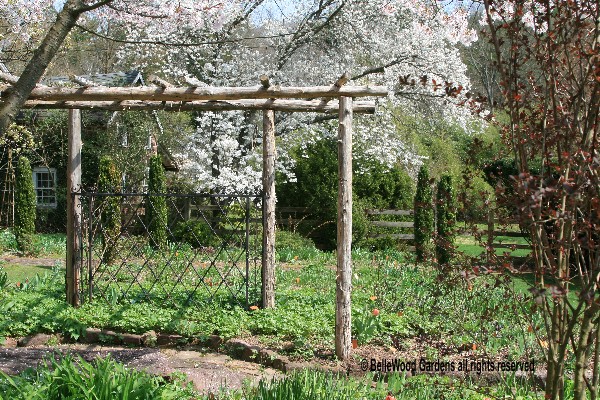 There is a charming garden, modest in size, across the driveway from the house.
A small arbor with a section of wrought iron fence makes an attractive focal point
for bulbs and early perennials.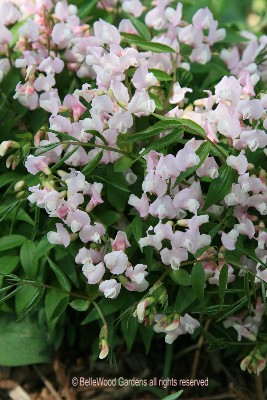 Spring vetchling, Lathyrus vernus 'Alboroseus'
makes a delicate bouquet of pale pink flowers.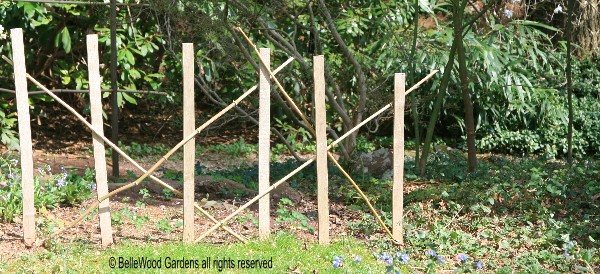 Skinny lath-like boards and a few bamboo canes make
an openwork barrier directing foot traffic.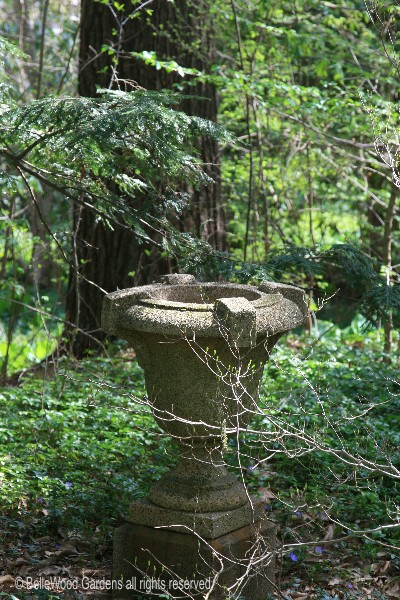 A stone urn, lost in the woods along the stream.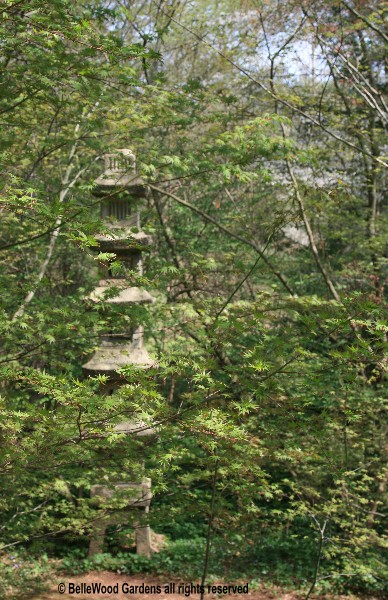 Tender green leaves of Japanese maple on swaying branches flutter
like a geisha's fan first screening, then revealing the tall pagoda lantern.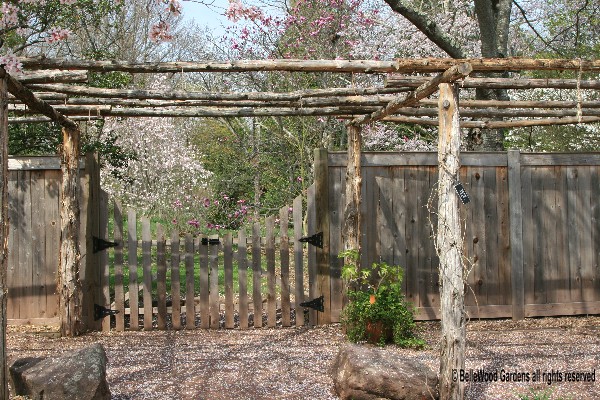 There's a new arbor, well, actually it is replacement of a previous one. Built of cedar poles it has a great trompe l'oeil effect - there is a decrease of about 2 feet in height from right to left. It accommodates the drop in grade while keeping the cross-members level. Marvellous with the site-built screening fence and openwork gate and, at this time of year, the borrowed scenery of flowering cherries and magnolias.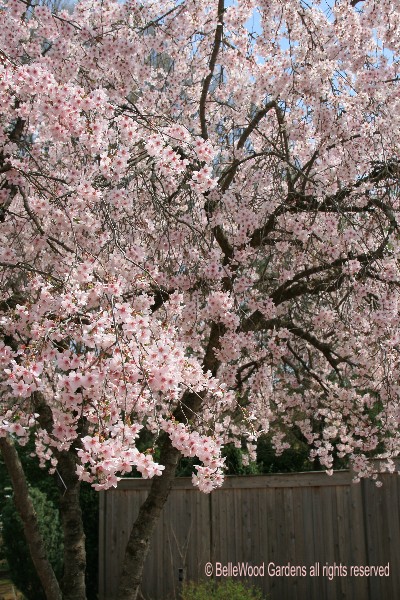 A closer view of one of the cherries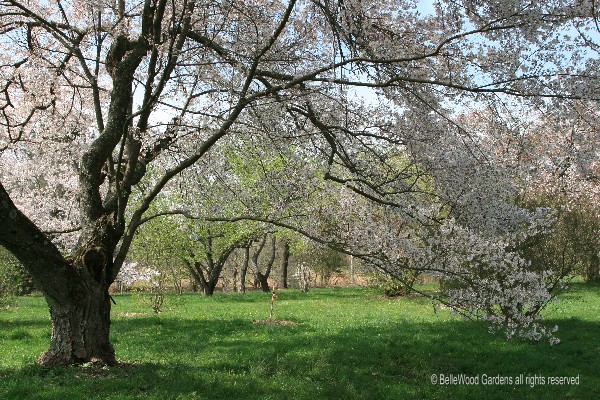 and across the greensward several more. Today is the perfect day for our outing
with trees in stunning bloom and the cherry petals drifting
through the air like satin soft barely pink snow.
Perfect.
---