Garden Diary - April 2010
---
If you have any comments, observations, or questions about what you read here, remember you can always Contact Me
All content included on this site such as text, graphics and images is protected by U.S and international copyright law.
The compilation of all content on this site is the exclusive property of the site copyright holder.
---
April
---
Wednesday, 7 April 2010
Down On My Knees
Gardeners spend an inordinate amount of time down on their knees. As a friend of mine once said, "Knees are like paper clips. Bend them enough and they fatigue." So true. I can get down, but getting back up is an issue. Sometimes I do the inverted U, bending from the waist to reach down to the ground but that can be awkward. Add in the fact that I skidded on some ice last winter and made a three-point landing on my hands and right knee.Walking, even up and down stairs, never hurt and remains pain-free. Kneel down, however, and there's a sharp "ouch" that has me quickly upright.
So when I received the Oxo Garden catalog my attention was promptly focused on their garden kneeling mat with "no kneed for sore knees." The Green Thumbs at Oxo Good Grips offered to assist me with an answer to any quick question I might have, an image, or a sample. Sample please, send me a kneeler mat. It arrived today and let me say I'm a happy, happy camper, I mean gardener.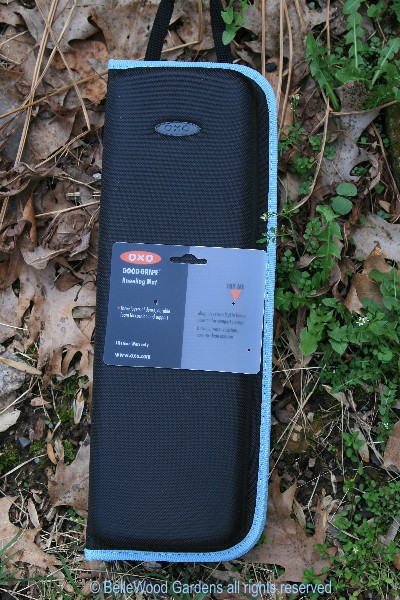 I should note that when first unpacked there was a somewhat plastic-y smell
that quickly dissipated in the open air after the wrapping was removed.
The mat arrived folded in half, with some strong magnets to hold it closed.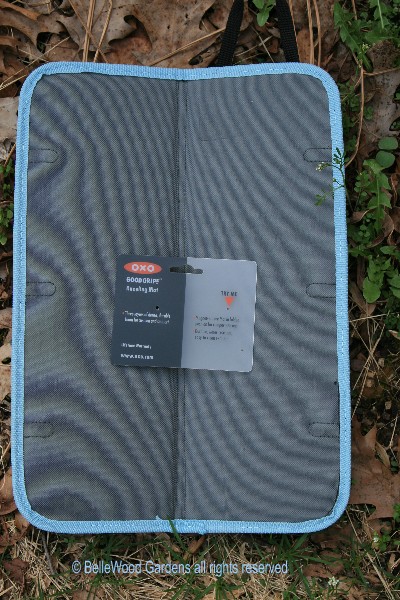 Though not so strong that the mat is difficult to open.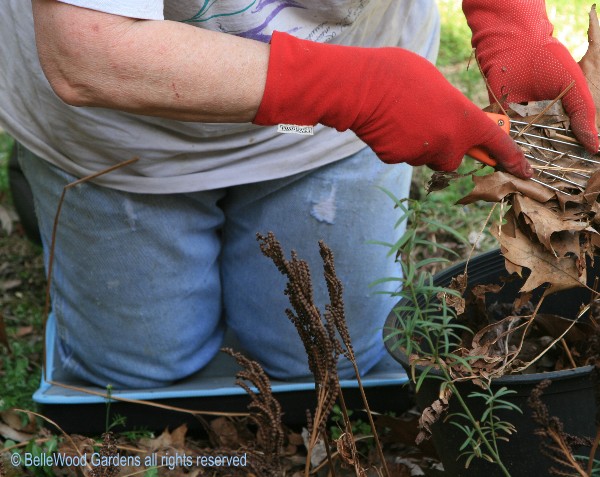 Image courtesy Paul Glattstein, all rights reserved
"Take my camera." I urged Paul. "Take some pictures. I need to try it out. Now!" Flinging it to the ground
I dropped to my knees and guess what - no twinges! In my enthusiasm I didn't pause to think which way
to line it up. Though comfortable either way I believe it is better if the fold goes between my knees, not across.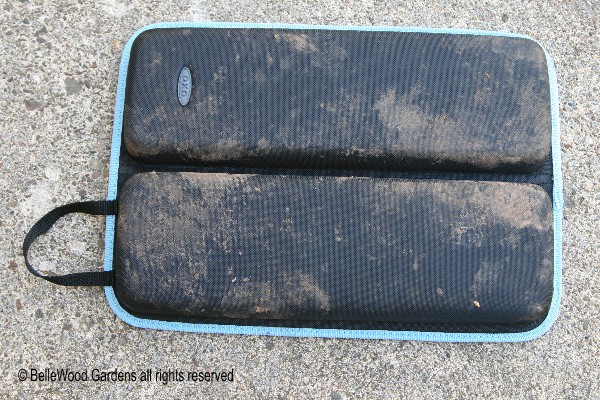 Obviously "down in the dirt" is this gardener's motto. I went into the woods, got down on my knees and
dug out several buckets worth of Rannunculus ficaria, the Roundup®-resistant weed we love to hate.
Once the dirt had dried, a quick swipe with a sturdy bristled brush and the kneeler was clean.
When the catalog notes that the mat is "easy to clean" they weren't exaggerating. Oxo tools are great!
---