Garden Diary - May 2010
---
If you have any comments, observations, or questions about what you read here, remember you can always Contact Me
All content included on this site such as text, graphics and images is protected by U.S and international copyright law.
The compilation of all content on this site is the exclusive property of the site copyright holder.
---
May
---
Friday, 7 May 2010
Chanticleer in Bloom in the Merry Month of May
Beyond a doubt the blooming sequence this Spring is different. How? you ask. Well, never before do I recall seeing rhododendrons, hybrid tea roses, lilacs, and bearded iris simultaneously in bloom. Which is why it is helpful that Chanticleer has a very nice link on its web site, with highlights of what's in bloom. It offers the gadabout gardener a preview of what's to be seen. Here's what our tour group saw when we were there.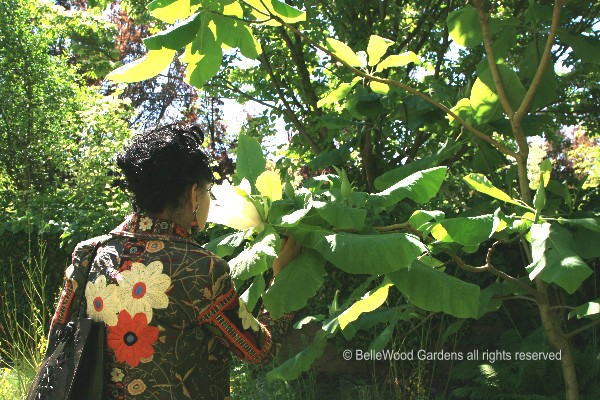 We exited the tour bus which went off to its separate parking lot. Our group entered the Teacup Garden
and at the far side was a Magnolia ashei in bloom. Such flowers! Huge, glowing, white, and imbued
with the most delicious perfume, not at all heavy or cloying. Delicate, floral, and conveniently at nose level.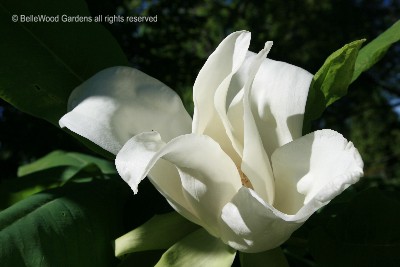 .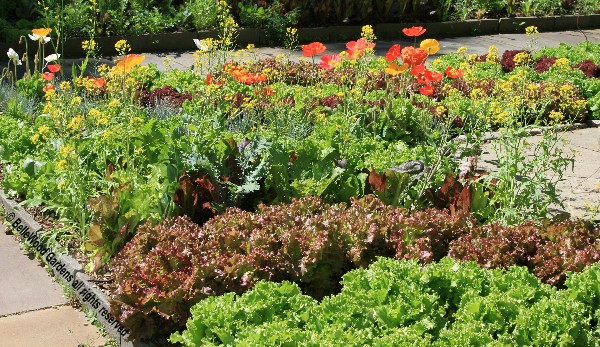 The Teacup Garden also featured a display of vegetables and Iceland poppies. Chanticleer does do well
with foliage. Luscious lettuces: Lactuca sativa 'Lollo Rossa Atsina'' 'Red Fire'' Rouge D'Hiver' and more,
with the warm red and orange, chiffon textured blossoms of the poppies dancing in rows of their own.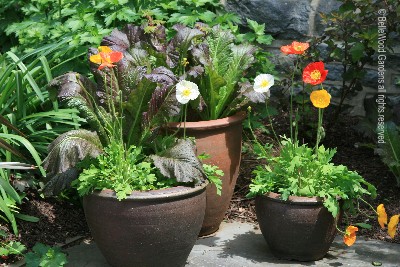 Elsewhere on the grounds there are simple unglazed ceramic pots
filled with stalwart red mustard and more of the Iceland poppies.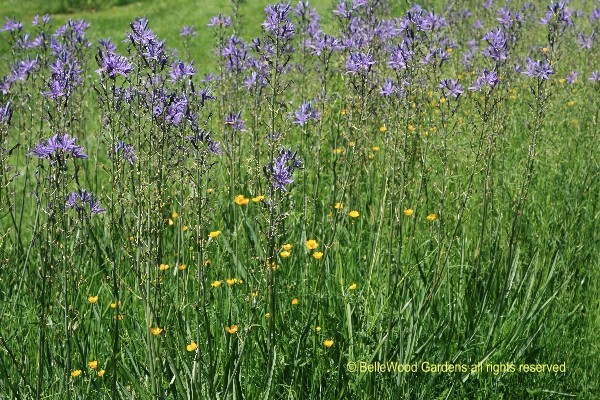 Swathes of camassia in the Stream Garden along Bell's Run, with golden buttercups dancing in the grass.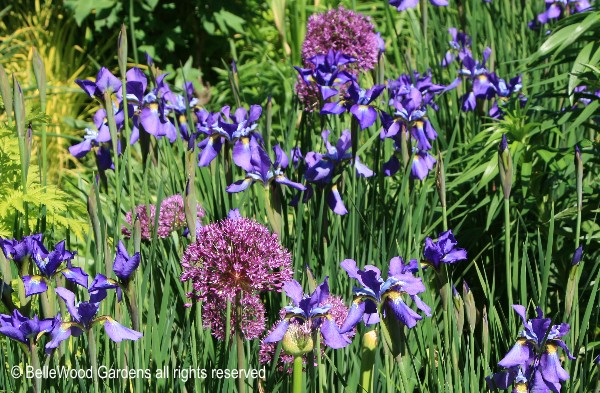 Allium 'Purple Sensation' is a reliable addition to the garden. Some have been blooming here
at BelleWood Gardens year after year, reliably returning after being planted 15 years ago.
I especially like this Chanticleer combination of allium with Siberian iris. Memo to self - call it
research, not plagiarism, when recreating the effect in my own garden. It could be the popular
older cultivar 'Caesar's Brother' but that doesn't appear to be included in the plant list.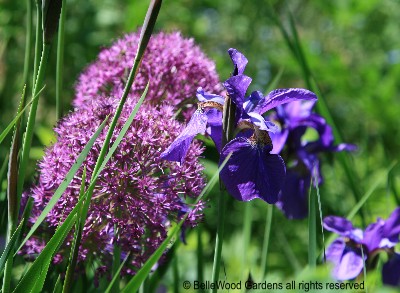 .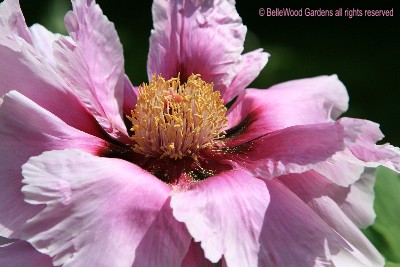 A closeup of the heart of a silken tree peony in perfect bloom.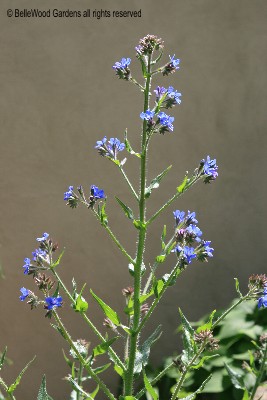 Anchusa azurea' possibly 'Loddon Royalist'.
It has the uncouth common name of "bugloss."
No matter, we can still admire its vivid blue flowers.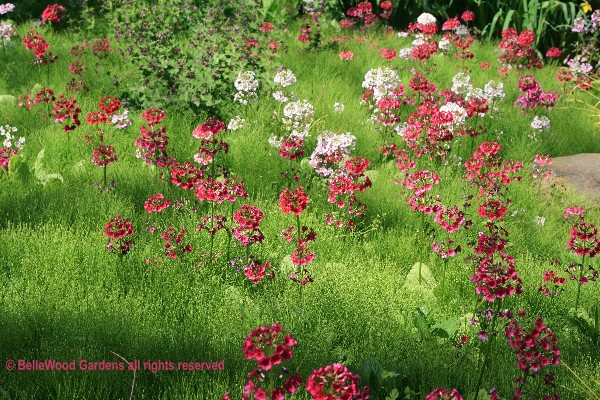 I grow Primula japonica in a soggy, boggy place in my garden. But I never thought of this clever
partnership, pairing it up with the dwarf horsetail rush, Equisetum hymale, a notorious spreader.
Very clever, and absolutely charming. I'd still be leery of turning the horsetail loose in the wet spot.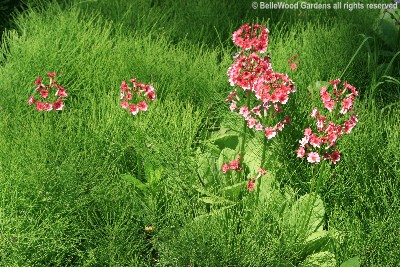 .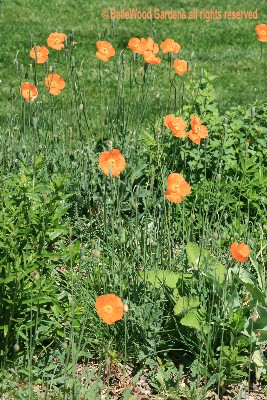 Pretty little Spanish poppy, Papaver rupifragrum, easily raised from seed.
There is also a double form, but I prefer the single, which dance in a breeze,
apricot orange flowers swaying on their supple, sturdy stems.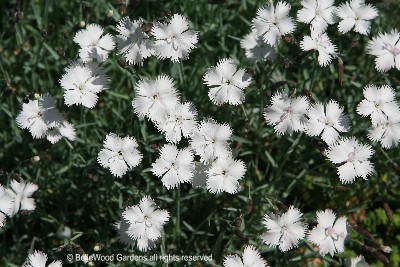 A galaxy, a veritable Milky Way of Dianthus 'Mendlesham Maid' in bloom.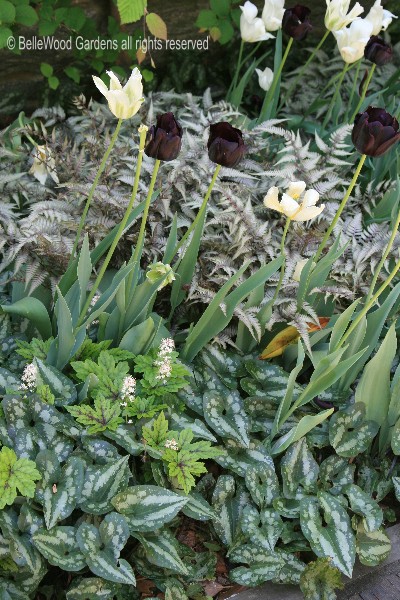 Fabulous foliage, with tulips. Even aster the flowers fade away
the bold silver mottled leaves of Asarum splendens, and
silver ferny lace of Athyrium niponicum 'Pictum' with
fresh green accent of Tiarella cordifolia will serve as
an excellent foundation for this bijoux garden combination.
.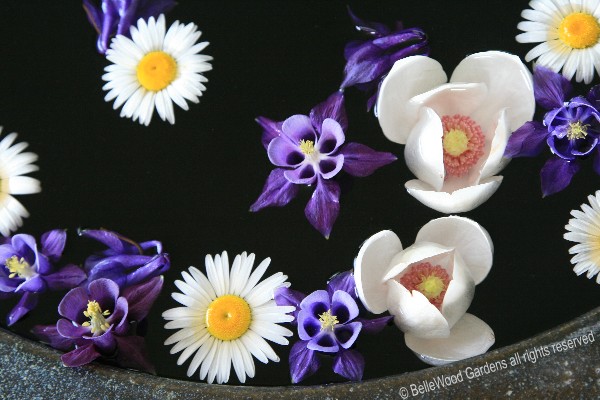 And in conclusion, a water bowl of floating flowers in the veranda. Daisies, magnolias, and columbines.
Magnificent! Do visit Chanticleer. Any time, any season, again and again. You'll be very glad you did.
.
There are two other entries for this visit to Chanticleer. You might also enjoy Chanticleer, Attention to Details and A Visit to Chanticleer
---