Garden Diary - May 2010
---
If you have any comments, observations, or questions about what you read here, remember you can always Contact Me
All content included on this site such as text, graphics and images is protected by U.S and international copyright law.
The compilation of all content on this site is the exclusive property of the site copyright holder.
---
May
---
Friday, 7 May 2010
Chanticleer, Attention to Details
Would that it were so, but gardens do not happen without effort. Further, all the effort in the world does not make a beautiful garden without inspiration and creativity. How fortunate for its visitors that Chanticleer has it all: a splendid site, enthusiastic staff, and creative people who are always ready and willing to tweak, modify, amend, and enrich the displays. A great garden, after all, consists of plants put together so they look better in assembly than they do individually. Attention to detail makes the difference.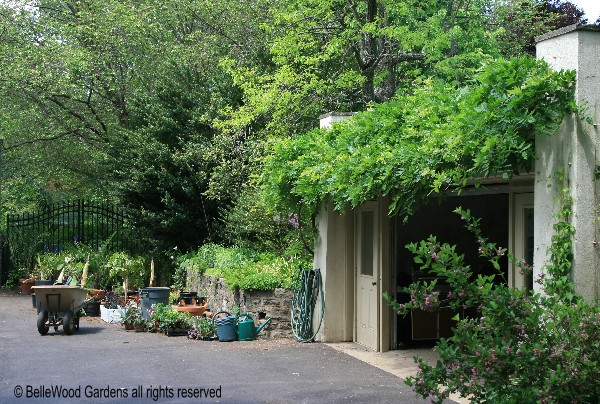 There's a wonderful work area with a charming, vine-covered building and spacious paved forecourt
with ample room for pots and plants, watering cans and wheelbarrow. I didn't peer inside but doubtless
it is neat and tidy, with work benches and bins of potting soil and compost, fertilizers and all good stuff.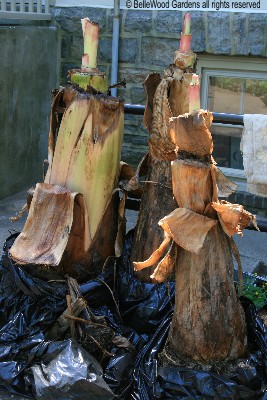 These huge bananas are just waking up from
their long winter sleep, preparing to awe and
astonish summer visitors with theatrical, unusual,
combinations of tropical and hardy plants within
the sheltering framework of one or another courtyard.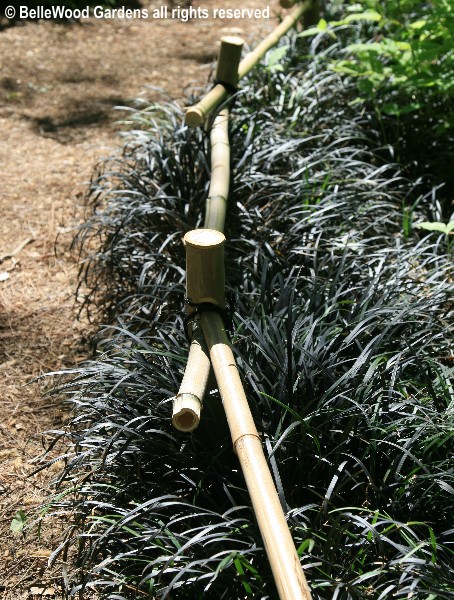 I'm in love with this simple bamboo fence. The uprights are neatly trimmed
at the top, cut off at a cell chamber so water cannot collect.Horizontally,
a hole, a nicely chamfered opening, holds slimmer culms that mark here
a path and you may walk, dividing the walkway from the plants - escaping,
a mass of elegant black mondo grass, Ophiopogon planiscapus 'Nigrescens'.
or below, a luxurious spill of chartreuse hosta softening the edge of the path.
.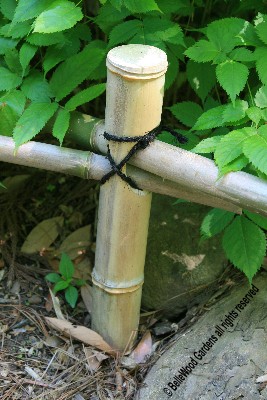 The fence fascinates me. While it looks so simple
I am not sure that its execution would be easy. Look
at the smooth taper to the hole opening. I can but try . . .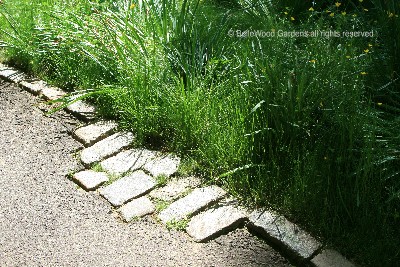 At Chanticleer, every aspect pleases. A simple edging
of Belgian block, granite setts tidily keeps grass away
from path. And here, a few block tipped into the path
merely as an embellishment to catch our attention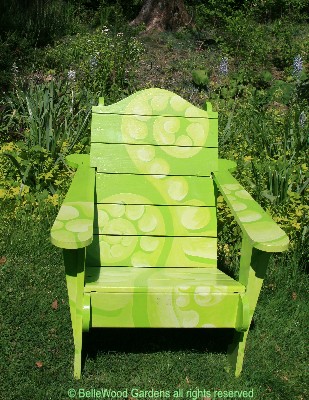 Chanticleer has wonderful chairs. Wonderful in the sense
of comfort, and also the whimsical designs they're painted with.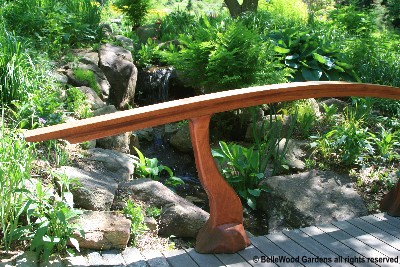 A sturdy base grips the simple bridge. Weathered planks are quiet contrast
to the rich color of the magnificent mahogany handrail that spans a little water,
the pond's outlet. Built of by Przemyslaw Walczak, its supple curve is held
by sinuous supports. No mass production here, but loving craftsmanship.
There are two other entries for this visit to Chanticleer. You might also enjoy A Visit to Chanticleer and Chanticleer, In Bloom
---