Garden Diary - April 2010
---
If you have any comments, observations, or questions about what you read here, remember you can always Contact Me
All content included on this site such as text, graphics and images is protected by U.S and international copyright law.
The compilation of all content on this site is the exclusive property of the site copyright holder.
---
April
---
Tuesday, 6 April 2010
A Visit to Buck Garden
"I've never been to Willowwood." said Sabine. Those of us who live in New Jersey sometimes overlook the splendid gardens available for visits here in the Garden State. Willowwood is one of my favorites, so I mentally bookmarked it for a visit sometime this Spring. Then our weather changed to totally absurdy hot. Really now, temperatures in the mid-80 degree Fahrenheit range? In early April? The visit better be sooner rather than later if the magnolias are to be admired. Now, Willowwood and the Leonard J. Buck Garden in Far Hills, New Jersey are less than 15 minutes apart. We'll have a two-fer. I called Joan, who is a frequent companion when I propose a garden excursion, and plans were made of when and where to meet. While on the torrid rather than temperate range of the thermometer we had an absolutely splendid day as the unseasonably warm weather has trees and shrubs and perennials and bulbs all hurling themselves into bloom. And flowers withering / petals dropping just as fast. A delay of even a day and some would have gone over.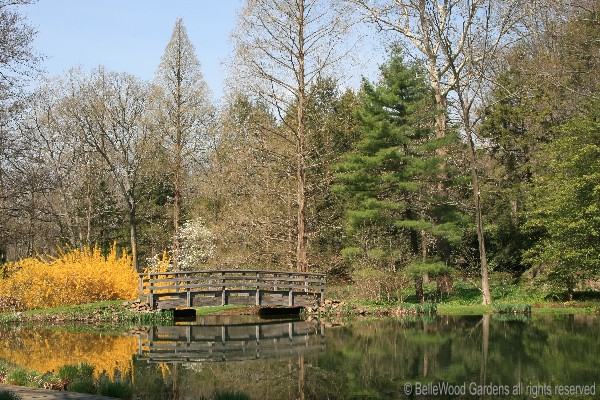 Vivid yellow blobs in the landscape,forsythia is all over the place. Shaggy bushes, neatly clipped shrubs, hedges that flower well or not at all (depending on when they were pruned.) Here, the only forsythia are these, cleverly planted near the Monet Bridge and where they reflect in the water. I think that Joan must have taken at least 50 pictures: close up, distant, from every view point. I also think that we need a new term to replace "a Kodak moment" for special photo opportunities. Something for the digital age. Sabine, Joan, and I were practically queueing up for the best vantage. These are my favorites of those I took.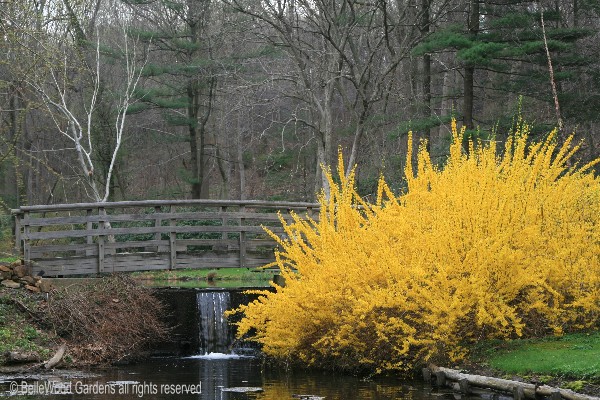 .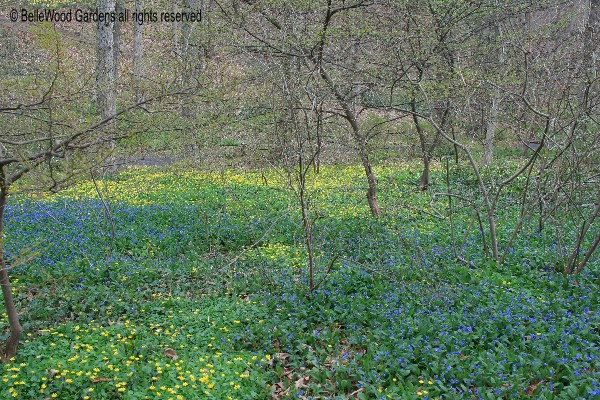 There are areas of the garden that are carpeted with Ranunculus ficaria, the lesser celandine, a plant we love to hate. How so? you ask. The drifts of yellow intermingled with the clear, bright blue of Pulmonaria angustifolia is so beautiful. Indeed it is. For about two weeks. Then the lungwork goes out of bloom and the lesser celandine goes dormant. First, however, it multiplies far and wide, hurling seed about, washing tubers downstream, and in general doing its best to take over the garden. It is resistant to Roundup. Kathleen, on staff at the garden has told me they sprayed it three times in one season and that didn't really set it back. They'll be weed-whipping, dead-heading, cursing it.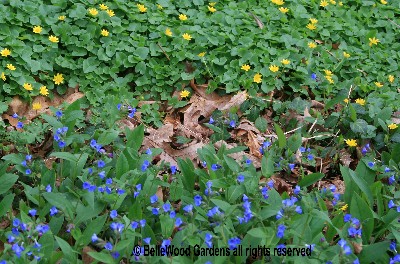 .
See the obnoxious tubers that wantonly multiply, and multiply, and multiply. Don't dare compost, not allowed to throw in the trash. At home I dug several sheet rock buckets full of the plants, tubers, and soil also lest little fragments regenerate themselves. Placed in a heavy duty black plastic garbage bag and put it on the asphalt driveway in full sun. Desireable plants would quickly die. Takes much longer with the survivors of the plant world we call weeds.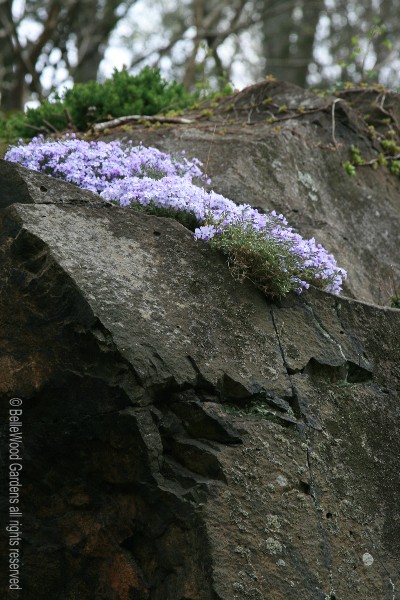 The wonderful stone outcrops on this property provided Mr. Buck and his landscape architect, Zenon Schreiber, the opportunity to create superb gardens with plants that grow in rocky sites. The sprawling mat of Phlox subulata, above, and below, the self-sown native columbine, Aquilegia canadensis are just two examples of plants that are at home.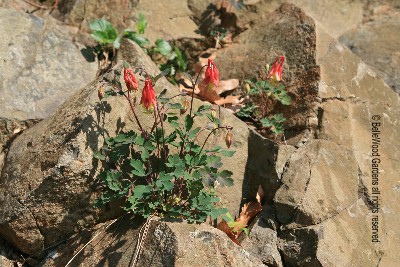 .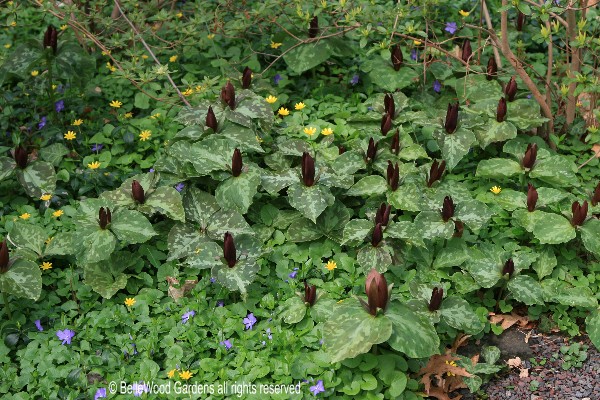 In the wooded areas there are many colonies of Trillium sessile. Though their flowers never open more widely than you see here, their deep rich color and attractively mottled leaves are quite attractive.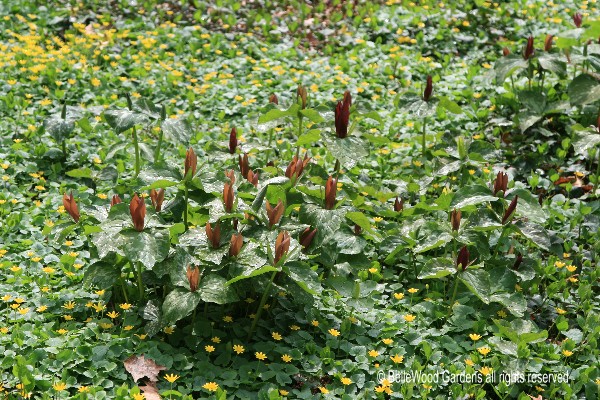 .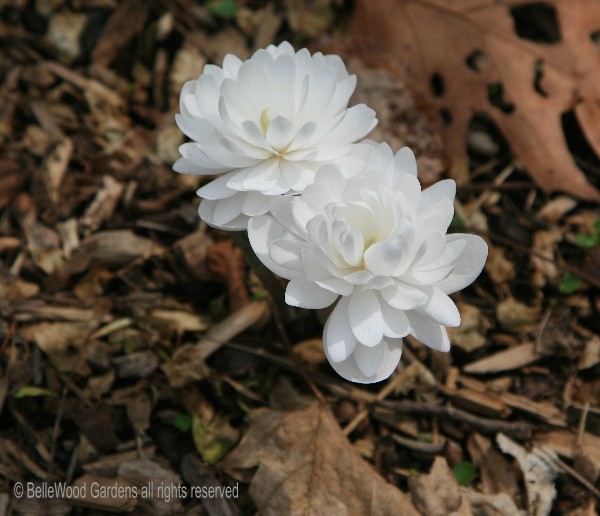 For a flower with "stop you in your tracks" pizazz just consider Sanguinaria canadensis 'Multiplex'. Not flamboyant, far from it. The peony-like white flowers posess an understated elegance. Alas, in this heat the display will be here today and quite possibly gone tomorrow. Carpe diem, and we're here now.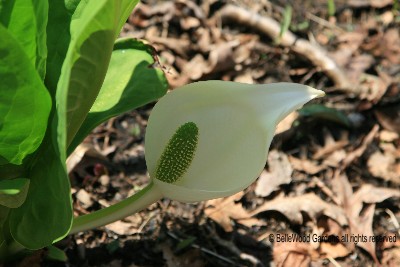 Do you know our native skunk cabbage? That's Symplocarpus foetidus. Here's a skunk cabbage of a different color, and a different genus too. Lysichiton camtschatcensis is native to eastern Asia, including Japan.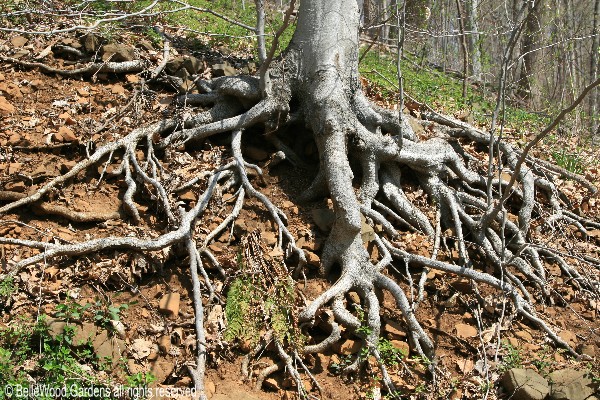 A beech tree tenaciously keeps a grip on exposed soil along a path across the sloping woodland.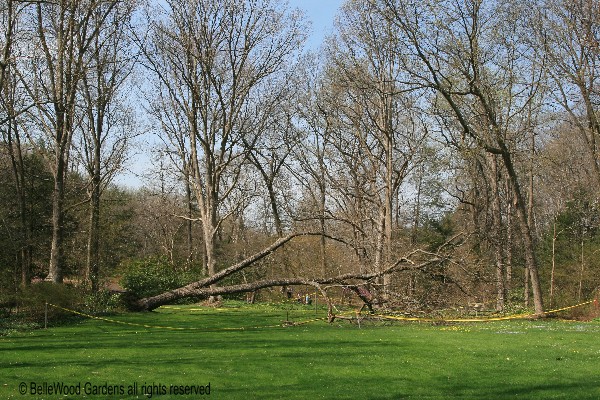 This tree didn't make it. In what would seem a more protected site with better soil and some shelter from the wind the black oak lost its grip in saturated soil, tilting, tilting more, and finally, down it came. Miraculously it came down without damage to surrounding trees and shrubs, and was away from the gazebo.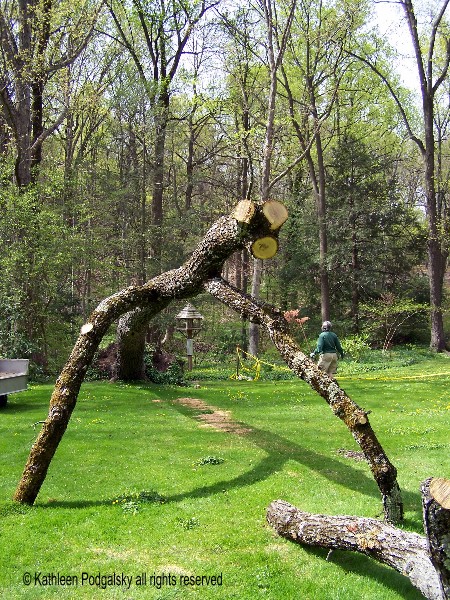 UPDATE: Monday, 12 April 2010
Lucky me. Kathleen was there to take a picture she generously sent over. Roman did the careful trimming of the downed tree. "Not on purpose," Kathleen told me, "It just happened to come out that way." Maybe so, but it sure looks like a ginormous preying mantis strolling across the landscape.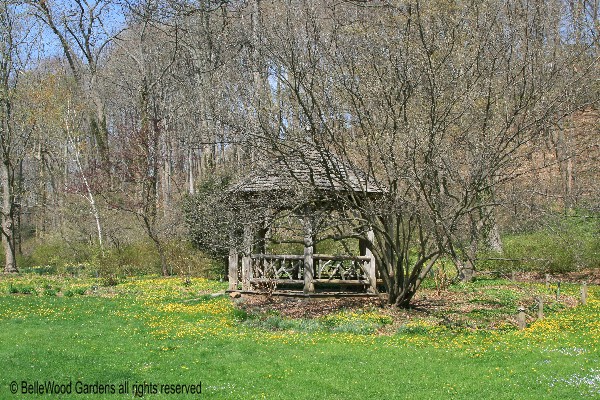 We strolled and observed, talked and pointed out the plants and landscape. A wonderful morning. Now, time for our picnic lunches, a brief rest for tired legs, and then on to Willowwood.
---