Garden Diary - April 2010
---
If you have any comments, observations, or questions about what you read here, remember you can always Contact Me
All content included on this site such as text, graphics and images is protected by U.S and international copyright law.
The compilation of all content on this site is the exclusive property of the site copyright holder.
---
April
---
17 April 2010
A Tumult of Tulips
Before . . . . . . . . . and After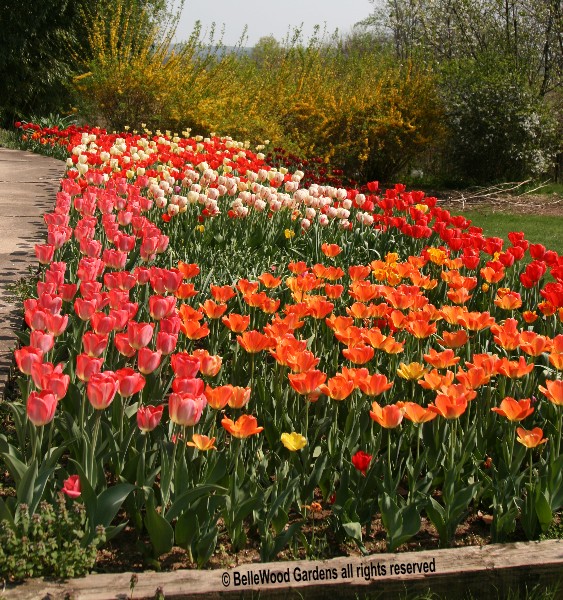 It all began last year, in November to be precise. Jerry wanted my help in designing a planting of tulips for the flower bed adjacent to the swimming pool. There were a couple of issues, foremost of which was that it was late in the season for the best selection. Not too late to plant, mind you, as here in New Jersey tulips may be planted as late as Thanksgiving, and even later. So availability was limited and my assignment was to create a colorful, attractive design with 100 or 200 each of 12 different cultivars, with a total of 2,000 bulbs. Heights ranged from 14 / 16 up to 24 inches.
At 18 inches or under we had: dark red Jan Reus, yellow / pink / cream Tequila Sunrise, blood red Come Back, dark purple-black Black Parrot, and red edged with yellow Bright Parrot.
From 18 to 22 inches there were yellow / apricot orange Daydream, bright red Parade, primrose yellow flamed red Flaming Parrot, and creamy ivory flamed red Burning Heart, while rose salmon Big Chief, white Cream Jewel, and scarlet orange Holland Glory could grow 24 inches tall.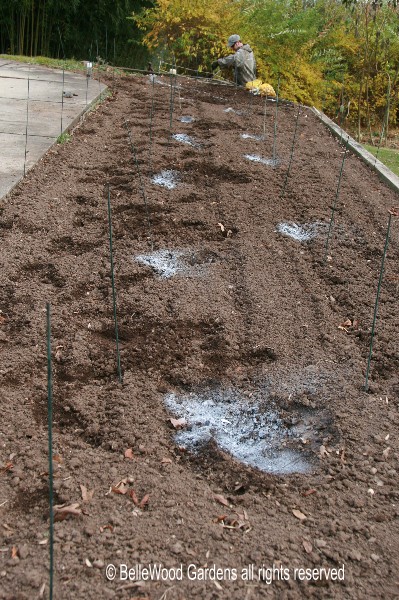 As long as I had some say in the matter I asked Jerry to also order
100 Allium Purple Sensation. Planted in ten groups of 10 bulbs each
they'd add some height and color to the area after the tulips had finished.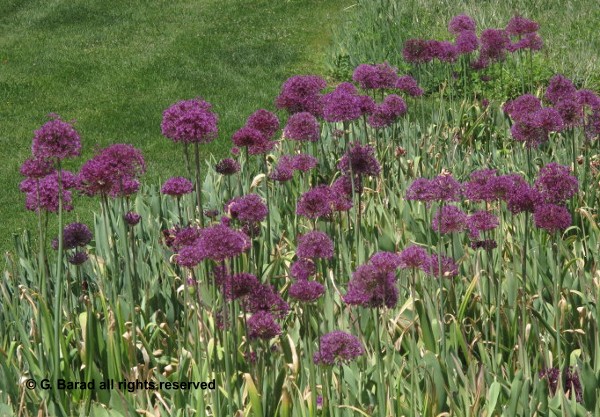 Perspicacious of me, as this picture (taken on Saturday, 8 May 2010) shows how wonderfully they performed.
We marked out the planting area. It was not merely a matter of what was adjacent to another.
Some of my combinations were interplantings of a couple of cultivars, further complicated
when there were 200 of one cultivar and 100 of its partner. We had many discussions . . .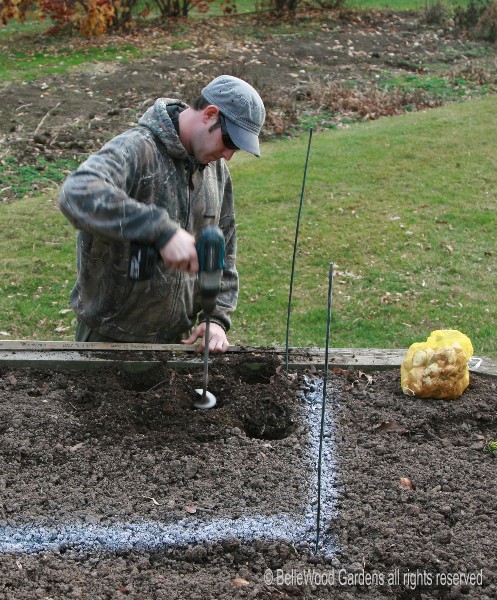 The soil in this raised bed is so well prepared that using a power drill is O.K.
No rocks or roots to get in the way. In fact even a trowel is adequate.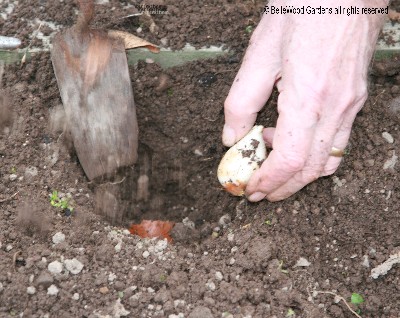 ---
Winter came. Winter left. Absurdly mild weather coaxed tulips and many other bulbs, perennials, shrubs, and trees into early bloom.
---
Sunday, 11 April 2010
Jerry had alerted me that the tulips, expected to be flowering in May, were instead putting on a show in early April.
Accordingly, even though I knew he and Bea would not be home I made a detour on my way back from the garden party.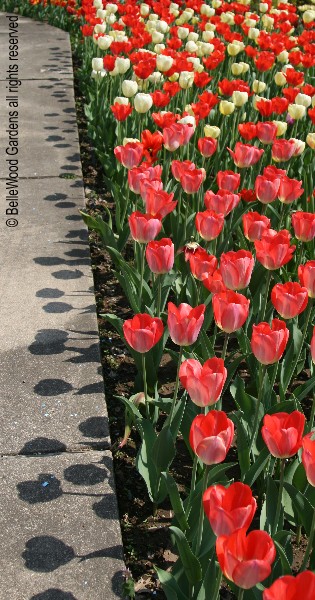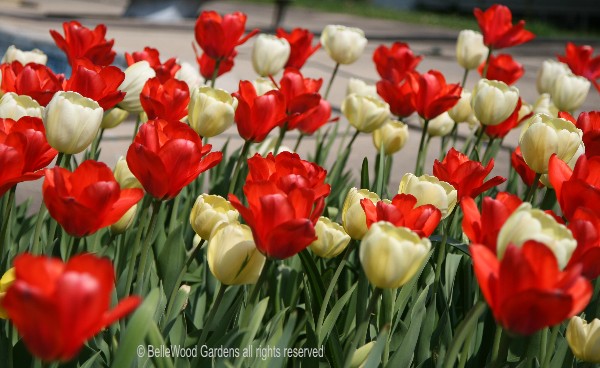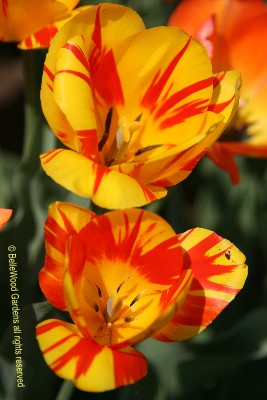 ---
Saturday, 17 April 2010
Jerry's tulip fest required rescheduling by a few weeks, from sometime in May to mid April.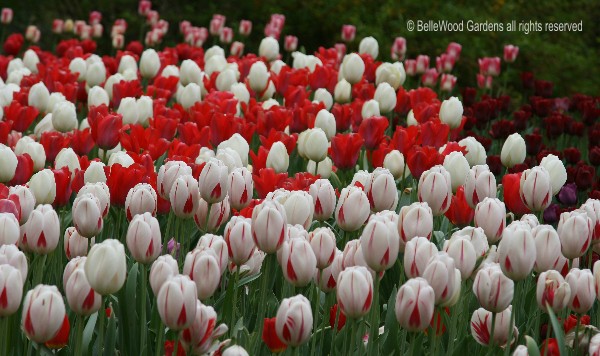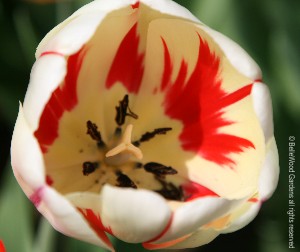 Above, tulip 'Tequila Sunrise'.
Below left, 'Jan Reus' . . . . Below right, tulip 'Big Chief'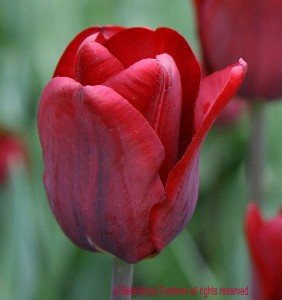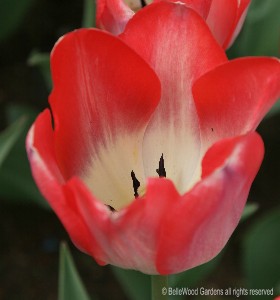 .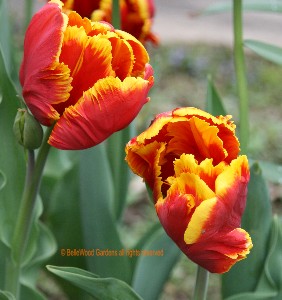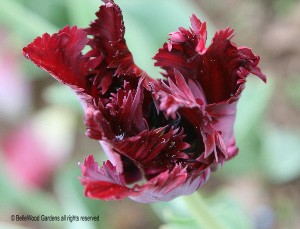 Above left, parrot tulip 'Bright Parrot' . . . . Above right, parrot tulip 'Black Parrot'
Which all goes to show that the important thing is to plant the bulbs, for only then can they reward us with flowers.
---