My Resume
---
Judy Glattstein: In (and Out) of the Garden
I consider myself very fortunate, since my vocation and avocation go together so well. I love gardening, and enjoy writing and lecturing about plants and design.
You are here at my web site and can take numerous virtual visits, accompanying me on garden tours, fascinating plant discussions, come foraging, mushrooming, make culinary explorations, and more. The seasonal appearance of flowers in my New Jersey garden and greenhouse make their appearance in the section on BelleWood in Bloom. For me, gardening is the never-ending story.
Back to Top
---
For many years a popular instructor at The New York Botanical Garden, I taught - among other subjects - a required bulb identification course for School of Professional Horticulture students. As well, I taught at Cook College of Rutgers University in their Office of Continuing Professional Education. I curated the exhibition Buried Treasures, The Nature and Art of Bulbs at the gallery of the LuEsther T. Mertz Library of The New York Botanical Garden.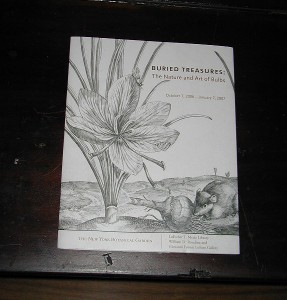 I speak to garden clubs, horticultural groups, and professional organizations within my home state of New Jersey and across the United States. I have lectured abroad: Canada, England, Holland, and Japan

Popular topics and a selection of the organizations for whom they have been presented:

Foliage for Beds and Borders
Georgia Perennial Plant, Atlanta, Georgia
Missouri Botanical Garden, St. Louis, Missouri
Cornell Plantations, Ithaca, New York
Horticultural Alliance of the Hamptons, Bridgehampton, Long Island, New York
Scott Arboretum, Swarthmore, Pennsylvania
Men's Garden Club, Rochester, New York
Green Springs, Alexandria, Virginia
Penn State Winter Conference, College Station, Pennsylvania
P.L.A.N.T. perennials symposium, Columbus and Cincinnati, Ohio
International Stauden Union, Lisse, The Netherlands
The Royal Horticultural Society's Great Autumn Show, London, England
Bath Botanic Garden, Bath, England
Northwestern Hardy Plant Society, Seattle, Washington
Hardy Plant Society of Oregon, Portland, Oregon
Civic Garden Centre, Toronto, Canada
The Gardener's World of Bulbs
Northwest Horticultural Alliance seminar, Seattle Washington
Penn State Cooperative Extension symposium, Lancaster Pennsylvania
Pennsylvania Horticultural Society's autumn seminar, Philadelphia, Pennsylvania
Sixth Great Canadian Gardening Conference, Toronto, Canada
Atlanta Botanical Garden (workshop) Atlanta, Georgia
Chicago Botanic Garden (co-presenter with Rob Proctor)
Waterscaping
Penn State Winter Conference: Rain Gardens
Cabin Fever Symposium, Boise, ID
Sixth Great Canadian Gardening Conference, Toronto
Rochester Garden Center symposium
a traveling symposium held at
the National Wildlife Federation, Vienna, VA; The New York Botanical Garden; Pine Manor College, MA; and the Atlanta Botanic Garden
Native Plants
Mid-south Native Plant Conference (keynote lecture), Memphis TN
Millersville Native Plant Conference, Millersville PA
The Royal Horticultural Society's Great Autumn Show, London
Ness and Bristol (England) Botanic Gardens
US National Arboretum symposium, Washington, DC
Natural Country Style / Cottage Gardens,
a travelling symposium held at
New York, Denver, and Chicago Botanical Gardens; Arnold Arboretum, Boston; and the Royal Botanic Garden, Hamilton, Ontario
Color and Combination in the Garden
Minnesota Nursery & Landscape Conference, Minneapolis MN
Pennsylvania Landscape & Nursery conference
Longwood Graduate Program symposium
Pennsylvania Horticultural Society
Japanese Plants to Enhance Your Garden
Henry Schmieder Arboretum of Delaware Valley College
Waterloo Gardens contractors symposium, Devon, Pennsylvania
Missouri Botanical Garden's annual Japanese festival weekend
North American Rock Garden Society: Seattle, Washington and Portland, Oregon
Alpine Garden Society of British Columbia, Vancouver, Canada
Romantic Shade Gardens a travelling symposium held at
Pine Manor College, Massachusetts; Cleveland (Ohio) Botanic Garden; National Wildlife Federation, Vienna, Virginia; and Genesee Country Museum, Mumford, New York
Miscellaneous Topics
It's Different Abroad:The Gardens of Holland, England and Ireland, and Japan: Smithsonian Institution, Washington, D.C.
Made for the Shade: Minnesota Nursery & Landscape Seminar, Minneapolis Minnesota
Annuals and Tender Perennials: Waterloo (PA) Gardens Trade Seminar
Plants for Autumn and Winter Interest: Hardy Plant Society's Autumn Weekend (main speaker): Crewe, England
Improving Urban Life with Plants: Kobe, Japan symposium (keynote speaker
Naturalistic Design: Chicago Botanic Garden symposium

Back to Top
---
Garden Consultation and Design Services

My garden consultation services range from a simple consultation to site overview and garden design. My work addresses each individual's concerns: herbaceous border design, a focus on native plants, attracting birds and butterflies, a meditative garden - always with attention to year-round beauty in the garden, as well as subsequent maintenance requirements. I am pleased to work with enthusiastic gardeners looking for some guidance in plant selection, rearrangement of existing plants, scheduling of maintenance, as well as those who prefer someone else to do the work, supervising their landscape help. I can provide a written report, help select plants at a nursery, supervise an installation crew, make return visits to ensure the garden is developing to its owner's delight.

I have consulted for commercial design / build firms, offering specialized guidance for designs incorporating native and exotic plants: plant selection and maintenance. I bring a diversity of interests, experience, and study to my work, from participation in an intensive seminar in Japanese Garden Art and Design in Kyoto, Japan; lectures and workshops on native North American plants; observations in gardens visited across the United States, in the UK, Holland, Japan.

If you are interested in inviting me to give a lecture, teach a class, design a garden, or write an article, please feel free to Contact Me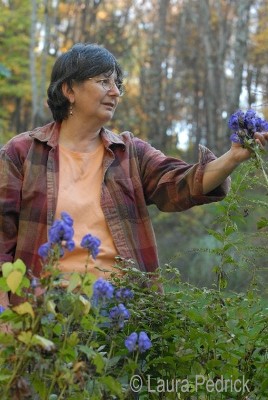 Back to Top
---
Writing

I write. Three of the eight garden books I have authored are about bulbs: The American Gardener's World of Bulbs published by Little, Brown and Company; Flowering Bulbs for Dummies published by IDG Books; and Bulbs for Garden Habitats published by Timber Press. Other books explore foliage as a foundation for garden design: Garden Design with Foliage published by Storey Publishing, and Consider the Leaf, another title published by Timber Press. My remaining books are Made for the Shade, Barrons Educational Series; Waterscaping, Storey Publishing; and Enhance Your Garden With Japanese Plants, Kodansha. For several years I had a regular gardening column, Through the Garden Gate published by Acorn Press in Connecticut. It received the Garden Writers Association Award of Excellence. I've had over 100 magazine articles published in periodicals from Garden Design, Horticulture, Fine Gardening, Cottage Living, and Real Simple to Popular Mechanix, Arnoldia, and others.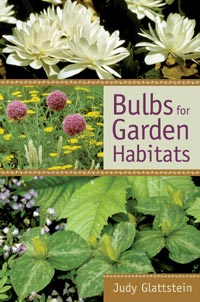 Bulbs For Garden Habitats Timber Press

"If you think you know all about bulbs . . . think again. Veteran and neophyte gardeners alike are sure to benefit from the breadth and depth of knowledge and experience contained in Bulbs for Garden Habitats. In addition to familiar Dutch export bulbs, the author introduces us to a full range of native American bulbs, as well as South African and tropical species. Readers will be pleased to learn about the myriad hardy and tender bulbs for wet spots, and that a host of bulbs bloom in autumn, when most plants are shutting down for the season. Glattstein innovates further by placing bulbs in natural, complimentary associations based on what she calls "garden habitats." Though the chapter titles alternate between regional ("Bulbs for the Southeast") and habitat ("Bulbs for the Mediterranean Garden"), the message is clear: Choose the right bulbs for your climate, light, soil, and moisture.

The excellent chapter, "Geophyte Care and Cultivation" thoroughly covers planting, aftercare, and propagation. Deer-resistant bulbs are amply discussed, as the author gardens on nine acres with a thriving deer herd. Appendices cover invasive bulbs, sources, and "Quick Picks," a set of short lists arranged by garden situations and ornamental attributes. Glattstein, a veteran gardener, skillfully instructs and educates in a friendly, accessible style. She weaves stories of her experiences into the narrative as well as those of gardeners around the world who love geophytes. Bulbs for Garden Habitats will inspire anyone who has an appreciation for beauty and a mind for ecology."


C. Colston Burrell, American Horticultural Society

" I find the approach chosen by Judy Glattstein innovative and fascinating, the text competent and entertaining."


Herbert Frei, Zurich, Switzerland

.

"She offers a new approach to incorporating bulbs based on matching the plants to the garden habitats where they will have the best chance of thriving."


Book News, Inc.

"[Glattstein's] image-filled prose style... manages to educate and entertain concurrently."


Lillie Dorchak, Hunterdon County Democrat
---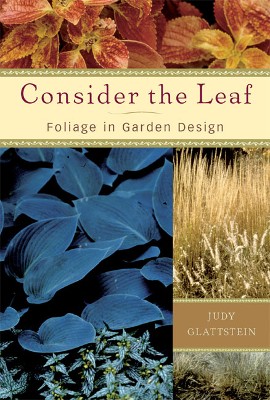 Consider the Leaf: Foliage for Garden Design Timber Press

"This is a different way of looking at garden planning . . .I used the book this spring when I redesigned my front herb and flower gardens, a task which was prompted by tree growth that had turned a formerly sunny garden into a shade garden. . . arranged by leaf shape and color, I found I had an attractive display even when there were no blooms going on. "


NJCher, West Orange, NJ September 16, 2004

"A substantial read for serious gardeners."


Bookseller, January 17, 2003

"Whether ruffled, woolly, with a metallic sheen, or filigreed like lace, leaves are among the most significant elements to be considered when planning and planting visually exciting garden displays. Writing in an engaging style that should inspire gardeners regardless of skill level, Glattstein makes a case for thinking long and hard about using the foliage aspect of plants to best advantage, including an entire palette of perennials, trees, shrubs, vines, and tender annuals. With her eyes trained on the details, Glattstein reveals myriad ways of incorporating plants with interesting or unusual leaves, whether one is developing new areas of the garden or integrating plants into an existing scheme. Always stressing a well-considered overall design over the mere gathering together of odd or bizarre specimens, Glattstein shows her value as an instructor by explaining concepts clearly, suggesting appealing species and cultivars for diverse climates and conditions, and providing options enough to challenge budding designers while also giving the experienced green thumb plenty to think about, too. Alice Joyce"


Booklist, January 9, 2003

"Much of the advice offered in the book is based on Glattstein's personal experience or that of her friends, colleagues, and acquaintances, so it has both the ring of authority and the charm of anecdote. The book is rich with examples of visually arresting leafy plant combinations, and information is given about each plant's growth habit and overall size; its leaf color, shape, and texture; as well as tidbits on care. Readers of Consider the Leaf will find themselves well armed with information and ideas for using foliage as an effective and critical design element in their garden."


Catriona Tudor Erler, American Horticultural Society

Back to Top
---
Miscellaneous Activities

Horticultural Expert accompanying tours to
Ireland, England, Holland, and on the Delta Queen Mississippi river boat cruises.

Back to Top
---
I hope you enjoyed this visit to BelleWood Gardens. Come again. There's always something new, through the (virtual) garden gate.