.
---
If you have any comments, observations, or questions about what you read here, remember you can always Contact Me
All content included on this site such as text, graphics and images is protected by U.S and international copyright law.
The compilation of all content on this site is the exclusive property of the site copyright holder.
---
BelleWood in Bloom 2021
---
---
Sunday, 4 April 2021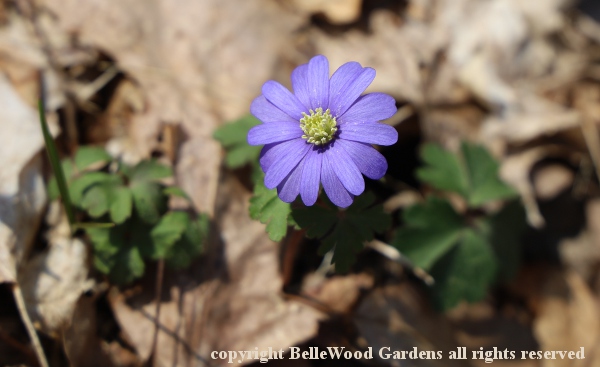 Another one of the true blue flowers of spring, daisy-like Anemone blanda.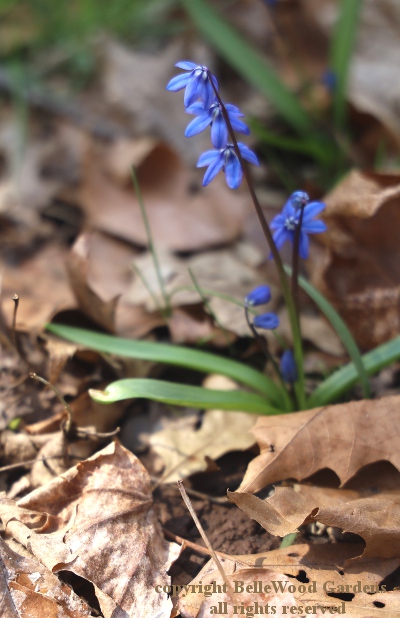 Siberian squill, Scilla sibirica, has blue flowers that dangle like little bells.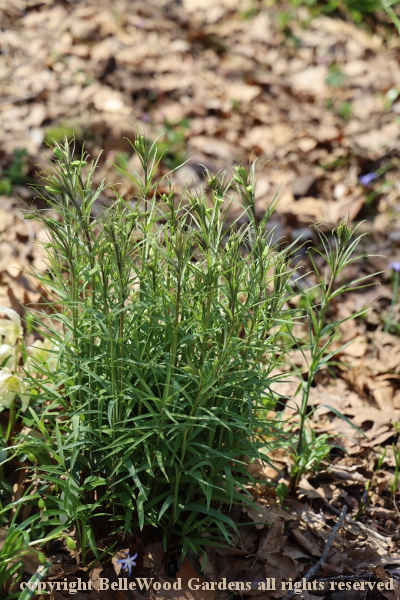 .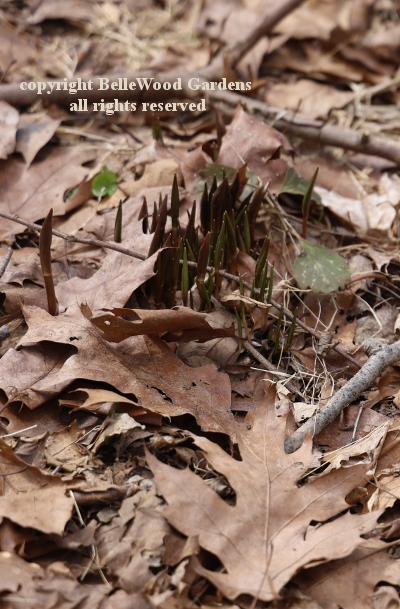 On the left, Fritillaria thunbergii as it is today. On the right, 3 weeks earlier on March 14.
Also known as F. verticillata, this bulb is native to Kazakhstan and in Xinjiang Province of
western China, naturalized in other parts of China and in Japan. Here it multiplies politely.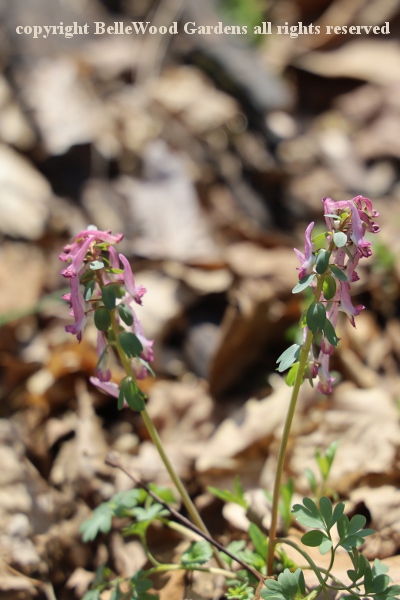 A little bulb which multiplies prolifically, flowers early in spring,
then disappears as trees leaf out. Name? Oh, it is Corydalis solida.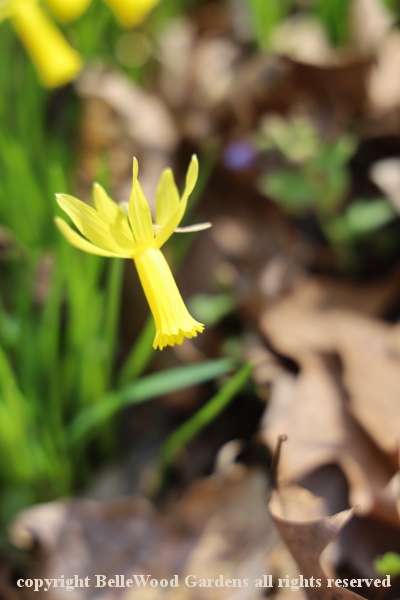 This time I'm certain of the name. It is Narcissus cyclamineus.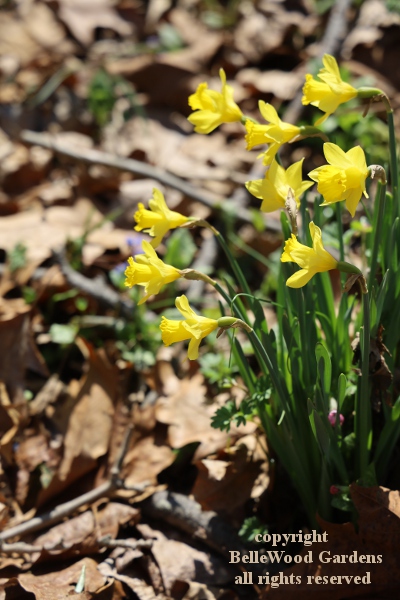 Another "perhaps" which I believe is Narcissus 'Mustard Seed'.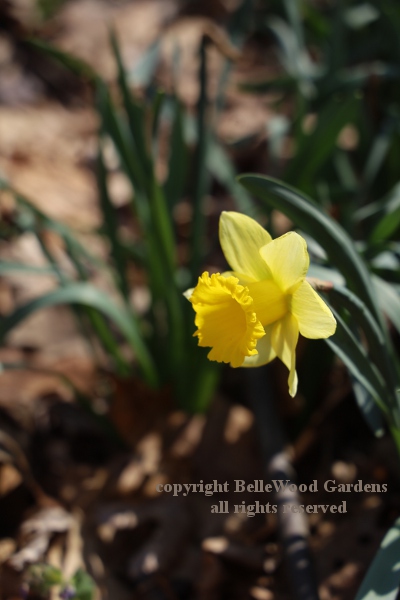 Not positively sure but I think this might be Narcissus 'Little Gem'.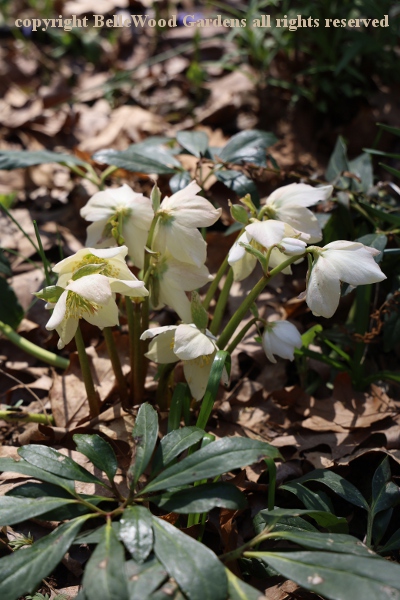 More Christmas rose, Helleborus niger. Why niger or black
when it has such clean white flowers? The roots are black.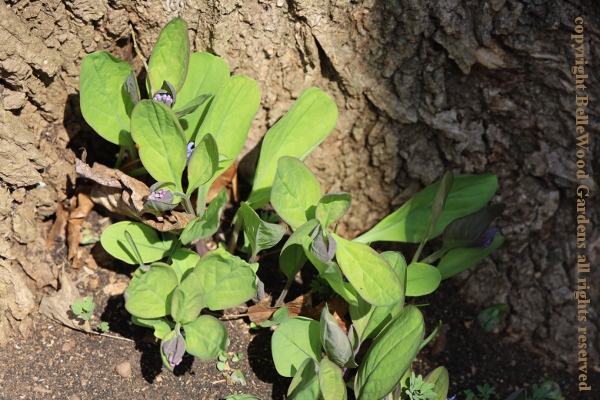 Virginia bluebells, Mertensia virginica, start to make its early appearance.
And afterwards it will fade away, disappear underground until next spring.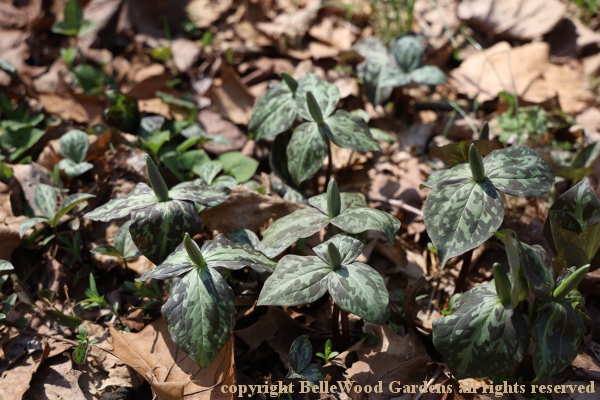 One of the sessile trilliums, with flower perched right on the three leaves.
Trillium cuneatum does well, seeds about. This year, deer are browsing.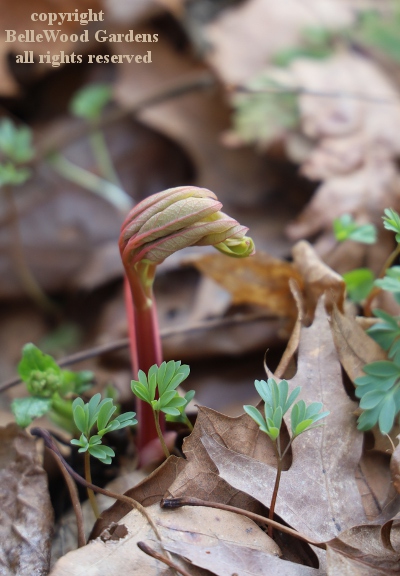 An emerging shoot of Japanese woodland peony, Paeonia japonica.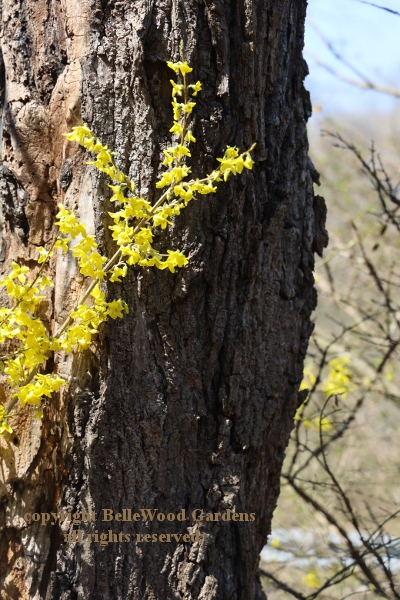 Sunshine yellow forsythia. If it was difficult to grow we'd appreciate it more.

Star magnolia, Magnolia stellata, ready to open and live up to its name.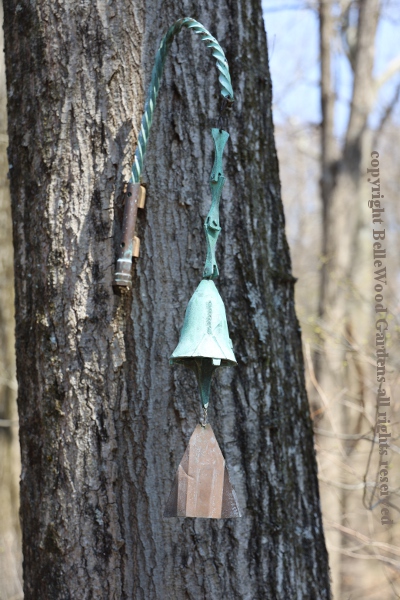 If you have wondered why BelleWood Gardens it is because there are
bells in the garden. This one, along the driveway, comes from Arcosanti.
---
Saturday, 3 April 2021

In the Greenhouse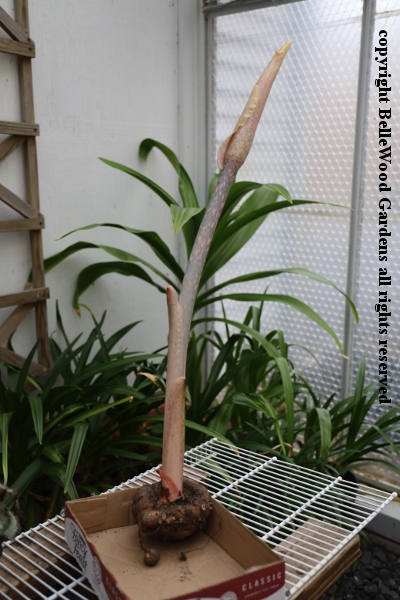 Unplanted, corpse flower, Amorphophallus, is pushing up a flower. I'll give it
another day or so, then chop it down before it opens and lives up to its name.
---
Friday, 2 April 2021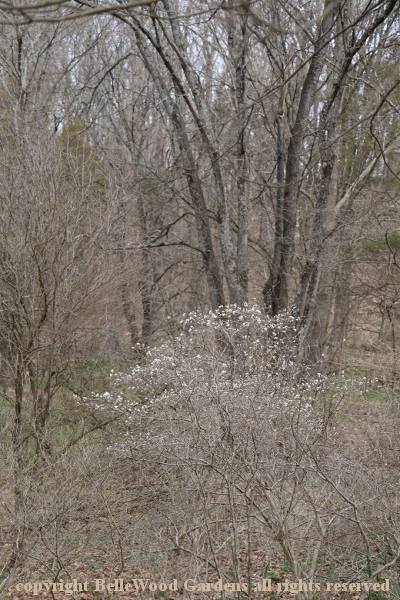 Across the seasonal brook enough flowers are open
on Magnolia stellata to offer a hint of what's to come.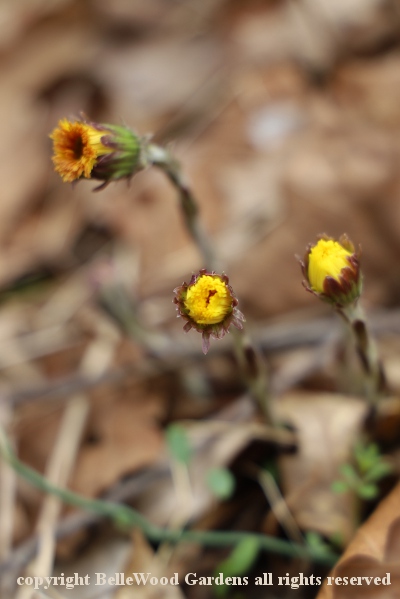 Looks sort of like a dandelion but it's not. Coltsfoot, Tussilago farfara.

Narcissus 'Rijnveld's Early Sensation'. Other years it's been up
in January. Not this time. Cannot blame covid-19, just the weather.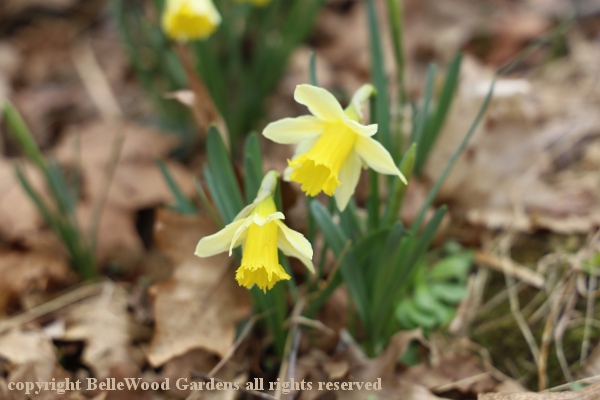 No idea. Label has vanished. Haven't a clue who this wee charmer might be.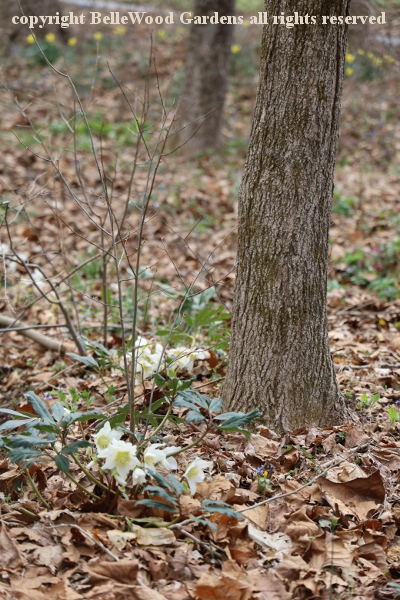 Better late than never. Christmas rose, Helleborus niger,
beautifully in bloom in the woods of BelleWood Gardens.
---
---
Wednesday, 31 March 2021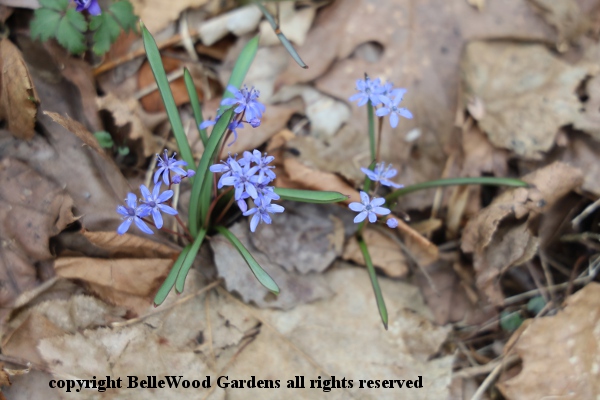 Dainty little alpine squill, Scilla bifolia adds a blue sky color to the early days of spring.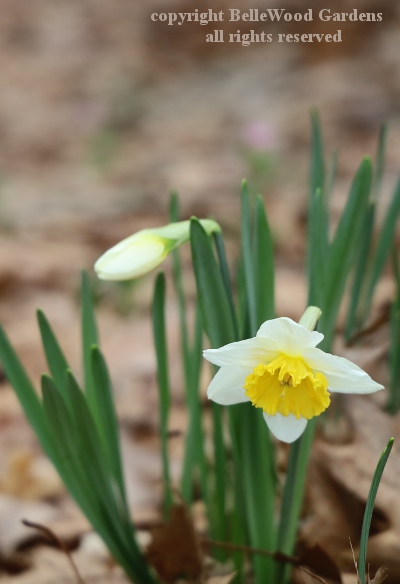 Narcissus 'Ice Follies' opens with a yellow cup which fades to white.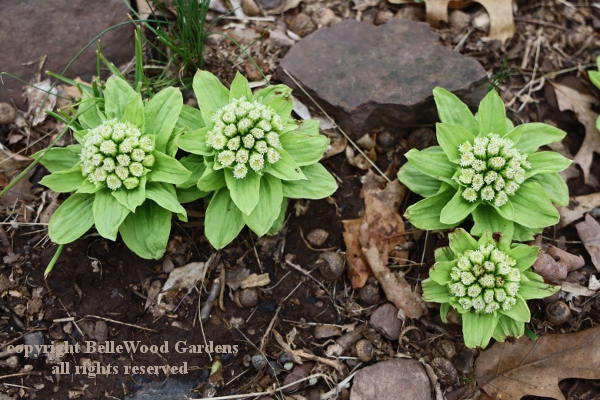 Butterbur, Petasites japonicus, looks like a small bouquet of green flowers.
Then come leaves, large enough to be suitable as substitutes for umbrellas.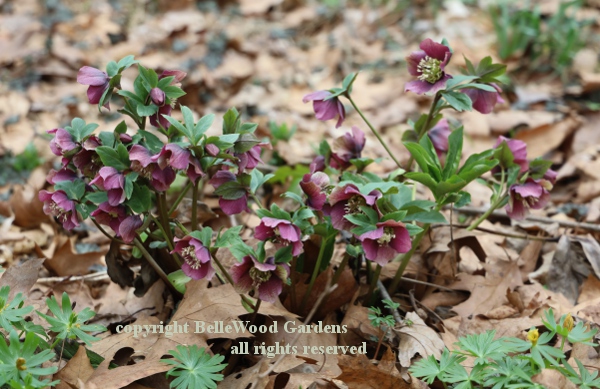 Plants hastening on from spring's delayed start. Winter aconite have faded away,
just green leaves. A crowd of Early Purple Group hellebores display their flowers.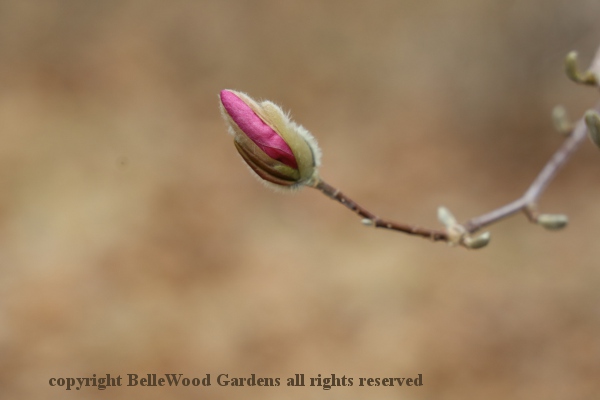 Sunshine coaxes open the first few buds of pink Magnolia stellata from furry calyces.
---
Friday, 26 March 2021

Lily of the valley shrub, Pieris japonica, is the Japanese "cousin" of an American species.
As well as its attractive appearance both in or out of flower, deer are unwilling to eat it.
---
Sunday, 14 March 2021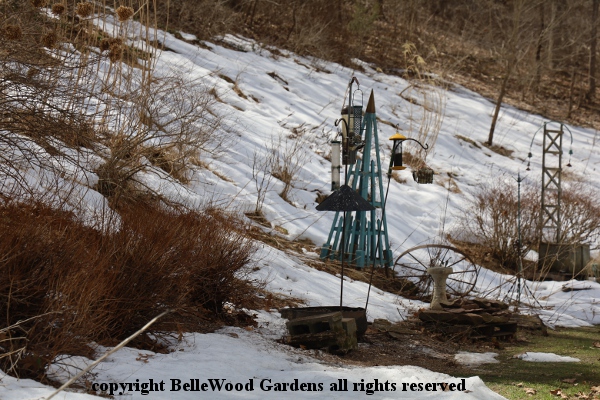 There's still a fair amount of snow left in the shaded places of BelleWood Gardens.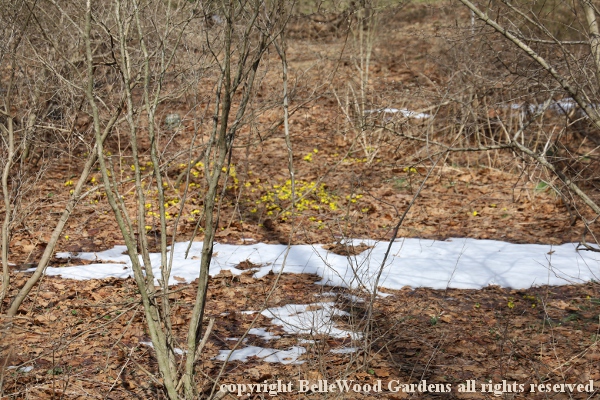 Down along the seasonal brook some still remains, with winter aconites in full flower.

Eranthis hyemalisoffers a splendid display for a flower only 3 to 4 inches high.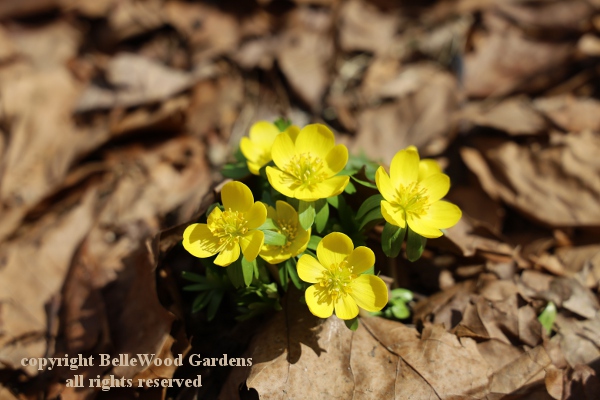 Looking like a buttercup, each golden yellow flower is subtended by a Toby-ruff of green.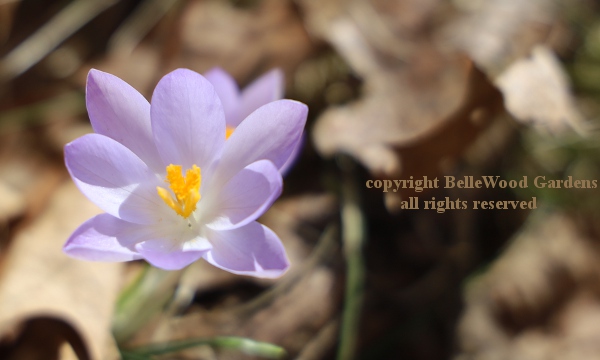 Open in the sunshine, Crocus tommasinianus closes on cloudy days to keep its pollen dry.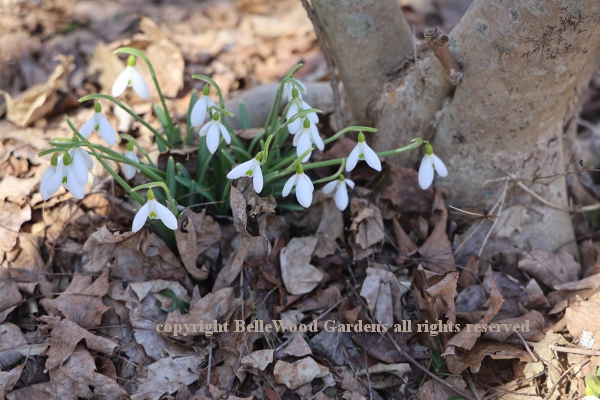 Welcome earliest flowers, dainty snowdrops, Galanthus nivalis, has variations
that require a keen eye and a closer look to distinguish one from another.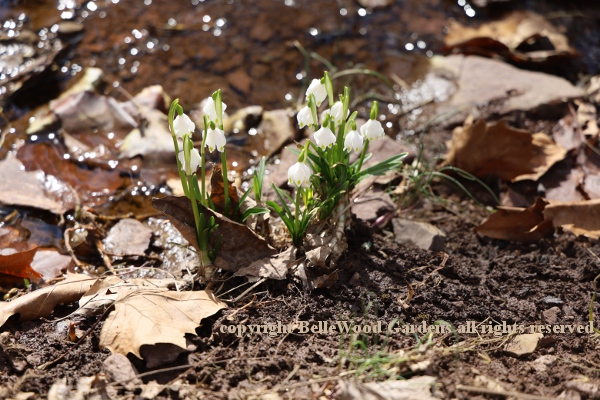 Spring snowflake, Leucojum vernum's flowers resemble little starched petticoats.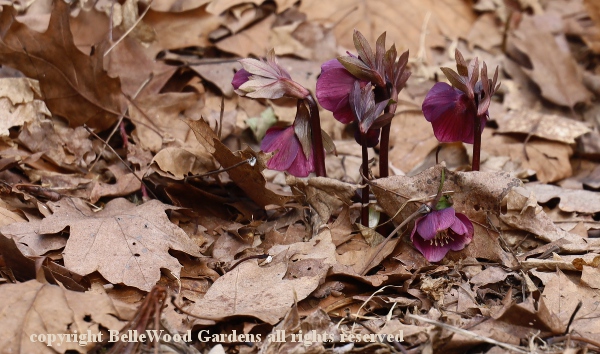 Helleborus Early Purple group has dark liver purple flowers, set off by ivory white stamens.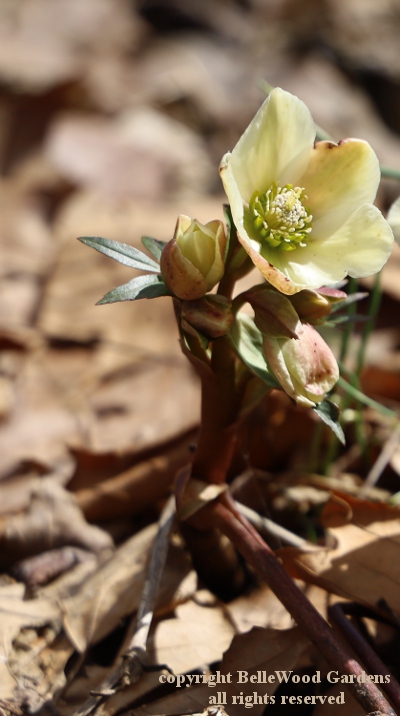 Helleborus ×ericsmithii is a wonderful hybrid between H. ×sternii and
H. niger. The large pink tinged white flowers are carried on pink stems.
Saw toothed edged green leaves have white veins and a metallic sheen.

Leatherleaf mahonia, Mahonia bealei, has holly-like evergreen leaves and
terminal sprays of yellow flowers. The blue berries make excellent preserves.
In the Greenhouse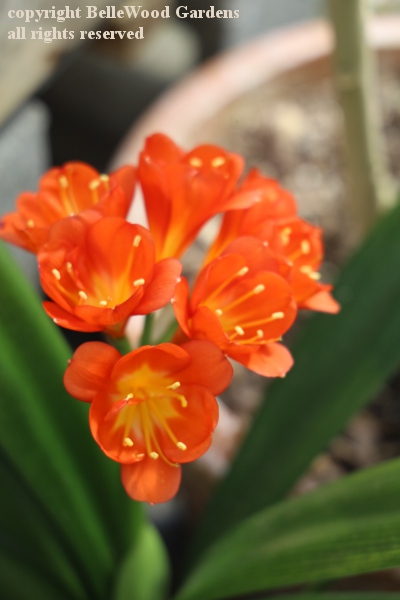 Flowers in the greenhouse. Clivia miniata shows off brick red-orange blooms.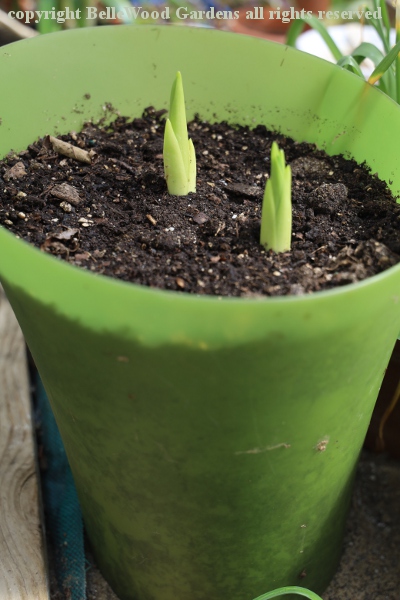 This year I thought to check the various pots of dormant bulbs in the basement.
And found Eucomis pole-evansii before its new shoots became stretched and pale.
Oddly enough, none of the other eucomis awaken before given a drink of water.
---
Back to Top
---