BelleWood in Bloom 2008
---
If you have any comments, observations, or questions about what you read here, remember you can always Contact Me
---
December
Wednesday, 31 December 2008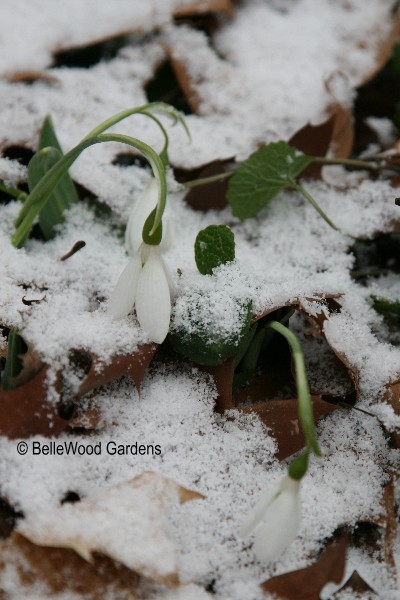 Last day of the year, a swirl of snow and bitter cold gusts of winds.
And what do I spy but a little colony of Galanthus 'Potter's Prelude' in bloom.
Here's to the New Year. May yours be filled with lots of flowers (and very few weeds.)
---
October
Sunday, 26 October 2008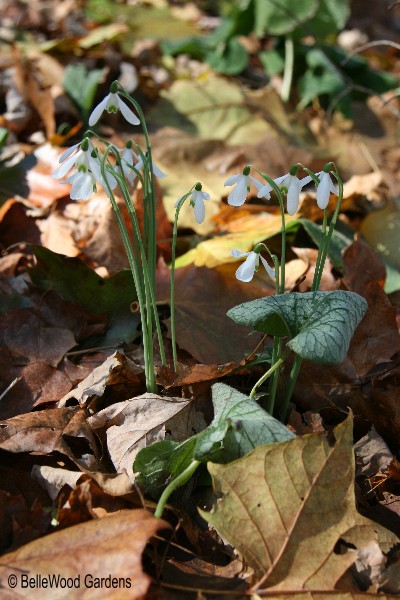 Working in the garden, raking the first fallen leaves. And what do I find?
A confusion of seasons. No, it's not Spring. Rather, it is Galanthus caucasicus,
happily flowering as the weather cools, days shortening, nights lengthen - but
it is autumn. So the days will continue to contract and nights expand as the year spirals
around to the winter equinox in December. How wonderful, these little flowers.
---
August
---
Thursday, 28 August 2008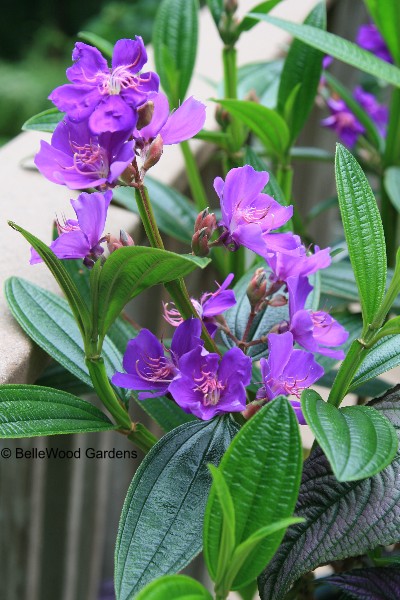 Tibouchina is aptly named glory bush. I bought my plant at the Rutgers Gardens Spring Plant Fair
last May. T. urvilleana (Previously named T. grandiflora) has taken its time about coming into bloom
but I think you'll agree it was worth the wait. It is supposed to bloom through cool temperatures and light frosts,
with its leaves turning brilliant orange. Allow the tops to wither, is one suggestion, and winter this tropical dormant
and cut way back, in a cool dark place. It would occupy too much of my greenhouse if I tried to keep it growing.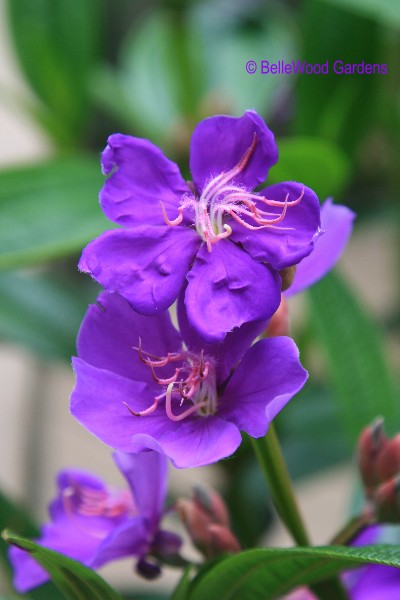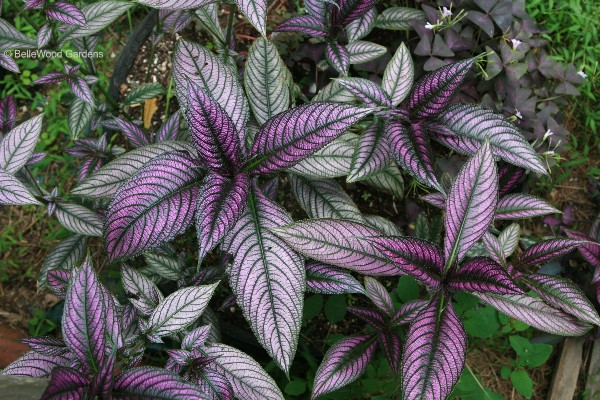 A plant as spectacular as Tibouchina requires showy partners to dance with, as well as a supporting cast.
The two-fold cast of the latter consist of Oxalis regnellii with fuchsia blotched purple leaves and pale lavender flowers
and a cascading froth of silvery Plecostachys serpyllifolia (formerly named Helichrysum microphyllum).
The prima ballerina partner, Persian shield, Strobilanthes dyeranus, has fabulous iridescent purple leaves washed with silver.
---
Monday, 18 August 2008
By the calendar it is still summer. But . . . . The days are noticeably shorter. Geese were honking as their skein unravelled across the sky. And there were the blue Italian prune plums for sale in the supermarket. Autumn is edging in the door.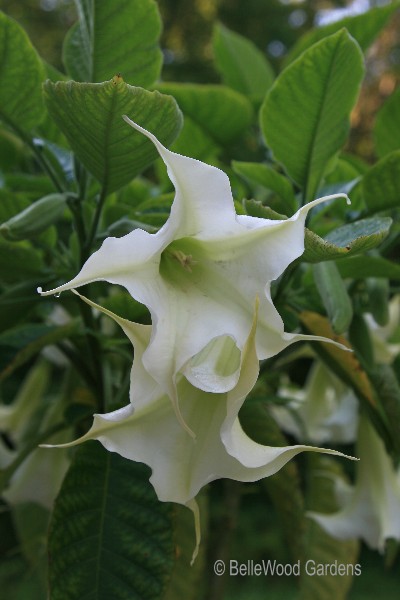 16 flowers opened on this white brugmansia yesterday evening. Deliciously fragrant.
Worth the effort of dragging oversize pots into the garage for the winter
and the actively growing plants ceaseless demands for more water.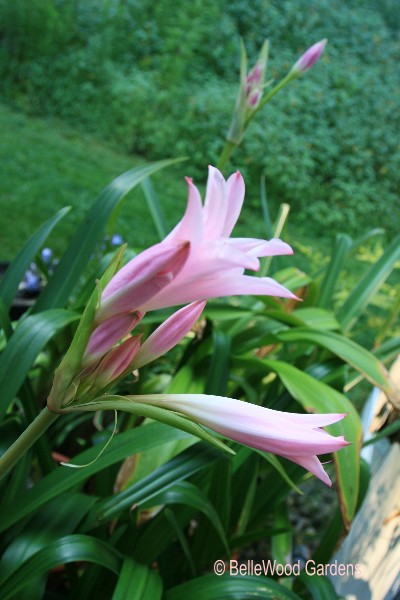 Bulbs are in full stride. Just look at this pink crinum about to open into full bloom.
Its pot sits in the greenhouse over winter, mostly ignored. Which seems to be
the sort of treatment it prefers. Just look at the flowers.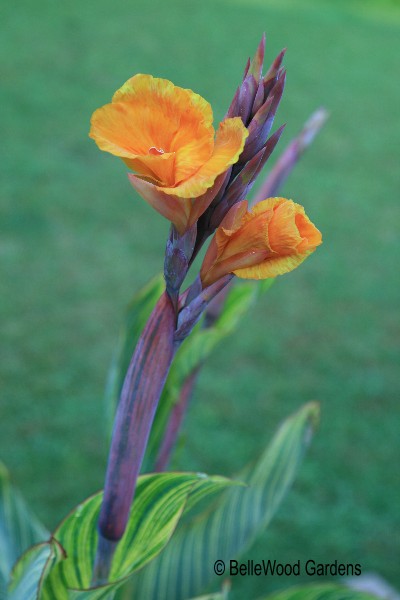 Mostly I grow cannas for their foliage, and Canna 'Pretoria'
is no exception. Love the bold, yellow stripe-y leaves. But the flowers
have a certain hot appeal. Easy to winter over. Just keep the pot
dry, a baptismal sprinkle of water once a month and the tubers
are fine. Easier than cleaning and packing away in peat moss.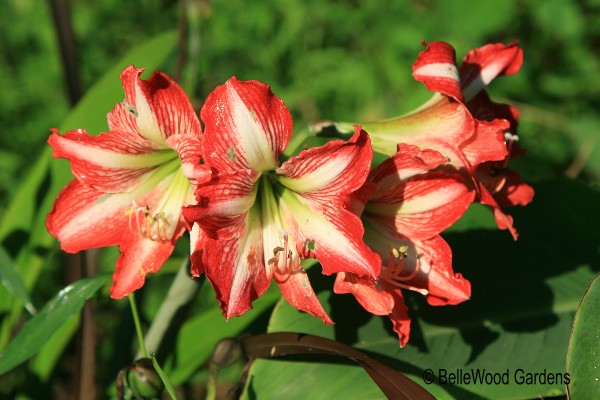 Brent and Becky sent me some bulbs to trial, including this Hippeastrum 'Baby Star'.
The bulbs took a while to decide to get growing, but once underway have been delightful.
This is about the fifth flower stalk from three bulbs. I'll let them get just barely kissed
by frost, then dig and store with any clinging dirt, dry in a paper bag in the basement.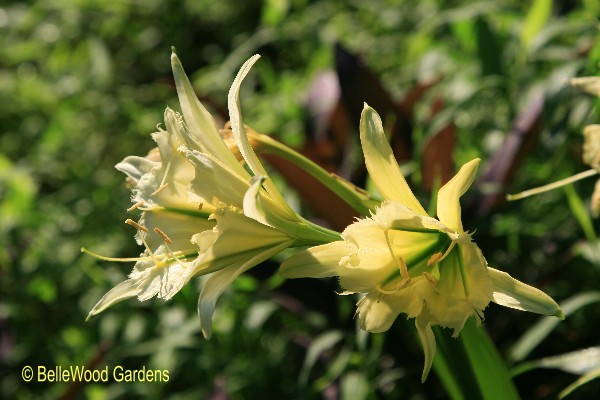 Another gift from Brent and Becky. Hymenocallis 'Sulphur Queen' to so long to get growing
that I was beginning to think they'd rotted away. Oh me of little faith. Look how beautifully
they're blooming. My friend Jerry stores his naked, bare bulbs in a plastic flat under
the greenhouse bench. Same as hippeastrum - don't trim the permanent fleshy roots.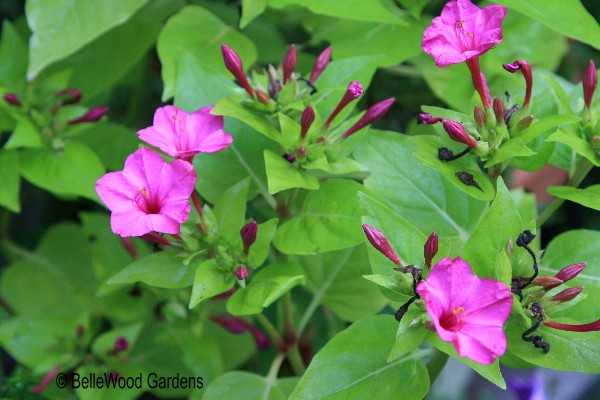 I collected some seed from Mirabilis 'Limelight' last fall. Sowed it this spring.
And look how nicely they're flowering. The ruby-throated hummingbirds really like them too.
There are five in individual pots. I'll store them in the garage, dry over winter. Maybe next year
I'll try planting them out. Be interesting to see what they'll do with more root room.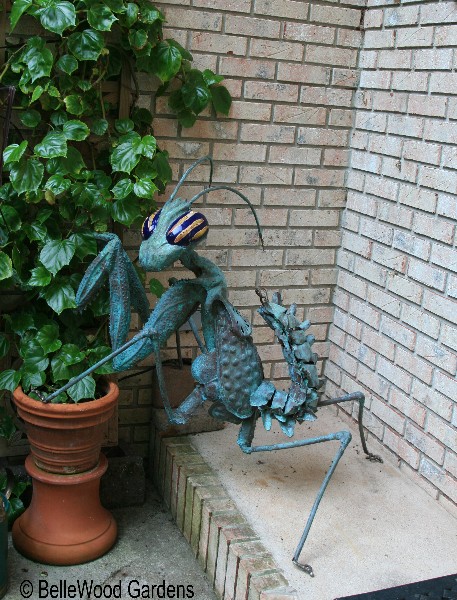 Found a new place for the preying mantis sculpture this year, right outside
the front door. I think it looks terrific with a leg up on the climbing begonia's pot.
Begonia convolvulaceae has nothing much white flowers in late winter
(in the greenhouse, of course) where it unhappily drops lots of leaves.
Makes up for it in summer when it adheres to the brick wall and sprawls around.
It really should have a bigger pot. But who knows how far it would then extend.
Back to Top
---
July
---
Tuesday, 15 July 2008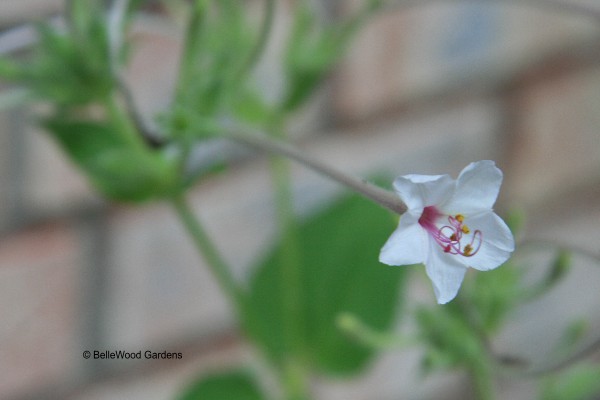 Mirabilis longiflora is native to the arid Southwest: western Texas, Arizona, and Mexico.
It is a relative of the more familiar garden flower, Marvel of Peru, Mirabilis jalapa.
I raised this plant a number of years ago, from seed offered for sale at Monticello, Thomas Jefferson's estate.
Its sturdy, elongated, tuberous root make it easy to overwinter. I just shift the pot into the garage and leave it dry.
Embellished with violet anthers, the elegant white flowers open at night, only to wither soon after daybreak.
Musa basjoo, a winter- hardy banana (in New Jersey) is also in bloom.
Back to Top
---
April
---
Tuesday, 29 April 2008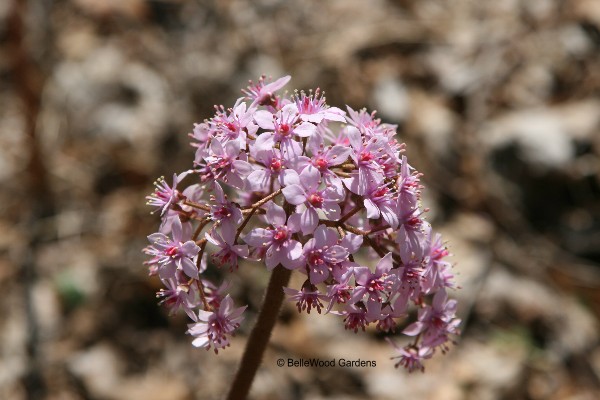 Leaves are just barely above the soil and unfolding, leaving the bouquet of flowers
to stand on its own. Umbrella plant or Indian rhubarb, Darmera peltata, is native to
the West coast, northwestern California to southwestern Oregon. Perfectly happy here
at BelleWood Gardens, as long as I relocate chunks of the thick, creeping rhizomes
to another damp site. Likes sun, likes wet, hates dry.
I like plants, all kinds of plants. They don't have to be rare and / or unusual.
Perfectly fine with tulips and hyacinths. Just want to choose which tulip, which hyacinth.
So here are 'Czar Peter' and 'Yellow Queen', a rather new, rich yellow hyacinth,
deeper in color than 'City of Haarlem'. Just a fragrant. Which makes it a good choice
to mask the aroma du skunk of the nearby crown imperials.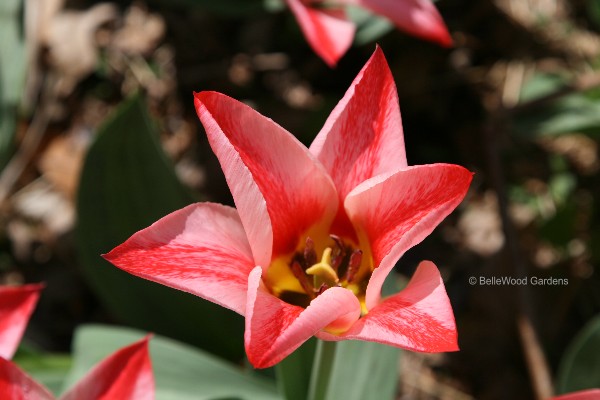 Tulipa 'Czar Peter'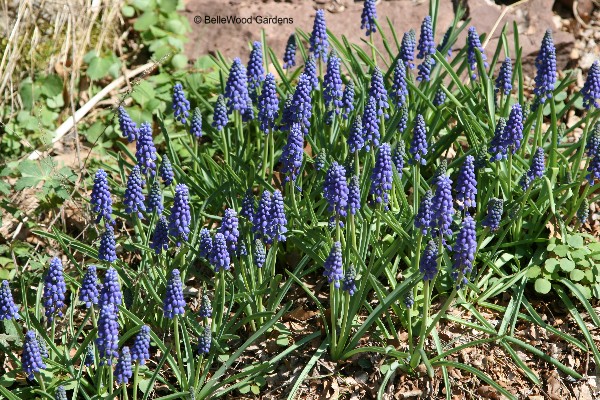 I like this grape hyacinth, Muscari 'Christmas Pearl because it can be coaxed
into early bloom indoors, well before Spring because it needs little in the way of chilling.
And it's great outdoors in the garden too.
---
Saturday, 26 April 2008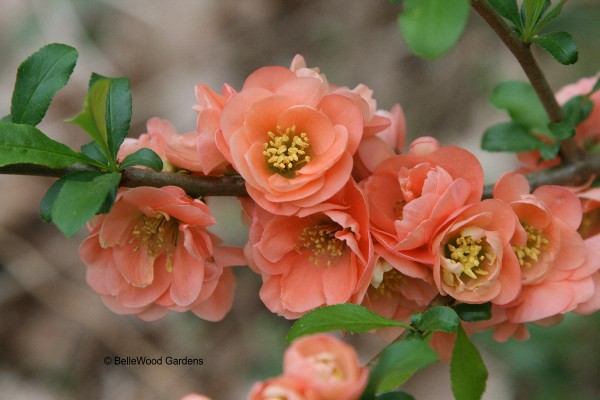 Most Japanese quince, flowering quince, japonica - call it what you will,
but they all have the same Latin name of Chaenomeles oblonga, are a vivid sort of brick red.
'Cameo' is a much softer apricot orange that I find much a more pleasing color.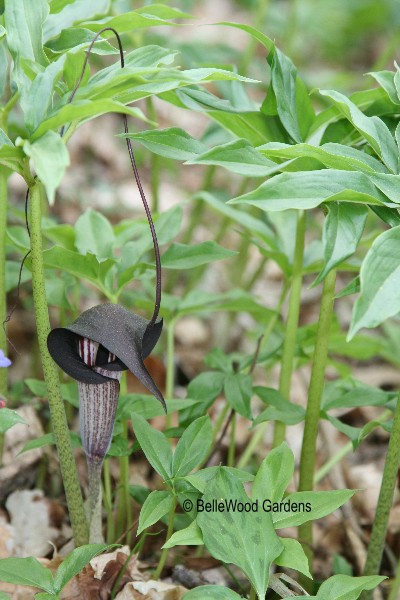 Arisaema thunbergii is a Japanese relative of our native Jack-in-the-pulpit.
I haven't a clue what purpose is served by the long whiplike extension on the spadix.
Reminds me of a fishing line. Haven't seen ants climbing aboard as pollinators . . .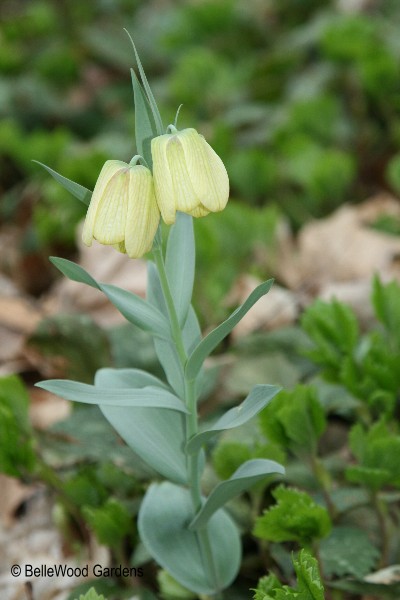 Fritillaria pallidiflora has one or two large, bell-like flowers on a short stem.
Happy in shade, which surprises me. But the three I have, have been coming back year
after year, so their location, overgrown as it is with Pachysandra procumbens must suit it.
---
Thursday, 24 April 2008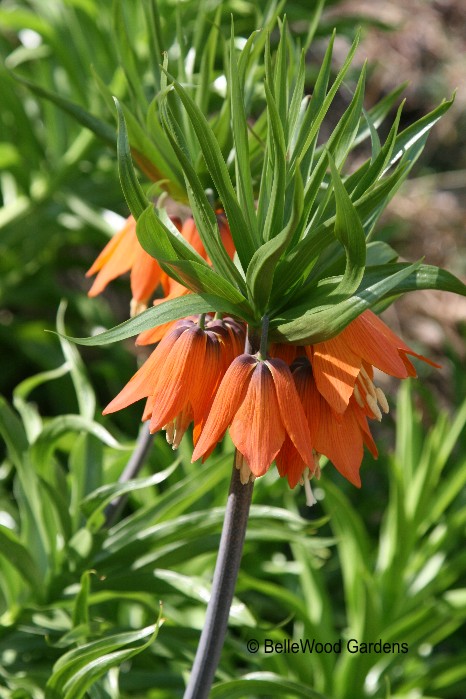 Crown imperial, Fritillaria imperialis, is a showy plant with a mephitic odor,
not overwhelming but a definite aroma of skunk accompanies flower, foliage, and bulb.
Pest-free. It grows well here at BelleWood Gardens, reliable in flower and increasing by offsets.
---
Saturday, 19 April 2008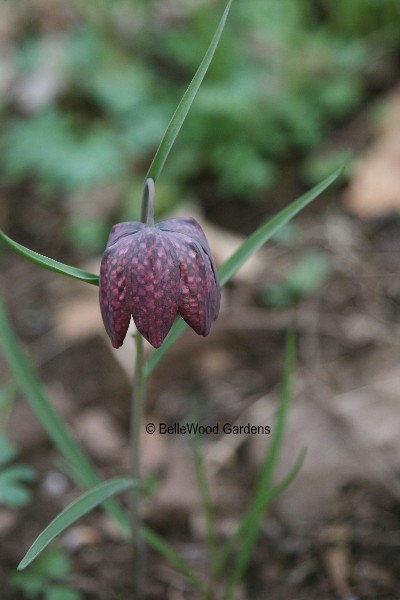 Guinea hen flower, Fritillaria meleagris has tesselated (checkered) bells.
Thrives in light woodland shade and damp soil. The small bulbs lack any covering or tunic
and thus require prompt planting as soon as bulbs are available in the autumn.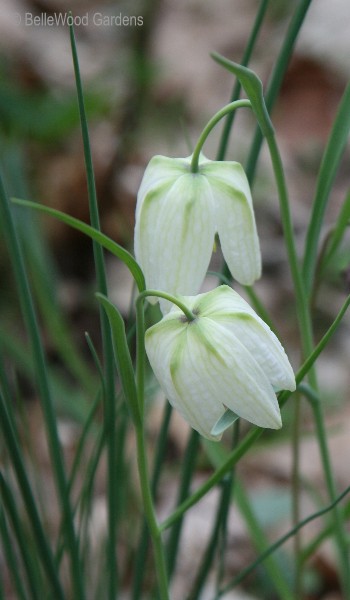 Along with the typically purple forn there's an occasional white one,
Fritillaria meleagris 'Alba', which sometimes displays faint green checkering.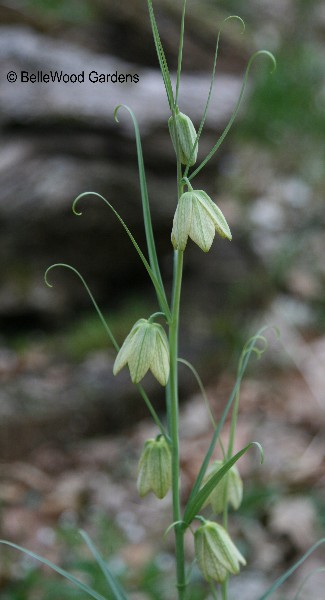 Fritillaria thunbergii is an Asiatic species. Grown on its own,
it stays nicely upright, with elegant hook-tipped tendril-like bracts.
Intermingled with low shrubs or sturdy perennials, they'll twine about
and provide additional support. (Darwin would have been interested.)
Woodland conditions, and it prefers not to dry out while dormant in summer.
A favorite of mine, Narcissus poeticus, parent of Division 9 cultivars.
Glistening white petals and a cup so small it's reduced to a mere ruffle
banded green, yellow, red. I've planted over a thousand along a woodland path.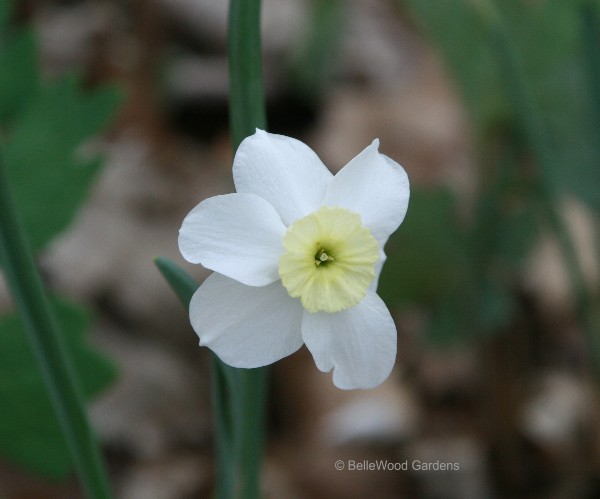 Narcissus 'Polar Ice' opens snowy white and lemon sorbet,
then matures to all white. It's a very appealing little flower.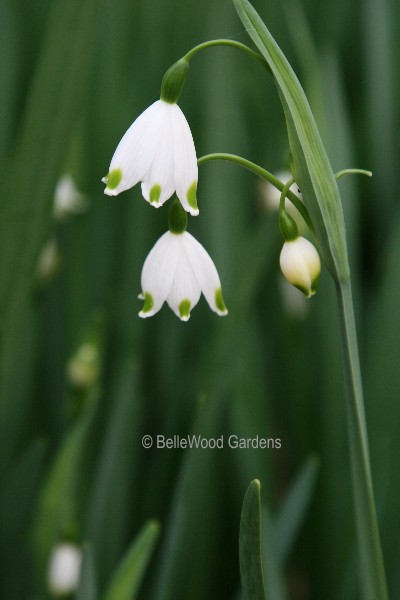 Summer snowflake, Leucojum aestivum, does indeed flower later than
spring snowflake, L. vernum. Don't know that a month's difference,
March for the earlier species, April for the later one, is sufficient to call it "summer."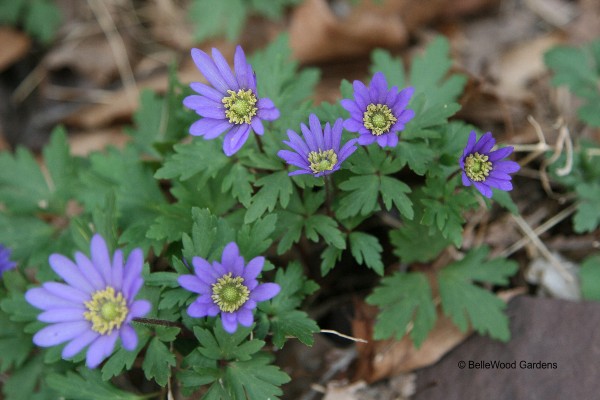 Anemone blanda, blue shades. Grecian wind flower
has dainty little flowers that resemble a daisy. Colors range from blue
to pink and white (there is an intense vivid cerise pink cultivar named
Radar, and wonderful, large flowered 'White Splendour'.)
Tolerant of light shade, pest resistant, and returns year after year.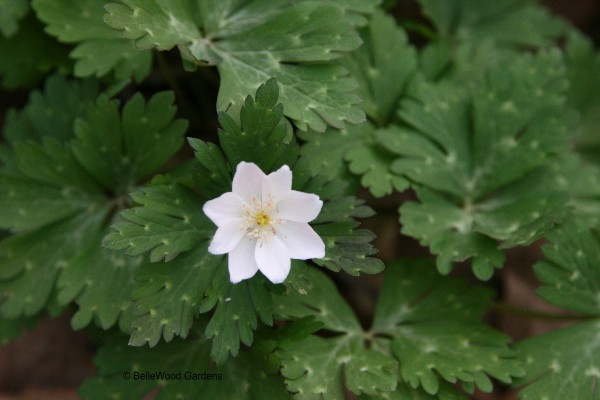 This charming Japanese native is Anemone flaccida.
It is somewhat sparse in flower for the amount of foliage it produces.
Each flowering stem has two blooms, in sequence. Fugacious,
it is summer dormant. Really thrives here at BelleWood Gardens.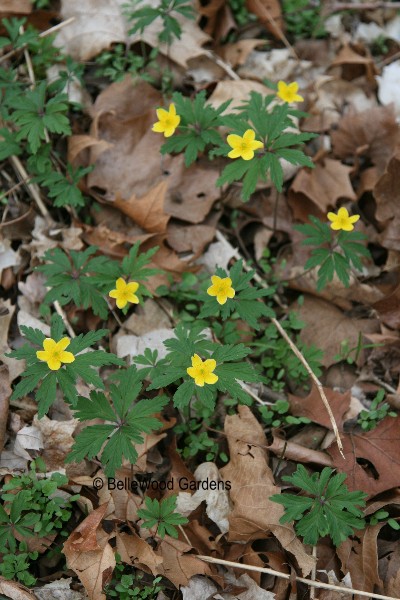 Anemone ranunculoides, so named because it it an anemone, but has
ranunculus-like flowers. Fortunately its leaves are very different from the
glossy green reniform leaves of lesser celandine,
Ranunculus ficaria, a thug if ever there was one.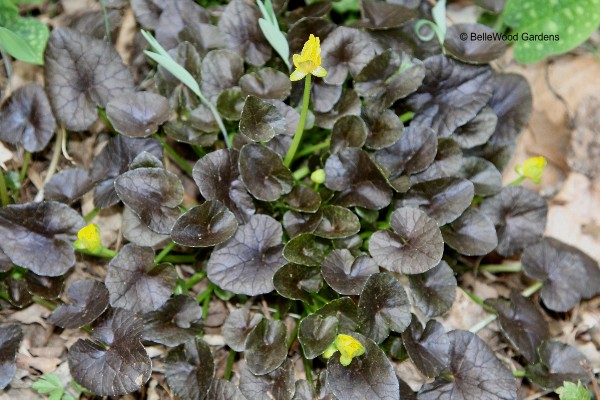 Here's a handsome form of lesser celandine that I have no qualms about
enjoying in my garden. It is Ranunculus ficaria 'Brazen Hussy'.
Chocolate brown leaves and a much more refined growth habit.
Too bad that we gardeners are never satisfied.
Plants either spread far and wide and we label them as weeds or weedy.
If they are more refined in growth them we complain that they don't do better
(especially if there's a bad case of "admire to acquire" going around.)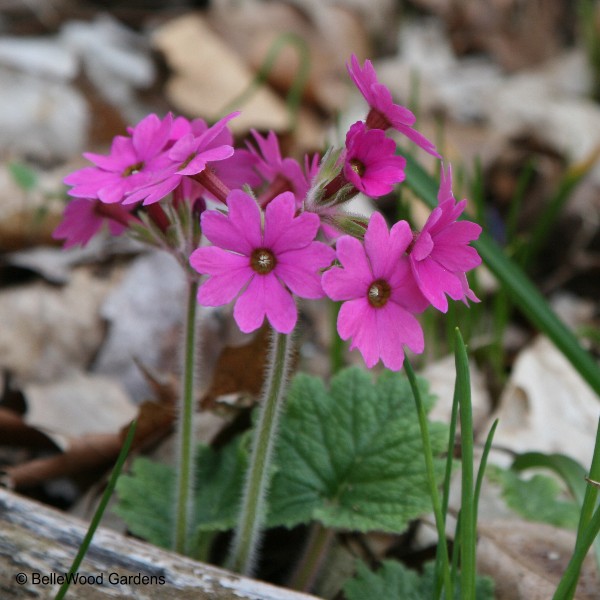 Primula kisoana is a lovely species from Japan, with large fuzzy leaves
and bright fuchsia flowers. It is unique among the primroses I grow, in that it has runners
just below soil surface that emerge as new little plantlets, allowing it to spread quite easily.
I love all primroses, and this one no exception, with its vivid flowers and easy-to-grow nature.

Back to Top
---
Monday, 14 April 2008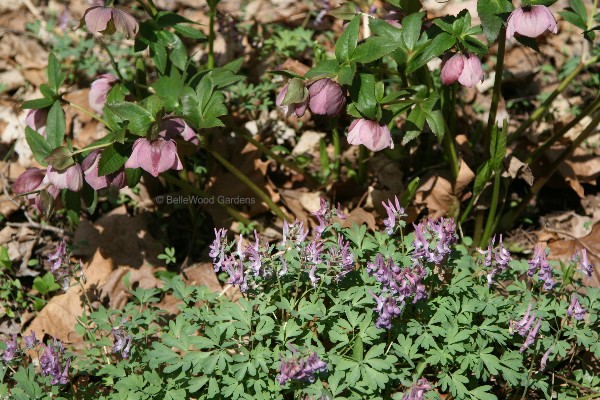 A pleasant combination of Helleborus × orientalis and Corydalis solida.
The latter is freely seeding about, which is not really an issue since like most bulbs it will soon be dormant.

.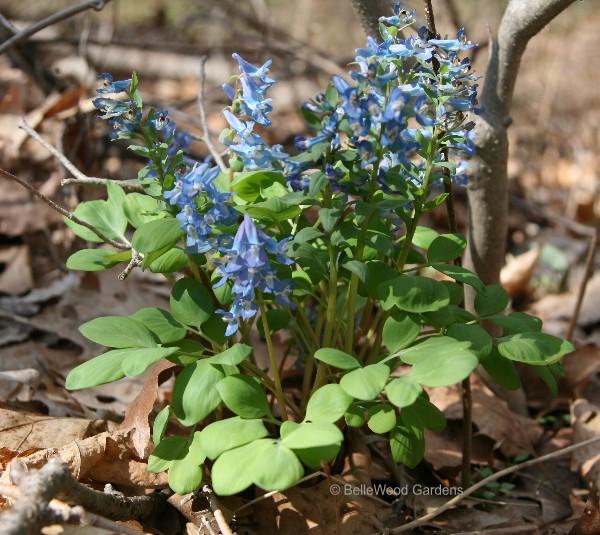 Unfortunately I cannot say the same about this corydalis. It flowers reliably every Spring,
with these wonderful sky blue flowers. There's only one seedling though. It looks like it has nicely bulked up
but I'm somewhat convinced that disturbance could be lethal. Best to leave well enough along.
What do you think?
Just like there are two different corydalis here at BelleWood Gardens
I have two different Jeffersonia. But in this genus, that's all there is.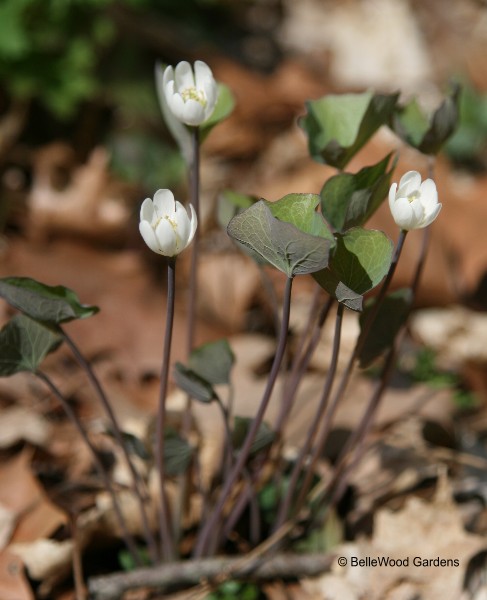 Jeffersonia diphylla, or twin leaf as it is commonly named,
is an American native. When mature, the leaves look joined at the stem.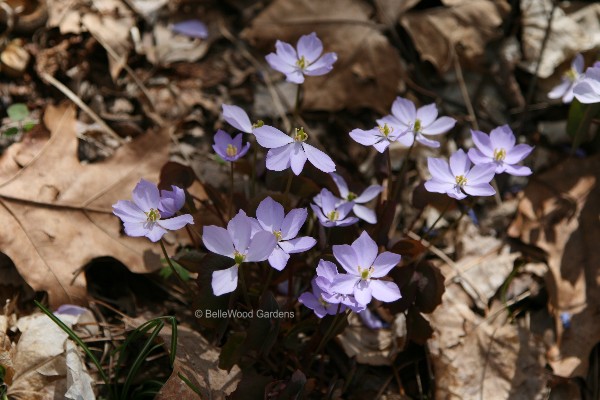 Jeffersonian dubia is an Asian species. The somewhat rounded leaves
are coppery when young, an attractive contrast to the pale lavender flowers.
Difficult to propagate. Seed happily germinates near the parent plant
but refuse to do so in a seed pot, at least for me.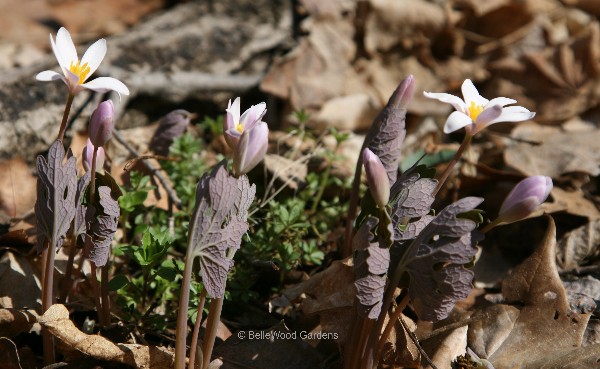 A nice variation on a theme: this form of Sanguinaria canadensis,
bloodroot, is flushed with lavender on the back of the petals, which color also tints the leaves.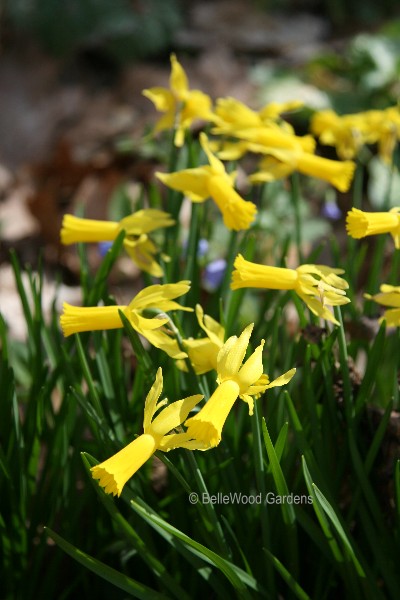 Narcissus cyclamineus is a delightful little species of daffodil.
The author of one book I read likened its sharply reflexed petals to the ears
of an angry mule getting ready to kick. Sorry, I have scant knowledge of mules.
But I do know that this daffodil is parent to Division VI, cyclamineus daffodils
of garden origin, an excellent group that perform well, returning year after year
(and, like all daffodils, very deer resistant, and to other garden-eating vermin too.)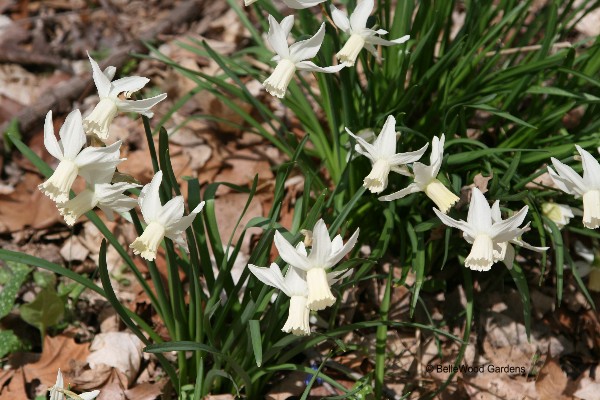 Here's 'Jenny', a cyclamineus cultivar. See how the parent species
firmly stamps its reflexed petals on its progeny. 'Jenny' opens with
a soft yellow trumpet that quickly fades to this handsome all-white flower.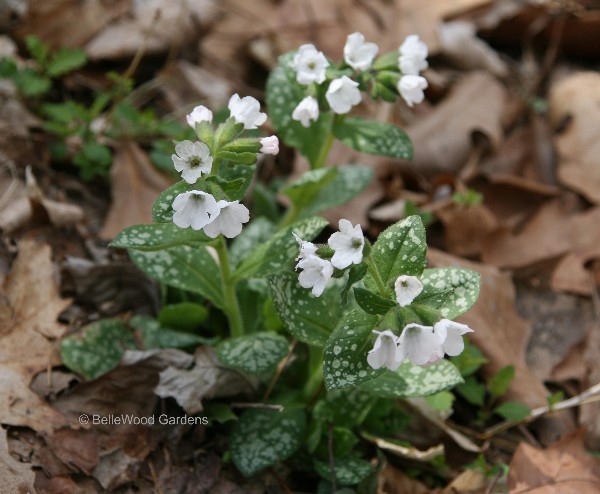 And here's a white-flowered form of
lungwort, Pulmonaria saccharata. Very pleasing
as a change from the typical blue.

Back to Top
---
March
---
Friday, 14 March 2008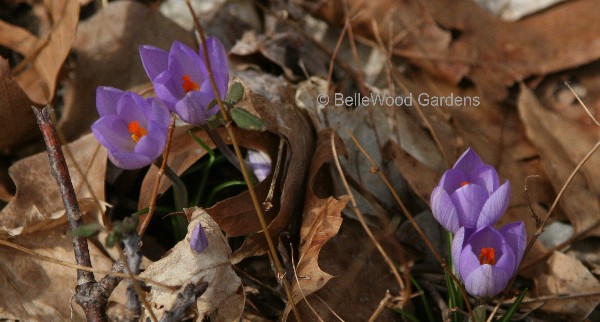 The only shade tolerant crocus that I'm aware of, Crocus tomasinnianus
Little bells, stiffly starched petticoats, the charming green-tipped flowers
of spring snowflake, Leucojum vernum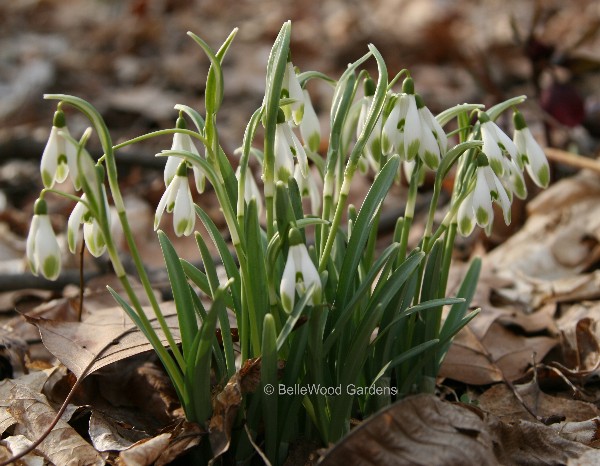 And a green-tipped snowdrop, Galanthus nivalis 'Virid Apice'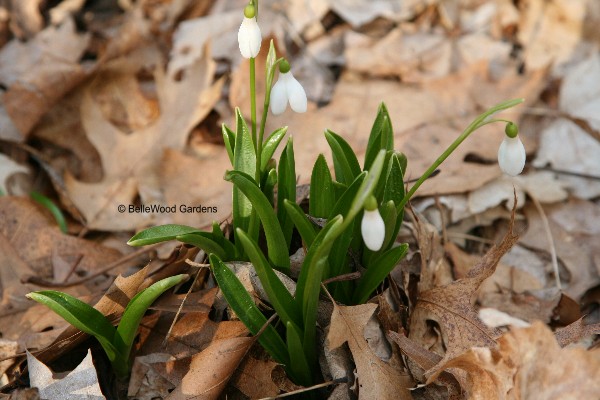 Most snowdrops have glaucous, somewhat grayish leaves.
Galanthus woronowii has leaves green as grass.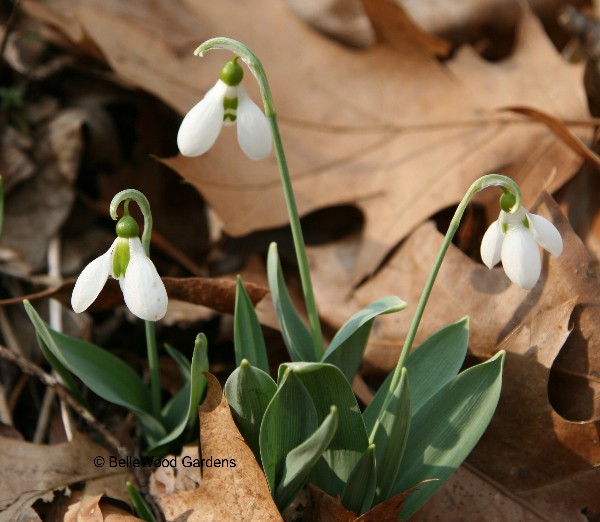 It was the architect Ludwig Mies van der Rohe who said "God is in the details."
Look closely at this snowdrop. See the two bands of green within the flower?
(Sometimes the bands fuse and stain the entire tube with green.)
This detail, and its very broad, very grayish leaves, is how to distinguish Galanthus elwesii
from G. nivalis, the common snowdrop more frequently seen in gardens.

.

Now the details become more of a relative matter, cherished by galanthophiles
gardeners passionately fond of snowdrops. This is no new frenzy along the lines of Tulipomania.
It was Edward Augustus Bowles, a British garden guru, who coined the term in the early 1900s.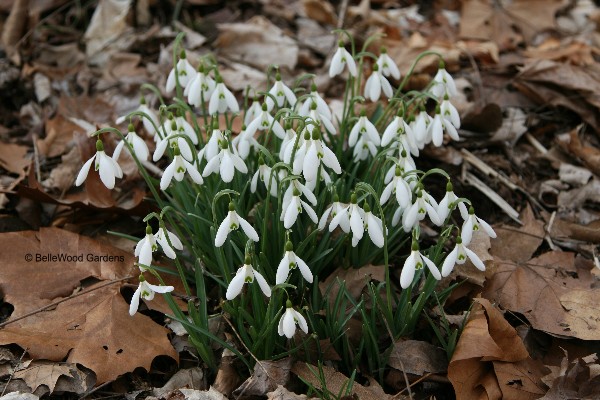 This vigorous, early flowering beauty with the classic snowdrop flowers shaped like pearl earrings
is Galanthus nivalis 'Atkinsii'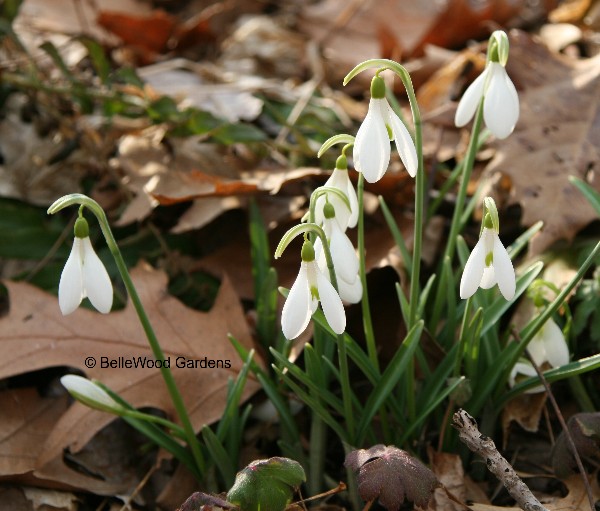 Now, I have a serious problem in the naming of my snowdrops. All of them came with names.
All of them were labeled. Many of the labels have vanished. They became brittle and snapped off,
were washed out in flooding rain, were stolen by squirrels. I begged assistance from Dr. John Grimshaw
galanthus expert and garden manager at Colesbourne Park in the UK where
many of the 17 species and 200 cultivars of snowdrops grow and bloom in such profusion
that each February the garden features Snowdrop Days. As well, Dr. Grimshaw is co-author of Snowdrops,
a monograph published by the Griffin Press in 2002. Dr. Grimshaw as able to tell me that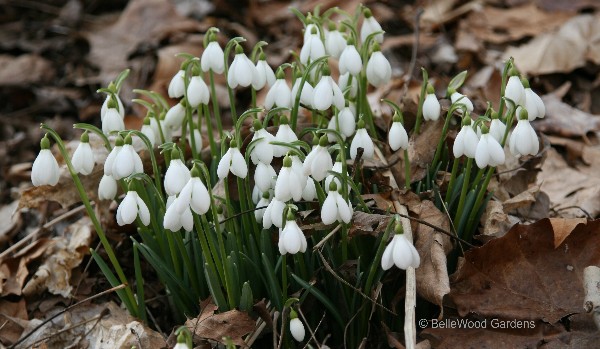 this beauty with gently cupped petals like cream tea spoons is a cultivar
of Galanthus nivalis × plicatus. But which one will have to wait for next year when I take a better picture.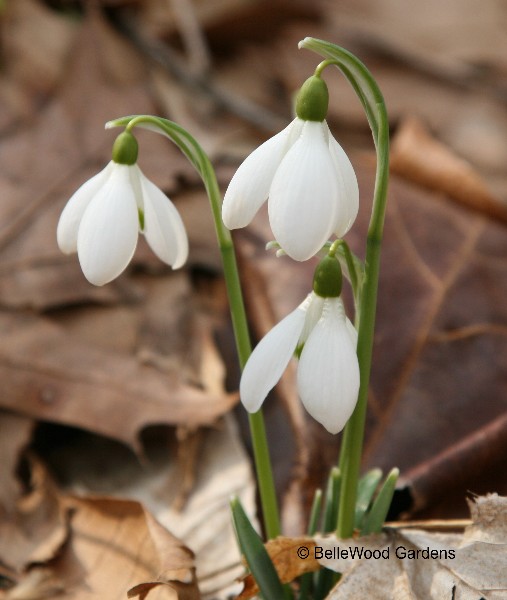 As well as snowdrops, the hellebores are blooming beautifully.
Helleborus Early Purple Group are a favorite of mine, with deep plum colored flowers
accented with ivory white stamens. They are the earliest of my hellebores to flower. Alas, they are,
apparently, seed sterile but I think do provide fertile pollen for other hellebores that flower nearby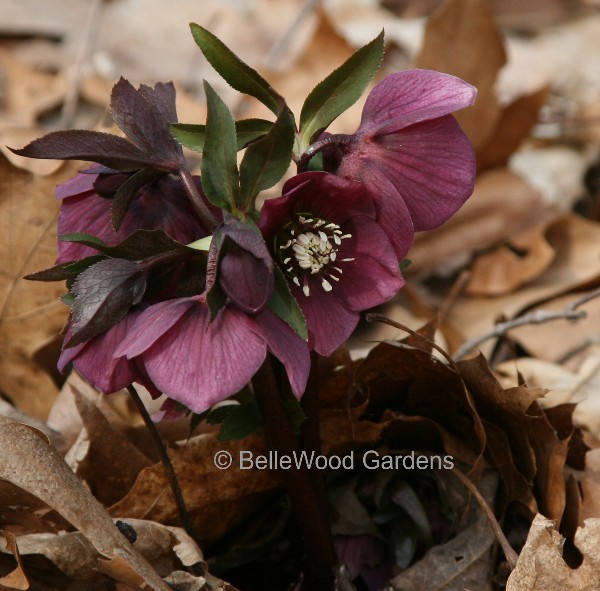 as that is where I find such nice forms as this, but I'll just call it Helleborus × orientalis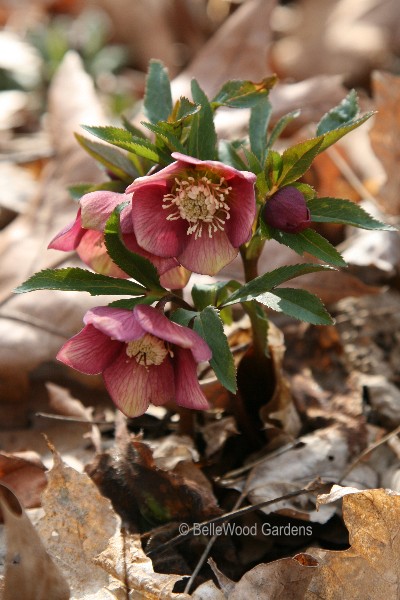 which is also a catch-all for this pale greenish white form.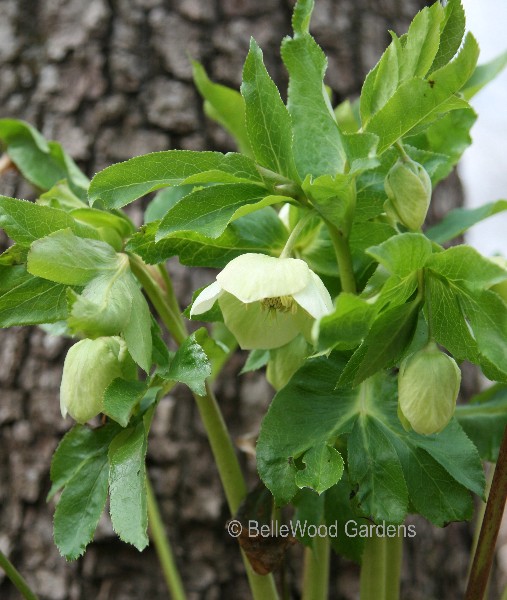 I just love March madness in the garden!
Don't you?

Back to Top
---
Friday, 7 March 2008

Spring is on the way, with the flock of robins on a lawn
and every flower that peers forth from the woodland leaf litter
here at BelleWood Gardens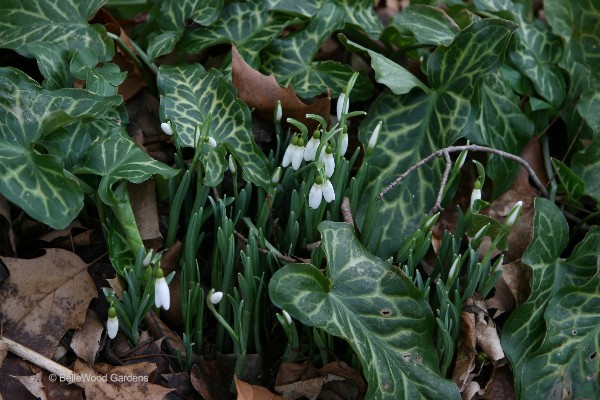 Crisp and clean, snowdrops peer from among the winter green leaves of Arum italicum 'Pictum'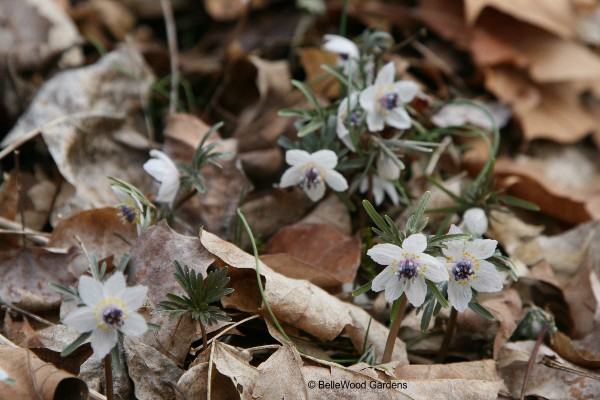 Translucent white petals of Eranthis pinnatifida are embellished with violet stamens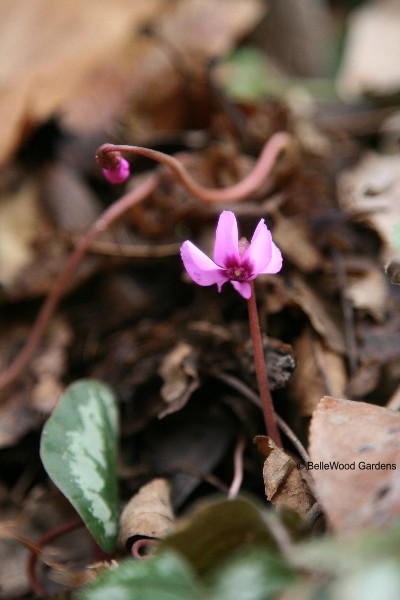 Vivid cerise pink flowers of Cyclamen coum hover like badminton shuttlecocks over last autumn's leaves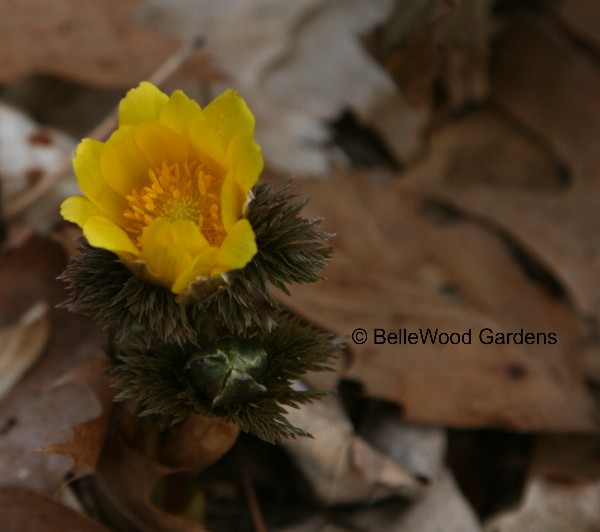 Rich yellow flower of Adonis amurensis shine forth on a gray day

Back to Top
---
January
---
Tuesday, 8 January 2008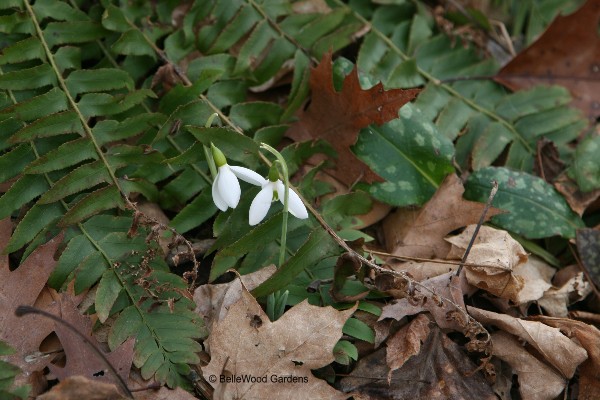 First in bloom, pristine, glistening white, Galanthus 'Potter's Prelude'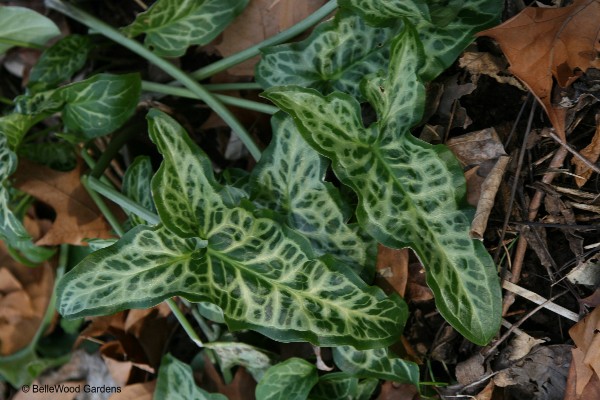 Not in bloom perhaps, but in leaf, a magnificently marked variant of Arum italicum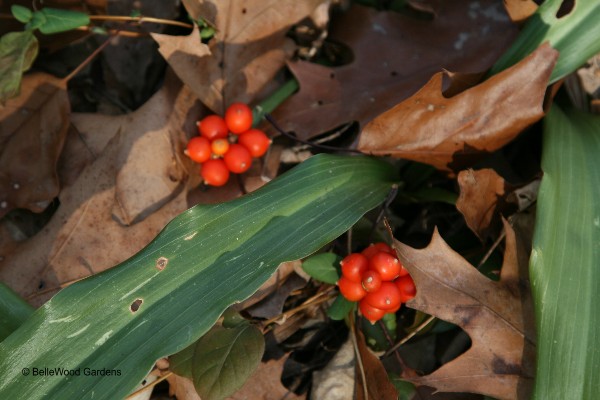 And what comes after flowers - fruit, in this case the vivid Heian red berries of Rohdea japonica

Back to Top
---