A Meme of Garden Books
---
If you have any comments, observations, or questions about what you read here, remember you can always Contact Me
---
A Meme of Gardening Books
Ever noticed how something new - a topic, a title, a phrase - suddenly presents itself to you again and again and again? This cultural transmission of experiences is named meme, the mind to mind exchange of an idea or concept. Spoken, written, demonstrated by repeated actions, it is generally accepted that basically a meme (a unit of cultural information) consists of some sort of a self-replicating unit of cultural evolution with an analogous resemblance to the gene (a unit of genetic information).
Here's the meme I wish to propagate:

How many gardening books do you own?
Which are your five favorites?
What is the most recent gardening book you've purchased?
I'll go first. How many gardening books do you own? At a rough count, there are approximately 700 titles in this room.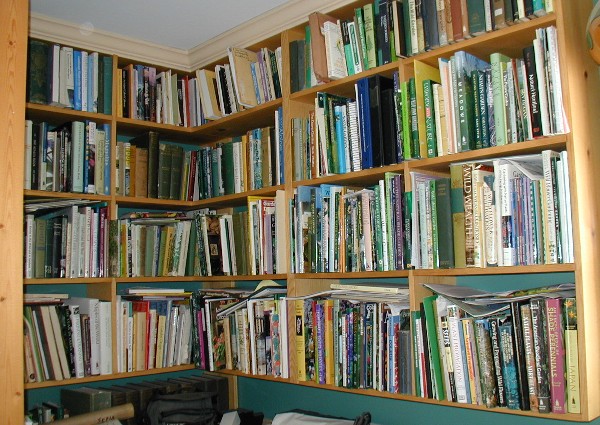 These are not all of the gardening books in my study.
There are stacks behind the door, boxes of my own books in the closet.
And there are a further two or three boxes of gardening books in the basement.
Nor does this include the gardening books in the guest bedroom,
those written by their designers / caretakers (Beverly Nichols' books, for example)
and histories of eminent gardens such as Sissinghurst.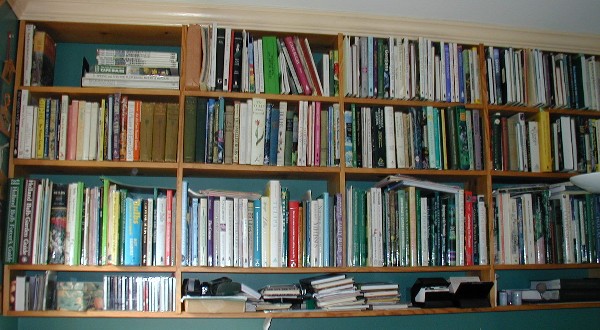 Which are your five favorites? This is a difficult question to answer. I'm tempted to weasel around, create wiggle room by choosing 5 titles on bulbs, 5 on native plants, 5 evocative, etc. Soon up to 700, so no go.
1) Wild Wealth, by Paul Bigelow Sears, Marion Rombauer Becker, and Frances Jones Poetker, illustrated by Janice Rebert Forberg, published in 1971 by The Bobbs-Merrill Company, Inc., Indianapolis, Kansas City, New York. A lovely explantion / history / discussion of Marion Rombauer Becker's garden in southwwestern Ohio, written with clarity and style.
2) How to Grow Wildflowers and Wild Shrubs and Trees in Your Own Garden, by Hal Bruce., published in 1976 by Alfred A. Knopf, New York. A devoted look at the flora of the Delmarva Peninsula with lucid explantation of sites, soils, moisture and sunlight to enhance successful growth in cultivation, with a plea for environmental protection.
3) Flowers in the Winter Garden by M.M. Graff, published in 1966 by Doubleday & Company, Inc., Garden City, New York. Opened my eyes to the diversity of plants, and especially bulbs, that can be grown for winter interest in the TriState area. Lucid, informative, and opinionated, Dicky Graff acepts only the best, not just of the plants she grows, but of herself.
4) A Garden for All Seasons, consultant editor John Kelly, published in 1991 by The Reader's Digest Association Limited, London. A practical book on the seasonal uses of a diversity of plants from trees and shrubs, summer and winter, climbers and roses, spring and fall, perennials, annuals, bulbs, corms, and tubers. Useful information on specific plants, photographs for the momment and evocative illustrations for the remainder of the year.
5) The American Gardener's World of Bulbs, by Judy Glattstein, published in 1994 by Little, Brown and Company, Boston, New Yok, Toronto, London. The book of my heart. I am so proud of this book. It has solid information, excellent background, and shares my love and devotion to these plants with lumpy underground storage structures.
These are my choices at the moment. This evening, next week, a month from now the list is likely to change.
---
And here's a lovely comment that arrived on June 1st: "thanks for providing such a wonderful go-to spot for my garden book wish list." What else to say other than "You're welcome."
Now it's your turn. What are your "cannot live without" gardening books? Contact Me
---
UPDATES:
Most of us (at least so far) have chosen serious, informational texts. Books such as the RHS Index of Garden Plants are certainly in the "facts only" category. Some authors - M. M. Graff, Flowers in the Winter Garden, Michael Dirr, Dirr's Hardy Trees and Shrubs - offer the author's opinions along with the facts, making for livelier reading. Cherie Kipple has an interesting take on her favorite gardening books. Hers are emotive, entertaining books. While offering lots of gardening information it's as a thread woven into the text rather than the only focus. Having read some of them myself I can say that they're good reading in the same sense as a novel. Here are Cherie's choices:
My favorite garden books are those of Beverly Nichols, particularly Merry Hall. I love his views on cats and gardens. I've read nearly all his gardening books and it would be hard to say which is my favorite. Down the Garden Path has the hilarious story of how he happened to build a rock garden. I read it years ago and I still cannot look at a rock garden without laughing and thinking of his interaction with Mrs. M.
Another favorite is Old Herbaceous, a story of a gardener on an old estate in England. It covers "Old Herbaceous's" entire lifespan as an entry-level gardener on through head gardener and his retirement. Besides being a story about the gardens of an estate, it is a story of what we English teachers like to call "finding a voice." He evolves from an underconfident apprentice to the head gardener who plays a leadership role in the community and also in his profession. It even has suspense, which comes toward the end. The author is Reginald Arkell.
Out in the Garden Growing a Beautiful Life by Dean Riddle. This is the story of how Dean Riddle built his garden in upstate NY after having grown up in the south and having spent time studying horticulture in England. He has this little (and I mean little) house, surrounded by his garden. In it, he keeps a tire planter simply because he likes it. The book tells the story of his fence and his donation of a garden in the downtown area of his community. I love this book because of its message that human + plant = meaningful life.
---
Nora McDonald is a gardener in transition. She and her partner have just bought a new-to-them house here in Hunterdon County, New Jersey. Their life is in boxes and Nora's frantically trying to get the plants which came along on their move settled into the ground. She writes, "I never responded to your garden book meme, mainly because I'm embarrassed to be included in the company of people who listed hundreds of garden books in their collection. I probably only have 20-30, but they're still in boxes, so I'm not sure of the exact number.
"I would concur with the person who listed Tracy DiSabato-Aust's The Well-Tended Perennial Garden as a useful book. I tend to use reference type things the most, so that and my copies of Flora, Graf's Exotica, and my garden encyclopedia (I don't remember if I have Taylor's or the AHS one) are always in use. I do have reference books on narrow groups of plants, such as shade plants, passionflowers, and ferns and cryptograms, but they get less use than the monster compendiums. I also enjoy Ken Druse's books (The Natural Garden, The Natural Shade Garden, and others) as inspiration. I'm looking forward to having my books out of boxes . . . Recently I did buy Denise Adam's book on gardens for historic houses -- very interesting. I also got a couple of books on dye plants, which is another interest of mine."
---
It's a case of all in the family. My daughter, Mira Dessy, had this to say.
How many gardening books do you own? "Eighty-nine. That seems like a puny collection compared to my Mom and her friends but it is HUGE comparred to most people I know."
What are your five favorites?
What Plant Where. I find this to be a very useful book when trying to figure out how to put things together or figuring out why it's not growing properly.
Reader's Digest Illustrated Guide to Gardening. I seem to refer to this one over and over, it's so easy to understand and is a very useful book.
The American Gardener's World of Bulbs, (and not just because my Mom wrote it, really.) I love the pictures and the information in this book. I pull it out just to look through the pictures sometimes and to read snippets here and there; I like the way she writes.
Nature Notes of the Country Diary of an Edwardian Lady by Edith Holden (Holt, Rinehart and Winston, New York, 1977). I love pulling down this book from time to time and reading through the current season, month, week, whatever. Every now and then I think that I should write my own notes (or even have my kids do it too) to showcase the differences between then and now but somehow it never seems to happen...perhaps one day.
The Kitchen Garden. I really like this book, the pictures, the way it's laid out. I dream of one day having a garden that all comes together so nicely. Of course now that I've stopped growing vegetables that probably won't happen in this garden but who knows what the future holds.
What is your most recent garden book purchase? "Ummmmmmmm...it's been so long since I've purchased one that I really don't know.
---
My friend Digby Boswell from South Africa had this to say, "My mother loved plants and books and she bought a lot of the books way back when which accounts for the rarities in the collection." He then sent me a list of 60 or so books.
As might be expected, there are a goodly number on plants of South Africa such as Trees of South Africa, A Field Guide, Hilda Mason's Western Cape Sandveldt Flowers, Elsa Pooley's Field Guide to Wild Flowers of Kwa-Zulu Natal, Hulme's Wild Flowers of Natal, a 1902 Handbook to the Flora of Natal, Anita Fabian's Wild Flowers of Northern South Africa, Cythna Letty's Wild Flowers of the Transvaal, and Trauseld's Wild Flowers of the Natal Drakensberg. There's one, Cowling's Fynbos that sounds intriguing. Fynbos, like California's chapparal habitat and the maquis of the Mediterranean region is a shrub / scrub region with fascinating plants adapted to a fire ecology.
As well, Digby's library includes monographs on specific genera, such as Boothalia's The South African Species of Kniphofia, Barbara Jeppe's South African Aloes, Reynold's The Aloes of South Africa, and his The Aloes of Tropical Africa and Madagascar.
Titles covering gardening in South Africa include van der Spuy's Gardening in Southern Africa, an Illustrated Encyclopedia of Gardening in South Africa and the Reader's Digest 2 volume set, A Complete Guide to Gardening in South Africa, Sima Eliovson's Flowering Shrubs and Trees for the South African Garden and her South African Flowers for the Garden.
The Cape is superbly rich in bulbous plants so Digby's collection has books with a wide focus - Sima Eliovson's Bulbs for the Garden and Penguin Books Hardy Bulbs and also some monographs - Dr. Peter Goldblatt's The Genus Watsonia and his The Moraeas of South Africa, Delpiere's Winter Growing Gladioi of South Africa, Innes' The World of Iridaceae.
Given our shared passion for bulbs, it's not surprising that there's some overlap of books on bulbs in both our collections: Barbara Jeppe's Spring and Winter Flowering Bulbs of The Cape (Oxford University Press, Cape Town, 1989), also Graham Duncan and Niel Du Plessis' Bulbous Plants of Southern Africa (Tafelberg, Cape Town, 1989), and we both have copies of Graham Duncan's The Lachenalia Handbook, Volume 17 of the Annals of Kirstenbosch Botanic Gardens, 1988), Christopher Grey-Wilson and Brian Mathew's Bulbs: The bulbous plants of Europe and their allies (William Collins Sons & Co Ltd, London, 1981) and Martyn Rix and Roger Phillips' The Bulb Book, A Photographic Guide to Over 800 Hardy Bulbs (either Pan Books Ltd, London, 2nd printing 1983 or revised and enlarged edition published by Pan Books Ltd, London, 1989 published in the United States by Random House, New York, 1989. Wouldn't you know, I have both.)
Either Digby or his mother are interested in succulents, as his list includes all 3 volumes of Jacobsen's A Handbook of Succulents, all 3 volumes of White & Sloane's The Stapelleae, White & Sloane's 2 volumes on The Succulent Euphorbieae of South Africa. Van der Walt's Pelargoniums of Sothern Africa is incomplete. Digby has volumes 1 & 3, but volume 2 is missing.
Other books on orchids, some on bonsai and miniature landscapes, carnivorous plants, alpines / rock gardening, a book on African violets . . . Gardeners have wide-ranging interests, now don't we just!
---
Scott Canning, director of horticulture at Wave Hill, a fabulous garden open to the public in the Bronx, New York had this to say: "I own a small library of perhaps 250 gardening books, maybe more. I lean on the Royal Horticultural Society's Index of Garden Plants (first published in North America by Timber Press, Portland, Oregon, 1994), Dirr's standard woody text, the New York Botanical Garden's Encyclopedia, and Hortus Third. For perennials, I refer to Ruth Rogers Clausen and Nicolas H. Ekstrom's Perennials for American Gardens, Allan M. Armitage's Garden Perennials and Graham Stuart Thomas' books, especially Perennial Garden Plants or The Modern Florilegium (J. M. Dent & Sons Ltd., London & Melbourne, second edition, reprinted 1984.)
"And the Phillips & Rix books (Note: these are lovely photographic works which, I believe, initiated the technique of displaying a number of cultivars side by side on a page, as well as showing plants in the wild and in gardens. Volumes include bulbs, perennials volume I and volume II, etc.) Bulbous Plants of South Africa, Wildflowers of the Fairest Cape, and the Kirstenbosch wildflower guides (around 13 volumes) are dear to me. This just off the top of my head . . . ."
---
Carla Teune former curator of the Leiden Botanic Garden in the Netherlands, had this to say: "Pooh, difficult! How many books? Over 1.000 easily. Including books in the Dutch language on garden and/or plant poems, and several haiku-books on plants or plants in a specific season. I cannot say only 5 favourite books, so it will be a little bit more: Roy Lancaster's book, Travels in China, A Plantsman's Paradise, (published by the Antiques Collectors' Club Ltd., 1989) on Chinese plants and planthunting expeditions (and Carla modestly omits mentioning that she accompanied him on these expeditions) and his book on Nepalese plants and his famous planthunting trip in Nepal in 1972. Peter Valders book on Chinese Gardens, and his book on Chinese Garden Plants.
A book on Plants for Japanese Gardens (but I forget the author and my house is disrupted with repairs, dust, noise and workmen so I cannot easily look it up!) And more books on Japanese wild plants, including flora's like Ohwi's Flora of Japan (Smithsonian Institution, Washington, D.C., second printing 1984) and more Chinese books (including flora's) on Chinese wild plants. And very special: the book by Claudia Swann on the Clutius (we think "Clusius") Botanical Watercolours. Also very special the Japanese catalogue of 3 exhibitions of the watercolours, made by Kawahara Keiga for Siebold, now in the Library of the Komarov Institute in St. Petersburg, where I will go and look next week. And absolutely the TOP: Flora Japonica by Siebold and Zuccarini, in the collection of the Leiden Hortus Botanicus, standing in the safe at the National Herbarium of the Netherlands; and also very very special (not in my collection of course): The Hortus Eystettensis of Basilius Besler.
The most recently purchased book: Van Zaad tot Plant: From Seed to Plant, bought at a plantmarket in Arboretum Trompenburg, Rotterdam, on May 14th. Gives a lot of details on sowing seeds of many interesting plants, bought it for only E 10,-.
Note:You can see a picture of Carla's "grace and favor" house and a glipse of the Clusius garden in the November 2005 Diary entry.
---
Paul Capiello, director at Yew Dell Arboretum in Kentucky, has a library of horticultural books that many libraries would envy! "As for books . . . You've hit the nail on the head of one of my significant pathologies! My current inventory lists about 3500 excluding periodicals. My office and house overrunneth! Some of my favorites are those that cover some of the early plant explorers . . .
Plant Hunting by Ernest Wilson; a fantastic, easy-reading account of his many travails across the globe in search of the next great plant.
Land of the Blue Poppy by Frank Kingdom Ward; excerpts of some of his great writings. He is one of the very best writers of the collector/chroniclers of the last hundred years.
Seeds of Fortune; a great history of the famed Veitch nursery family of England. If one were to be looking for a great account of the atmosphere in nineteenth-century English competitive plant geek circles, this would be at the top of the list.
---
Hilary Cox has approximately 200 books about gardening "at home" in Indiana, and some more in Pennsylvania with Geoffrey. But that's just actual gardening ones relevant to her work in Indiana, and doesn't include all the naturalist books and field guides, nor any relating to Arizona where she spends part of the year. Amusingly, Hilary mentioned that she'd been gardening for years before ever condescending to buy a book about it! "Me," she wrote, "who was a librarian for the first part of my working life. I didn't think I needed to read about something that came so naturally!!" So now that she's succumbed, what are the gardening books Hilary can't live without.
Alan Bloom's Perennials for your Garden, Dirr's Manual of Woody Landscape Plants, Harrison L. Flint's Landscape Plants for Eastern North America, Chris Woods' Encyclopaedia of Perennials, and Jens Jensen's Siftings.
Her most recent purchase is Louise Riotte's Carrots Love Tomatoes, and before that, Stephanie Cohen's book (which Hilary notes all her gardening clients just love.)
As an addendum (this meme is clearly evolving) Hilary mentioned that "My most recent acquisition which pertains to gardening, although not actually about gardening, is Louv's Last Child in the Woods - relates ADDHD to the disconnect between people and nature these days. Pertinent to my work at the Children's Museum."
---
Steve Silberstein, whose fabulous zone 7 New Jersey garden appears repeatedly in my Diary reports - "I did a rough count of our gardening and horticulture related books. I'd say roughly 400+. Many are references or are specific to a certain area or group of plants. My favorites? I enjoy your books, but aside from that there are 3 which I refer to regularly; Hortus Third, Dirr's Manual of Woody Landscape Plants, and Wyman's garden encyclopedia."
---
Prompt response from Kirk Brown - What are the five gardening books you couldn't do without? Stephanie Cohen's new perennial book; anything by Michael Dirr; a wonderous book from Charles Elliot called The Potting Shed Papers. Tracey DiSabato Aust's first book on maintenance, The Well-Tended Perennial Garden. Robert Dash's Notes from Madoo and Peter Mayle's A Year in Provence.
What gardening book did you purchase most recently? Dan Heim's Heucheras and Heucherellas; Pam Duthie's Continuous Color; Gordon Hayward's Stone in the Garden and his Your House Your Garden.
Back to Top
---