.
Garden Diary - November 2023
---
If you have any comments, observations, or questions about what you read here, remember you can always Contact Me
All content included on this site such as text, graphics and images is protected by U.S and international copyright law.
The compilation of all content on this site is the exclusive property of the site copyright holder.
---
November
---
Holiday Train Show at the New York Botanical Garden,
Part Two: Buildings
The outdoor-with-mountains on the lawn is definitely something new this year. But overall, how does the train show compare, this year to previous years? Every year there are always some new buildings to see. But since over the decades there are, I think, something like 300 structures that have been created it is obvious all cannot be exhibited every year.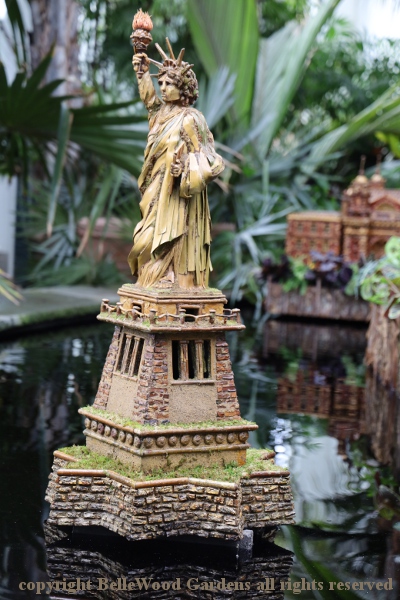 For example this year Yankee Stadium has a year off but the Statue of Liberty is on display.
Strolling under the bridge and through the exhibition gallery. Media people, many with their phones,
a few (like me) with cameras, some videographers, record the trains, the bridges, and the buildings.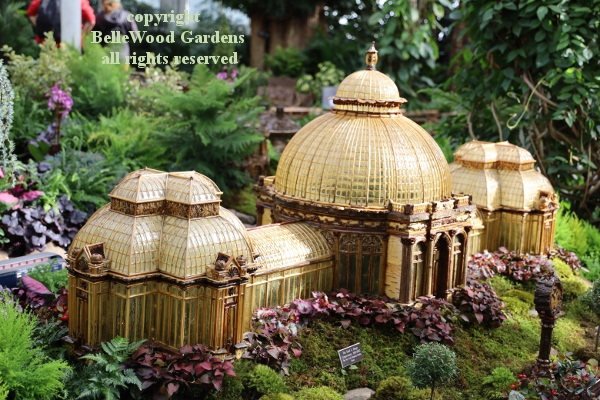 Perhaps my favorite of the buildings is this, a scaled down replica of the Haupt conservatory.
It amuses me. What shall we call it? Perhaps a fractal, the model within the actual structure.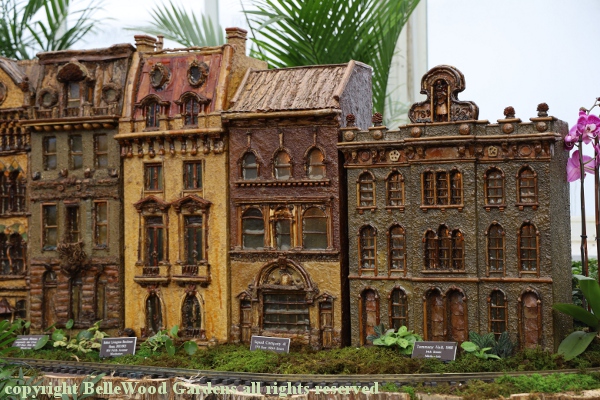 A row of Manhattan brownstones. They are individual structures, so may be variously configured.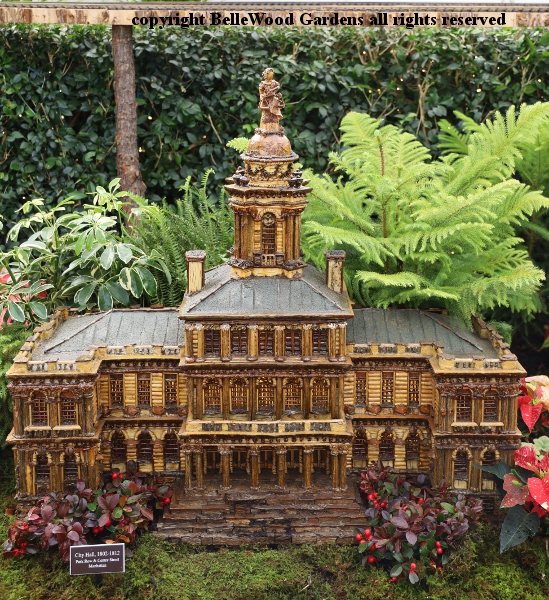 City Hall, 1802-1812. Located at Park Row and Centre Street in Manhattan. Elegant in and of itself.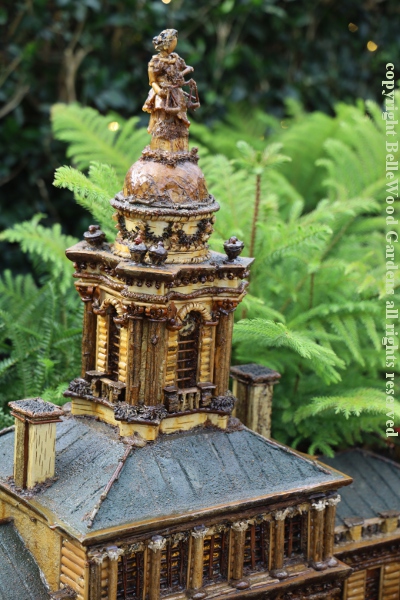 Yet the closer we look at the detailing of its facade, bits and pieces of plants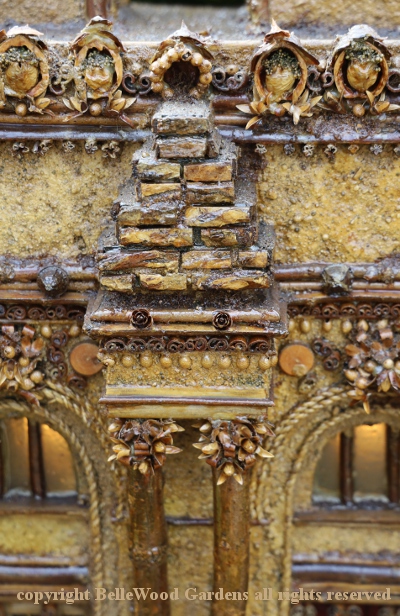 craftily and meticulously assembled to replicate the original built of stone and masonry.
The next trio are buildings in Manhattan's Central Park. I'm limiting myself to just three . . .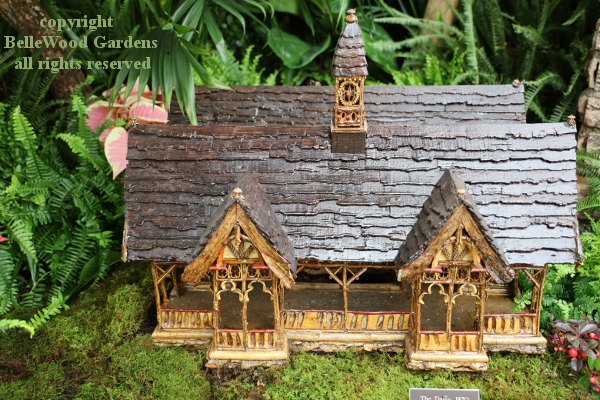 Designed by Calvert Vaux and built in 1870, The Dairy was made to look like
a Victorian country cottage. Today it is the busiest of the five visitor centers.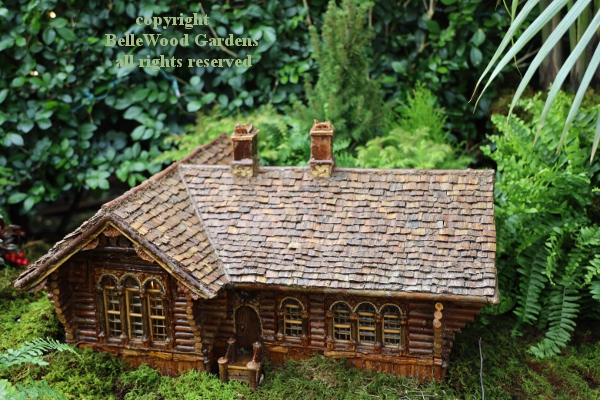 Built in Sweden and brought to the United States in 1876 as part of the first World's Fair here,
it is located inside the park on the west side at 79th Street it now houses a marionette theater.

Built in 1923, a century ago, the Naumburg Bandshell hosts free classical concert.
Located south of Bethesda Terrace between 66th and 72nd streets.

I know, I said three buildings of Central Park. Couldn't resist. Here's a fourth one.
Call it iconic, say it's well known, Bethesda Terrace is a large plaza with two levels,
an arcade, and Angel of the Waters fountain. Begun in 1859 and completed in 1863.

What once was and now no longer exists. The Senator William Andrews Clark House was
located at Fifth Avenue and 77th Street in Manhattan. Built in 1904. Demolished in 1927.
---
Fascinating? You bet! And if "do it yourself" really appeals to you there's even a class, here at NYBG. Course 242CRF142 will be held on Saturday, December 16, 2023 from 9:30am-04:30pm EST . "Create a building replica with natural materials in the style of the Holiday Train Show®! Explore architectural styles, and then choose from an assortment of dried botanicals such as pods, bark, and branches to make your own detailed one foot tall model. The class iIncludes a brief tour of the Holiday Train Show® for inspiration." For more information , telephone the Continuing Education department at 718.817.8720 or email ContinuingEd@nybg.org
---
The 2023 holiday train show will be open from Saturday, 18 November 2023 through Monday, 15 January 2024.
For more information or to purchase tickets, visit the NYBG website at nybg.org.
---
See also Holiday Train Show at the New York Botanical Gardens, Part One
and
Holiday Train Show, Part Three - It's a Matter of Scale
---
Back to November
---
Back to the main Diary Page