.
Garden Diary - November 2023
---
If you have any comments, observations, or questions about what you read here, remember you can always Contact Me
All content included on this site such as text, graphics and images is protected by U.S and international copyright law.
The compilation of all content on this site is the exclusive property of the site copyright holder.
---
November
---
Holiday Train Show at the New York Botanical Garden,
Part Three, It's a Matter of Scale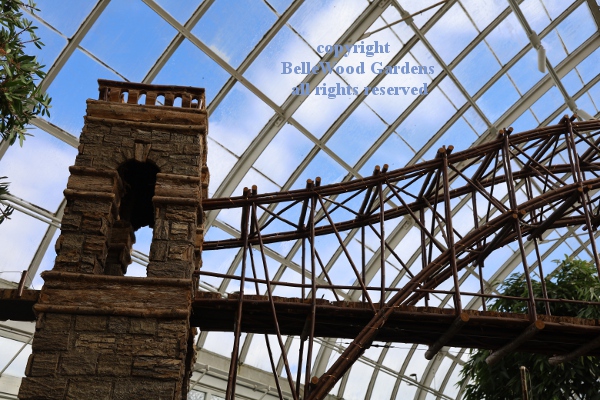 It's an Escher-esque geometry with a view of conservatory grid that supports the glass and
one of the several bridges that support G scale model trains zipping through a landscape.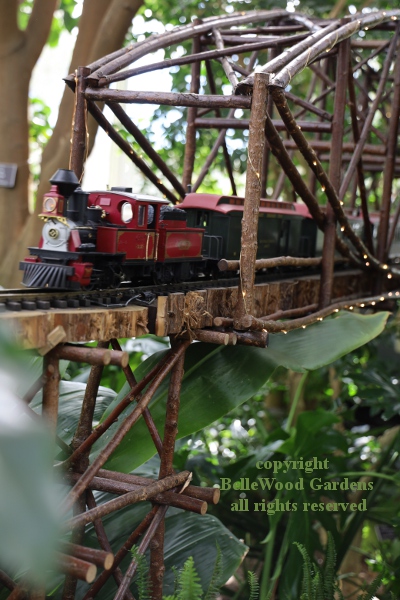 These are G scale trains, at 1:22.5, and running on a gauge of 1.75 inches, the largest scale
of model trains, making them suitable for outdoor use in a garden and large indoor spaces.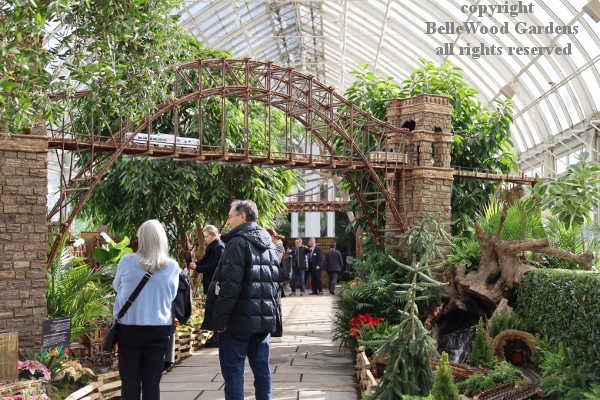 It reminds me of Gulliver in Lilliput. The people walking under the bridge with its passing train seem outsized, gigantic.
And outside, on the mountains, are features even more outsized, shrinking us down by comparison.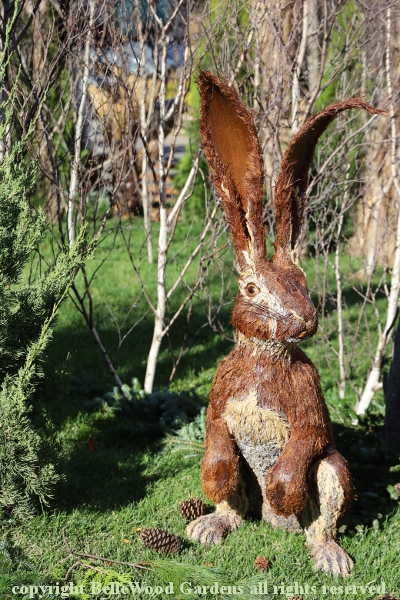 Two enormous rabbits. Or are they hares? One is sitting while the other leaping.

2023 happens to be what's called a mast year, with oak trees producing acorns in abundance.


Fortunately, these Brobdingnagian acorns are not at all typical of what's falling on the ground.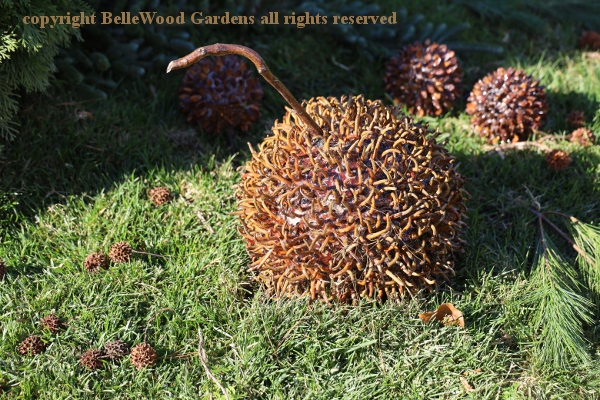 Ditto for this sweet gum pod. The real ones scattered to the left seem tiny, as though
we are looking through concave lenses, reducing their apparent size. Were you fooled?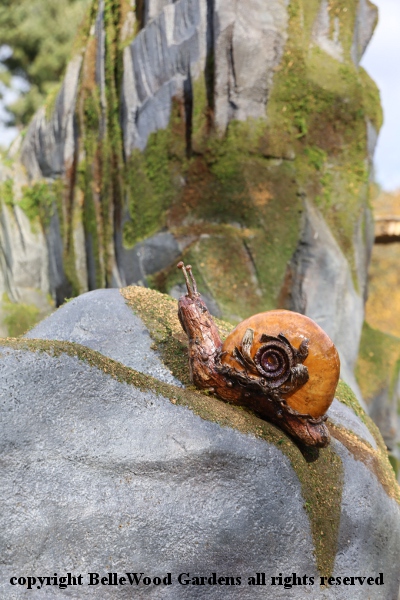 A snail is slowly, perhaps thoughtfully, crawling over the mountain.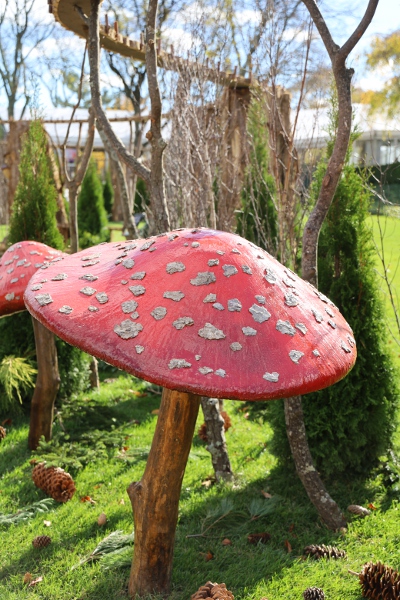 Toadstool or fly agaric, Amanita muscaria. Common, widespead, poisonous.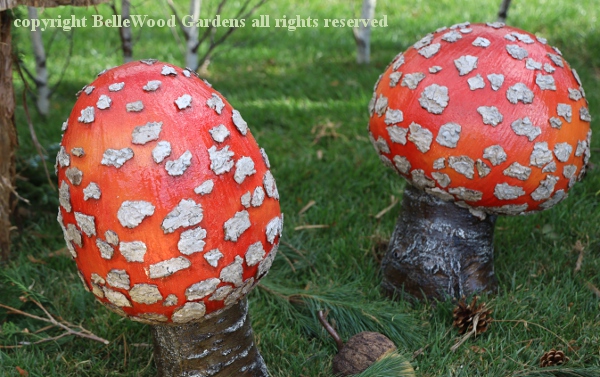 If - and there are three major ifs - if these were growing from the soil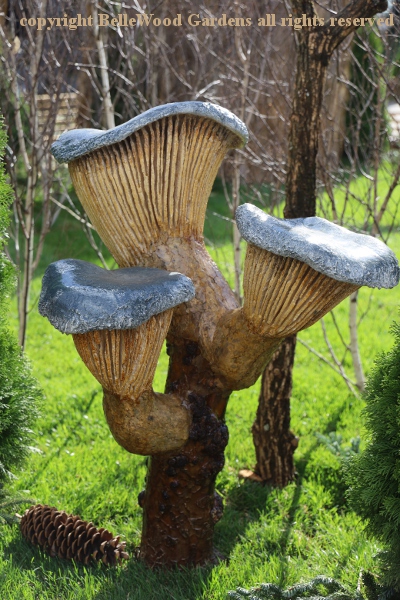 as individuals rather than as several on log, and if golden in color I'd say
they were chanterelles. But since they are not, no, nope I haven't a clue.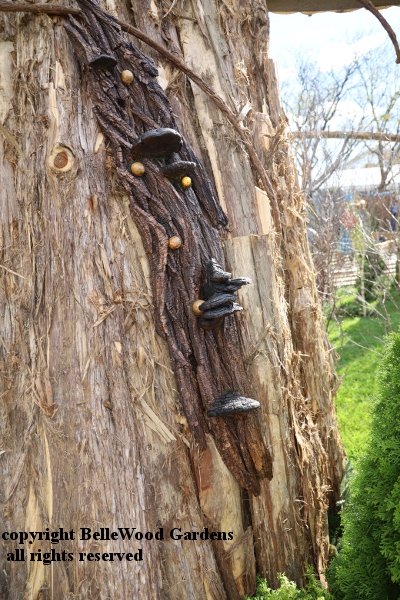 Perhaps these are some type of shelf mushroom, dropping golden spores
The world outside where there are giant, outsized elements: enormous mushrooms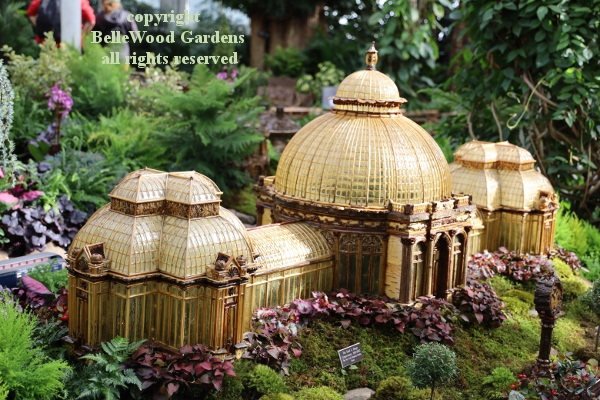 and rabbits (unless they are hares.) . Counterbalanced inside the conservatory with
pygmy, reduced scale bridges and buildings, even a miniaturized conservatory. Magic.
---
The 2023 holiday train show will be open from Saturday, 18 November 2023 through Monday, 15 January 2024.
For more information or to purchase tickets, visit the NYBG website at nybg.org.
---
See also Holiday Train Show at the New York Botanical Gardens, Part One
and
Holiday Train Show, Part Two - Buildings
---
Back to November
---
Back to the main Diary Page