.
Garden Diary - November 2023
---
If you have any comments, observations, or questions about what you read here, remember you can always Contact Me
All content included on this site such as text, graphics and images is protected by U.S and international copyright law.
The compilation of all content on this site is the exclusive property of the site copyright holder.
---
November
---
Holiday Train Show at the New York Botanical Garden, Part One
Thirty-two years. That's how many years the New York Botanical Garden's holiday train show has been a seasonal delight for young and old. When the invitation for this years media preview arrived in my e-mail I promptly marked the calander in anticipation. And on a bright sunny day, blue sky laced with some white clouds, off we set on the 84 mile drive from home.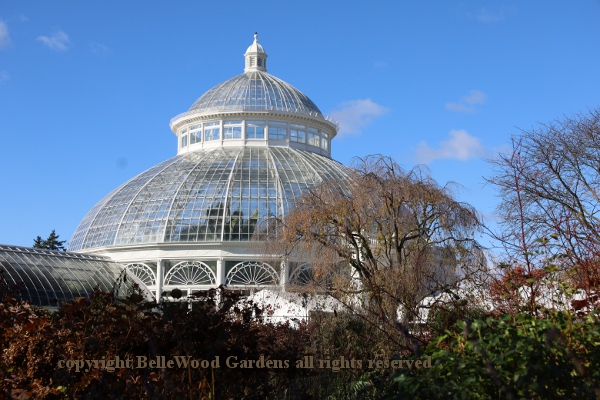 The dome of the Enid Haupt conservatory seems to beckon to me. The train show has, here-to-fore, been indoors in the Palm Court and exhibition gallery. I take that back. There was one winter, perhaps 30 years ago, when renovations to the dome meant plants had to be removed and the train show was instead outdoors on the museum building's lawn.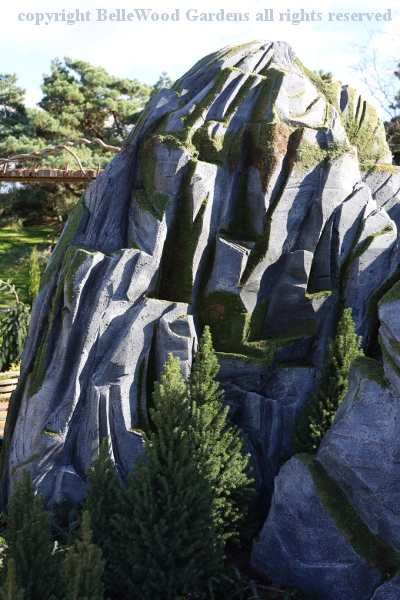 This year, the train show is not only indoors, but also outside. Towering mountains (re-utilized from the orchid show) make a splendid addition. I think they are made of styrofoam but could not get this confirmed. With the orchids - obviously - removed moss and conifers set the scene.
Train tracks installed, bridges too. And the G-scale trains are chugging around, whistles sounding. Remember that bridges and building are all created from branches, twigs, leaves, seeds, pinecones, fungi, and a plethora of other natural materials many of which are gathered at Applied Imaginations on their Alexandria, Kentucky homesite.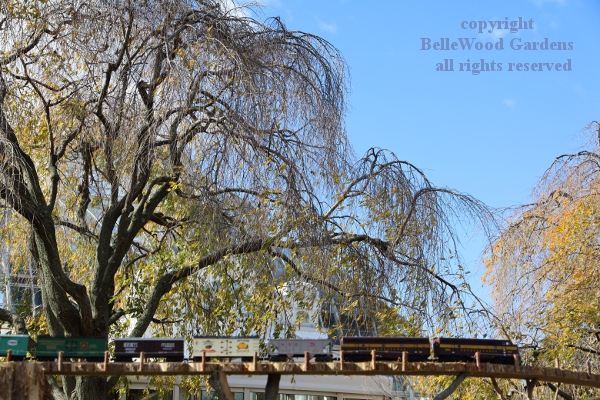 With a weeping cherry tree bare of leaves as a backdrop, an elevated bridge suppots a passing train.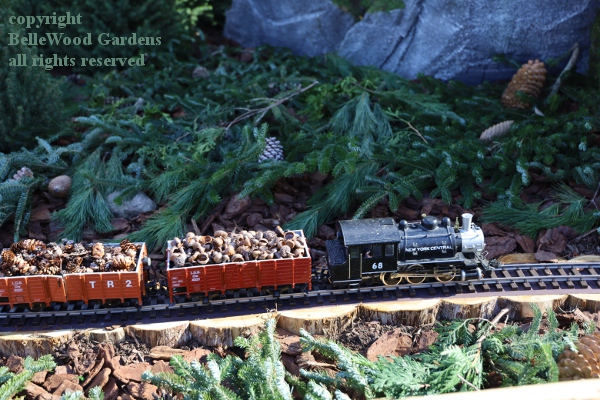 At ground level the trains pass by with their cargo of acorns (appropriate, this happens to be a mast year), sweet gum pods, small spruce cones, twigs, and more. The ground mulched with coarse bark chunks and evergreen boughs.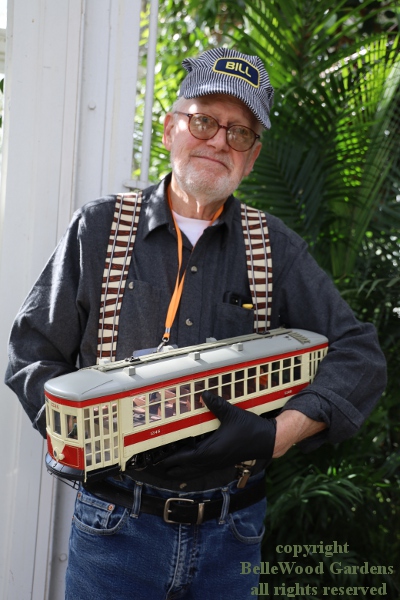 Indoors I chat with engineer Bill, an employee of Applied Imagination, the company who creates this different-every-year display. He's wearing iconic train track embellished suspenders, created by Paul Busse, the company"s founder.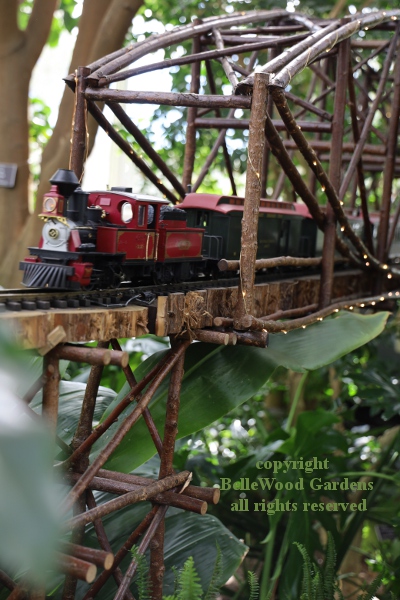 Indoors, there are trains, streetcars, and more. Here's an engine passing across a bridge made of branches.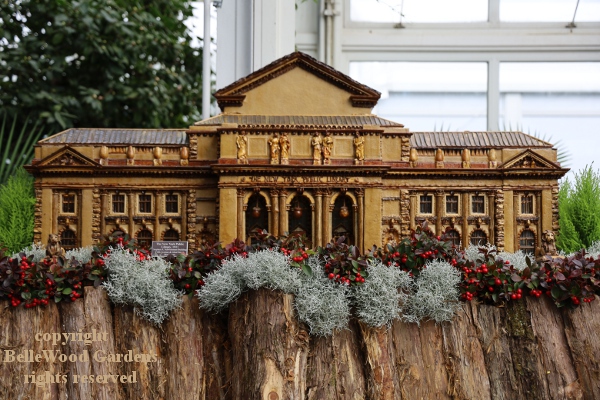 The New York Public Library. Elaborate replicas of existing and once upon a time / now vanished into the past buildings.
---
The 2023 holiday train show will be open from Saturday, 18 November 2023 through Monday, 15 January 2024.
For more information or to purchase tickets, visit the NYBG website at nybg.org.
---
See also Holiday Train Show, Part Two - Buildings
and
Holiday Train Show, Part Three - It's a Matter of Scale
---
Back to November
---
Back to the main Diary Page