.
Garden Diary - June 2023
---
If you have any comments, observations, or questions about what you read here, remember you can always Contact Me
All content included on this site such as text, graphics and images is protected by U.S and international copyright law.
The compilation of all content on this site is the exclusive property of the site copyright holder.
---
June
---
Designed For Nature
Saturday, 17 June 2022
---
There is a garden tour today, presenting five local residential gardens in transition to the use of native plants and creative water management. Organized and presented by The Woman's National Farm & Garden Association, Bucks County Branch, in partnership with Bowman's Hill Wildflower Preserve. Rain or shine, 10:00 a.m. to 3:00 p.m. Modestly priced tickets are $10.00 in advance, $15.00 on the day of the event. Be inspired, we are told, to see what can be done to bring nature back into your own private oasis.
Generously provided with a gratis media pass, a friend and I decide to see if we can visit all five gardens Paul plots out the most efficient circuit for the five gardens. Weather is cooperative, with comfortable temperatures and some overcast that makes for better pictures. And we're off!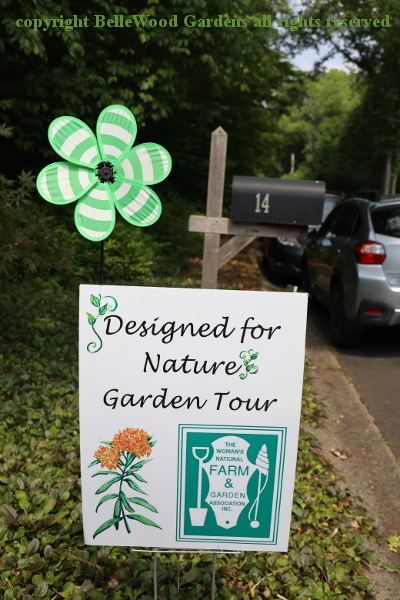 ---
Designed for Nature: Garden of Sarah Goodyear and Cyrus Morgan
A Cottage Garden in Town
---
After building a beautiful home in town, this homeowner dreamed of a cottage garden like her mother's. Developing an eco-friendly property was a priority. Working with Indigenous Ingenuities, a creative garden with pollinator plants throughout the season was created to match the traditional style of the neighborhood. Notice how the "hell strip" mirrors the lawn and garden beds. Penstemon, heuchera, cone-flowers, amsonia, hyssop and goldenrod are covered in happy bees and butterflies. Follow the stone path bordered by mountain mint and shade plants and arrive at the back lawn lined with Annabelle hydrangeas for a dramatic look. Raised beds for vegetables and a rock garden frame the driveway. As you make your way back in this deep lot, lawn has been removed and native trees and shrubs abound: junipers, dogwoods, hollies, arborvitae and sweet bay magnolias are thriving. Keep going through the gate to the pool area with no-mow grass and a rain garden to manage water issues. This garden has brought the joy of seeing pollinators galore and the soothing meditative weeding that helps to unwind after a long day. One last treat will take you through the back gate, follow the path to your left and stroll past the community garden and homeowners' creative use of borough land behind the backyards - this will take you back to your parked cars.
text courtesy of The Woman's National Farm & Garden Association Bucks Co. Branch
in partnership with Bowman's Hill Wild Flower Preserve
---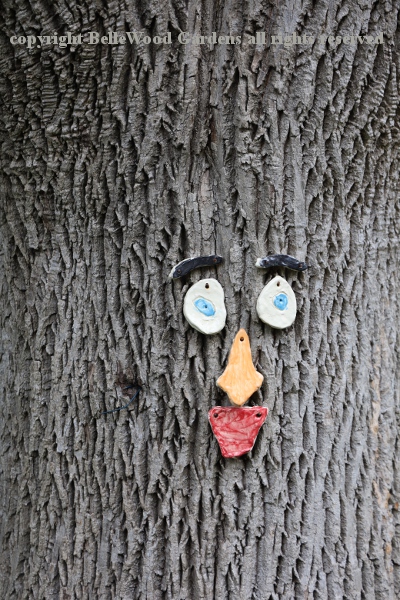 Smile. Gardens are intended to be enjoyed. While plants are the material they do not
always dictate the design. Natives may be used in a formal style, exotics naturalistic.

Hydrangea arborescens 'Annabelle' is a cultivar selection of a native shrub.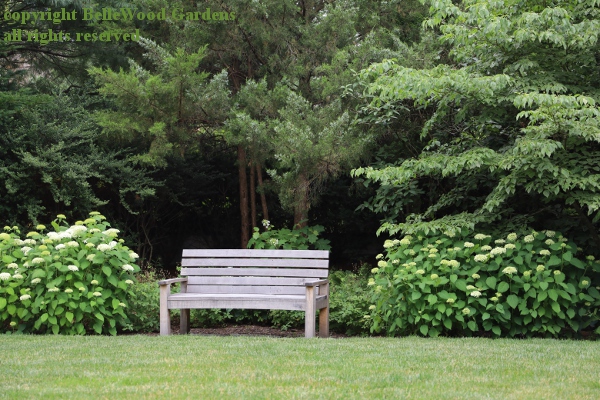 Here it is used in a classically simple, formal design, elegant in execution.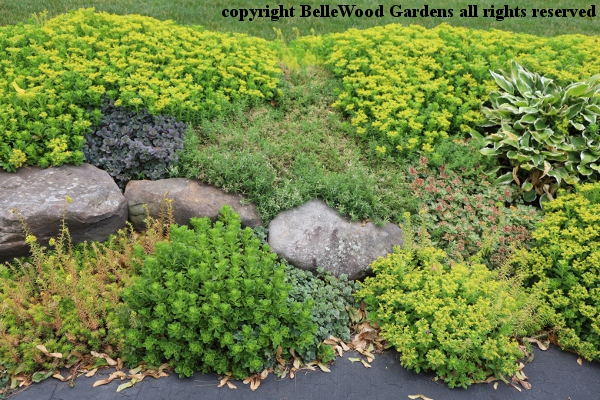 A narrow strip slopes from lawn to driveway. Planted with five different sedums,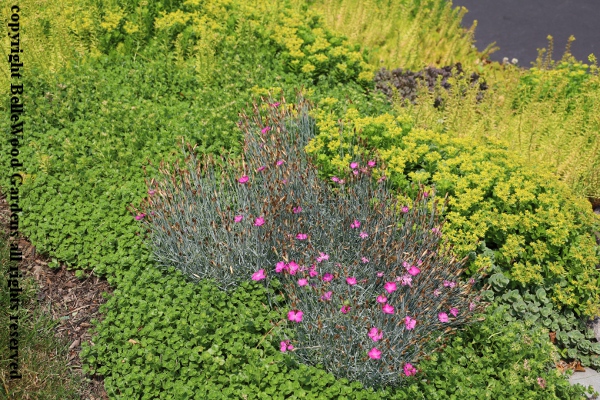 they need minimal care: no mowing, no watering, reduce runoff.Practical.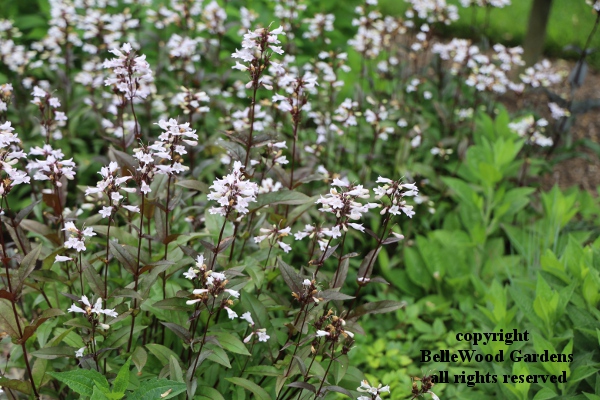 Penstemon digitalis 'Husker's Red' is a selection of a native meadow plant with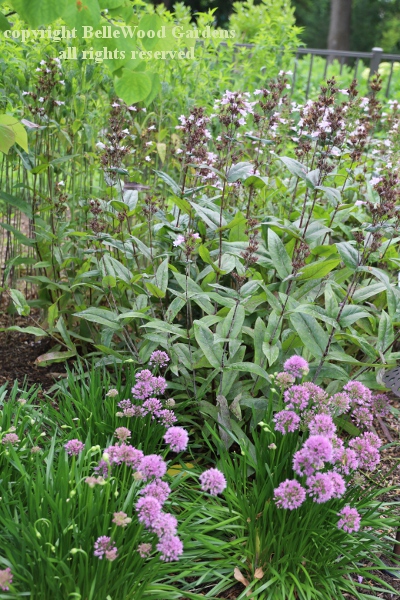 darker leaves. Nicely paired with an allium whose lavender flowers enhance it.
Continuing back to the rear of this deep lot we pass through a pair of gates to discover


a geometrically rectangular swimming pool with an elegant pool house. Again formal,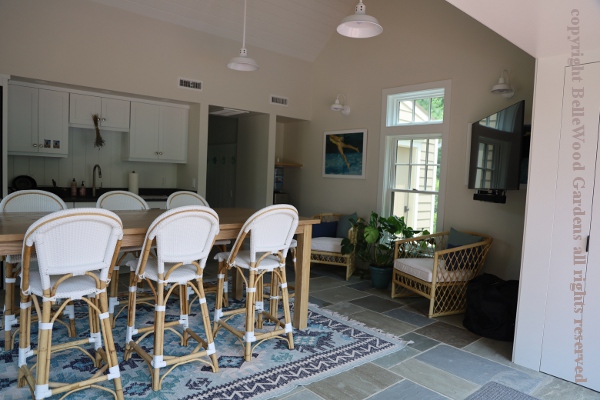 stylistically appropriate. A pond with a mud bottom and fringed with cattails - out of place.

There's a fire pit too, with a fitted crazy quilt of stone around it, and a stone wall.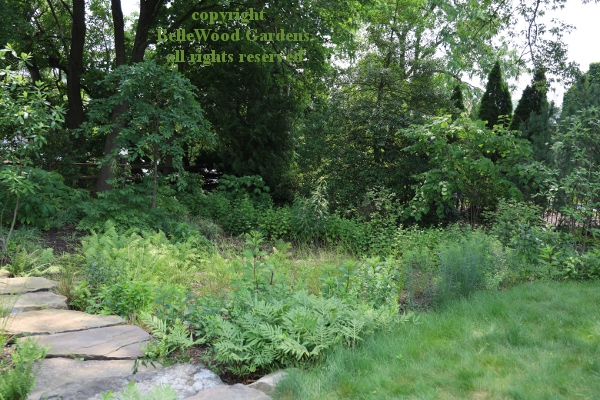 But wait, there's more. A tapestry of native plants woven together,
bisected with a flagstone path. It is a chemical free native habitat.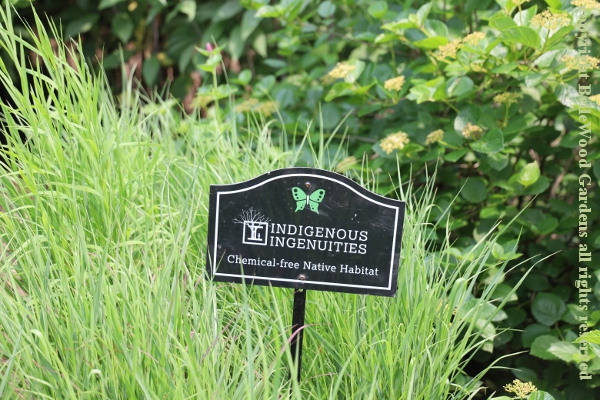 ---
Back to Top
---
Back to June
---
Back to the main Diary Page