.
Garden Diary - February 2023
---
If you have any comments, observations, or questions about what you read here, remember you can always Contact Me
All content included on this site such as text, graphics and images is protected by U.S and international copyright law.
The compilation of all content on this site is the exclusive property of the site copyright holder.
---
February
---
Biochar
Sunday, 19 February 2023
---
We heat in part with wood, burning close to three cords of wood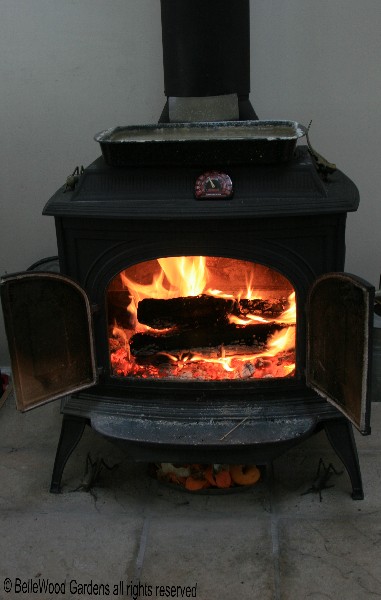 in a typical winter. A cord is 128 cu. feet, a stack 4 ft wide by 4 ft high by 8 ft long.

It is a very pleasant heat, enjoyed by all our family.
We use well seasoned hardwood: cut on our property, split,
stacked, aged for a year. The wood is mostly consumed by the flames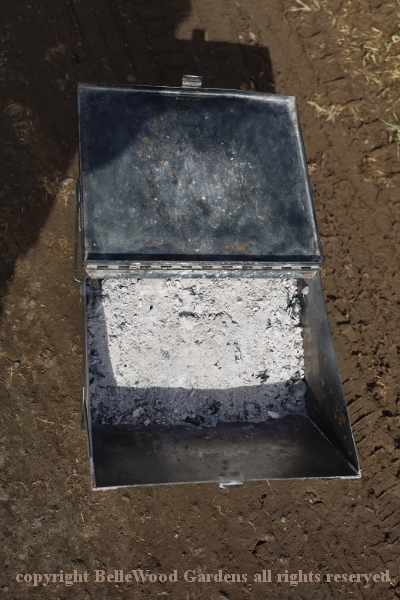 but there is some residue - ashes and bits of charcoal. The ash-away,
a metal tub with legs, safely holds what's shoveled from the stove.
One way to utilize ashes is to add them to the compost heap. The soil here is relatively heavy clay / loam, with an acid pH. There are plants that like this, others that want some adjustment. Stove ashes raise the pH so I do use it for that purpose, but with caution. Do not want to go the other way and accidentally create alkaline pH. Ashes are also a good source of potassium, one of the three major nutrients needed by plants.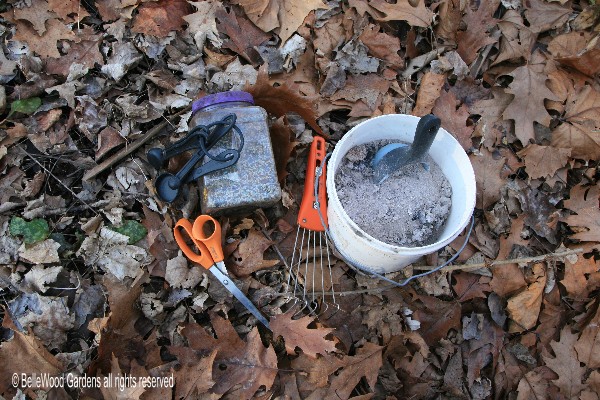 Collecting tools and supplies: a small bucket of stove ashes, a plastic jug
with granular fertilizer, measuring spoons, a hand cultivator, pair of scissors.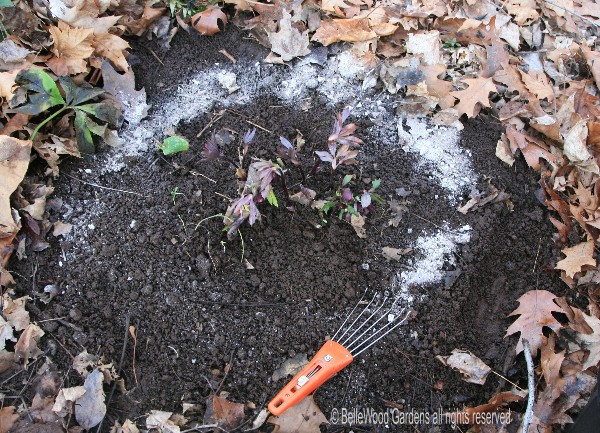 I cut the winter damaged leaves off the hellebore. Scattered granular fertilizer
in a ring away from the crown of the plant and cultivated it in. Made a second
ring, of stove ashes, well outside the first ring, the gently cultivated it into the soil.
Well and good. But I have more wood ashes than can reasonably be used in the garden.
So I was pleased to see an announcement for a biochar challenge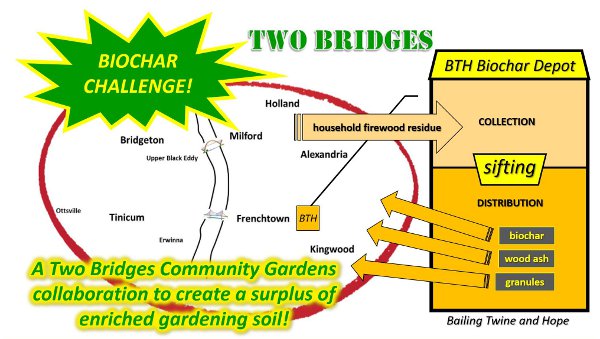 What is biochar? From Mother Earth News: "Basically, it's organic matter that is burned slowly, with a restricted flow of oxygen, and then the fire is stopped when the material reaches the charcoal stage. Unlike tiny tidbits of ash, coarse lumps of charcoal are full of crevices and holes, which help them serve as life rafts to soil microorganisms. The carbon compounds in charcoal form loose chemical bonds with soluble plant nutrients so they are not as readily washed away by rain and irrigation. Biochar alone added to poor soil has little benefit to plants, but when used in combination with compost and organic fertilizers, it can dramatically improve plant growth while helping retain nutrients in the soil."
The ash-away is again full. Off we went to Baling Twine and Hope rescue


to willingly make a contribution for the Two Bridges Community Gardens
Biochar Challenge. Conveniently it is only about 4 miles away from home.

It is fortunate that they had a number of empty containers so I could transfer
from my ash-away - hadn't thought about it in advance. Ash-away filled a
kitty litter tub (which holds 35 pounds of litter) about 2/3 full. Good deal!
As long as the weather stays cold (on February 2 the ground hog forecast
6 more weeks of winter) we'll be burning wood, making heat and also ashes.
---
Back to February
---
Back to the main Diary Page