.
Garden Diary - February 2023
---
If you have any comments, observations, or questions about what you read here, remember you can always Contact Me
All content included on this site such as text, graphics and images is protected by U.S and international copyright law.
The compilation of all content on this site is the exclusive property of the site copyright holder.
---
February
---
A Visit to the Asian Food Market
Thursday, 23 February 2023
---
It's been a couple of years since I've gone with Carol to the Asian Food Market on Route 22 in North Plainfield, New Jersey. But we made plans for today, the weather cooperated, and off we go. Why make the journey? It's like this. They have a wide array of jarred, canned, boxed, frozen and fresh items that don't even find shelf space where you might usually shop. For example there's shelf after shelf of soy sauce, many brands, rather than the Kikoman standard of regular supermarkets. An excellent array of fresh produce, some you might recognize and unknown others. So we used to go every few months. And now our routine is starting back up.
My memories of the place were shabby, dark, somewhat smelly and a parking lot that was more pot holes than pavement. How it has changed! Major renovations, starting from right outside the building. The parking lot is paved and lines painted. The store is likewise renovated: new flooring, bright lighting, new shelving, good signage. And the wide array of groceries for Asian cuisines - Chinese, Japanese, Korean, and more is still as fascinating as before.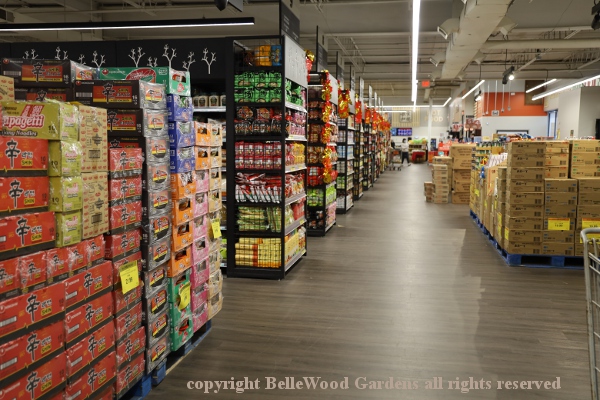 An overview of the store. Signage is in English as well as characters, kanji I think.
We turn right after entering, to head for the fresh produce first of all. That takes us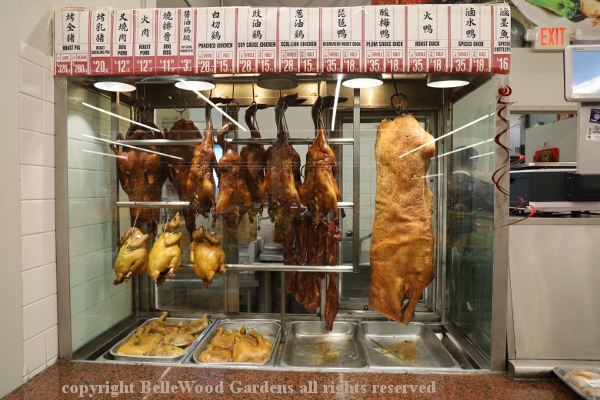 past the prepared foods. Costco eat your heart out! Forget rotisserie chicken,
Here it is Pekin duck, with crispy skin and roasted to a burnished, golden bronze.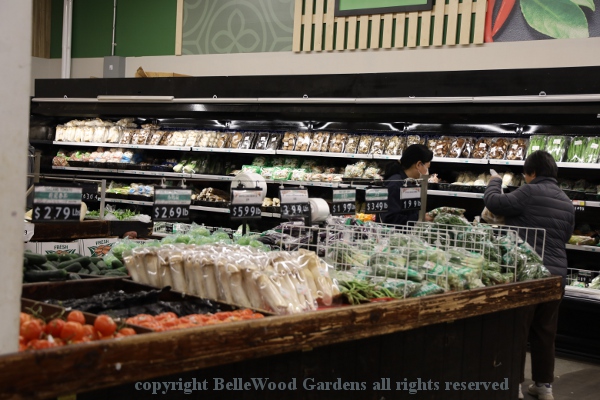 A glimpse of the fresh produce. Much of it is cellophane packaged. The top row
along the wall are many different kinds of fresh mushrooms. Those on the table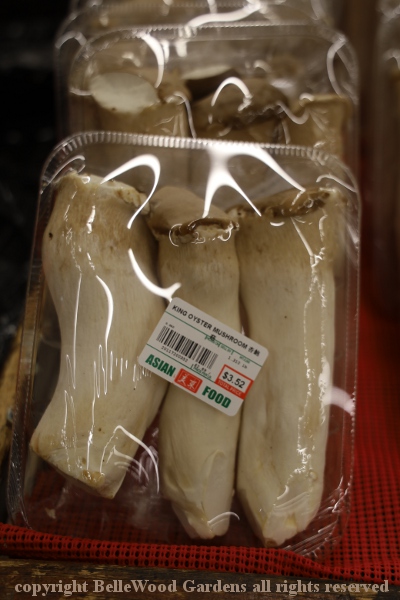 are king oyster mushrooms. also known as king trumpet mushrooms. They have
a firm, dense texture. What I don't recall seeing were the typical white agaricus.
Below the mushrooms are bok choi and napa cabbage, but not just the one and only type of each you might be familiar with. Here there is a better diversity from which to choose: little baby bok choi, king napa cabbage, and more.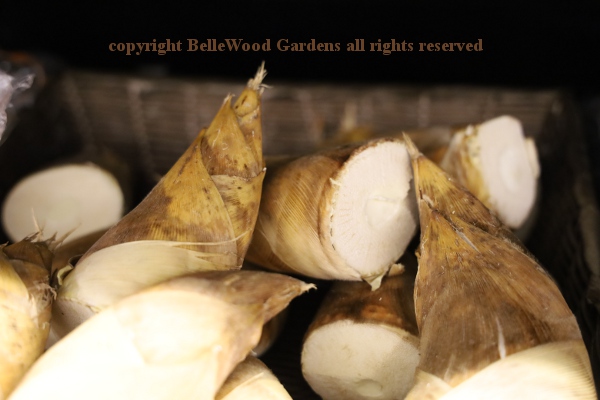 As well as fresh bamboo shoots, celtuce, and bitter melon.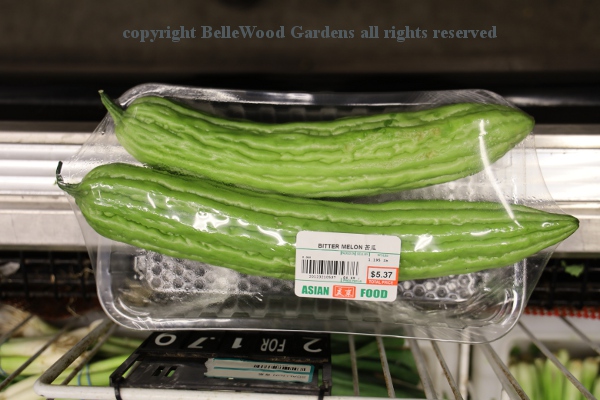 We walk past a shrink wrapped pallet of rice. Take a minute to think . . . it's more than a ton!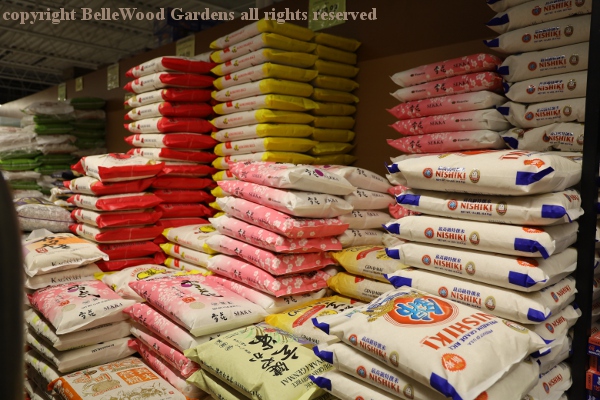 And that's not all, for there's an aisle filled with similar sizeable large bags of rice.
Freezer cases at the far size of the store have familiar and unfamiliar items.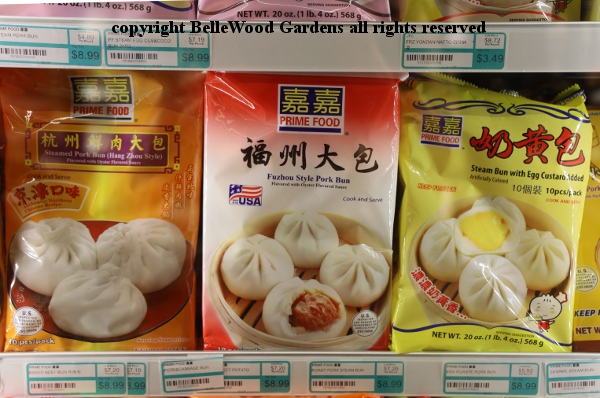 All sorts of buns, some made in the USA and others imported from abroad.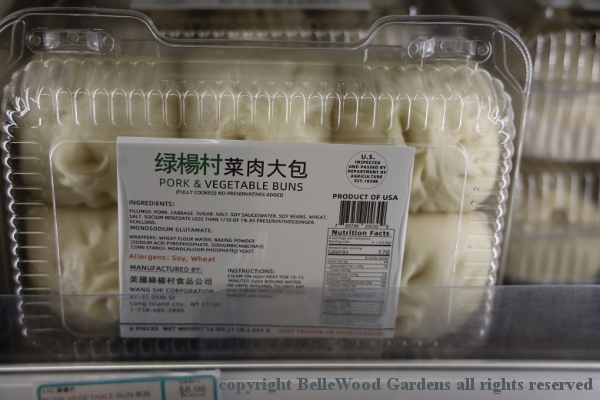 There is excellent, good looking meat, some unfamiliar cuts, Mostly pork. Chicken
of course. Also some beef. There are men in white coats behind the fish counters.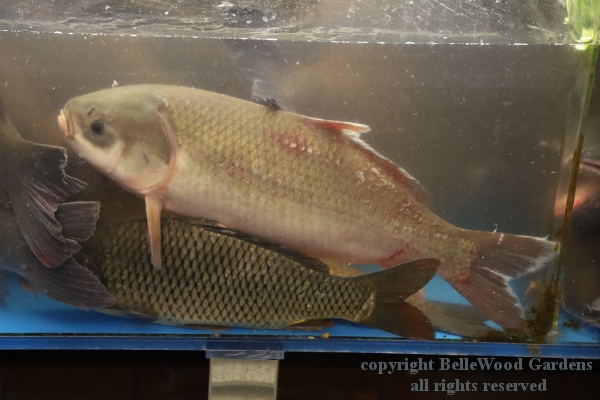 As well as what's displayed on ice there are also tanks of live fish, like these carp.
I do not know how long their typical customers may take to complete their shopping.
Carol and I take better than an hour. Each aisle must be examined, sometimes twice.
Finally we check out and eventually arrive back home. My produce in the refrigerator.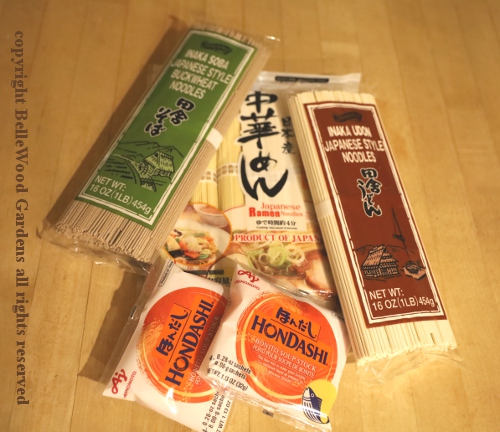 I admire the dry noodles: Japanese style buckwheat soba noodles, udon noodles, and
ramen noodles. My ramen will be tastier than the overly salted packets in Western stores.
And hondashi, with dried shaved bonito and seasonings to make the broth. A very good day.
---
Back to February
---
Back to the main Diary Page