.
Garden Diary - November 2022
---
If you have any comments, observations, or questions about what you read here, remember you can always Contact Me
All content included on this site such as text, graphics and images is protected by U.S and international copyright law.
The compilation of all content on this site is the exclusive property of the site copyright holder.
---
November
---
Thanksgiving Dinner for Two
Thursday, 24 November 2022
---
Thanksgiving. Date changes but not the day. Fourth Thursday in November. Special time, planning begins well in advance for a special meal. It matters not that it will be just the two of us, and it won't be the traditional turkey. It's complicated. Choose a menu. Revise. Decide on a time line. Shop ahead (the stores will be very crowded on Monday, Tuesday, Wednesday.) Prep on Wednesday. Cook on Thursday. Eat. Clean on Friday.
To begin with, there's the issue of wine.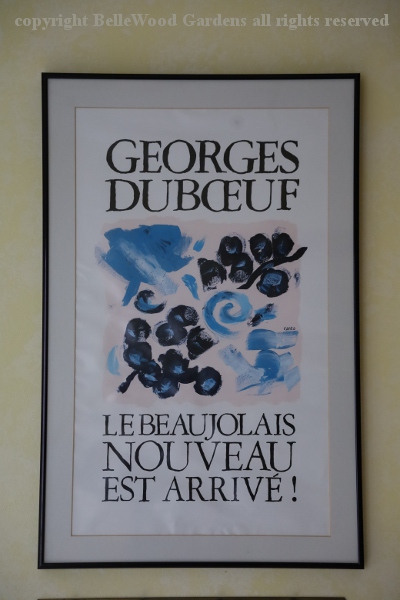 .

Beaujolais nouveau arrives in a timely manner on the third Thursday of November.
It's vin de primeur, fermented for just a few weeks before being released for sale
Discussing this with Carl at Central Wine Merchants he said, "I think that the Duboeuf Nouveau is always a safe bet. At the apex of the nouveau craze there were an awful lot of indifferent wines being turned out by producers just looking for a quick buck. After the nouveau bubble burst most of those either stopped production or were dropped by their American importers, All that being said, I'm sticking with the Pegau Maclura Cotes du Rhone. Heartier, more serious and complex without going over the top. It's also only a dollar or two more than nouveau."
Next is the matter of chestnuts. My cousin who lives in Kentucky visited three supermarkets on Monday, November 14th and was unsuccessful. He'll give it another try on Friday and if no joy ask his son to bring some from Maryland. I am fortunate and find them in the local store.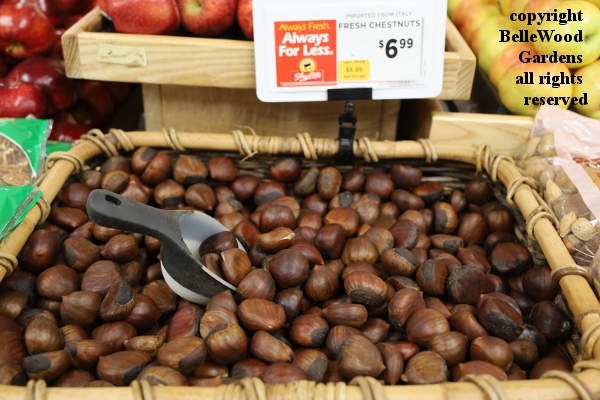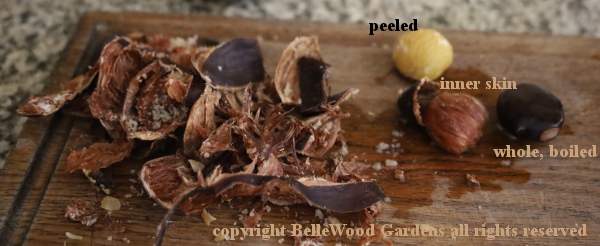 Time was when our daughter was still living at home she would peel them for me.
Now I'm on my own. It's not the outer shell that's the issue, it's the tight inner skin.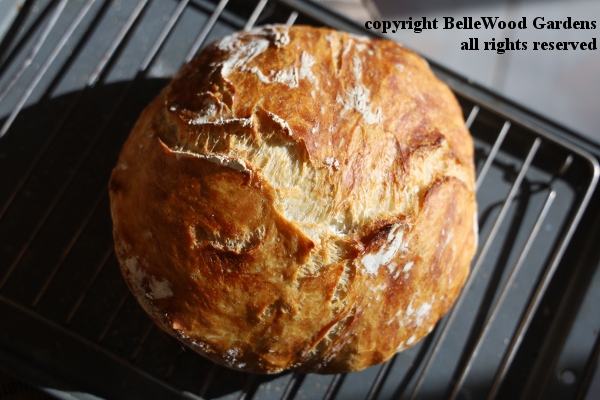 Start making dough for no-knead bread on Wednesday at 2:00 p.m. Let rise for
18 hours. Do this and that to it on Thursday morning, then bake. Ready midday.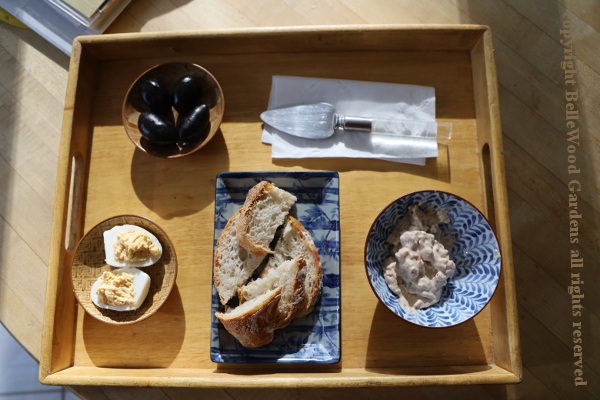 Appetizer tray for turkey day: cerignola black olives, deviled eggs, shrimp dip
with cream cheese, green onion and finely diced celery, Worcestershire sauce,
lemon juice, splash of ketchup (for color.) Bread. For myself I also made some


celery root remoulade. I enjoy it. But the smallest root I found
was 12 ounces, too much for just me and he doesn't care for it.
Pause for digestion. Cooking to be done. Then eating.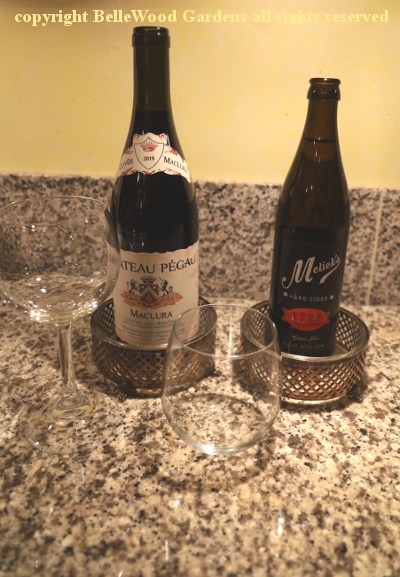 Pegau Maclura Cotes du Rhone for me, Melick's Hard Apple Cider for him.
Should have poured some of each into the correct glass. Empty = invisible.
Quite likely, the Wampanogs and the pilgrims had venison on their festive table. And turkey, the wild birds and not the breast heavy Beltsville broad white we have today. Even if leftovers are a classic aftermath of the Thanksgiving feast, overly generous for two people. Unless you succeed in finding a heritage breed such as Bourbon Red. But even there a hen turkey should weigh in at 14 to 18 pounds at slaughter weight.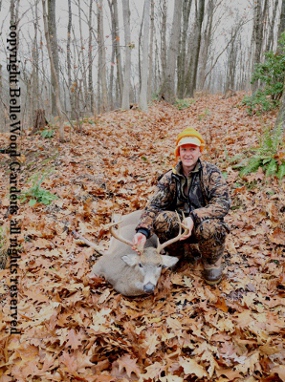 .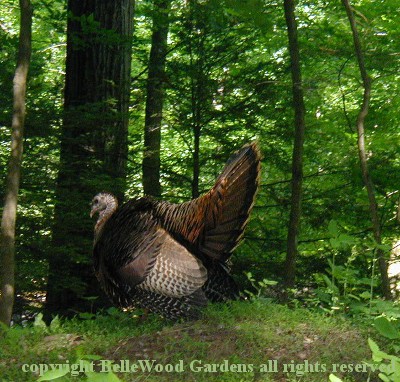 Locavore venison on Creek Road. A wild turkey on Ridge Road.
Chestnuts were a likely item too. The tree was common, making up about half of most eastern hardwood forests. An important food source, the nuts were edible not only by wildlife but also by humans. An accidentally introduced blight, possibly in the late 19th century but definitely by the earliest 20th century, has for all practical purposes eradicated the tree.
Cranberries were used by native population, mentioned
by European immigrants in 17th century documents.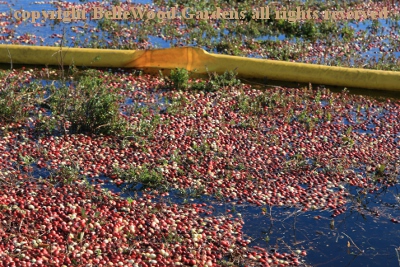 Now commercially produced, even here in New Jersey.
Our menu thus includes several items that harken back to the original meal.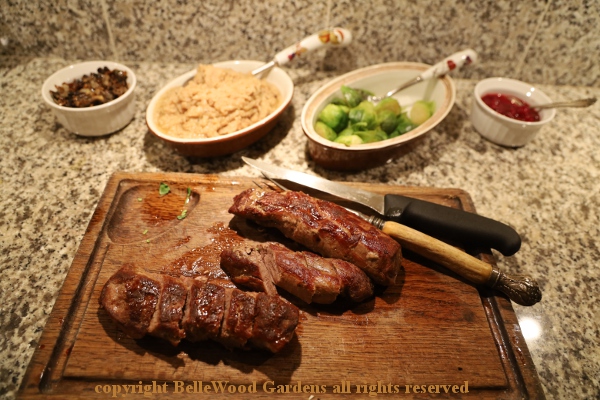 Venison back straps, pan seared then quickly broiled. One just right, the other slightly overdone (venison should be rare, rather pink.). In the back from left to right: finely cut sauteed shallots and mushrooms, chestnut puree (simmered in beef stock with thyme and rosemary, pureed with food mill, ample butter), steamed Brussels sprouts (slightly overdone.) Cranberries simmered with juice and zest of two Navel oranges, soft diced ginger, and sugar.
We dine. We drink. We digest. After which there is dessert.
Which is spelled with two "S" because you can ask for seconds.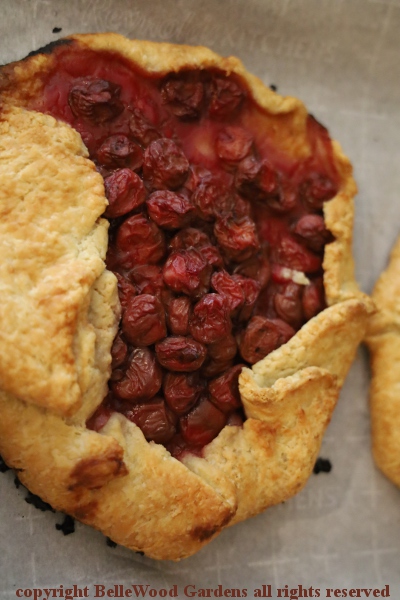 .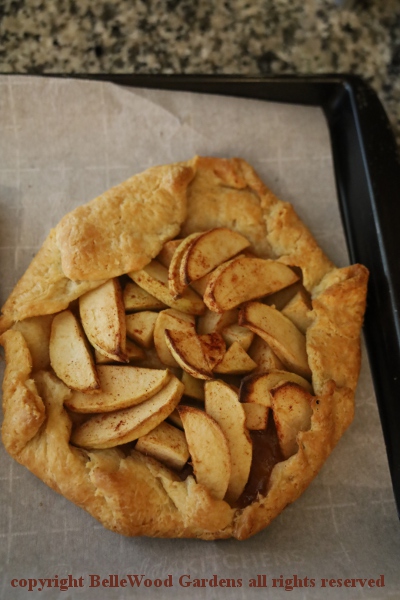 I made two galettes of modest size, having made the cream cheese pastry yesterday.
Rolled out this morning, made one with sour cherry filling, the other with apple filling.
However, yesterday I also made mousse au chocolate, a la Julia Child's recipe.

Something cool and light sounded just right so that's what we had,
with Terrassous Hors d'Age 18 Yrs Rivesaltes Vin Doux Naturel wine.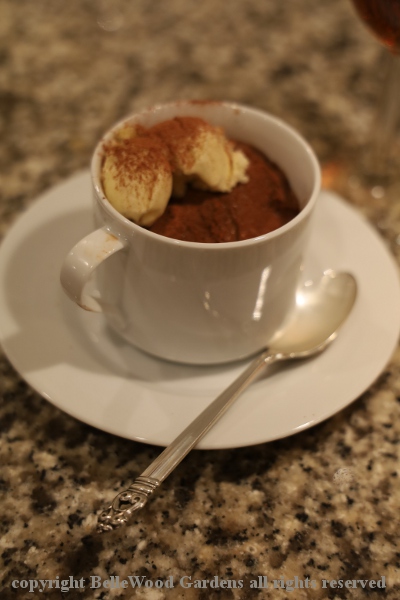 Mousse au chocolate, light and cool, with
vanilla ice cream dusted with a little cocoa.
And this was our Thanksgiving dinner, a deux.
Very pleasant. Even without turkey. Or pumpkin pie.
---
Back to November
---
Back to the main Diary Page