.
Garden Diary - May2021
---
If you have any comments, observations, or questions about what you read here, remember you can always Contact Me
All content included on this site such as text, graphics and images is protected by U.S and international copyright law.
The compilation of all content on this site is the exclusive property of the site copyright holder.
---
May
---
Bird Haven Farm
Saturday, 8 May 2022
---
"Meadow, Water feature, Garden structure/sculpture, Fruit/vegetables, Substantial native plants
"Bird Haven Farm is a celebration of the vision and collector's spirit of Janet Mavec and Wayne Nordberg. The barns, outbuildings, and original nineteenth- century stone house (home of Harriet Stratemeyer Adams, creator of the Nancy Drew mystery stories) have been joined by a contemporary house designed by Smith-Miller + Hawkinson in the 1990s, and more recently by a guest house by Parsons + Fernandez-Casteleiro. The garden master plan was completed in 2002 by Fernando Caruncho, lending visual clarity to the cluster of disparate elements. Hardscaping by Dale Booher added clean lines of strategically placed stone walls, evolving Caruncho's concept of a medieval village and a perfect haven for plants. With an overstory of large mature trees, the 25-acre landscape includes hay meadows, a lush orchard of heirloom apples and other fruit trees, an extensive vegetable and herb garden, and a perennial border designed by Lisa Stamm. Other features include a meandering woodland walk with cascading ponds, a mixed shrub border, a charming pond hut, as well as a grandchildren's maze garden and elf's stump. Requires a lot of walking. Parking across the street in the field."
I have been here before on previous Open Garden Days. However those visits were in September. It will be interesting to see Bird Haven Farm at a different season.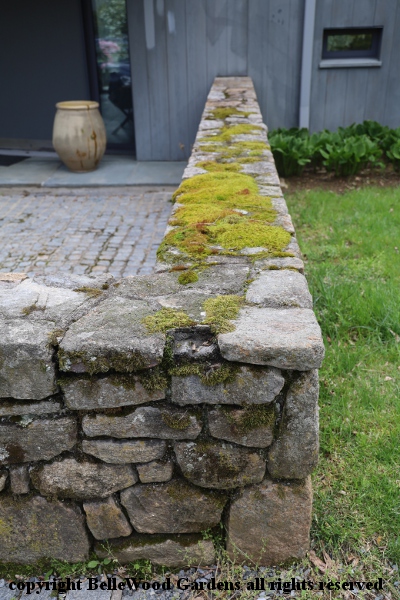 An established garden, with emerald green moss
carpeting the top of a precise, formal stone wall.

The description does say "Garden structures / sculpture" I very much admire
this concrete rabbit harmonizing and blending in with a different stone wall.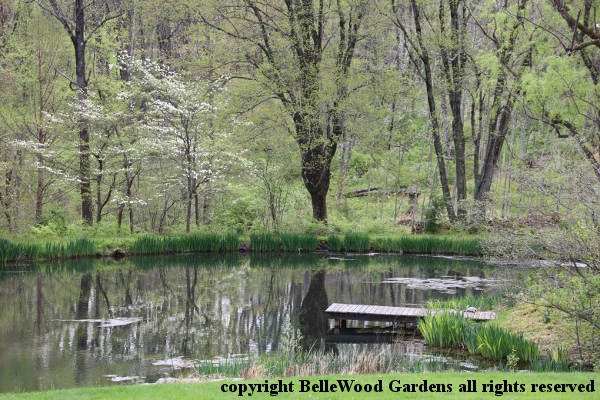 There is a pond, screened with trees in the tender green of spring's new foliage.
Dogwoods offer layered branches of clean white flowers, faintly mirrored in the
water's dark surface. There is a boardwalk, a docklike structure leading out over
the pond. There is also an airy, open garden pavilion. It somehow seems oriental,
Japanese, to me. In summer, cushions on the chaise lounge for ease and comfort.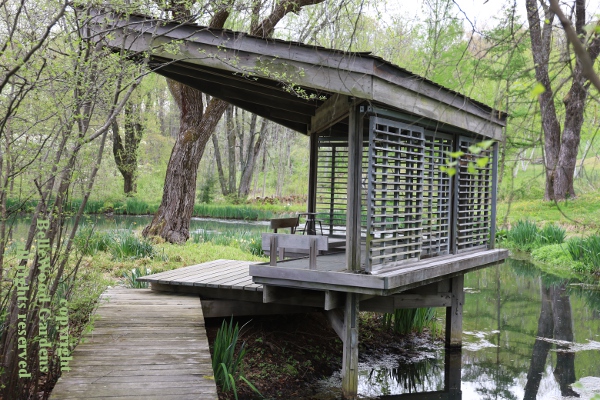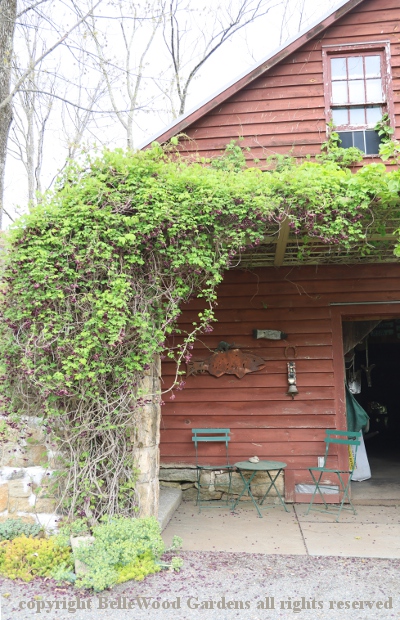 .

A tangled mass of chocolate vine, Akebia quinata. Apparently the fruits,
sometimes described as insipid, are edible. Children in Japan, where akebia is
native, go foraging for the fruits. I should remember and ask Janet - does her
akebia vine bear fruit. If yes, has she eaten any, and lastly, are they any good.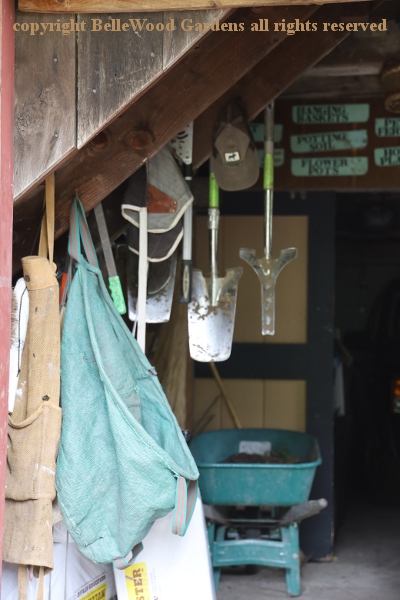 The building which supports the akebia vine is a tool shed.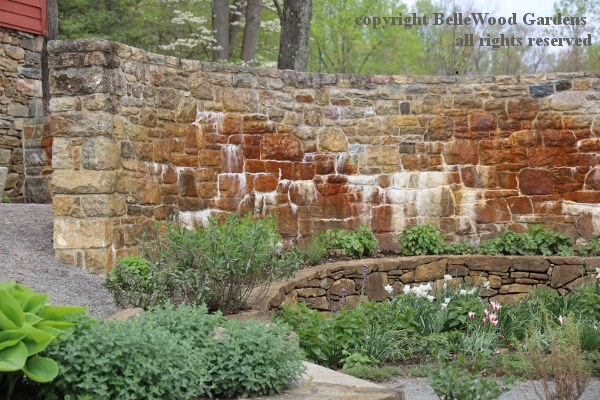 Stone walls rise above ground. Retaining walls support changes in grade.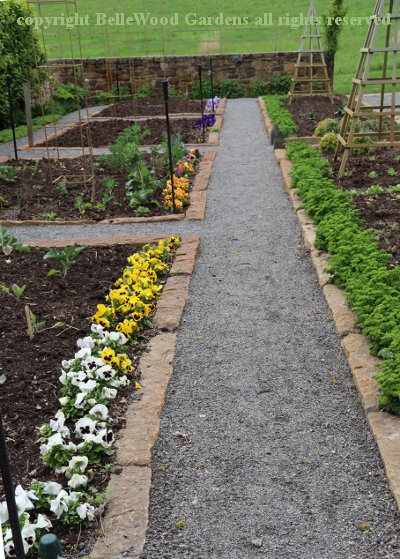 The - let's call it "the lower garden" - has beds for vegetables and flowers.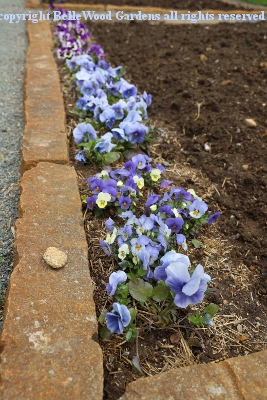 .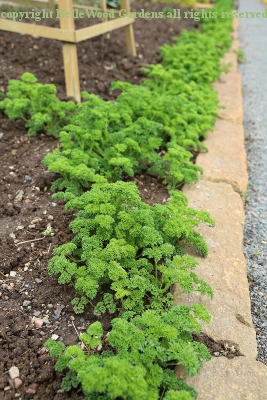 The main path has a rainbow of pansies edging one side, curly parsley on the other.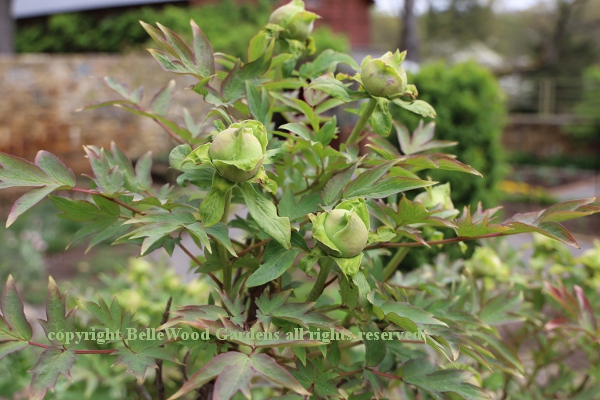 The buds on the indeed tree-like tree peonies (well, quite large shrubs but definitely woody)
offer promise of a magnificent display to come. Janet said they are peachy orange, a color
she would never wear but very much enjoys in the garden. Last year, she told me, they were
just magnificent! Rain held off and the display was gorgeous for two weeks, separating her
hands to indicate how huge the flowers were. In Vermont I saw some herbaceous peonies
protected against a rain spoiled display with umbrellas unfurled over the plants. Hmmm . . .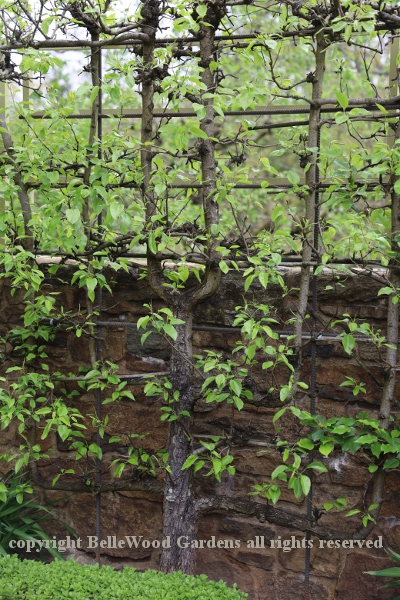 Across from the tree peonies is a row of very well trained espalier pear trees.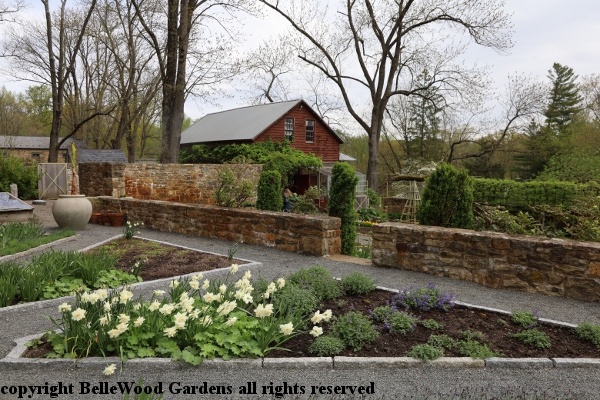 .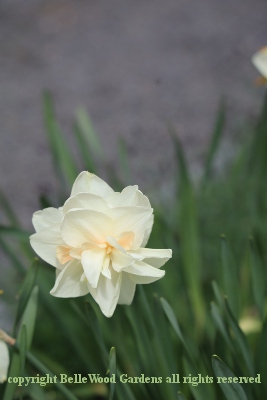 The upper garden has a design of goose foot beds, currently growing daffodils
and herbs. Something feathery / thread leaved is self-sowing in one bed. Could be
comos. Or might be Ammi majus. Time will tell, just need to wait and see.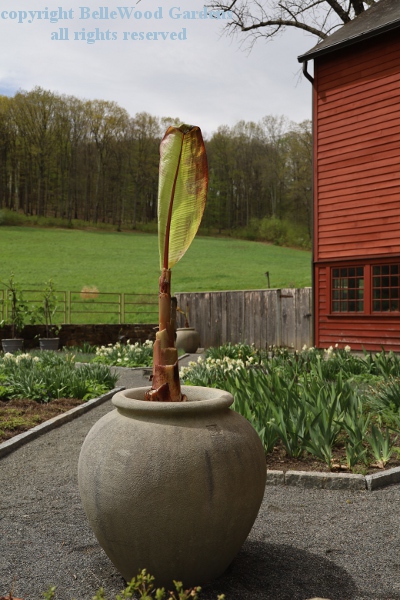 Large belly pots have been brought out of winter storage to the upper garden.
The bananas in them are beginning to unfurl their first lush leaves for summer.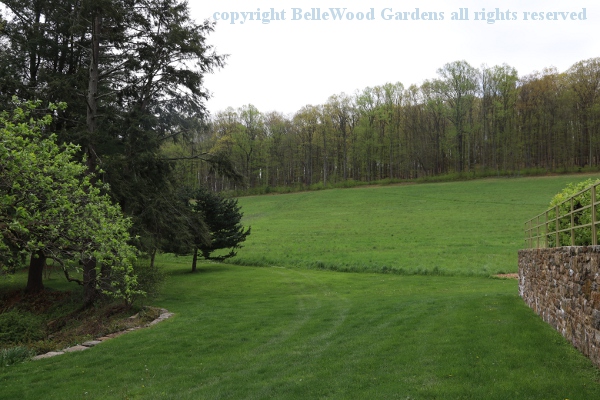 What's the difference between a lawn and a hay field? Mowing, of course.
This is a scant half of what Bird Haven Farm displays. There is the circular reflecting pool with a water jet. The orchard (though Janet says the Iron Mountain peaches are not doing as well as before.) A maze, and more - lilacs for instance. Clearly, whether my visit is in September or in May, it will always be a pleasure.
---
Back to Top
---
Back to May
---
Back to the main Diary Page