.
Garden Diary - November 2022
---
If you have any comments, observations, or questions about what you read here, remember you can always Contact Me
All content included on this site such as text, graphics and images is protected by U.S and international copyright law.
The compilation of all content on this site is the exclusive property of the site copyright holder.
---
November
---
Holiday Train Show at the New York Botanical Gardens
Tuesday, 29 November 2022
---
It's the train show at the New York Botanical Garden that opens the holiday season. Traditions. There are always traditions. Fruitcakes should be baked by the weekend after Thanksgiving, giving them time to absorb their weekly baptisms of brandy. (They're a white fruitcake so the time is adequate. If it were a dark fruitcake I'd need to bake a year in advance.) I no longer put up a tree, but do have holiday decorations also arranged by the weekend after Thanksgiving.
Then there is the New York Botanical Garden's holiday train show. This is the 31st year. That makes it a tradition, for sure. A crew to do all the work, creating incredible buildings from leaves and seeds and bark and more. Setting up trains running on tracks and trestles and bridges. Fabulous. Come see.
The Holiday Train Show opened to the public on Saturday, November 19, 2022, and runs through Monday, January 16, 2023.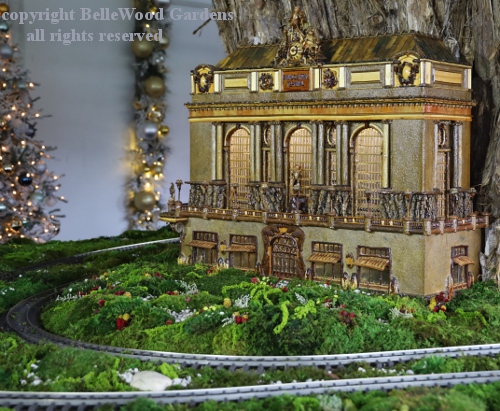 Some buildings, most of them in fact, are replicas based on actual buildings.
A small sign names it, provides address, and if demolished, when. Like this
splendid memorial to Grand Central Station. What could be more appropriate!

A classical building, even details replicated in plant materials. Right of center, in the ferns.
And the New York Public Library is complete with Patience and Fortitude, the library lions.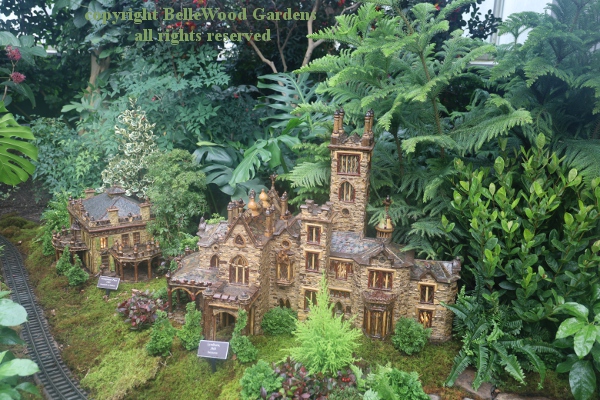 There are, by now, so many buildings that they cannot all be on display in any given year.
Those that do make an appearance have a sense of freshness from placement. Here is
Lyndhurst, a Gothic Revival country house on the Hudson River in Tarrytown, New York.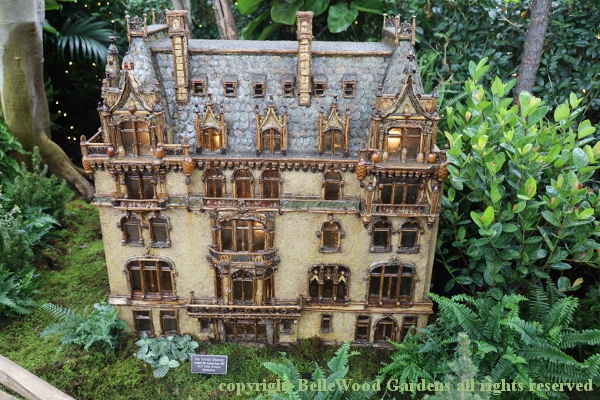 Built in 1909 in the châteauesque style as the private residence of Felix Warburg,
this elegant building at 1109 Fifth Avenue, Manhattan, is today the Jewish Museum.

From the Chrysler building to St Patrick's cathedral, skyscrapers surrounded by greenery.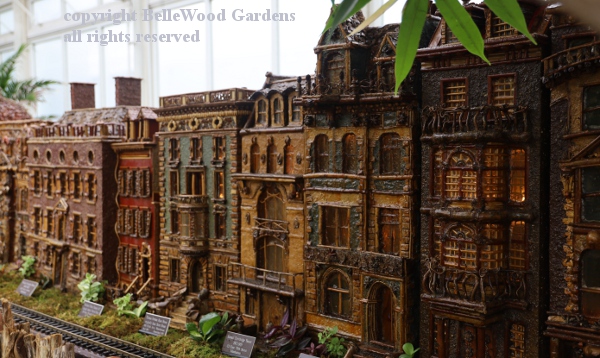 Built individually, displayed wall to wall, a streetscape of brownstone row houses.

The iconic Angel of the Waters, complete down to miniature lily pads.
Visit Central Park to see the actual, 1893 fountain at Bethesda Terrace.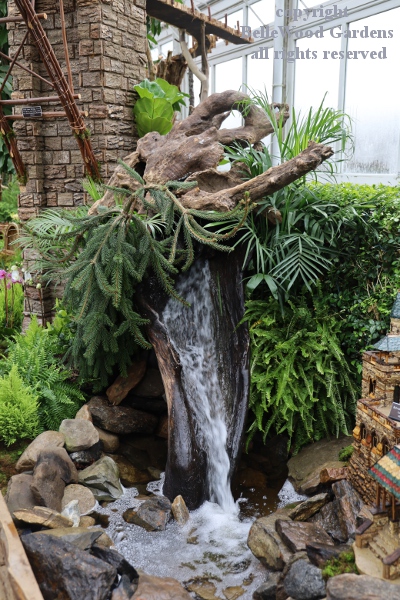 There's a waterfall. It is near one of the big bridges, water splashing down into a pool.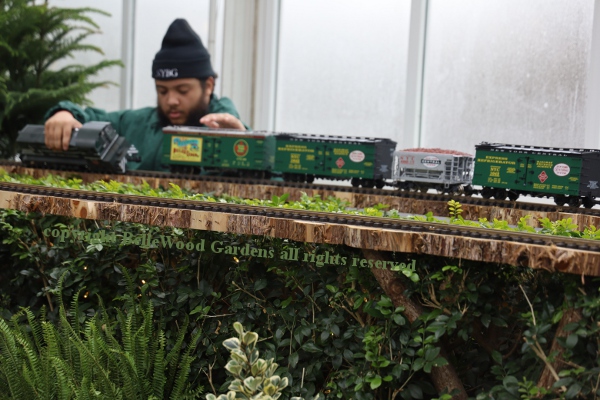 There's crew working getting the trains back on track, keeping them running smoothly.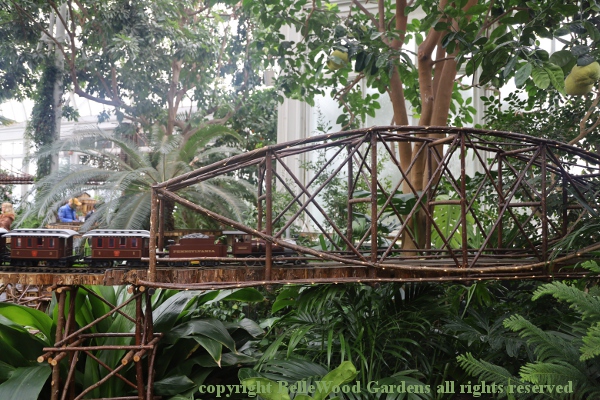 And all the while there are trains running on tracks set among the greenery
of the Enid Haupt Conservatory, over bridges that add to the enchantment.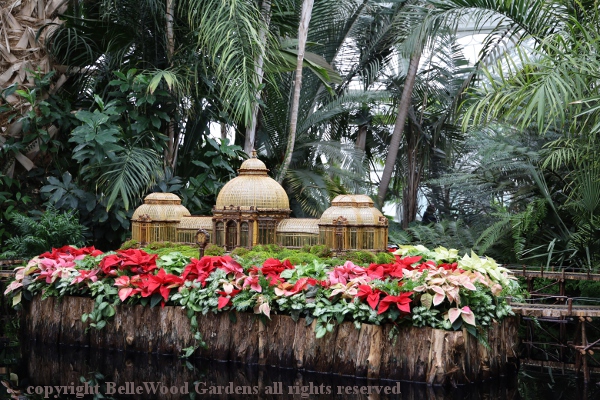 There is even a replica of the conservatory, precisely recreating the Palm Court dome.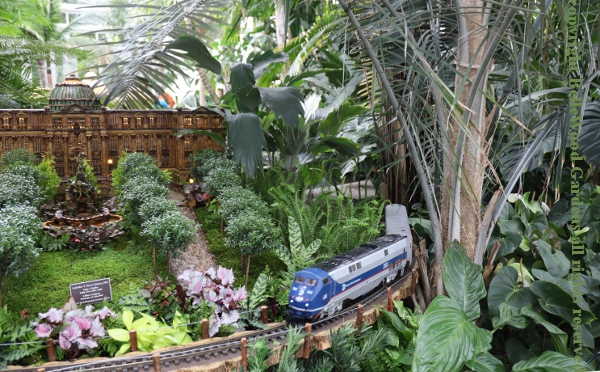 It's not the only NYBG building in the train show - here's the LuEsther T. Mertz library,
complete with seahorse fountain. In reality, Metro-North goes by outside the grounds.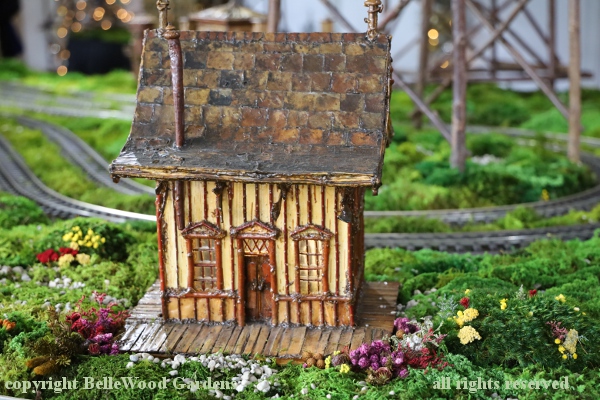 A rustic train station, imaginatively designed. Perhaps, when visitors are gone
and the lights are out, might the elves and fairies gather for a ride on the trains.

They would enjoy living in this charming rustic house with a vine scrambling up and over.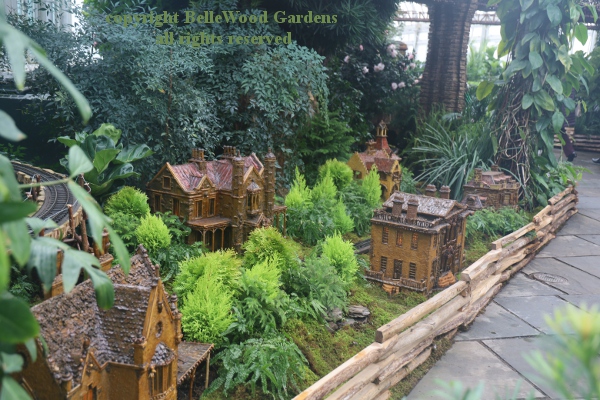 Or perhaps they might live in this village of buildings scattered amidst the greenery.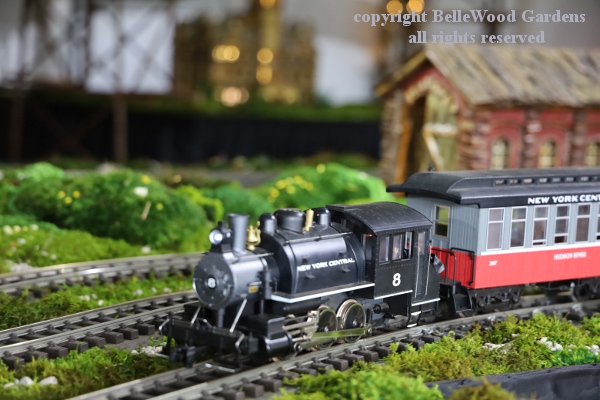 New York Central goes chugging by, its engine pulling a string of three passenger cars.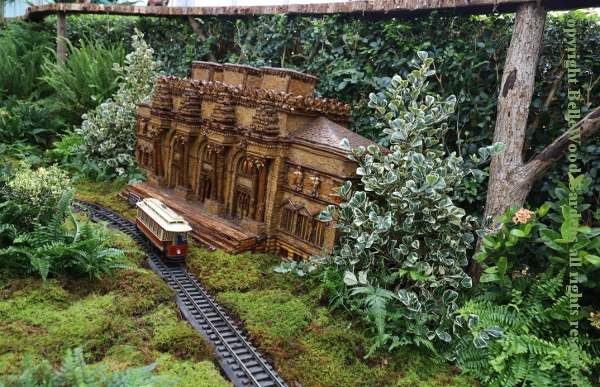 Or a trolley, hop on / hop off, as it trundles along the tracks that take it from here to there.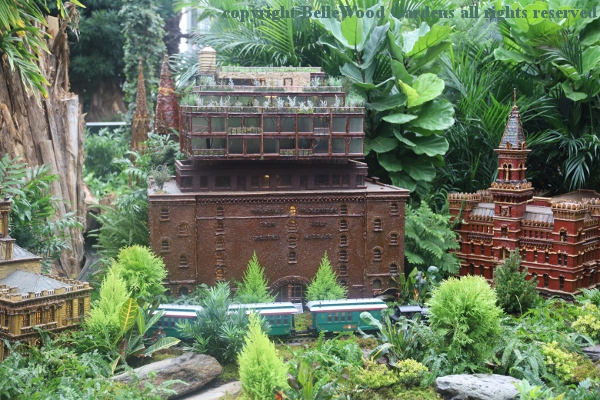 A warehouse like a staid brown block that I first saw - was it last year? This year has
apartments, multiple layers, with balconies and window boxes stacked up above it.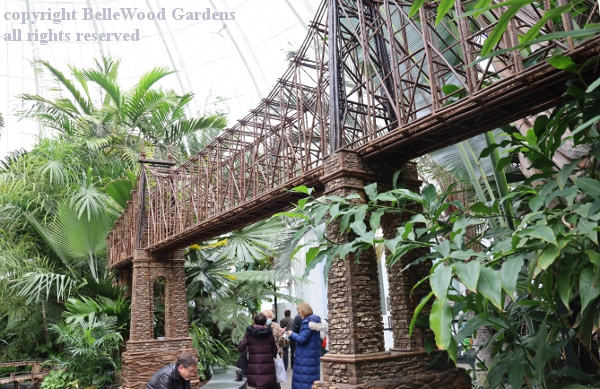 The Palm Court has a huge bridge traversing the space, well over visitors heads.
As well as the train show in the long linear tent and the Enid Haupt conservatory there is GLOW, which is lovely in the daytime and illuminated after dark.

All Aboard! You'll be so glad you came. Bring family and friends,
young and old, to the train show. It will surely become a tradition.
---
Back to November
---
Back to the main Diary Page