.
Garden Diary - March 2021
---
If you have any comments, observations, or questions about what you read here, remember you can always Contact Me
All content included on this site such as text, graphics and images is protected by U.S and international copyright law.
The compilation of all content on this site is the exclusive property of the site copyright holder.
---
March
---
Year of the Hyacinth
Tuesday, 16 March 2021
---
An recent email from the National Garden Bureau mentioned that 2021 is the Year of the Hyacinth. While it's true that hyacinths are not here in my garden just yet - there's still some snow left in the shady places - I have many fond memories of these deliciously fragrant, easily cultivated, ignored by deer, deservedly popular bulbs.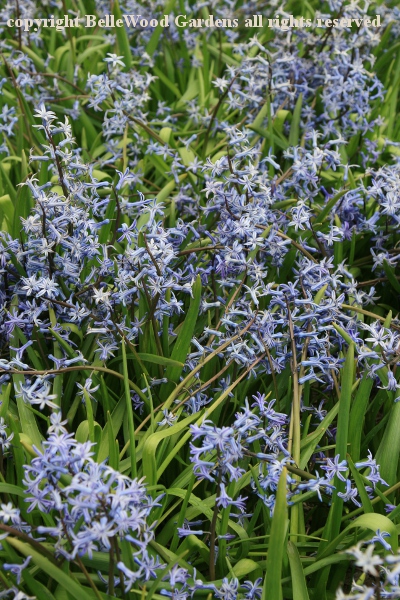 Hyacinthus orientalis, the species from which our garden cultivars
were developed, is rather different from what we grow today.
The blue flowers are carried in a loose raceme. But oh so fragrant.
It is interesting to me that from the original pale to deeper blue and white flowers of the true species there have been developed a positive rainbow of colors - not only the to be expected variations: cobalt to pale blue and white , but also shades and tones of red: deep purple and wine red, violet, lavender, pink, rose, and even apricot, yellow and cream. The only other flower I am aware of that offers such divers hues is Iris, named for the goddess of the rainbow.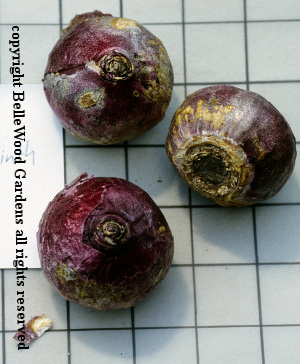 .

Bulbs also indicate their flower's color. Blue, violet, red have a red-violet papery tunic
while those bulbs that will have white or yellow flowers have a white outer tunic.
Native to central and southern Turkey, northwestern Syria, and Lebanon, it was 1562 when hyacinths received their first European mention. By the 18th century Dutch growers offered more than 2,000 named cultivars. Today, there are less than 50 cultivars in commercial production. Heirloom varieties of hyacinths and other spring blooming bulbs may be seen at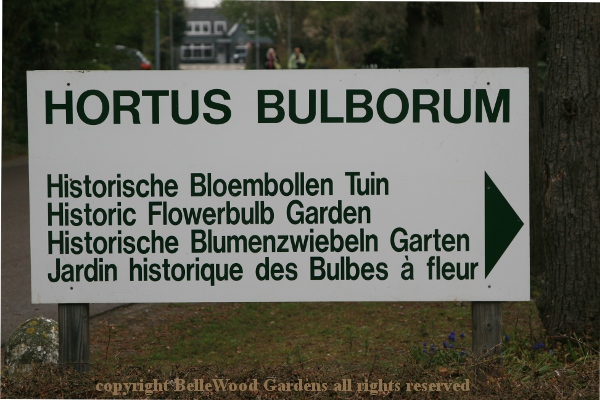 the Hortus Bulborum, a historic flower bulb garden in Limmen, The Netherlands.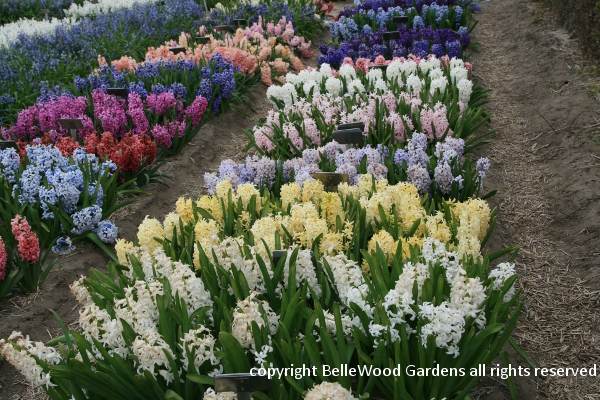 There were marvellous hyacinths in flower when I was there in April 2012.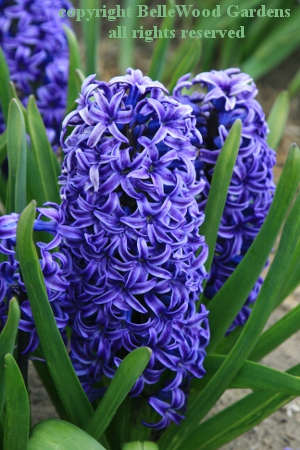 .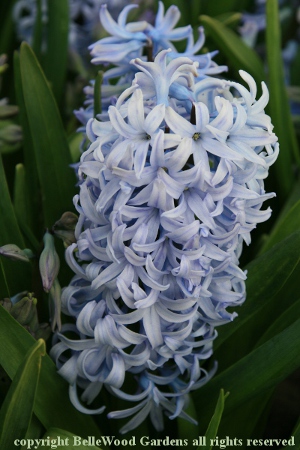 On the left, rich blue 'Dynasty', quite modern, introduced this century, in 2008.
On the right, pale cambridge blue 'Queen of the Blues', introduced in 1878.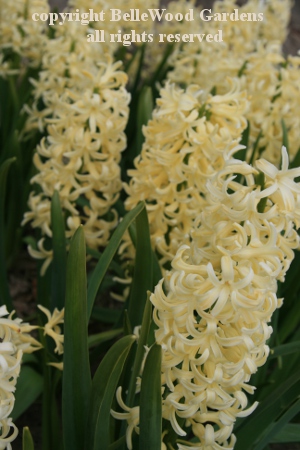 .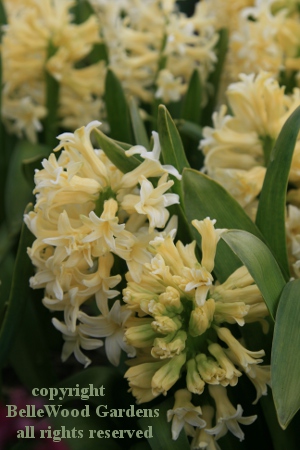 On the left, sunny pale yellow 'Hestia', introduced in 1983.
On the right, 100 years older 'Yellow Hammer', introduced in1883.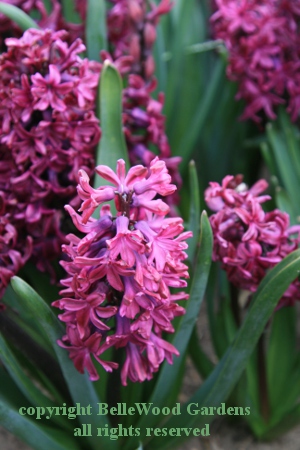 One of my favorites, wine pink 'Woodstock', introduced in 1992.
If you want to grow heirloom bulbs in your own garden there is no better source than Old House Gardens in Ann Arbor, Michigan. Devoted entirely to heirloom bulbs, some of their offerings may be limited in availability and not everything is offered every year. They also have a wonderfully informative, chatty newsletter a few times a year.
Even more traditional, having been celebrated for centuries, is the use of hyacinths to welcome in Nowruz, the Persian / Iranian new year, held at the time of the spring equinox. The fragrant flowers are one of the seven haft-seen on a sofreh, an arrangement of seven symbolic items arranged on a table.
Hyacinths began their European odyssey in the 1600s, becoming extremely popular in Europe in the late 17th century and early 18th century. There was even a true hyacinth mania in the 1720s and 1730s, to mirror that of the Tulip Mania of 100 years earlier. It started in France when Madame de Pompadour, the royal mistress of the French king Louis XV, decided to plant hyacinths in the gardens of the palace in Versailles. The elite society followed this 'new fashion' and there you are, the hyacinth-mania was born. She also had hyacinths grown grown indoors "on glasses" with 200 being on display in 1759. What's "on glass"? It's like this.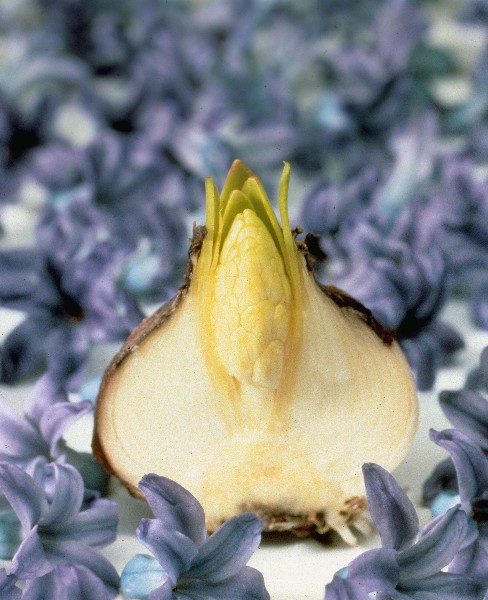 Hyacinths are a true bulb. And inside a mature bulb is a flower bud.

Potted up, given 10 weeks of chilling, and the bulbs can flower
indoors, coaxed into bloom well before they flower in a garden.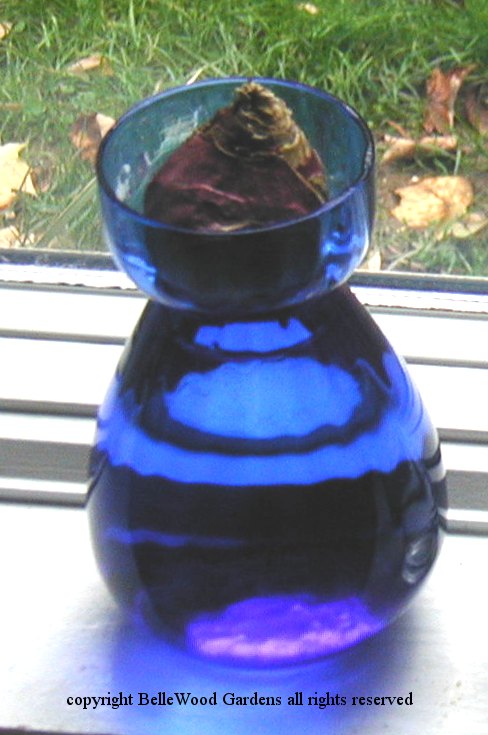 In fact, since the flower bud is contained within the bulb which
also has food reserves, it can be as simple as "just add water."
George Voorhelm, in his 'Traité sur la jacinthe'
(second edition 1762) also offered how to grow advice

including this picture of double hyacinths forced on a glass vase.
All in the family, apparently. It was his grandfather, Peter Voorhelm,
who was working on double flowered hyacinths much earlier, in 1684.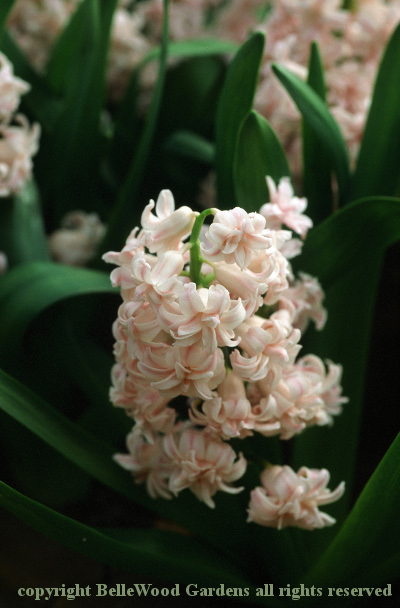 Still available at Old House Gardens is pale pink
'Chestnut Flower', introduced in 1880.
.
Although they are not native, hyacinths are often referred to as "Dutch hyacinths" as the country is their major producer and exporter (along with tulips and daffodils and sundry other bulbs.)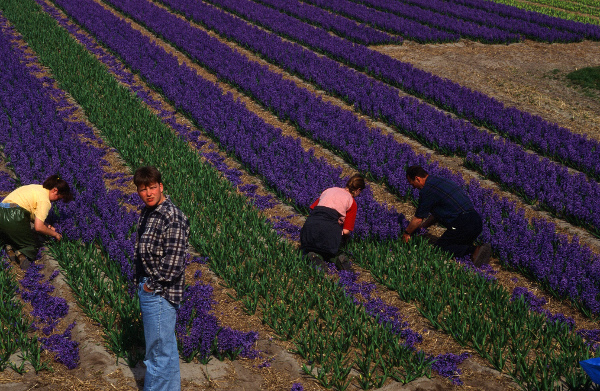 Field grown, as they flower the bulbs are dis-budded so energy goes into the bulb,
ensuring the best flowers in the following spring. What about the cut off blooms?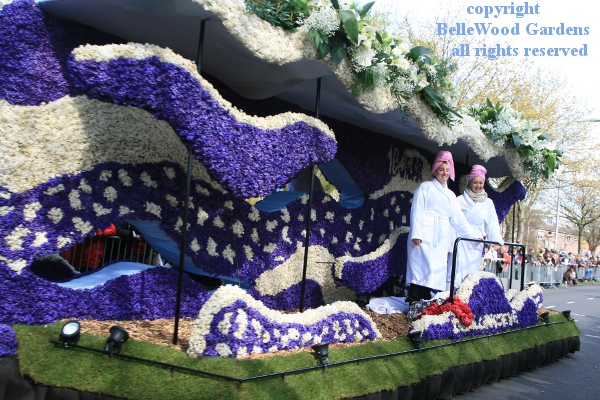 The Bloemencorso Bollenstreek, of course, the late April flower parade that begins
on a Saturday in Noordwijk and ends in the city of Haarlem the day after. Floats, also
cars, trucks, and bicycles, are decorated with hyacinths, tulips, daffodils, and more.
The Bloemencorso is closely linked to the spring flower exhibition at Keukenhof.
Every year, millions of flower bulbs are planted, every year different designs.


This marvellous repeating archway of hyacinths is from my first visit in 1973.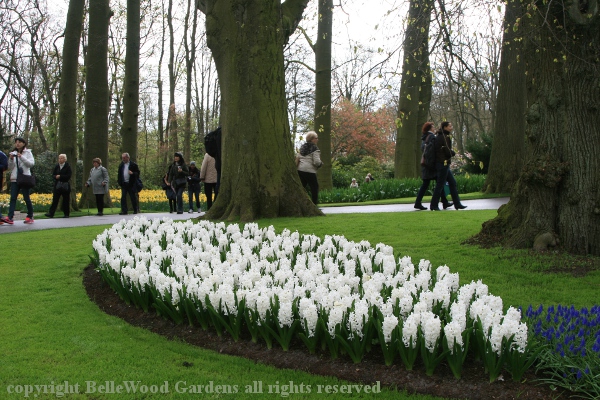 In 2012, I saw crisp white hyacinths glow against the green grass, under gray skies.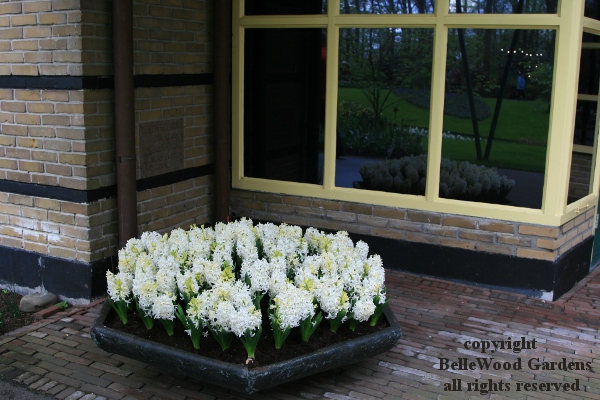 Elsewhere at Keukenhof, a densely filled shallow planter brightens a brick terrace.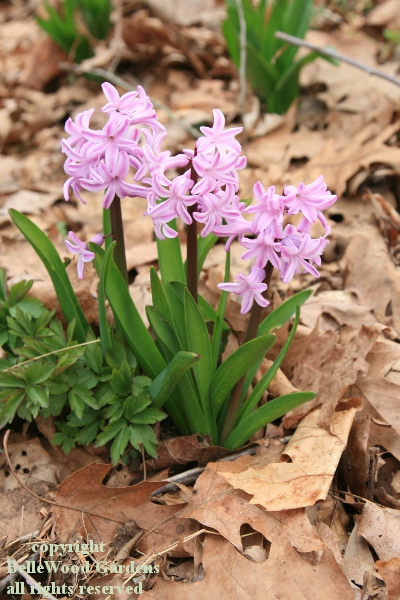 Plant hyacinths in groups of five or more. Choose a site in full sun to light shade. Good drainage is important as hyacinths don't like wet feet. Do plant the hyacinths near a path, then you can enjoy their sweet fragrance as you pass by. For companions, choose among early tulips and mid- to late season daffodils which will be flowering together with the hyacinths.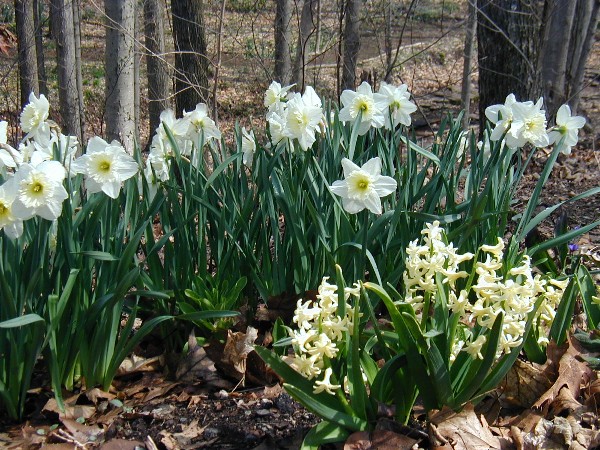 Advice I not only offer, but follow, here at BelleWood Gardens.
---
Back to Top
---
Back to March
---
Back to the main Diary Page