.
Garden Diary - September 2021
---
If you have any comments, observations, or questions about what you read here, remember you can always Contact Me
All content included on this site such as text, graphics and images is protected by U.S and international copyright law.
The compilation of all content on this site is the exclusive property of the site copyright holder.
---
September
---
Open Day Garden Visit to Hay Honey Farm
Saturday, 18 September 2021
One of the last gardens to visit this year, of the Garden Conservancy's Open Days program, wherein private gardens are opened to visitors. Just a day here or a day there for each garden, I hasten to add. I had been hoping for decent weather today, and this time my wish was granted. Down an unpaved road, turn right into a field and drive along a track through a once-upon-a-time pasture for black Angus cattle. Park along a line of earlier arriving cars, then a short walk.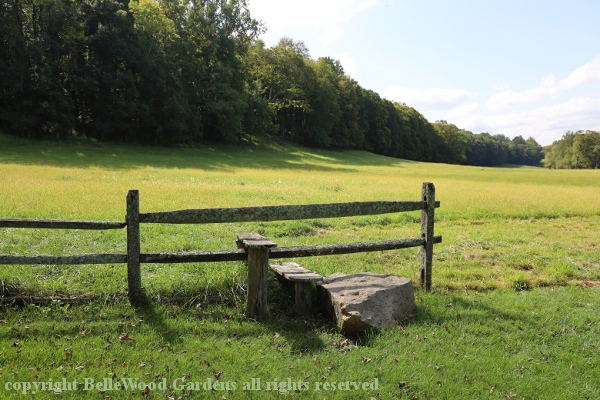 When it was in use for livestock there was a stile, a means by which a person
can pass over a fence that remains a barrier to livestock. No need to clamber
over, today. The rails for a section of fence were removed for easy transition.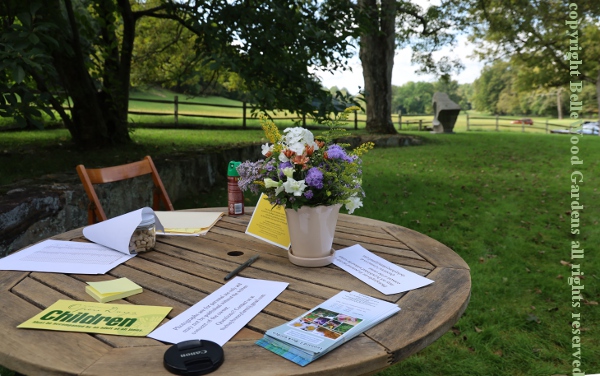 A welcome table for visitors, complete with checklist - pre-registration is required.
Today there are circa a hundred. A map of the multiple acres of garden is provided.
So spacious and open for 6 hours, 10:00 a.m. to 4:00 p.m., it is not crowded at all.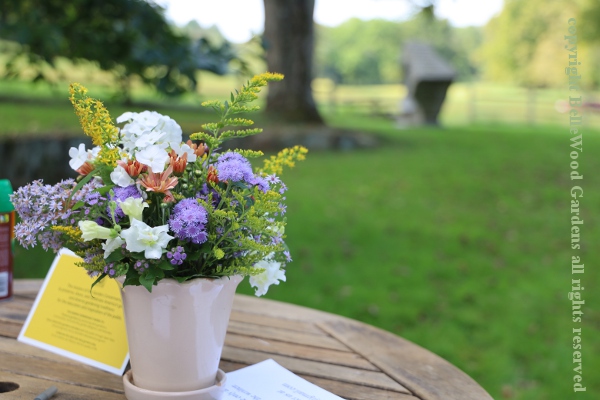 It's not like you need hiking shoes and a compass. There are lovely plantings in reasonable proximity to where we enter. Shall we stroll? and admire a meadow of tall native perennials, a vegetable garden, a marvelous sweep of perennial garden backed by a stone retaining wall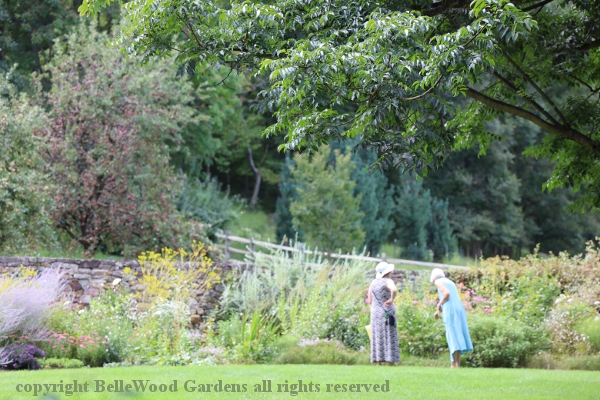 which these two visitors are admiring. The purple haze to the left is, I believe,
Russian sage, Perovskia atriplicifolia. And the yellow is Patrinia scabiosifolia.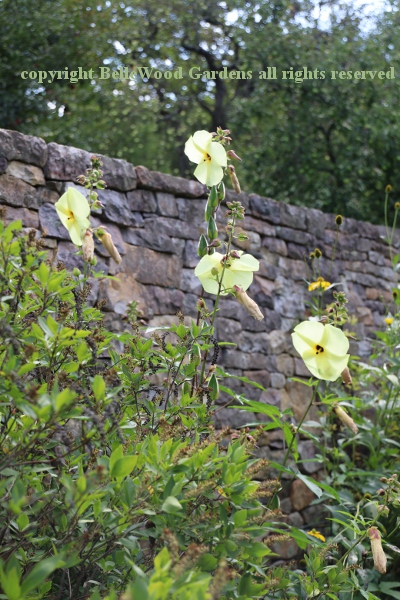 .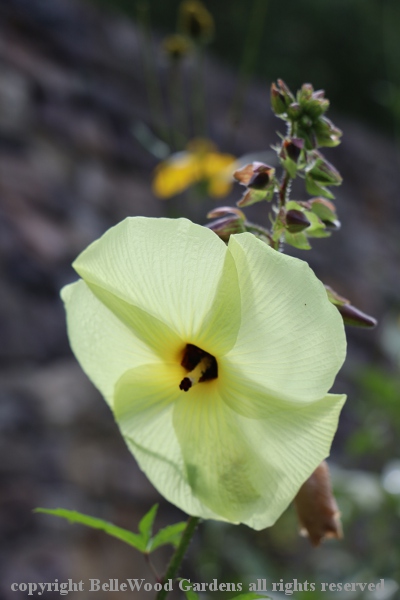 My attention is caught by musk mallow, Abelmoschus moschatus, a tender perennial
that can be grown as an annual. Love the pale yellow moon flowers with a dark eye.
The stone backdrop to the flower garden is not the only
appearance of earth's bones in the garden. Here it makes


an edging both attractive and functional. It frames the bed,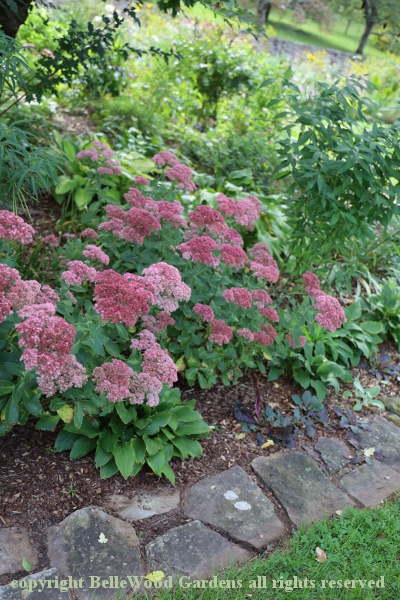 and is also a convenient way to trim the grass when mowing.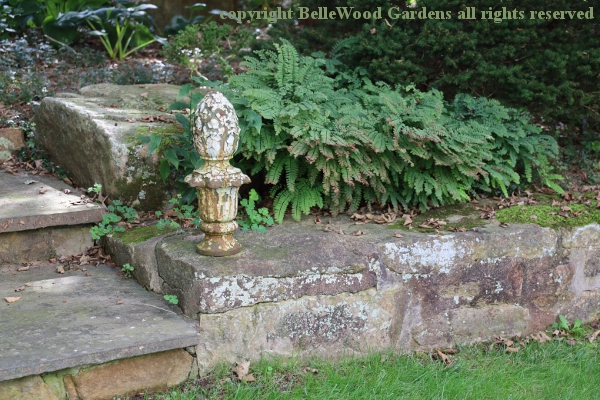 A low wall, a few stone steps. Lacy patch of maidenhair fern, Adiantum pedatum,
embellished with a metal pineapple finial, pineapples being a sign of hospitality.

A pretty combination near the greenhouse - a begonia with gloriosa lily.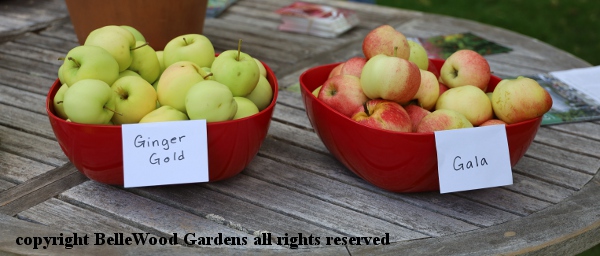 Open Day visitors are made very welcome. A table set in the shade has a large water dispenser with sliced lemons and limes and a block of ice. A refreshing drink on one of summer's last few days. As well, there are early apples from the Hay Honey Farm orchard for us to sample.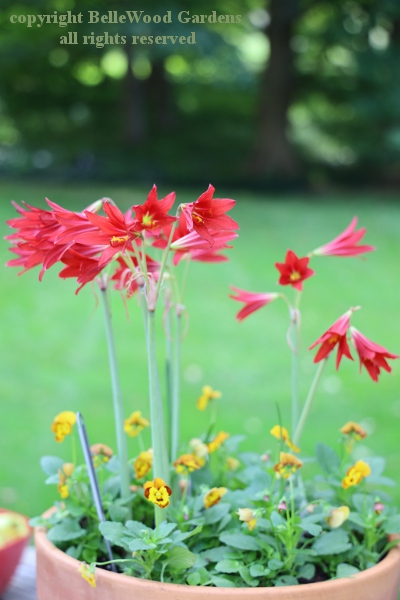 The apples might be considered decorative as well as tasty. As well,
here's a pot of oxblood lilies, Rhodophiala bifida, their individual
deep pots disguised in a cache pot with pansies to hide the mulch.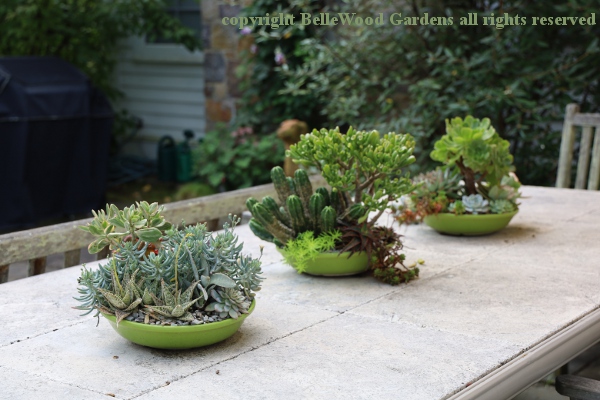 A different table on a terrace has several pots, each with a different diversity of succulents.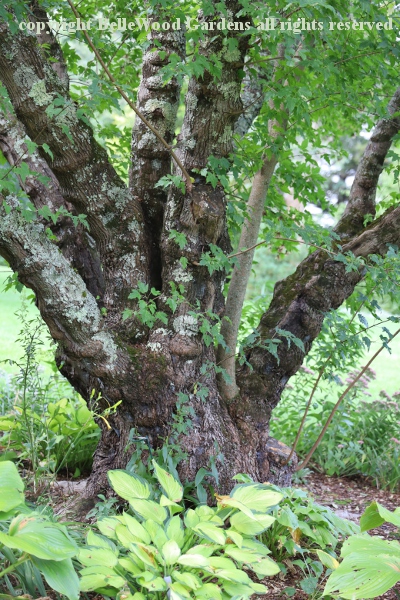 A venerable multi-trunk tree, looking like something from Lord of the Rings.

Trees make shade. Shade loving plants thrive. Here, golden hosta brighten
the dark green of epimedium, a pleasing contrast of both color and texture.

A path leading onward to . . . It's a loop so you won't become lost. In spring
there are rhododendrons and azaleas. Now, there are dendrological splendors
such as a massive fern leaved beech, planted 30 years ago (when it had a 6 foot
root ball.) All of the Garden Conservancy Open Days are well worth visiting. But
you should mark your calendar and make time for a visit for Hay Honey Farm.
---
Gratis entry to Hay Honey Farm was provided by the Garden Conservancy.
---
Back to Top
---
Back to September
---
Back to the main Diary Page