.
Garden Diary - December 2021
---
If you have any comments, observations, or questions about what you read here, remember you can always Contact Me
All content included on this site such as text, graphics and images is protected by U.S and international copyright law.
The compilation of all content on this site is the exclusive property of the site copyright holder.
---
December
---
Holiday Train Show at the New York Botanical Garden
Monday, 26 December 2021
---
It's supposed to be the most wonderful time of the year. This year - maybe not so much. The Omicron variant makes holiday shopping and airplane travel even more of a nightmare.
What can be done to improve your spirits? For everyone in the New York Metro area it's simple. Go to the New York Botanical Garden and make a visit to the holiday train show. It will bring a smile to your face and restore your sense of wonder. Suitable for visitors of all ages. Something that's excellent for that after Christmas / New Year what to do when schools are on vacation, grandparents and parents have children to entertain, and we all need a sense of wonder. The holiday train show is on display through Sunday, January 23, 2022. Come on, all aboard!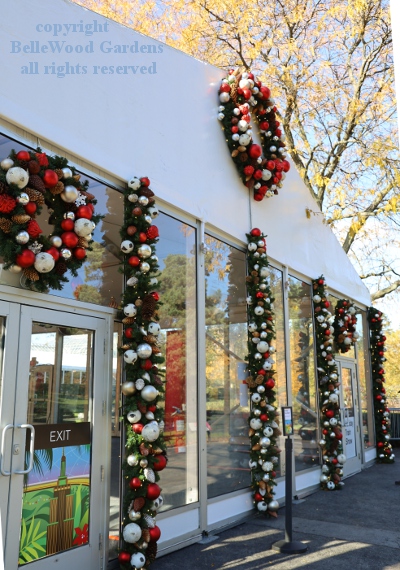 Outside the Enid Haupt Conservatory, where a huge tent covers the plaza and the stairs.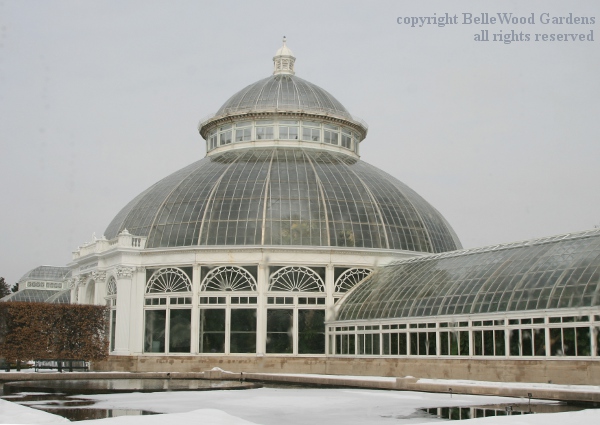 This was back in 2015 when there was rather cold weather. And snow.

Zoom overhead with a drone and glimpse the central palm court dome and the various galleries where tropical plants, desert plants, all sorts of plants can grow with the carefully adjusted temperature, humidity, watering regime and attentive care that enables them to thrive.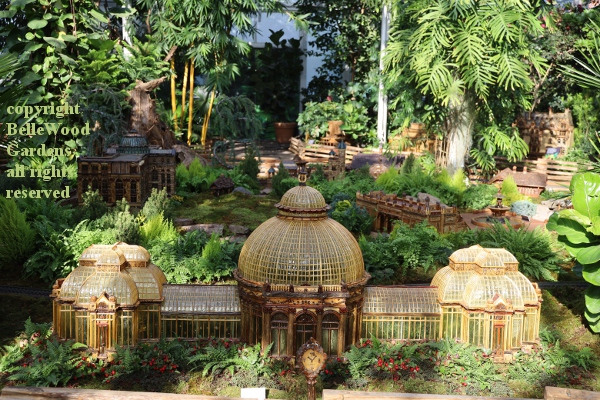 But what's really fantastic at the holiday train show is to be inside the conservatory
and see the model of the stately conservatory building. Symmetry in terms of scale.

There are brownstone row houses, their "stonework" made from tree bark,
leaves and lichens, two part epoxy serves as window glass. Each has a sign
identifying the original buildings location. And, there's a trolley for travellers.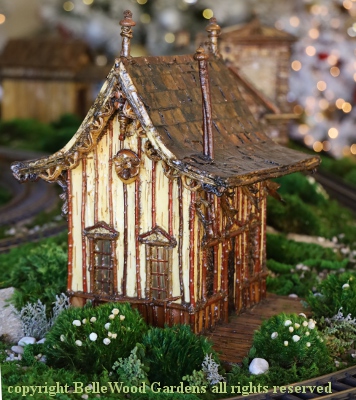 The closer we look, the more intricate the details, even on the smallest cottage
or a train station. Little twigs become supporting pillars, not composted debris.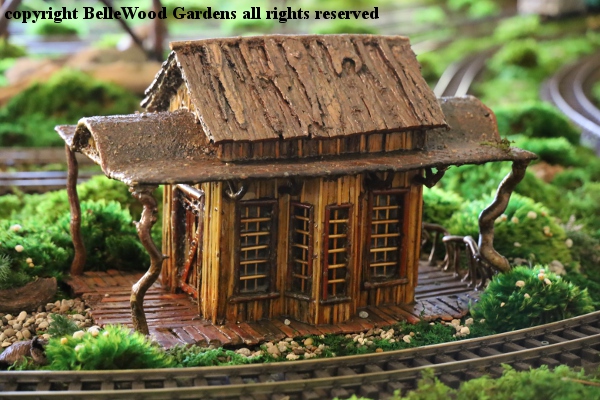 And what would a train show be without trains. These G scale engines chug along on
their various tracks, busily carrying both freight and passengers on the different routes.


Some are visible throughout their travels, others surprise as they emerge from shrubbery.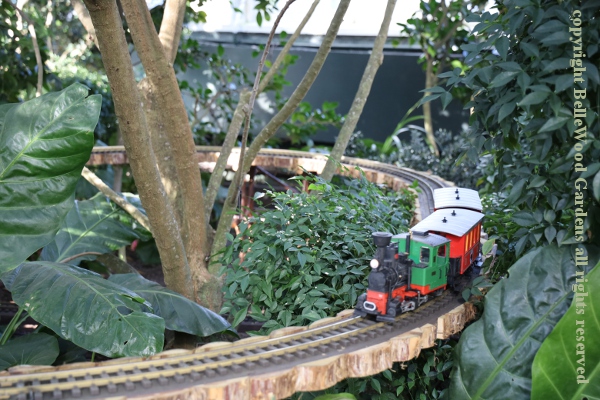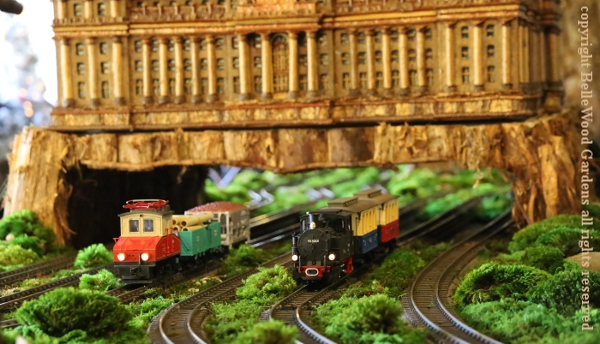 Built in 1910 and, alas, demolished in 1964, Penn Station occupied two city blocks (which is approximately 8 acres.) This model of Penn Station is one of the largest buildings in the Holiday Train Show, with a footprint of 20 square feet.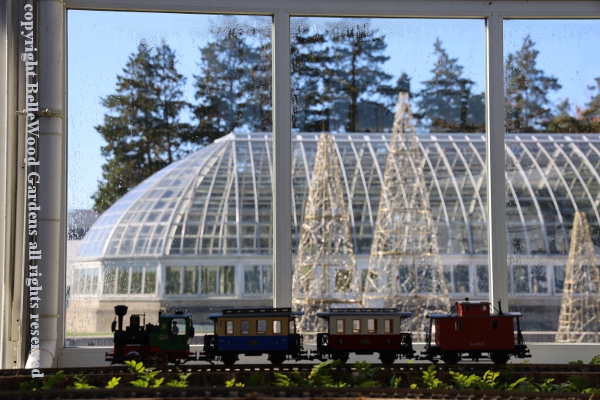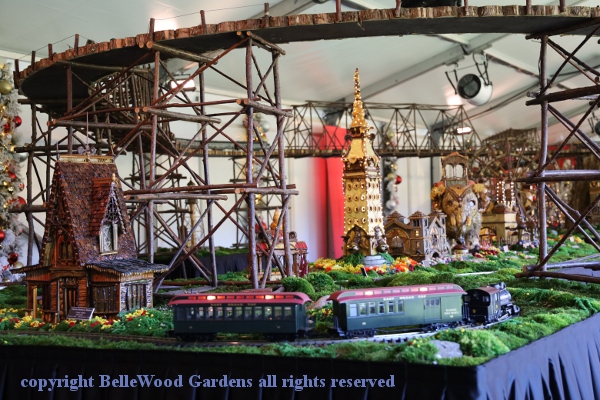 Trains and tracks, overhead bridges, buildings . . . and magic at the holiday train show.
All aboard!
The New York Botanical Garden is generally open from 10 a.m. to 6 p.m., Tuesday to Sunday. The Holiday Train Show takes place in the Enid A. Haupt Conservatory, which is accessed with timed entry tickets. Plan your visit
Although these tickets are sold in 15-minute increments, you may spend as much time enjoying the exhibition as you wish. Advanced purchase of timed-entry tickets are suggested to guarantee admission; tickets do sell out.
Valid proof of COVID-19 vaccination for visitors over the age of 5 is required for entry to indoor exhibition spaces and facilities Visitors ages 12 and older must show proof of a full vaccine regimen. Those 5-11 need only show proof of a first dose. All visitors are required to wear face coverings indoors.
Casual dining is found at the Pine Tree Cafe. The menu offers artisanal panini, which can be heated if you like. Neapolitan-style individual size pizza are made to order. Also salads, sweet treats and snacks, barista coffee, personally sized bottled beverages.
---
Back to Top
---
Back to December
---
Back to the main Diary Page