.
Garden Diary - November 2021
---
If you have any comments, observations, or questions about what you read here, remember you can always Contact Me
All content included on this site such as text, graphics and images is protected by U.S and international copyright law.
The compilation of all content on this site is the exclusive property of the site copyright holder.
---
November
---
Making Cider at Howell Living History Farm
Saturday, 6 November 2021
---
I've written of happenings at Howell Living History Farm in Mercer County before. Many are regular events that occur on an annual basis. And today's cider making is a popular one. It is so nice to be back on the farm. Because we will be outdoors masks are optional for those who have been vaccinated for covid-19. Not that visitors are asked for proof. One change is that people are asked to sign in on an attendance sheet. And then stroll up to the farmhouse for today's activities. Let's go! But first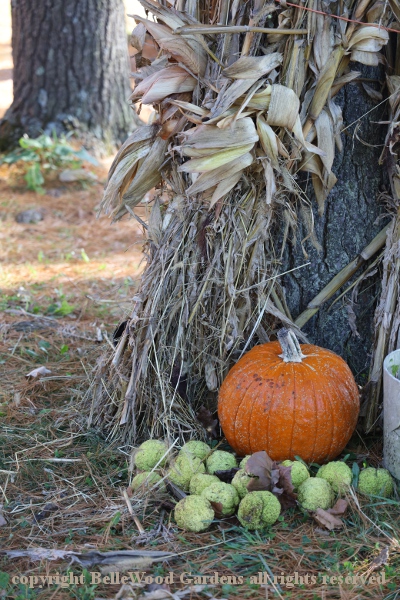 admire the cornstalks, pumpkin, and osage oranges
placed against a pine tree as seasonal decoration.

But first, take a look at the cobs of dry yellow dent corn piled up in crates.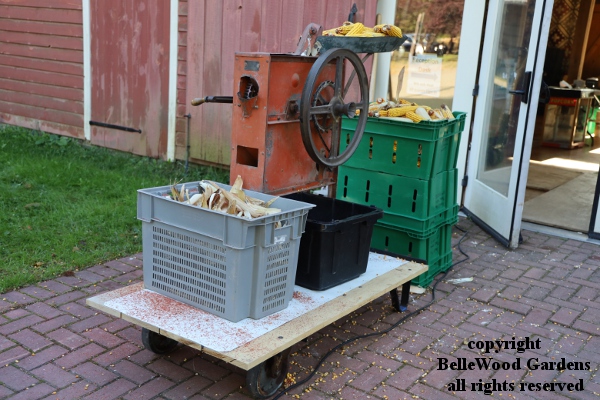 They'll be run through the hand cranked corn sheller. Corn drops down into
the black bin while cobs and husks spit out into the gray bin in front. Neat.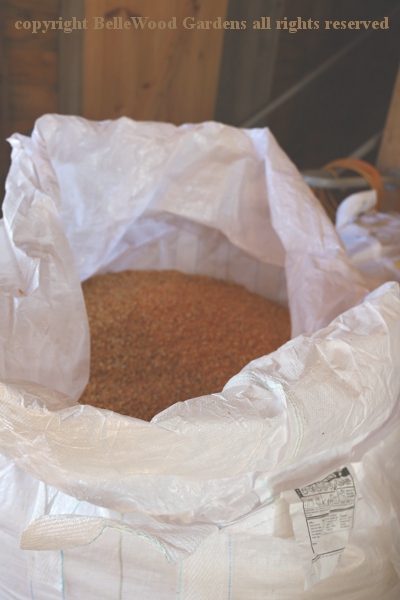 And here's a bag with 800 pounds of shelled corn. It's next to another bag
with 1,000 pounds of corn. They'll go to a mill in Pennsylvania to be turned
into cornmeal. What then? It will be donated to food banks in Mercer County.
It's like this. Howell Living History Farm is a county park. Maintained in a time warp, operating as would have been done in the period 1890 to 1910. There were major disruptions when visitation was halted due to covid-19. Crops still must be planted, weeded, harvested. The work produced crops that were donated to local food banks and pantries: wheat flour, cornmeal, oatmeal, (all in 2 pound bags), fresh eggs, the yield from a half-acre of potatoes, other vegetables. The donations come with recipe cards for making bread, pancakes and muffins. The oatmeal includes instructions for cooking oatmeal as well as for making oat milk.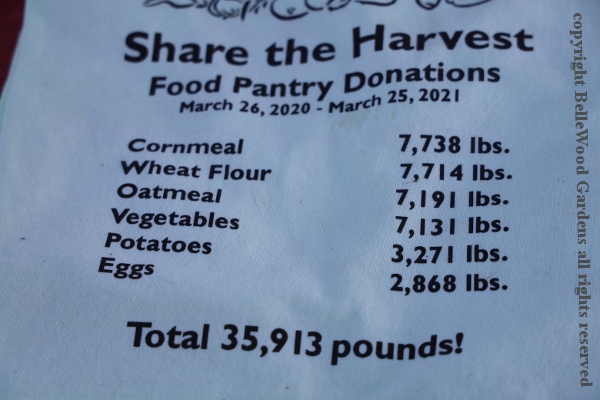 Share the harvest. Numerous families benefitted from the crops.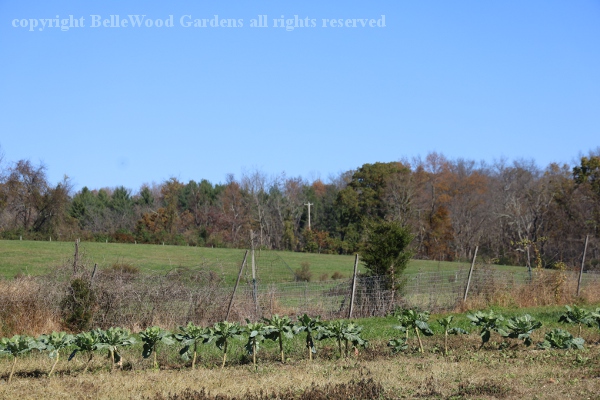 Ground for a "market garden" was tilled up in late April, to grow beans, collards, cabbages
and more. Now it's November. These, I think, are Brussels sprouts. Cole crops are cold hardy.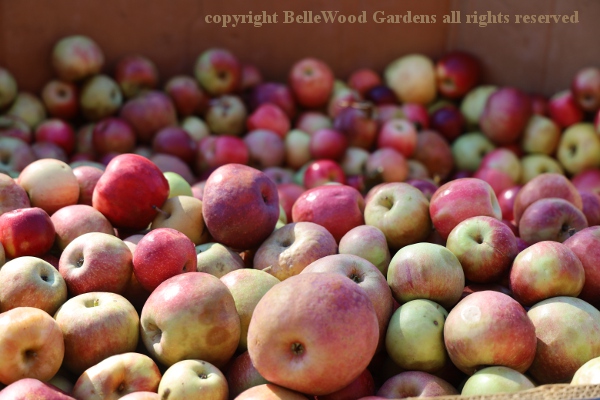 Now back to today's cider making. Apples from Terhune Orchards,
a mixture of four different kinds of apples. Blend makes better cider.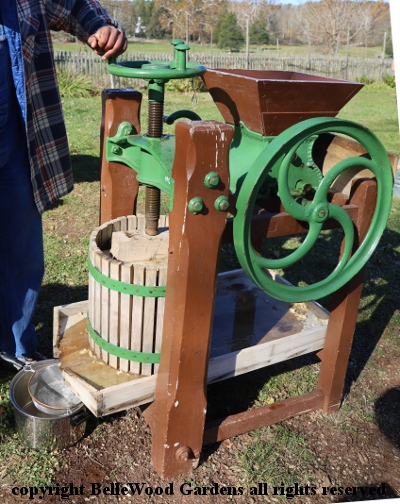 Apples are placed in the hopper of a cider mill and crushed. The wet pulp
is fed into a slatted barrel lined with a mesh bag. A threaded rod presses
down on a wooden plate to squeeze out the apple cider, strained through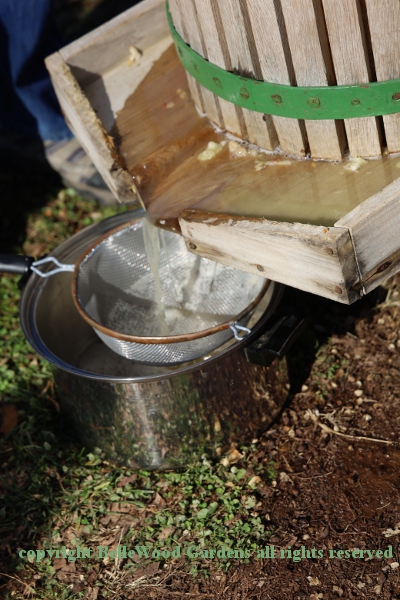 a sieve that catches any small bits of pulp, keeping the cider free of debris.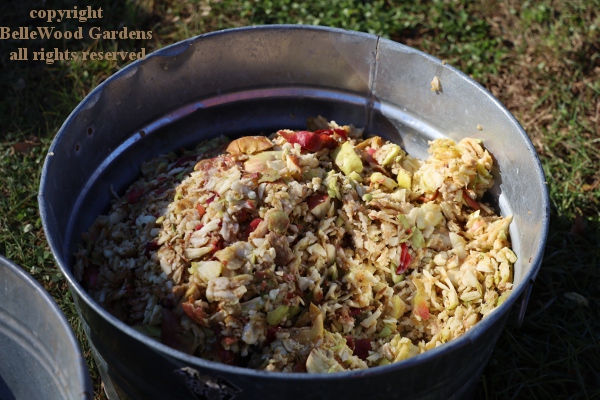 The pomace left after squeezing the cider out of the crushed apples will be fed to the pigs.
Up by the farmhouse visitors can enjoy a tasting, a sample of the fresh squeezed cider.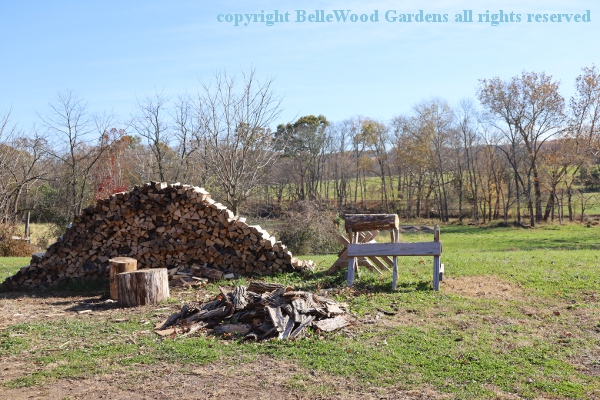 Seasons turn. Farm work is never done. At winter's end will be the time
to make maple syrup. And boiling down the sap takes a lot of firewood.
Of course the farm has livestock too, from draft horses, sheep, pigs, chickens, and even a cow. And a barn cat too.
---
Back to Top
---
Back to November
---
Back to the main Diary Page