.
Garden Diary - March 2021
---
If you have any comments, observations, or questions about what you read here, remember you can always Contact Me
All content included on this site such as text, graphics and images is protected by U.S and international copyright law.
The compilation of all content on this site is the exclusive property of the site copyright holder.
---
Our world upended last year, with the coming of covid-19. Suddenly people were staying home. Few vehicles on the road, occasionally an infrequent person walking. Here in New Jersey we were told to shelter in place. Essential stores: grocery, pharmacy, and a few others - were open. Having waffled for days about the situation - yes I'll go out / no I'll stay home. Starting in March, month by month, Paul would drive me in a loop around town to photograph flowers.
Now it is a different year. Life is still betwixt and between. Public gardens are slowly reopening but with timed entry tickets that must be ordered in advance. Horticultural lectures and classes are zoomed, or webinars. And I am again going around town to see what is in flower. Scroll down for earlier entries.
---
March
---
Flowers Around Town, in March
March 2021
---
Wednesday, 31 March 2021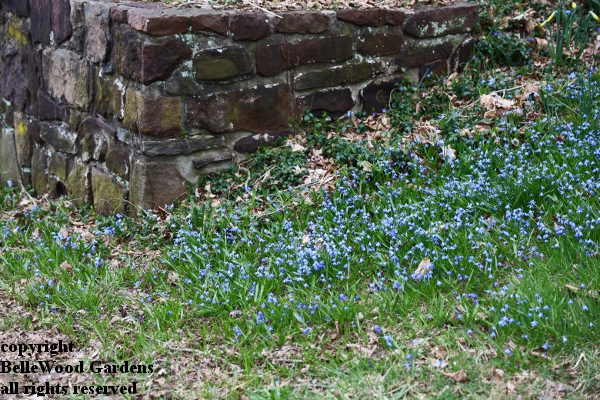 Flowers are rushing into bloom, making up for lost time. A well established colony
of Siberian squills, Scilla sibirica, that have been successfully multiplying for years.

A diversity of daffodils along a neighbor's driveway. Enlarging groups but not re-seeding.
---
Friday, 26 March 2021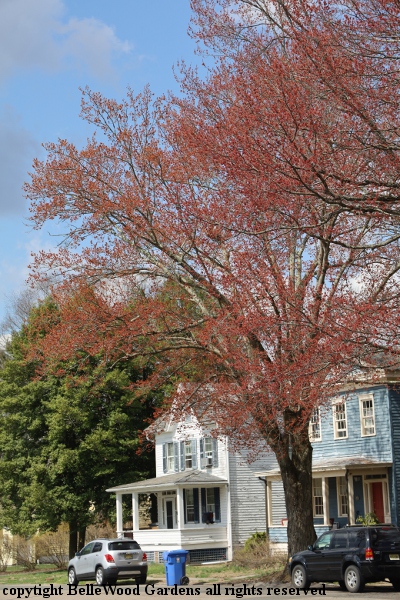 Sap is rising. Maples are beginning to flower.
This splendid red maple, Acer rubrum, is on
6th Street in Frenchtown, across from the IGA.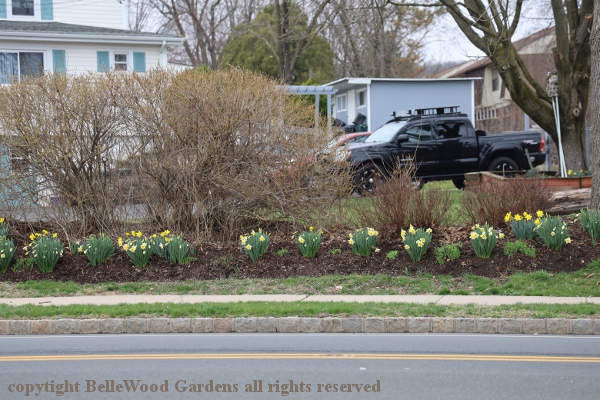 A planting of mixed daffodils along Walter E. Foran Boulevard in Flemington.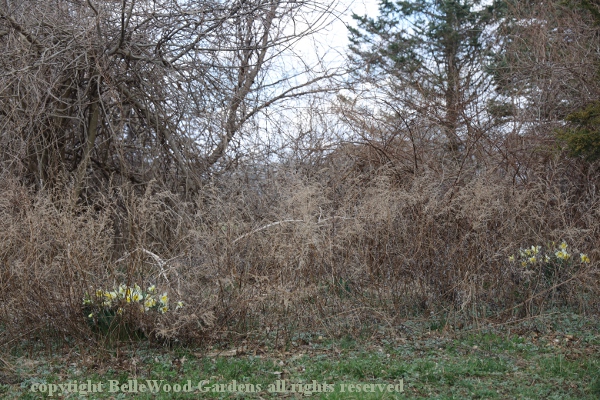 With the advent of spring, longer sunny days and milder temperatures coax
the early bulbs into bloom. These daffodils, lost in the weeds, are doing as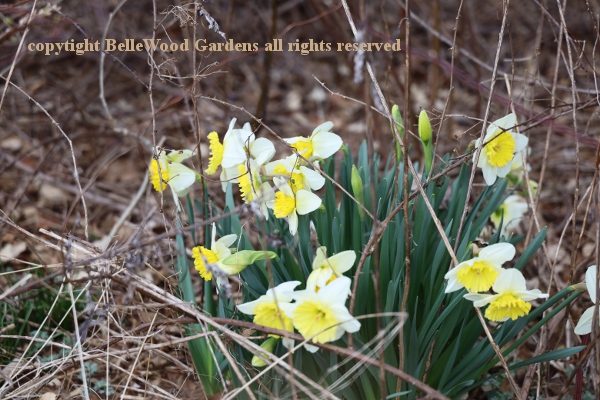 best they can. It would be prudent to dig them promptly as the flowers fade,
divide the clumps and immediately replant in a better site. I have a shovel . . .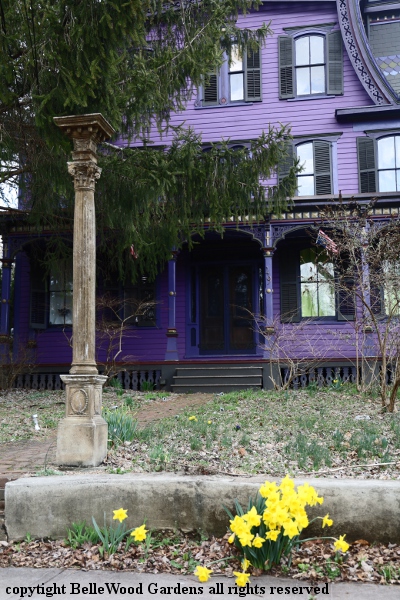 What a difference a day (or four) can make. On Monday only
the early little daffodils were in flower. And now it is a stretch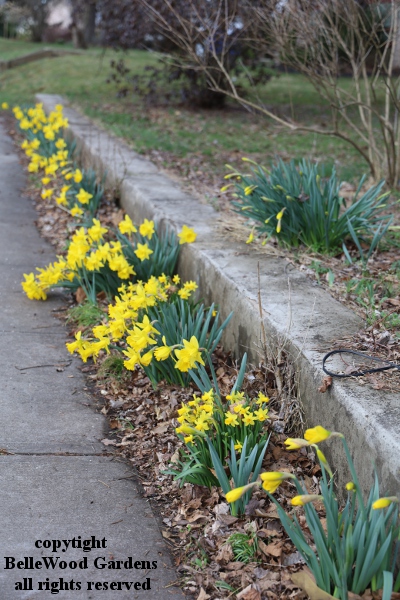 of sunshine yellow daffodils warming my heart as they flower.
---
Monday, 22 March 2021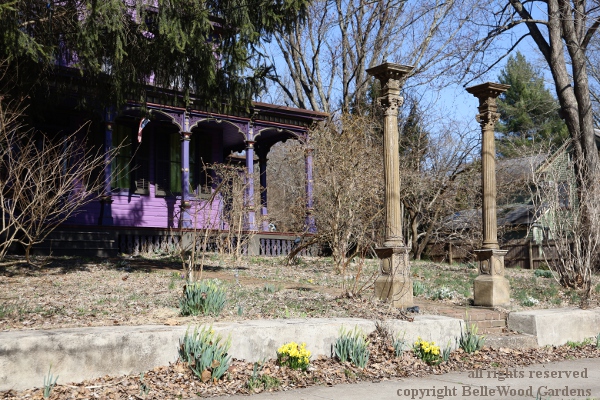 Two sturdy clumps of a dainty dwarf narcissus. It is the low masonry wall and
concrete sidewalk that act as heat-holding thermal mass to bring them along.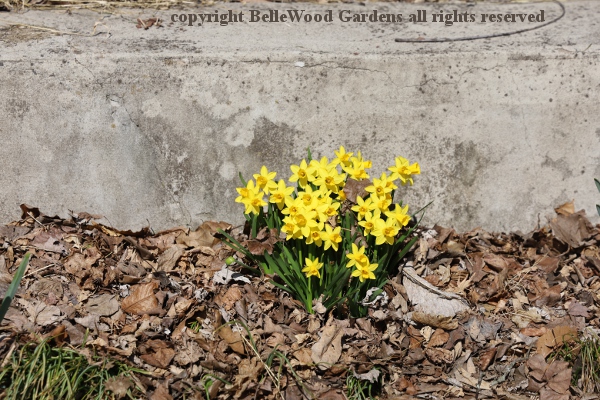 .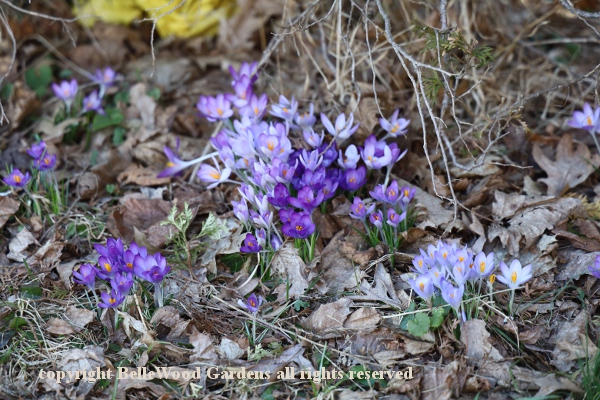 Early little Crocus tommasinianus. I'm surprised there are no bees busily at work.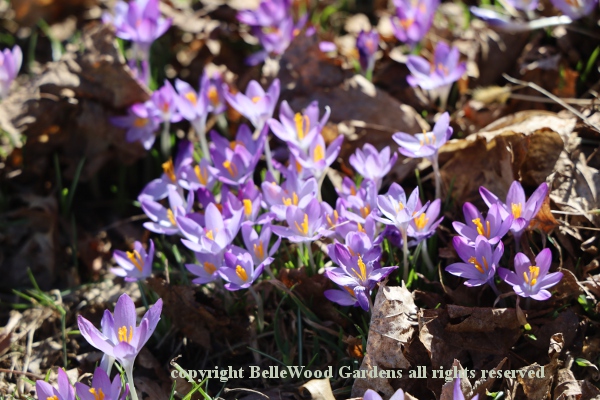 ---
Saturday, 20 March 2021

Have you noticed that in a bag of mixed crocus, planted all together in the fall,
come spring it is the yellow ones that are first in flower. It is Crocus ancyrensis
ancestry, like these egg yolk bright crocus, likely the cultivar 'Golden Bunch'.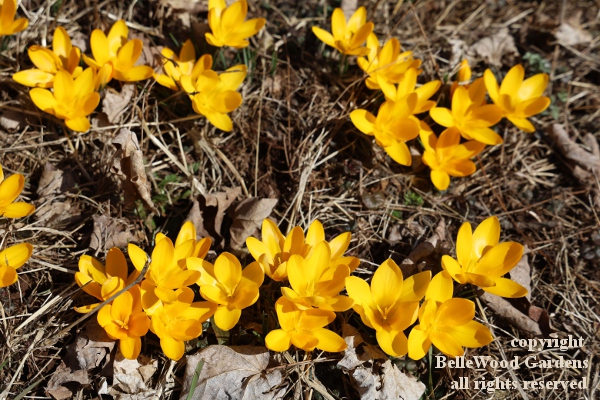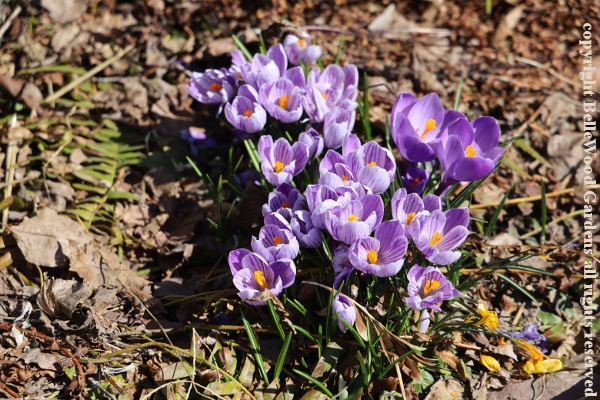 Crocus are welcome harbingers of spring. The purple and white striped is likely 'Pickwick'.
Notice the withered yellow flowers of the earlier blooming yellow crocus on the lower right.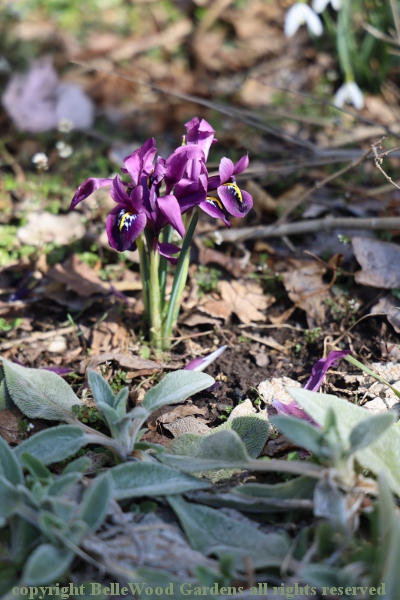 On Second Street in Frenchtown I found not only the crocus but also
the royal purple velvety flowers marked with gold of Iris reticulata.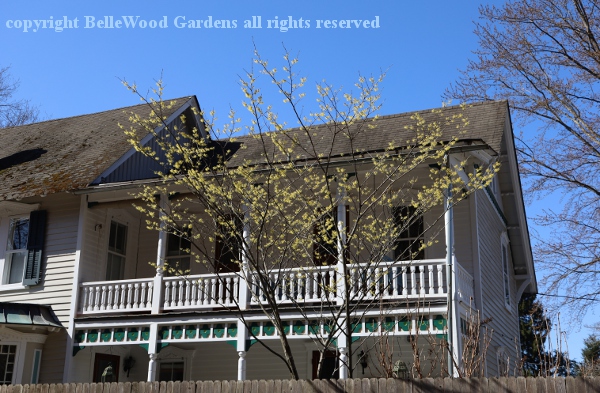 A very nice spring witch hazel, Hamamelis vernalis, its spicy fragrant flowers


making a good show. The autumn species will be in leaf, yellow at that time of year.
---
Back to Top
---
Back to March
---
Back to the main Diary Page