.
Garden Diary - October 2021
---
If you have any comments, observations, or questions about what you read here, remember you can always Contact Me
All content included on this site such as text, graphics and images is protected by U.S and international copyright law.
The compilation of all content on this site is the exclusive property of the site copyright holder.
---
October
---
Fire Alarms Are Making Noise . . .
Sunday, 3 October 2021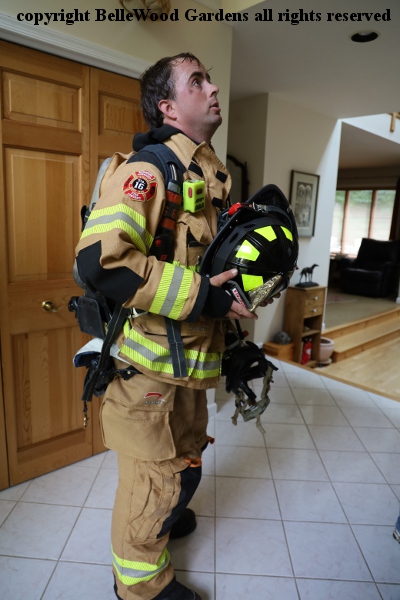 An exciting finish to the afternoon. It went like this.
In the morning I went grocery shopping in Clinton. It is supposed to rain all week and I'd rather stay home if it does. Store very crowded - I think the after church crowd goes grocery shopping before going home. Whatever. Made lunch. Then off to Bouman Stickney Museum in Readington Township where Susan McLellan Plaistead is presenting a program on Lenape Foodways.
Back home and Paul says something is majorly an issue. He claims Schrödinger's cat must be alive because the smoke detectors started shrilling and would not stop until he turned the circuit breaker off. I get the vacuum cleaner, a step stool, and vacuum the fire alarm on the main floor. There are three, by the way, one on each floor and in the basement, hard wired, no batteries. Turn circuit breaker back on and the alarms again start shrilling away. Hmmm.
Who would know about smoke detectors? Firemen of course. Having driven past the Quakertown Fire Company going to Readington Township and again coming home they were in the front of my mind and that's the fire station I called. I assured the man who answered the phone that this was not an emergency, not in the least. But why would a hard wired smoke detector go off and not shut up. He asked where we lived, said Kingwood was our proper fire station and he would pass the information along. Not an emergency, I kept saying there's no fire. Just alarms that would not be quiet.
Well.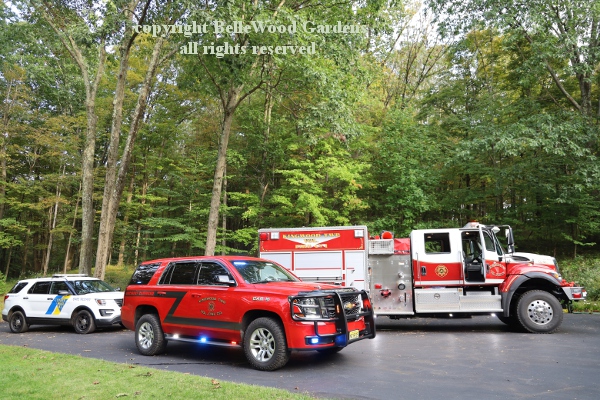 Someone is at the front door. It's the Kingwood fire chief who arrived in a fire engine red car with flashing red and blue lights. Next - a fire engine with four crew in their fire fighting gear. But wait, that's not all. Here's a state trooper.
I explain there isn't any fire, just fire alarms that won't be quiet unless the circuit breaker is pulled. Better safe than sorry I'm told, several times by several people. Paul turns the power back on and yes, the alarms start up again.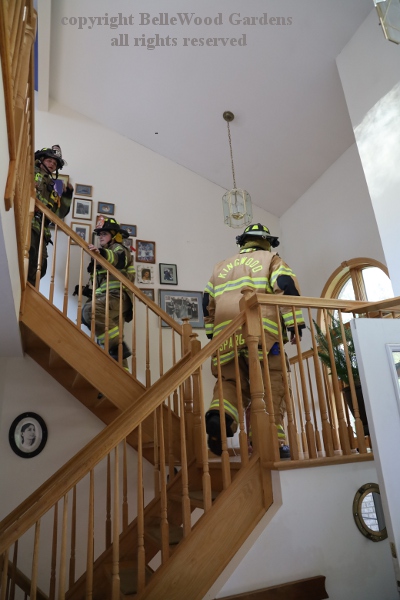 All three alarms are duly checked out. The likely answer to the noise -
it is time to replace them. Apparently they were last changed in 2011.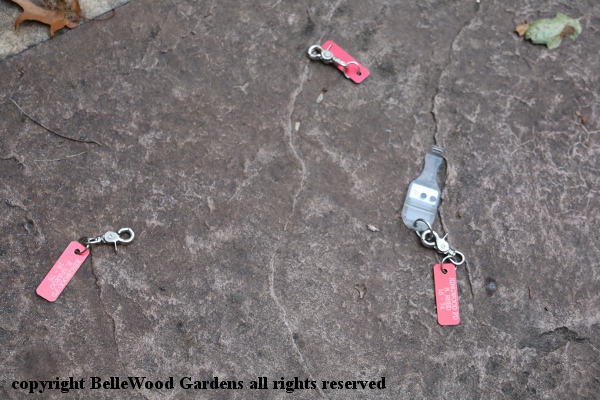 I noticed three name tags dropped on the front stoop. Why? I think
perhaps it is a way to identify who is in the house, if there should be
an actual fire and there is a need to know who is where, and inside.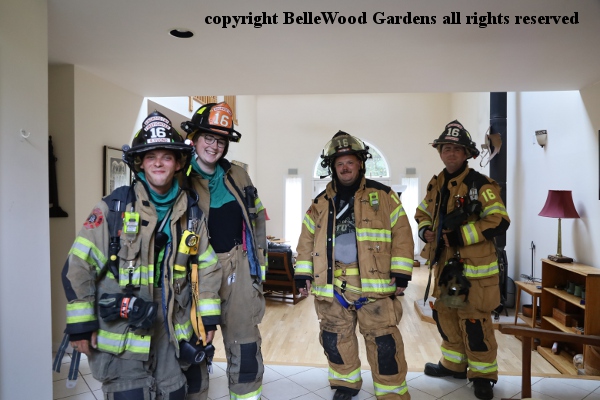 All is well. There was not a fire. We are safe. And the next thing will be
to buy three new fire alarms and install them. Good for the next decade.
NEXT DAY UPDATE: Today we went off to Home Depot to buy smoke detector alarms.

They stock the Kidde / FireX that Paul wanted. And certainly have ample stock. However it seems that the design has changed in the last decade and it will not be as simple as popping the new units into their ceiling housing. That needs to be replaced also. Ah well.
Another thought about fire safety that you should consider. Fire extinguishers.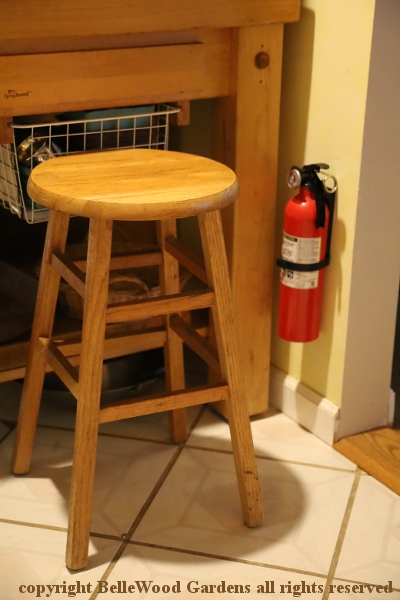 We have several. There's one in the master bedroom's closet. one in the basement at the foot of the stairs, one in the garage. Each car also has a fire extinguisher in the trunk. Fire extinguisher in the kitchen. There's another one in the great room, where we have a wood burning stove. Where, BTW, we also have a Chimfex chimney fire extinguisher, even though the chimney is cleaned every summer. Do hope they will not be needed. But if we do, they are there.
---
Back to Top
---
Back to October
---
Back to the main Diary Page