.
Garden Diary - January 2021
---
If you have any comments, observations, or questions about what you read here, remember you can always Contact Me
All content included on this site such as text, graphics and images is protected by U.S and international copyright law.
The compilation of all content on this site is the exclusive property of the site copyright holder.
---
January
---
Dried Bean Dishes
Saturday, 2 January 2021
---
It was nearly a year ago, at the end of February 2020, that I began prepping for Covid-19, stocking up on the elusive packages of toilet paper and shelf stable food items. Some, such as all purpose flour I bought in a rather large, 25-pound bag rather than my customary 10-pound package. A cousin in Kentucky bought 20 pound bags of rice. A granddaughter in Texas went to a nearby restaurant supply store to obtain a 50-pound bag of pinto beans. I have always bought beans in those dinky one pound packages. That allows me to have different kinds of beans on hand. And since beans are better if cooked and consumed within a year of harvest there is less likelihood of elderly beans that will take forever to cook to edibility.
In March I made a quite satisfying dinner of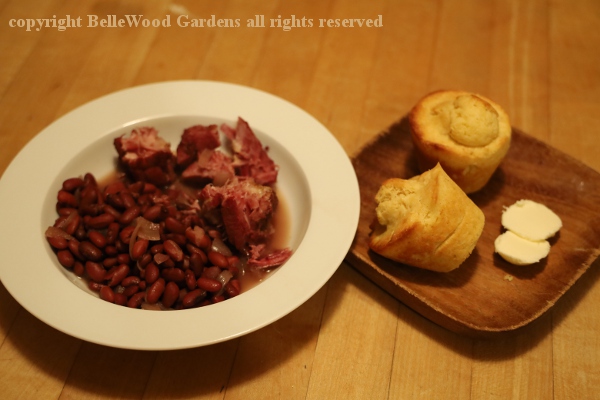 red beans with smoked ham (from the freezer) and cornmeal muffins.
In April, a Mexican dinner of grilled pork with salsa verde and refried beans,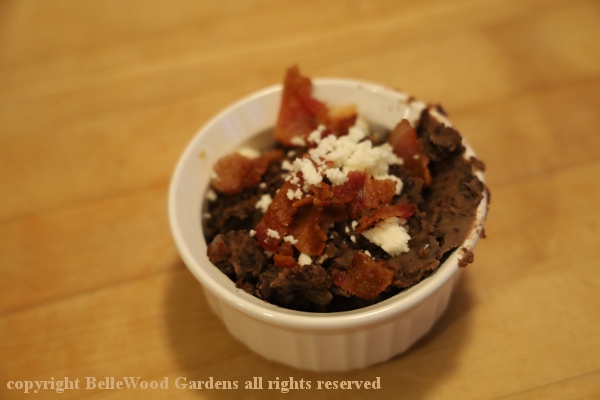 embellishing the beans with some queso fresco and crispy bacon.
Dry beans need a pre-soaking before cooking. I prefer an overnight soak in cold water. My daughter prefers boiling water, then a quick soak for an hour. Either way - decide how much you want to prepare. Pick over to remove broken beans. Cover with a generous amount of water and set aside. When soaking time is over, drain beans, quickly rinse, and use fresh water for cooking. Once cooked, beans may be refrigerated for a week or frozen for longer storage. Beans freeze well, in freezer containers or in sturdy plastic bags. The advantage of freezing in plastic bags is that they can be patted kind of flat, squeeze the air out, and stack for freezing. Beans are good to combine with pork, sausage, bacon, or duck.
I finished out the end of December 2020 and began January 2021 with beans.
December 21, 2020: Tonight's dinner was a three day effort. But since it was a little now, a little then, finally putting it all together - it wasn't a big deal. To start - I bought two packages of nice meaty chunked up pork neck bones. Scattered with salt, fresh ground black pepper, some garlic and refrigerated for about 24 hours. Took a one pound package of dry navy beans, picked over, rinsed, covered with ample water and left on counter.
Day two - patted meaty bones dry, spread out on a broiler tray until well browned, turning to do other side. Sautéed two sliced onions in Le Creuset pot. Arranged nicely browned meaty pork neck bones on top of onions. Drained beans, poured over the n.b.m.p.n.b. Went to cupboard for a can of crushed tomatoes. Eek! Not there. O.K. A can of tomato paste, a smallish can of V-8 vegetable juice, water, fresh thyme, a couple of bay leaves. Simmer for a while until meaty bits are done. Fish them out, let cool. Pull meat off bones and refrigerate. Leave beans in pot and place in cool garage.
Day three - Pack most of beans and semi-set tomato cooking liquid in containers, to be frozen. Start heating enough for dinner. Cut up some of the meat and add it to the dinner pot. Strip cavolo nero off stems, slice across, add to pot. Boil water and add cresti di gallo pasta, cook, drain. Pasta in soup bowls, ladle on the bean / meat / kale / tomato glop. And we had a very good dinner. With four more portions of bean / tomato headed for the freezer.
December 28, 2020: Don't know if I'm on a prepping kick, if it is because it's winter so this is how I am cooking, or what. But long slow-cooked dishes feel very appealing. And there's still some of the different pound weight packages of beans I bought when the pandemic first had me prepping. Yesterday I slow cooked up a large pot of cargamento beans with a piece of pork shoulder. Today I portioned out the beans into four containers - two for the freezer and two to consume in present times. Tonight it will be beans and pieces of the pork with carrots, celery, and little onions, topped with dumplings. Don't have a recipe but it feels O.K.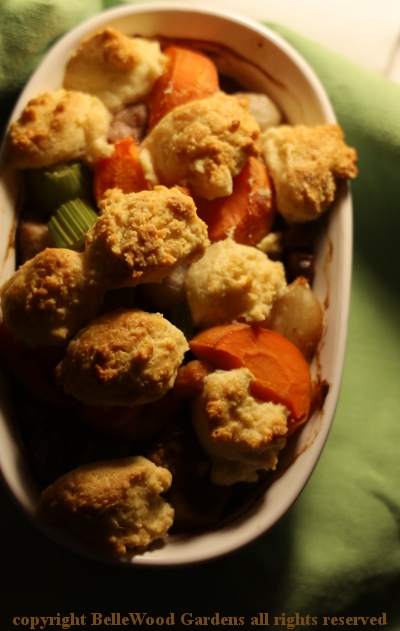 The dumplings are a muffin-ish recipe of flour, cornmeal, baking powder, cold butter chopped together into small pieces, then mixed with milk. Drop by teaspoonfuls onto pot pie, then bake.
January 2, 2021: Tonight we had the quasi-cassoulet. Sounds elegant but
it is really transmogrified leftovers into something different. And quite nice.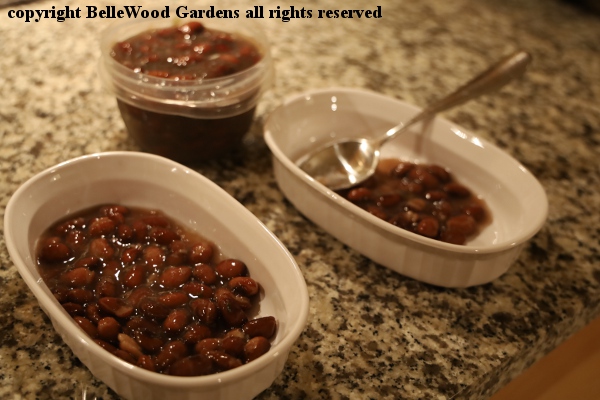 It started with a base layer of cooked beans.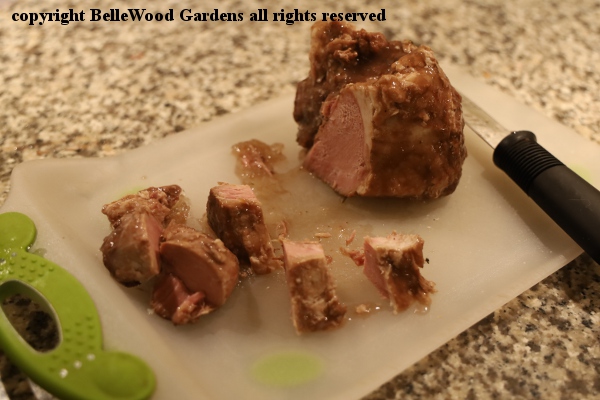 Cubed some pork shoulder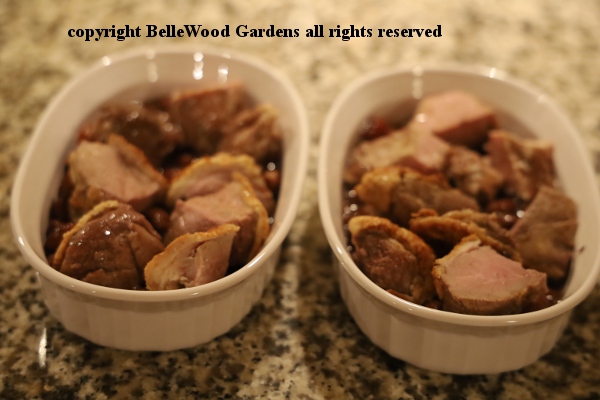 and topped the beans with chunks of cooked duck breast and slow simmered pork,

Next, a layer of cut carrot and onion with its jellied broth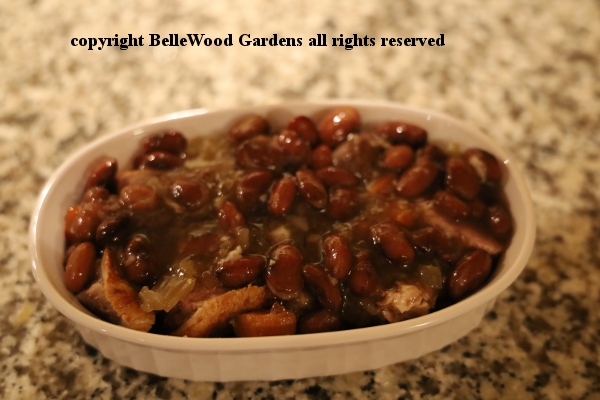 then fill in any gaps with more beans

and topped everything with fresh bread crumbs and a splash of oil.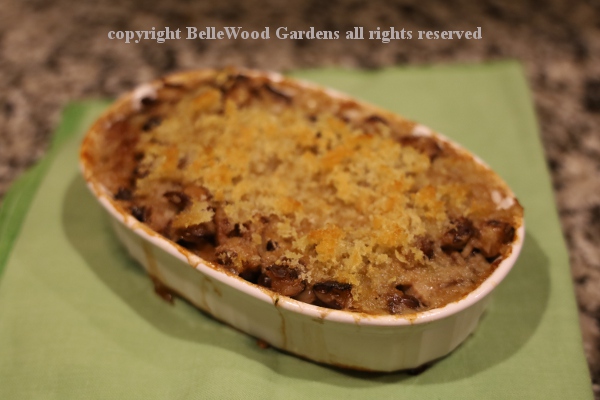 About an hour in the oven, and out they came, nicely browned, bubbling hot.
I had côte du rhône, Himself had Martinelli sparkling cider.
Kitchen cleaned up, and I will rather soon head off to bed.
And hooray for the versatile, nutritious, delicious bean.
---
Back to Top
---
Back to January
---
Back to the main Diary Page