.
Garden Diary - June 2021
---
If you have any comments, observations, or questions about what you read here, remember you can always Contact Me
All content included on this site such as text, graphics and images is protected by U.S and international copyright law.
The compilation of all content on this site is the exclusive property of the site copyright holder.
---
June
---
Designed for Nature
Garden of Alexi Freedman and Mathew Volpe, in Doylestown
Saturday, 19 June 2021
---
Refreshed with lunch and invigorated with a stop at the plant sale, we are back on track, again touring a Designed for Nature garden. Interestingly, our fourth garden visit is coincidentally Garden Number 4 on the tour. I found this garden to be very interesting. Modest in size, it makes excellent use of native plants in a formal, dare I say traditional landscape. How so? Horticulturally, native refers to a plant's place of origin. It does not specify a garden's design.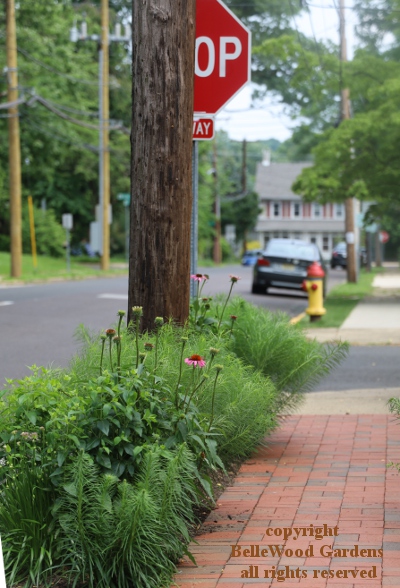 Right at the curb there is a thriving plant community of native plants. I've seen such locations referred to as a "hell strip" for the heat sink of roadway and sidewalk. Thorough site preparation has allowed prairie coneflower, Echinacea purpurea, and liatris, Liatris spicata, to flourish.
There are several young Magnolia virginiana at the front of the house. Easily admired, awkward to photograph - unless from out in the street. The side garden, however, is another matter.

A luxuriance of Hydrangea arborescens 'Annabelle' billows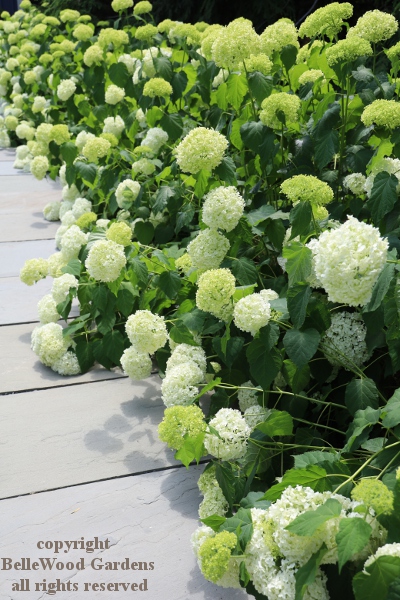 over a formal bluestone walkway.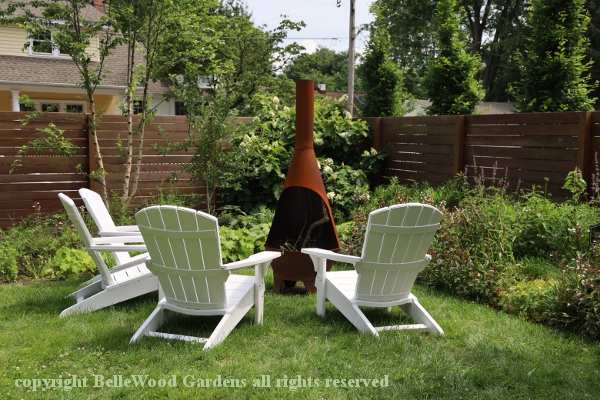 Across the lawn, a custom designed fence adds privacy for the chiminea and chairs.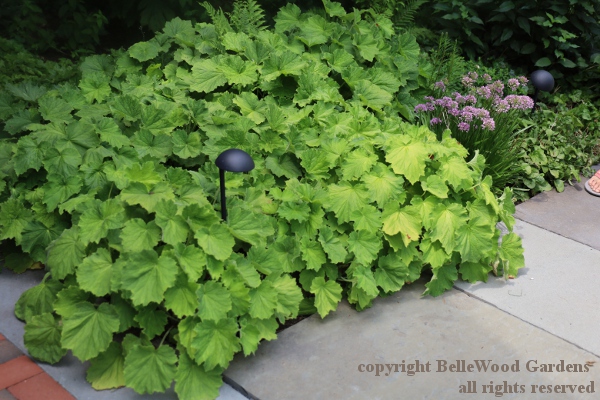 Shade tolerant native perennials add lush texture. Here, hairy alumroot, Heuchera villosa

and nearby, crested iris, Iris cristata, an excellent choice for the boundary


edging between sun and shade, as it thrives with either condition.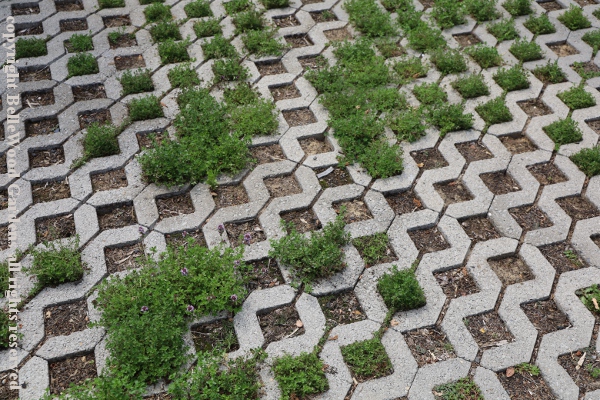 Continuing to the rear of the property where we find an ecologically sound, water permeable
driveway. The interlocking open pavers are ideal for managing storm water. And planted - here
with thyme - the effect is not only attractive, it reduces the heat load of solid asphalt or concrete.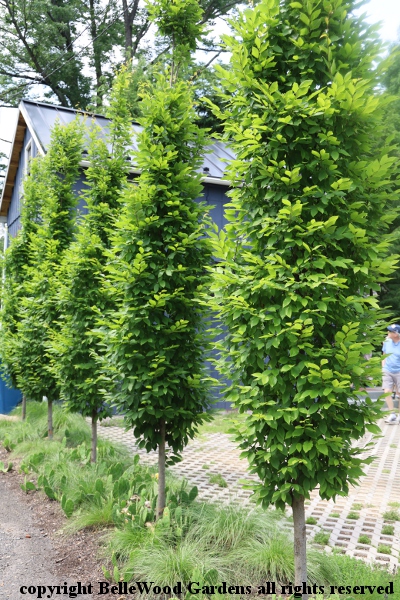 A line of fastigiate Carpinus line up like sentries at the edge of the driveway,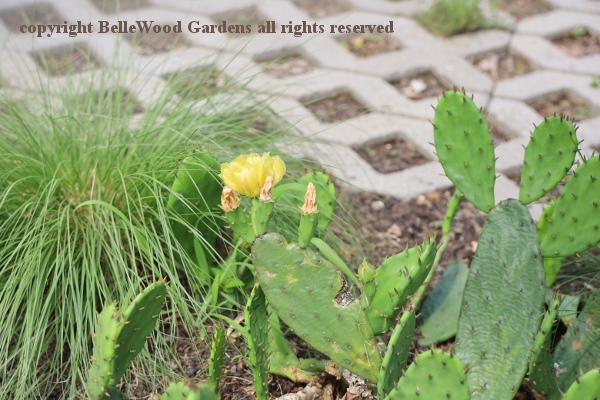 underplanted with cactus, Opuntia humifusa, which yes, is native in New Jersey
A glance at the clock and eek! it's edging toward 3:00 p.m. which is when all
the gardens close. We'll never make two, must scramble for even one. Onward!
---
Back to Top
---
Back to Designed for Nature
---
Back to June
---
Back to the main Diary Page