.
Garden Diary - October 2021
---
If you have any comments, observations, or questions about what you read here, remember you can always Contact Me
All content included on this site such as text, graphics and images is protected by U.S and international copyright law.
The compilation of all content on this site is the exclusive property of the site copyright holder.
---
October
---
Another Sunday Tea at The Spinnery
Sunday, 24 October 2021
---
It's Sunday. I'm back at The Spinnery for tea and conversation.
Every Sunday, Betty assures me, as long as we stay healthy.
As you might expect at a yarn shop, The Spinnery is well supplied.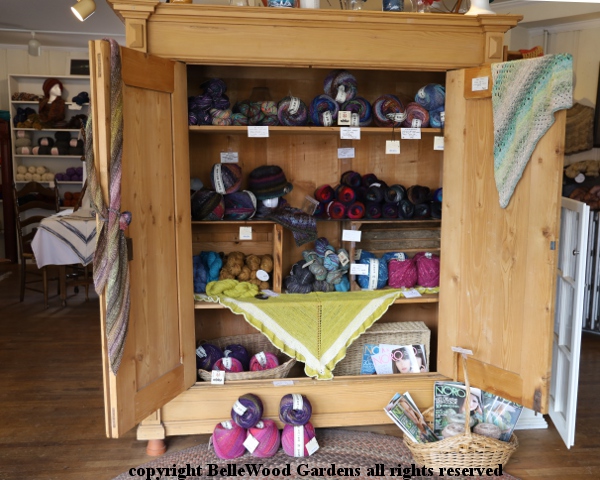 There are cupboards and armoires filled and overflowing with rainbows of yarn.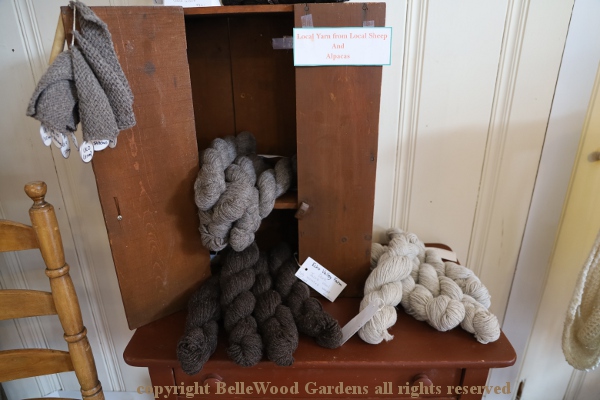 As well, Betty has natural color sheep and alpaca yarn from local farmers.
If you knit or crochet you probably know about making a gauge swatch before
starting a project - cast on a set number of stitches on a specific size needle, then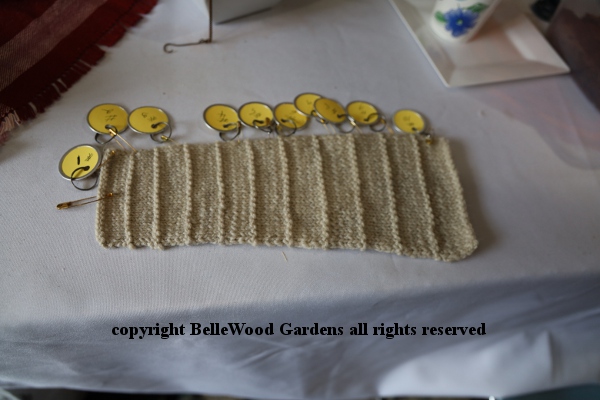 knit a few rows. This is even more clever. Cast on, knit, then purl a row before
moving on to the next size of needle. Repeat, repeat, repeat. And look at this!
Same yarn, same number of stitches, and clearly see differences from 1 to 10.

Tony is back again for tea at The Spinnery, industriously spinning on his wheel.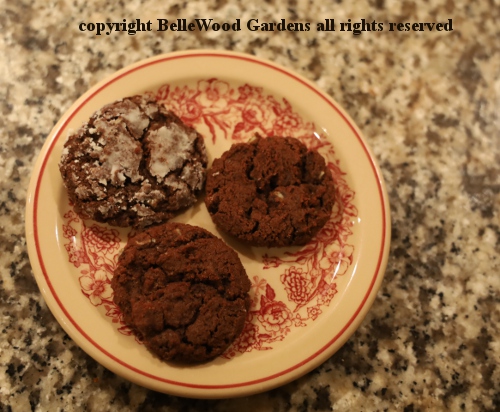 It is clear that he and I think alike because without any coordinated planning we both
brought chocolate cookies. Mine were chocolate mint, Tony's were chocolate biscotti.
Of course yarn shops also sell knitting needles, crochet hooks, and similar accessories.
The Spinnery kicks it up to another level, with tools for making yarn, and also weaving.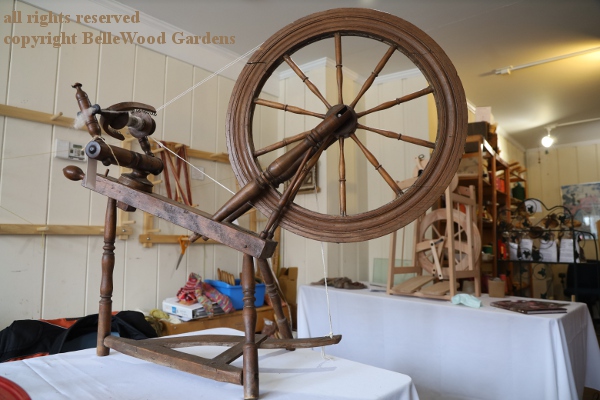 There are several spinning wheels on offer. Here's a rather traditional looking one.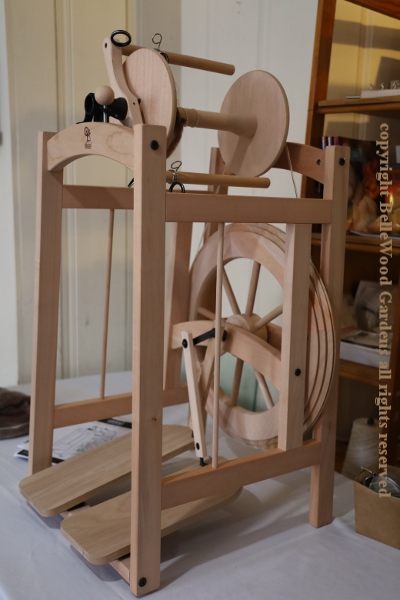 A more modern Ashford wheel, rather recently
assembled from the bits and pieces it arrived in.
What next, now that the roving has been drafted and neatly spun in yarn. No, not quite ready to just pick up needles and knit. Decide whether the yarn should be made up into a hank, a skein, a ball. Say what? Three different ways to form up the yarn so it is not a cat toy.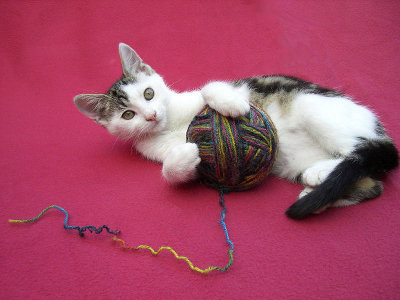 image from Wikimedia Commons, Creative Commons usage
A ball is - as the name implies - a round, spherical ball of yarn.

A hank winder. Yarn is loosely wound into a large ring shape and then twisted on itself.
That's really for storage, not for use. You wouldn't want to craft from a hank. Too messy.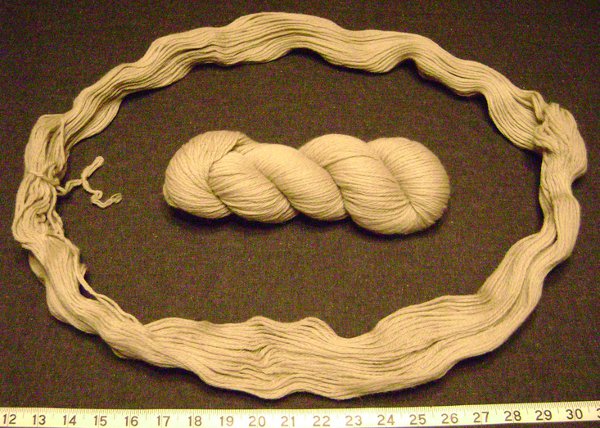 image from Wikimedia Commons, Creative Commons usage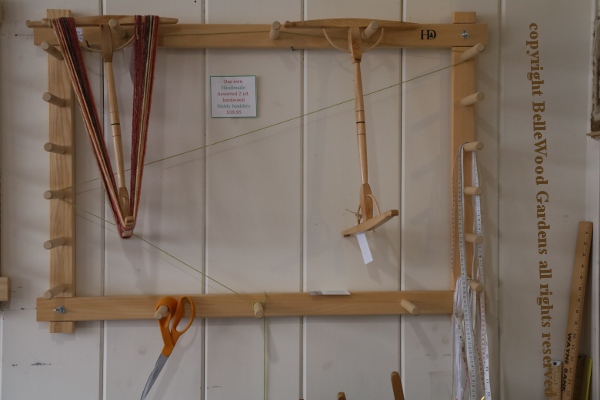 A skein is similar to a ball but formed into an oblong shape. Niddy noddy
makes this simple. Here are two, hanging on a hank winder. Last week's
Tea at The Spinnery I shared a picture of one in use

A yarn swift prevents tangling when winding yarn into a ball.
It expands or contracts to accommodate different size skeins.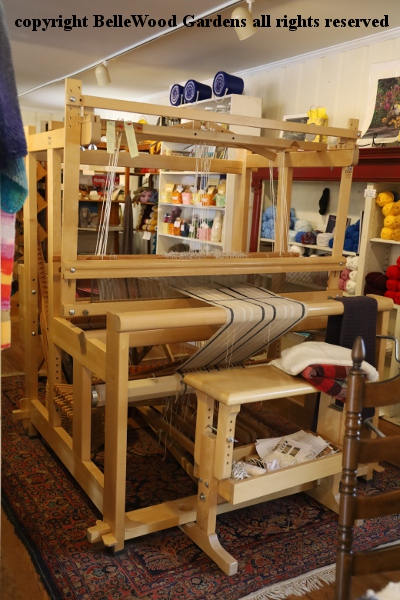 There's a rather large loom discretely placed towards the rear of the store.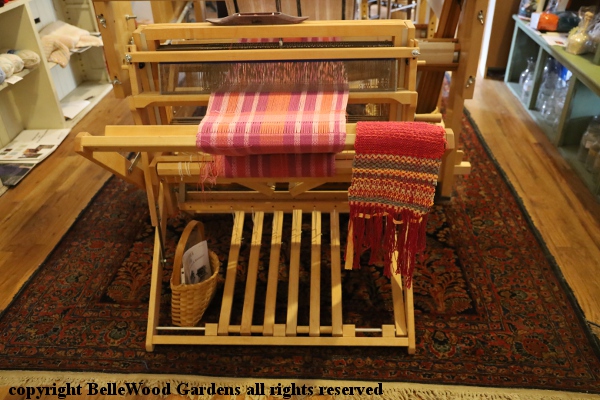 And a smaller look tucked at its opposite end, with an intricate fabric under way.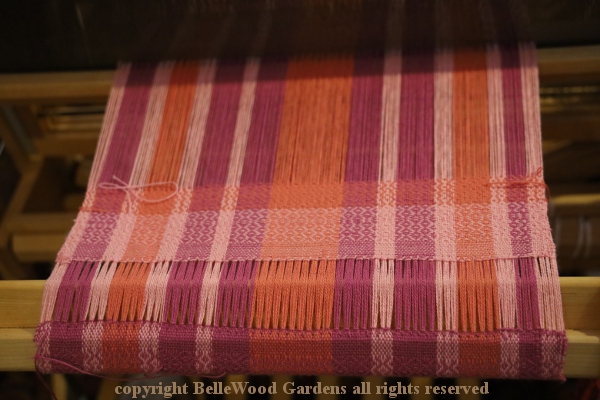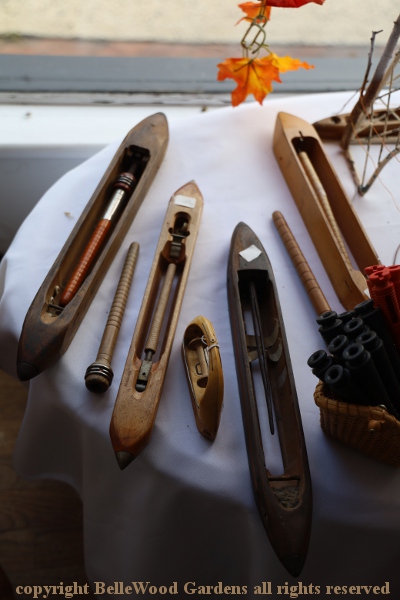 Weaving tools are also available. Bobbins, for example
There are small hand looms too, suitable for the veriest novice (or someone with a short attention span.) Remember when we were children - those square looms, for making potholders. Use better yarn rather than those cotton loops, and make a coverlet, like quilting or granny squares pieced together.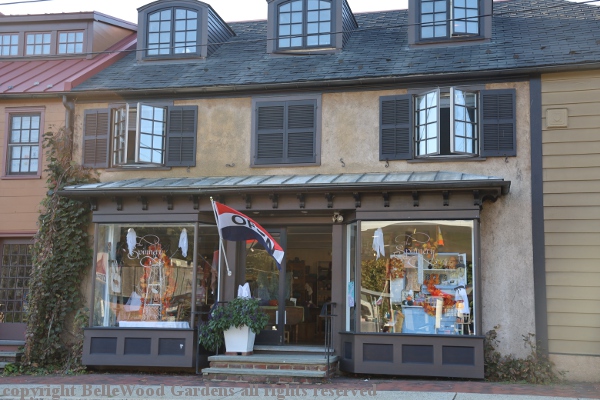 The Spinnery, a treasure chest of yarn and tools for the crafter at any level of experience.
Needles for knitting, crochet hooks too. Hank winders, niddy noddys, nostepinne, yarn swift.
Also classes, both personalized for just Betty and one student, or small group classes too.
Winter is coming. Shall we sit by the fire and knit?
---
Back to Top
---
Back to October
---
Back to the main Diary Page