.
Garden Diary - February 2021
---
If you have any comments, observations, or questions about what you read here, remember you can always Contact Me
All content included on this site such as text, graphics and images is protected by U.S and international copyright law.
The compilation of all content on this site is the exclusive property of the site copyright holder.
---
February
---
About Lentils
Saturday, 20 February 2021
---
Are you familiar with lentils? Sold dry, usually in one pound bags, like beans. But unlike beans, lentils do not need a pre-soaking, and they cook more quickly than dry beans. There are several different kinds: red, brown, and black. Red lentils are the only kind of lentils sold split, and tend to disintegrate when cooked. They are popular in Indian cuisine. Brown lentils are not split, remain intact when cooked, and are good for soups, stews and vegetarian dishes.
I like the small greenish-brown de Puy lentils. They're available in the bulk natural foods section of the supermarket. Place a plastic bag under the chute, lift the hopper's gate and lentils come slithering out.
To cook lentils:
1) Add a Tablespoon or two of olive oil to a pot. Heat gently.
2) Add cup of lentils, stir until coated with oil, set aside.
3) Add a mirepoix of cut carrots, celery, onion, cook until softened.
4) Return lentils to the pot, add 2½ cups water, some thyme,
a clove of garlic, two if you wish, fresh black pepper, a bay leaf.
5) Simmer, with the pot lid ajar, for 25 to 35 minutes. Taste a few
lentils for doneness.
Note: Refrigerate any leftovers. Reheat. Use for a soup.
After an excellent afternoon tour of Phillips Farms today moved on to evening, and time for dinner. I had taken a piece of salmon out of the freezer in the morning, and there's fresh asparagus in the refrigerator. What to have for the side dish . . . I know! There are both leftover de Puy lentils and some white rice from earlier in the week. They will make a tasty combination.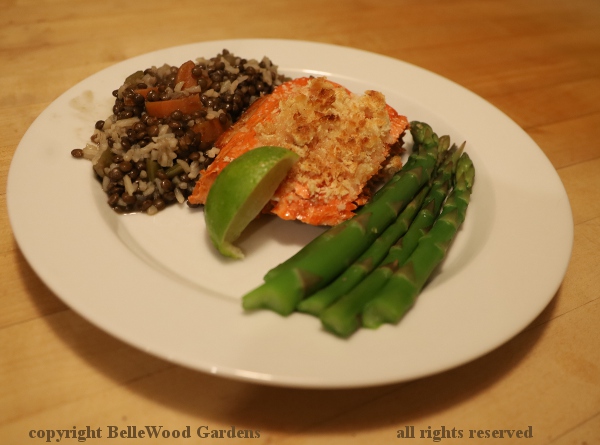 Drizzle fresh lime juice and some EVOO over the salmon and broil. When almost done top with bread crumbs and a little more EVOO, then broil until fish is done and bread crumbs are lightly browned. Meanwhile, combine the de Puy lentils (which had previously been braised with carrots, celery, and onion) with the rice, and reheat. Microwave steam the asparagus. Plate up, and enjoy.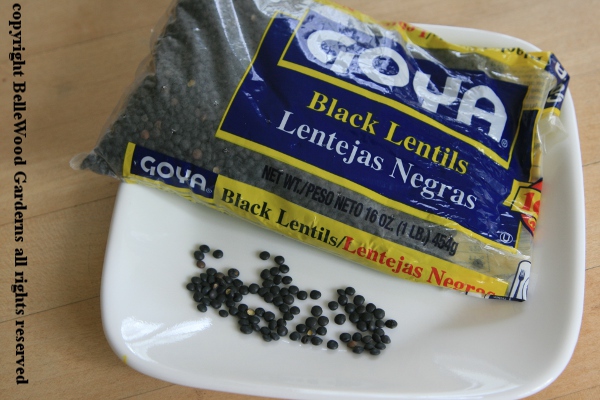 What I really like, even more than de Puy, are the small black beluga lentils.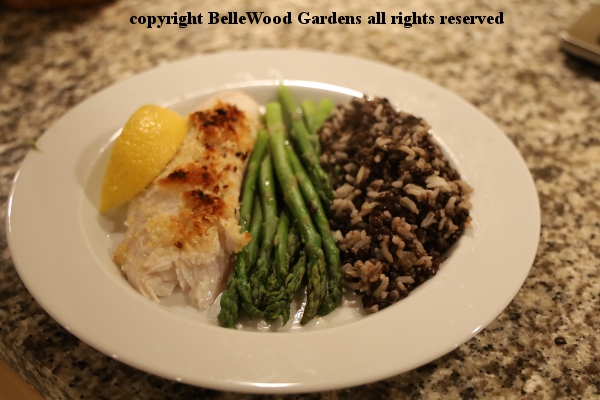 I made a very similar dinner in January, with tillapia, beluga lentils and rice, and asparagus.
These little lentils can be incorporated in more elegant meals too.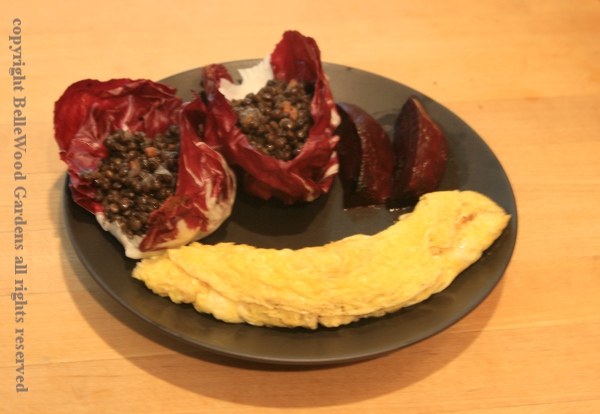 January 2019
Here, lentils nicely presented in raddichio leaf "cups" with
a couple of wedges of oven roasted beets, and an omelet.
Note: Use the round head Chiogga, not the long Trevisio type
and a few days later at a potluck garden club luncheon I did a different iteration: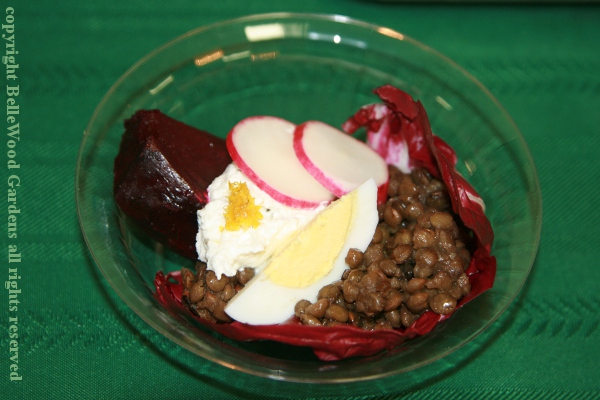 This time, it was de Puy lentils and roasted beets, with a wedge of hard boiled egg,
two radish slices, and some whipped ricotta cheese topped with grated lemon rind.
To prepare the beets:
Cut off top and root, then peel and cut in wedges. Tossed with olive oil to coat. Sprinkle with fresh thyme. Baked in toaster oven at 375 degrees Fahrenheit for about 40 minutes or until tender. Place in bowl and add juice of one orange, toss, refrigerate until ready to serve.
For whipped ricotta:
Whip 3/4 cup whole milk ricotta with 1/4 teaspoon salt and 1/4 teaspoon freshly ground black pepper in a small food processor for about a minute. Refrigerate until ready to plate up and serve. Top ricotta with a sprinkle of micro planed orange peel.
I hope you are encouraged to try some lentils. You'll enjoy them, I'm sure.
---
Back to Top
---
Back to February
---
Back to the main Diary Page