.
Garden Diary - April 2021
---
If you have any comments, observations, or questions about what you read here, remember you can always Contact Me
All content included on this site such as text, graphics and images is protected by U.S and international copyright law.
The compilation of all content on this site is the exclusive property of the site copyright holder.
---
April
---
A Forest for the Centuries
Thursday, 1April 2021
---
When I first learned of the Tokachi Millennial Forest my assumption was that it was an ancient one. After all, Japan is a heavily forested country, with nearly 70% of all its land covered with trees. It made what I thought was perfect sense that the New York Botanical Garden would offer a webinar by Dan Pearson and Midori Shintani. After all, NYBG protects and cares for the old growth Thain Family Forest, the largest uncut expanse of New York's original wooded landscape. Having corrected my assumption, I was intrigued to find out that the there would be a webinar about the Japanese forest garden, presented by Dan Pearson, its British landscape designer, and Midori Shintani, head gardener for the crew of 10 - only 4 of whom are full time.
Let's have a recap, with information garnered from the multiple
pages of notes I took today. There was a full transcription available
as they spoke but it had a difficult time keeping up (so did I!)
and some odd sound-to-text "translation" errors.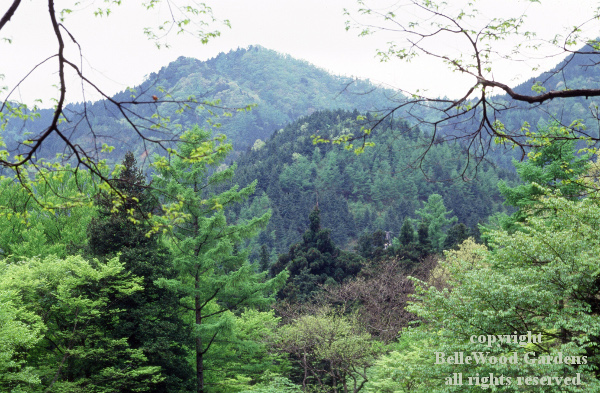 image copyright Judy Glattstein all rights reserved
This is the story of a Japanese forest garden that explores a new way of gardening with nature. It had a beginning of sorts early in the last decade of the last century, 1991 that would be. Japanese media entrepreneur Mitsushige Hayashi bought 400 hectares of land in the Tokachi region of Hokkaido. A hectare is the equivalent of 2.5 acres. And Hokkaido is the northernmost of the Japanese islands, opposite Russia. It is a chilly place, where winter arrives in October and departs in April.
It was Hayashi's aim to off-set the carbon footprint of his national newspaper business. Ten years of forest management and planning later, Dan Pearson came on board to design an ecological public park on the site. Hayashi named it the Millennium Forest, a garden for a thousand years. The park aims to encourage urban city dwellers to reconnect with nature. To do so, the goal is to improve a piece of land that had been lost to intensive agriculture. A Meadow Garden, planted with perennial forbs and grasses, increases floral diversity. A rose garden provides a sense of gardenesque familiarity for those who might find the wild places "too much." Deer, fox, hare, squirrels, mice - and bears - are encouraged within the forest.
Today's webinar opened with Dan Pearson explaining about the concepts and goals for this forest of a thousand years. Then Midori Shintani, who came in 2008, explained the hands-on-the-ground techniques used to develop and maintain the garden. She also discussed traditional Japanese concepts that the garden follows. For example, there is a seasonal raised wooden table / bench whose display changes every five days. This is in keeping with the cherished natural phenomena of the 72 micro seasons.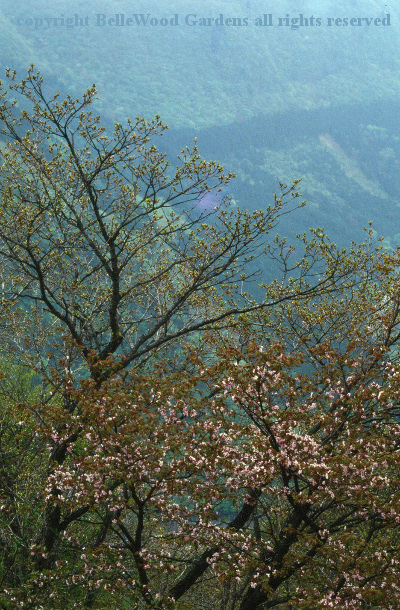 image copyright Judy Glattstein all rights reserved
For example, March 26 - 30, Sakura hajimete saku, the first cherry blossoms.

image copyright Judy Glattstein all rights reserved
And Midori mentioned that in chilly Hokkaido Adonis amurensis just began flowering.
The wild forest is up in the mountains. That is where the wild animals obligingly stay. There is about 270 hectare of secondary forest where Midori Shintani and her crew harvest material - poles for plant supports, reed grasses harvested in autumn for thatching. And in spring, sansai, healthy wild gathered mountain vegetables.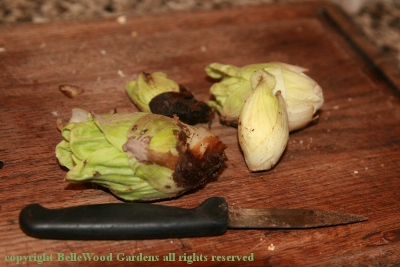 .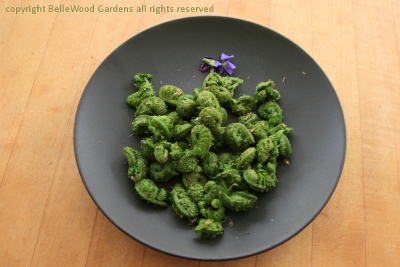 images copyright Judy Glattstein all rights reserved
In my own garden I gather fuki no to, the young flower buds of Petasites japonica
and fiddlehead ferns, as well as daylily shoots, Hemerocallis fulva, and more.
Tokachi Millennial Forest has several goals. Important is to share with visitors (in pre-covid-19 times, about 60,000 people in the open days between end of April to end of October) about living in tune with nature / living with nature: spiritual presence and reverence. Rather than bring visitors directly from the parking area into the forest there are cleverly designed small walks for intimacy, then larger walks that bring visitors into the garden forest, and finally paths that bring them into the wild landscape.
There was a large flat area that had originally been a space under cultivation. It is near where the garden cafe is now placed. To change the space to a garden, sculpted, rolling, earthen mounds were added. Very popular with children who are the first to play out there, climbing up and rolling down, then followed by their parents. Also near by are planted beds for growing vegetables and flowering plants such as dahlias. City dwellers might only know them as produce in a market, cut flowers in a bouquet.
There is a meadow garden, an "uber" meadow as Dan Pearson calls it. It has Japanese plants combined with non-natives such as Echinacea purpurea, grasses such as Calamagrostis 'Karl Foerster'. Very butterfly friendly. In the "chat" area I asked why cultivars rather than true species. Dan Pearson replied that the chosen cultivars were close to the species (I assume that, for example, means no doubles), were good garden plants, feel close to the species, perhaps had strong color.
Someone else asked a question about plants, especially non-natives, self-sowing. Midori explained that the meadow is surrounded by a shrub / brushy perimeter. In addition, there is a bark mulch perimeter so they can see if any re-seeding is happening. Aha! Satoyama is a Japanese term applied to the border zone or area between mountain foothills and arable flat land. And any plants that have wind blown seeds are cut down before release.
What to know more? You may purchase a copy of
Tochachi Millennial Forest from the NYBG Shop
Courtesy registration for this webinar provided by The New York Botanical Garden
---
Back to Top
---
Back to February
---
Back to the main Diary Page