.
Garden Diary - April 2020
---
If you have any comments, observations, or questions about what you read here, remember you can always Contact Me
All content included on this site such as text, graphics and images is protected by U.S and international copyright law.
The compilation of all content on this site is the exclusive property of the site copyright holder.
---
April
---
Starting to Sprout: Rainbow Sprinkles Microgreens
Saturday, 4 April 2020
As I wrote here I'm growing microgreens and sprouts. I hope you'll want to do it yourself.
Come along and follow my adventures - it is really so easy that "adventure" is an exageration.
I got seeds for a diverse selection of sprouts and microgreens from Johnny's Selected Seeds.
Today I want to plant seeds for microgreens. I find myself reluctant to leave home in these days of Covid-19. One of my infrequent visits to the small grocery store in town is unlikely to offer much in the way of gardening supplies. But a plastic bottle I had saved and a husband with a well-equipped workshop saved the day.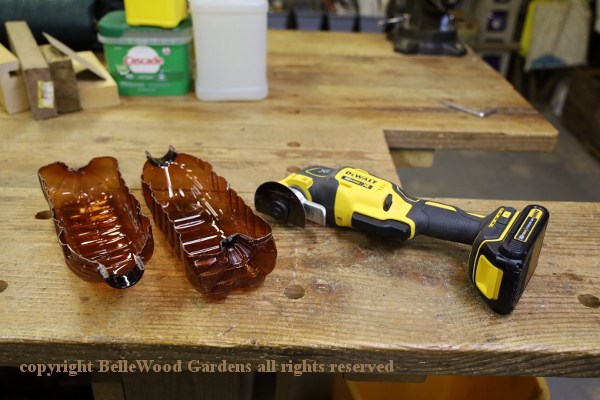 A piece of tape down each of the two long sides to mark the cutting line,
a vibrating cut-off tool by DeWalt, a few minutes work by Himself, and I
have two very nice rectangular planting trays, perfect windowsill size.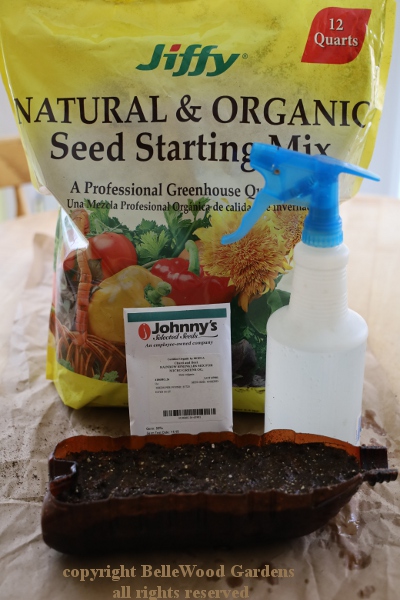 Like every spring, I had previously bought some seed starting mix.
Put some seed mix in the half-bottle planter, leveled and tamped it
lightly. Sprayed well with water and left it to sit for about an hour.
Next up, planting seeds of a Rainbow Sprinkles microgreen mix that I got
from Johnny's Selected Seeds. Here's a link to that section of their catalog.

Wrote a label for the Rainbow Sprinkles chard and beet microgreen seed mix.
Following the instructions on the back of the Johnny's Selected Seeds packet
I scattered seed rather thickly, about 1/2 inch apart. Cover with a thin layer of
seed starting mix and watered again, more lightly. And now to wait for 2 weeks.
---
Back to Top
---
Back to April
---
Back to the main Diary Page