.
Garden Diary - November 2020
---
If you have any comments, observations, or questions about what you read here, remember you can always Contact Me
All content included on this site such as text, graphics and images is protected by U.S and international copyright law.
The compilation of all content on this site is the exclusive property of the site copyright holder.
---
November
---
Lovely Produce at Phillips Farm Market
Tuesday, 17 November 2020
with more on Friday, 20 November
and Wednesday, 25 November
---
These days of covid-19 . . . Sigh. Numerous jobs lost with the shutdown of small stores. Restaurants have takeout or outdoor dining. Food pantries are overwhelmed. Local churches appeal for those that have food to share to donate, for the churches to distribute. Difficult times.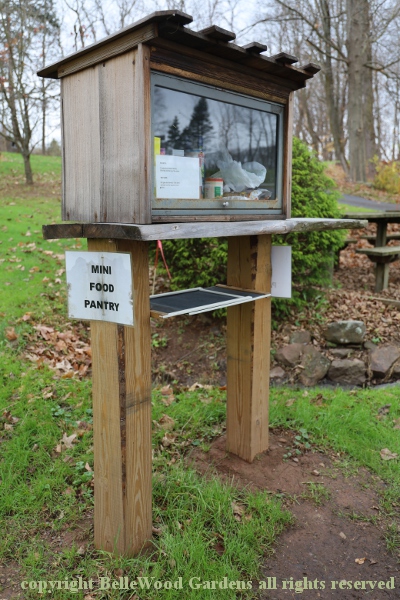 Akin to the Little Free Libraries, there's one church with a little free mini-pantry.
It is beside the driveway that's behind the church. Just drive up, anytime, to take
what you need. Now the weather is getting cold so items cannot be what freezes.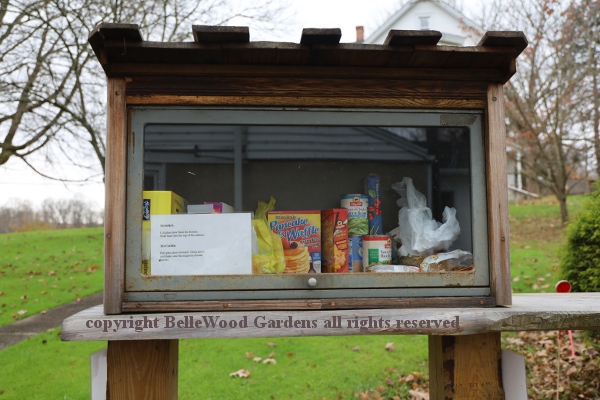 Costco has always sold in bulk, as a "member's warehouse" place.
Flour or rice in 25 pound bags, multiple cans of tuna fish. There's cost
and storage issues. Latest thing I've seen is post-apocalyptic buckets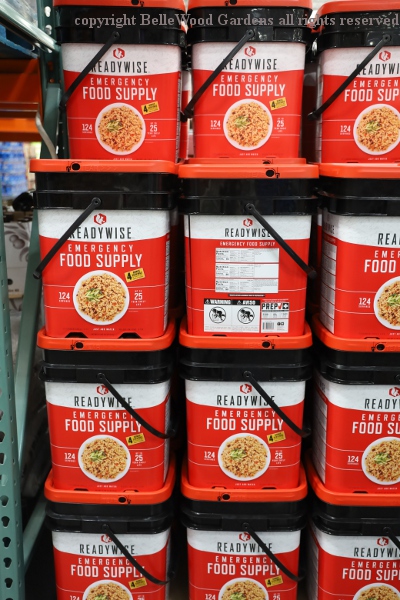 of long term storage food. Add boiling water to prepare. Not interested.
Fortunately for me we are, so far, doing well. I enjoy eating which means I need to enjoy cooking. And for that I need quality ingredients. In fact, now that I have found my way to Phillips Farm Market at 564 Milford-Warren Glen Rd (Route 519), Milford New Jersey I would happily say we are doing excellently well.They had a rather small farm stand at Church Road which is now permanently closed. The new farm market with the purpose built spacious building sells their own farm-grown fruits and vegetables as well as locally-sourced produce and products, also dairy, baked goods, eggs, etc. The spacious site has crop fields. They planted grape vines.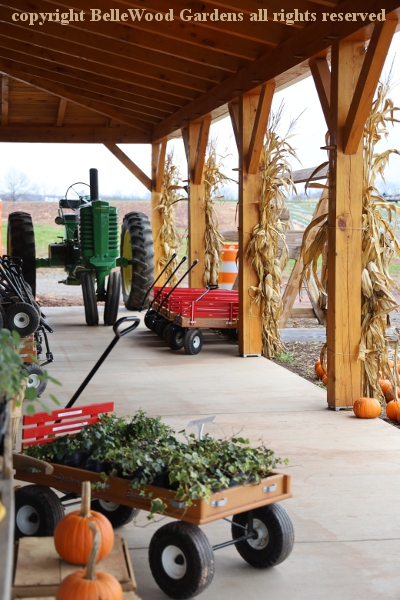 Come, let's take a look, outside and then inside.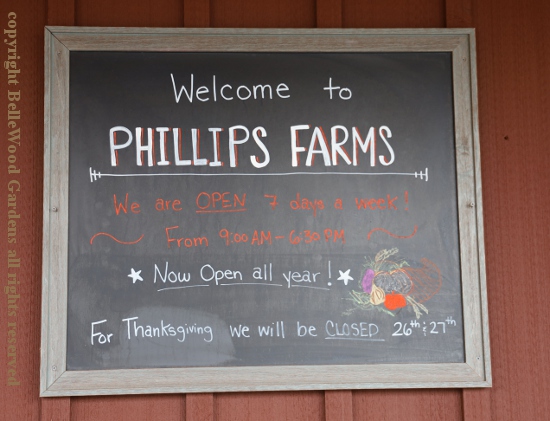 This is actually not quite correct. Their winter hours are now
Wednesdays through Sundays, from 9:00 a.m. until 5:00 p.m.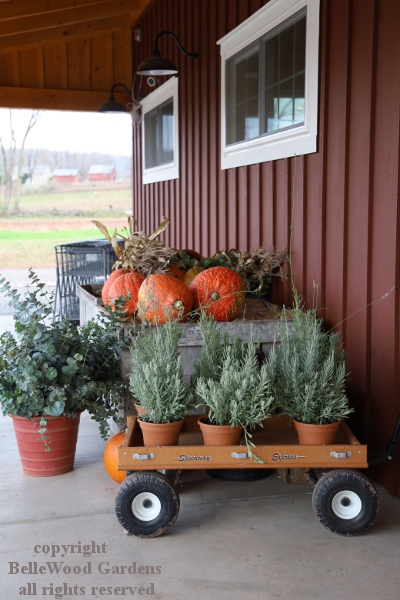 A wagon with Red Hubbard squash, bucket of eucalyptus, and potted herbs.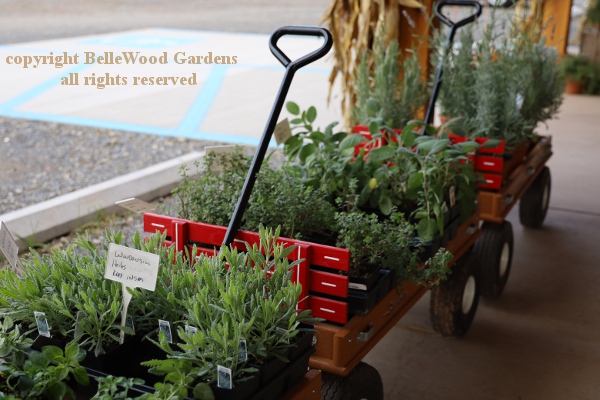 There are pots of what they call windowsill herbs: thyme, rosemary, sage.
Enough. Let's go inside. Be sure to bring a shopping cart - there's lots to buy.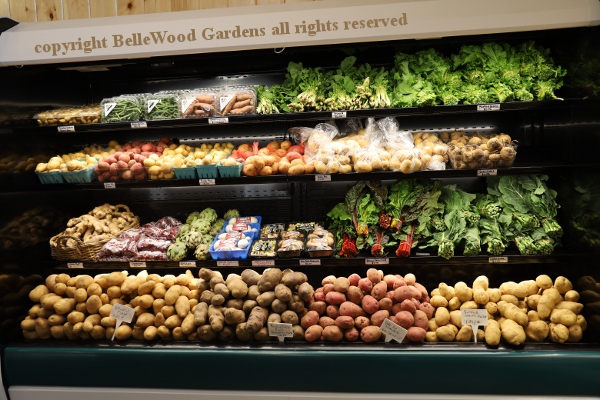 Straight ahead across the store - four different kinds of potatoes, more fingerling
potatoes, Swiss chard, other greens, and some "imports" - mushrooms and ginger.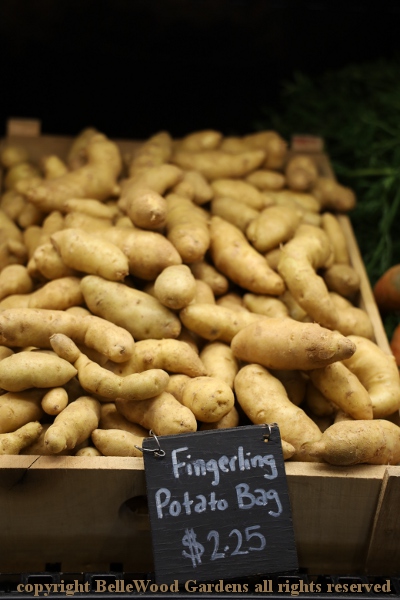 Fingerling potatoes are small, stubby, finger-shaped and naturally grow small and narrow.
They may be heritage potato cultivars. I like to oven roast them, which doesn't take long.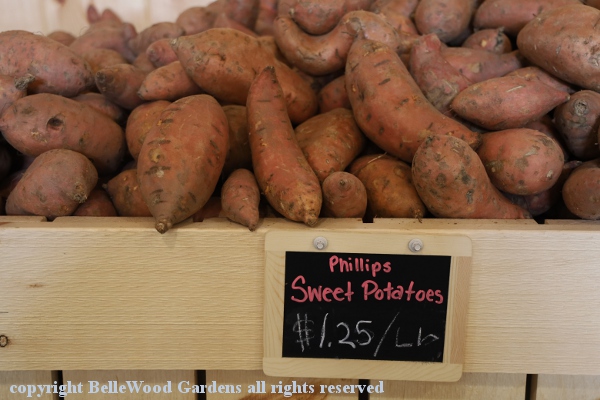 A bin of sweet potatoes. With Thanksgiving on the way these should sell well!

Several winter squash - butternut, delicata, and honey nut. Don't know that one.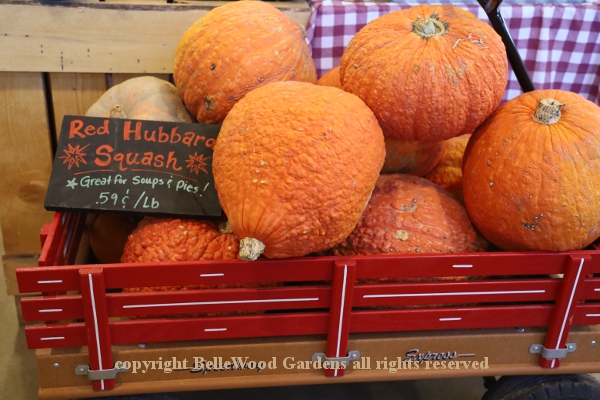 A wagon of Red Hubbard squash. These are a more reasonable size than the up to 40 pound
the gray skinned Blue Hubbard that I am more familiar with, and needed an axe to open up.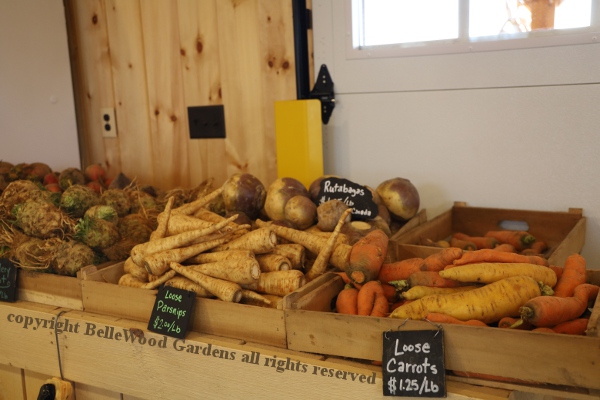 Beautiful root vegetables. From the left: celeriac (try cooking it remoulade, with a mustard
mayonnaise), parsnips in front, rutabaga behind, then carrots both orange and not-orange.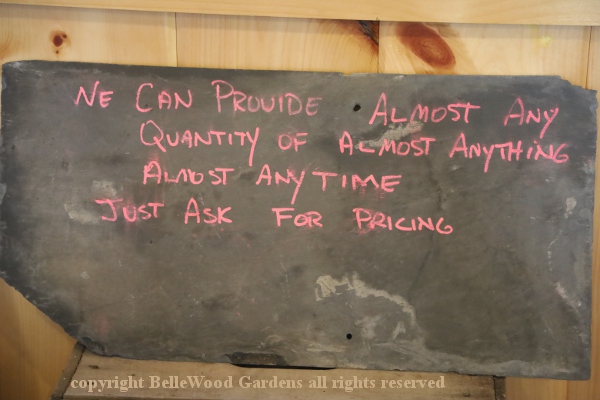 And if you are having An Event, the farm can provide
almost any quantity of anything at anytime.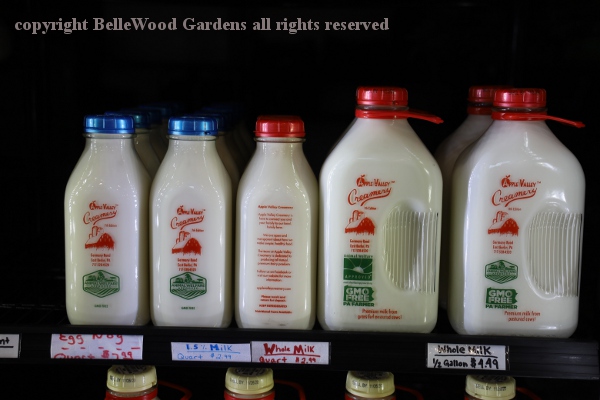 The refrigerator case has milk in glass bottle. Pay a deposit that
first time, then bring the bottle back for your next purchase.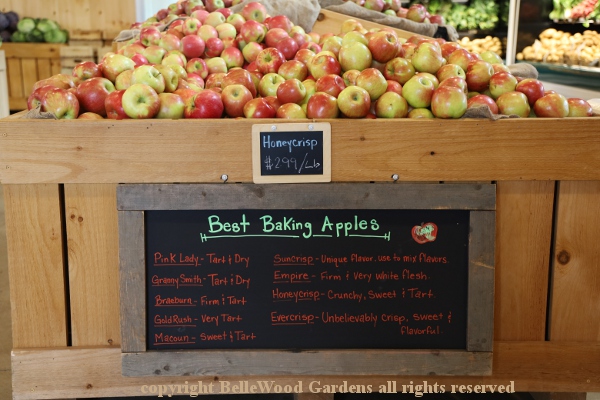 Beautiful apples for eating out of hand and for cooking. Not sure which
to use for what, there's a sign that explains the different cultivars to use.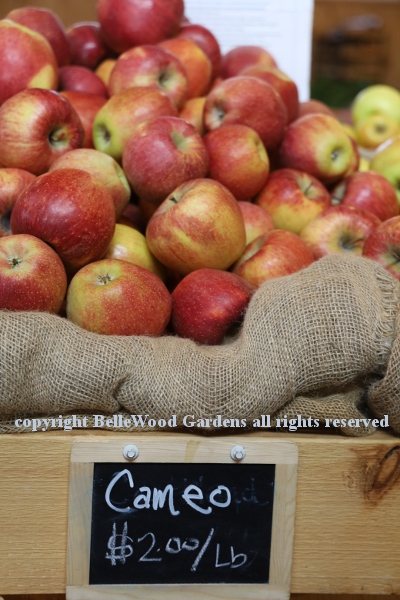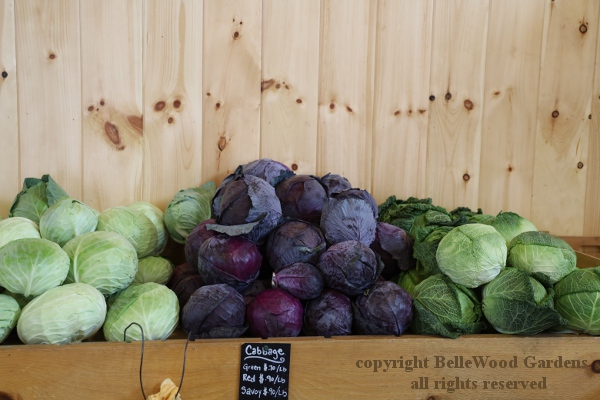 We are used to cabbages with color options. Typical green but red also.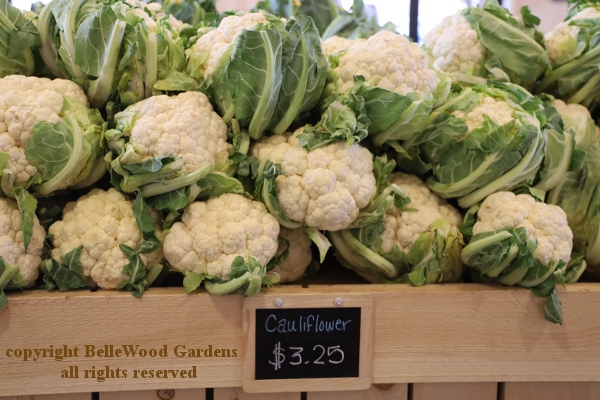 Cauliflower, on the other hand is most often seen as pristine white.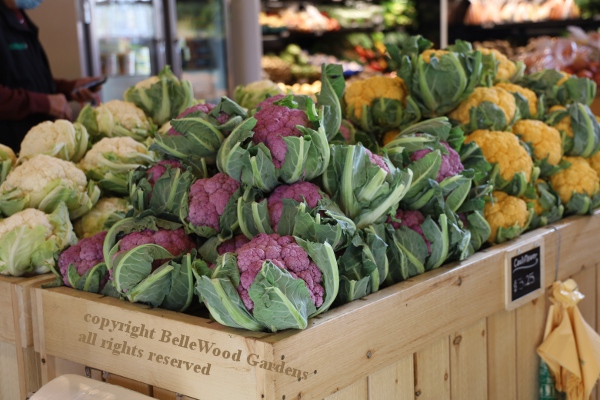 Not at Phillips, where cauliflower also come in golden yellow and royal purple.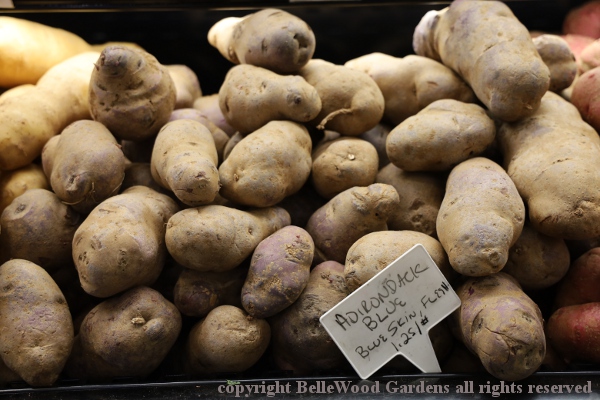 Potatoes, too, are available in vivid purple. These Adirondack Blue were developed
at Cornell and released in 2003. They made flavorful lavender blue mashed potatoes!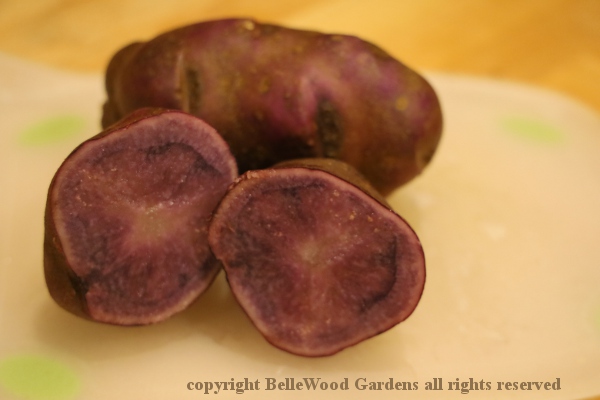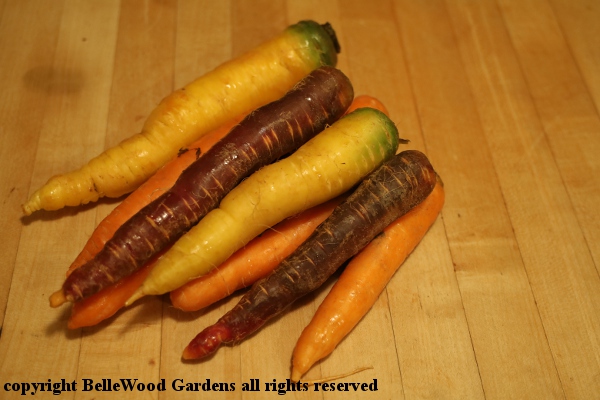 And let's not forget carrots. Orange became their most popular color after
William, sovereign Prince of Orange in the Dutch Republic from birth in 1650,
then William III, King of England and Ireland and William II of Scotland in 1689.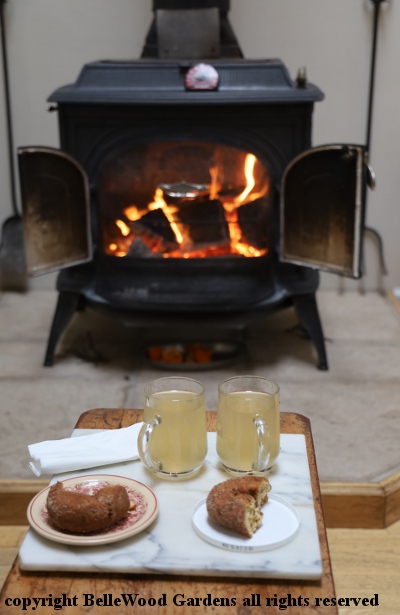 Enough. Produce put away. We sit in front of the wood burning stove. Not for tea
but our American autumnal afternoon refreshments of apple cider donuts and
honeycrisp apple cider. Both from Phillips Farm Market. Where I'm sure to return.
---
Back to Top
---
Back to November
---
Back to the main Diary Page