.
Garden Diary - February 2020
---
If you have any comments, observations, or questions about what you read here, remember you can always Contact Me
All content included on this site such as text, graphics and images is protected by U.S and international copyright law.
The compilation of all content on this site is the exclusive property of the site copyright holder.
---
February
---
Maple Syrup Making at Howell Living History Farm
Saturday, 22 February 2020
---
It's that time of year. Winter's grip is loosening up. I can imagine the trees stretching, their roots flexing in the soil and branches reaching up. This is true, in a way. Sap begins to rise from root to branch tip, readying the buds to swell and leaf out. That is, sap rises in mild sunny weather, then stops when it is cold. This is important if you enjoy the sweet treat of maple syrup. Tapping is best with warm sunny days and nights below freezing. Cloudy days, mild night temperatures mean there are problems.
Global warming is causing problems too. Once upon a time tapping sugar maples would begin late in February. Now, it can start in January. Used to be that further south could have suitable conditions for tapping, especially at elevation in the Appalachian mountains. Now, New Jersey is becoming the southern limit. Today, the Howell Living History Farm in Mercer County is hosting a public event on maple syrup, tapping trees and boiling down sap. Should you have missed it, there's a repeat next Saturday, February 29. Come, join me for today's events.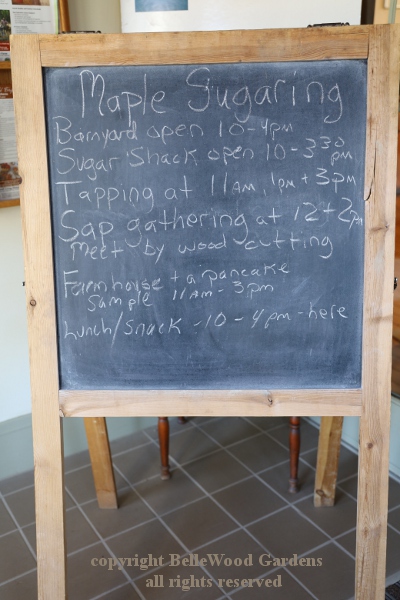 Park, walk over to the visitor center, and here a board with the listing of today's events.
What is meant by "tapping" at specific times is that that is when a docent will present an
informative talk, out in the sugarbush, answer questions and explaining how, why, what.
There's this about maple syrup. It is expensive. The reasons: limited production season, limited production region, and, on average, requires 40 gallons of sap to make just one gallon of syrup.
Leave the visitor center and walk up to the farmyard, passing a field of sheep,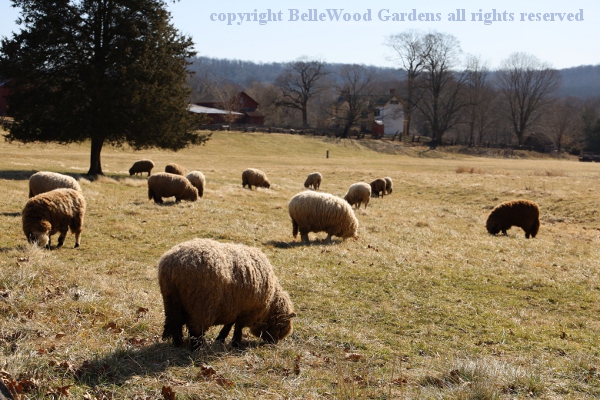 grazing on winter-dry grass. So quiet, I can hear the ripping sound as they pull each mouthful.


The barnyard has a goodly heap of split firewood. Staying in the period 1890 to 1910, the wood


is needed for the 1904 Glenwood stove in the farmhouse kitchen, where delicious food is made.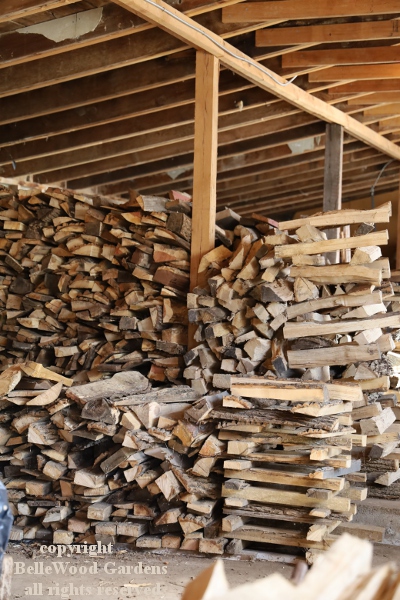 It is the sugar shack which consumes tremendous quantity of firewood to boil sap into syrup.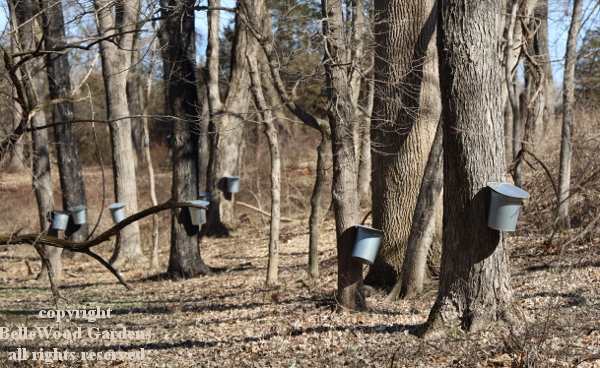 This is the period correct sugar bush, where trees are tapped with spiles and buckets.
A contemporary, 21st century sugar bush would use plastic tubing to collect the sap.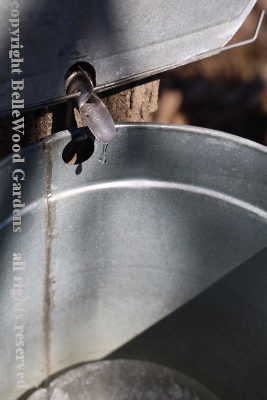 It is warm for February but still chilly. Last night was definitely cold.
Sap is rising on the sunny side of trees, slowly dripping drop by drop.


With Tom, one of the farm's Belgian draft horses pulling the sledge, Larry is emptying
sap buckets into metal cans. Not sure but these look like seven or eight gallon size.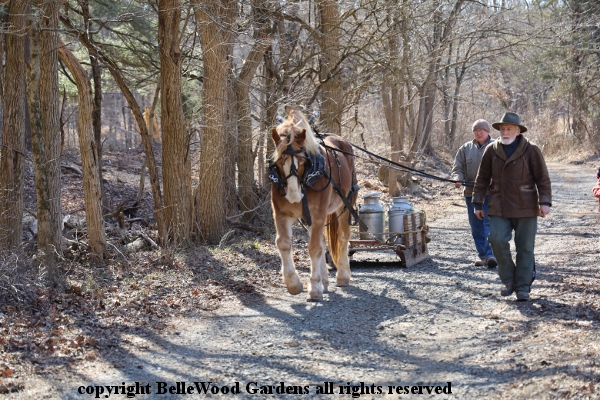 Joined by Pete Watson, Larry and Tom meet a gaggle of visitors of all ages.
Pete takes those who are interested into the sugarbush to explain things.

Having arrived at the sugar shack, Tom waits somewhat impatiently for
the heavy cans to be offloaded from the sledge. If these are eight gallon
cans, then their contents weigh about 64 pounds, plus the can's weight.

Instead of struggling to lift, then pour, a pump and hose use electricity to move the syrup
into the holding tank, observed by some visitors. Notice sap gushing from the red hose.
The evaporator is doing its job. Sap becomes syrup at 218½ ° Fahrenheit. That's a lot of water to boil off, at the 40:1 reduction. Before the steam hood and its vent stack were installed there'd be so much steam in the room that the men had to just about crawl on all fours to get beneath it, trying to see what was going on. This is much better, not just for them but also for the visitors. Maple sugaring is just about the most popular event here at Howell Living History Farm.
A docent has collected a group of visitors out by a field next to a sugar maple. She's explaining about how and when to tap the trees, collect the sap, boil it down, and more.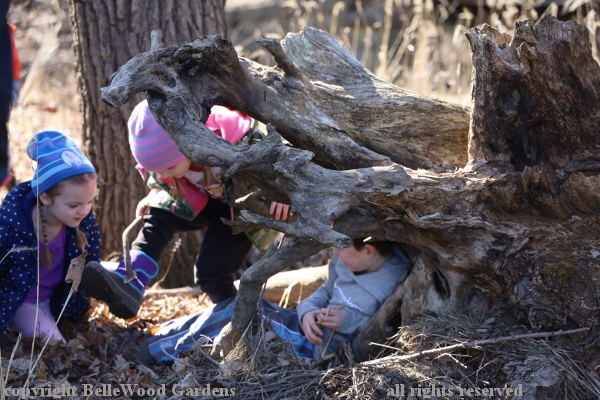 Three little winter fairies aren't very interested. I think they might just be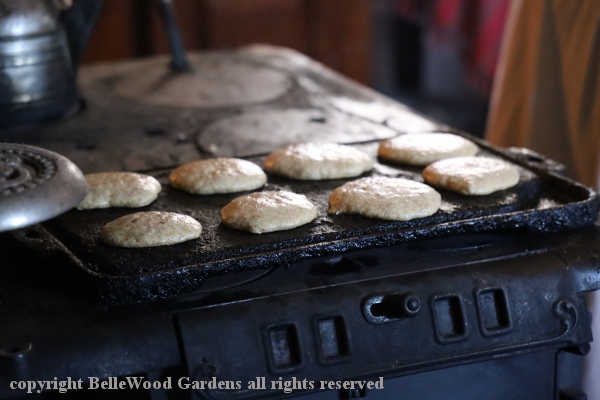 .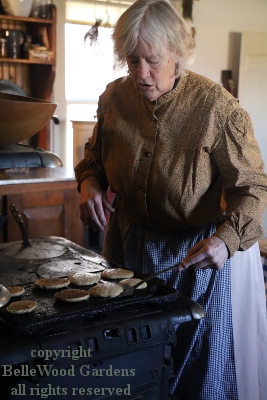 more interested in the pancakes being made in the farmhouse kitchen. The wheat was grown
here on the farm, then taken to Lancaster, Pennsylvania to be ground into whole wheat flour.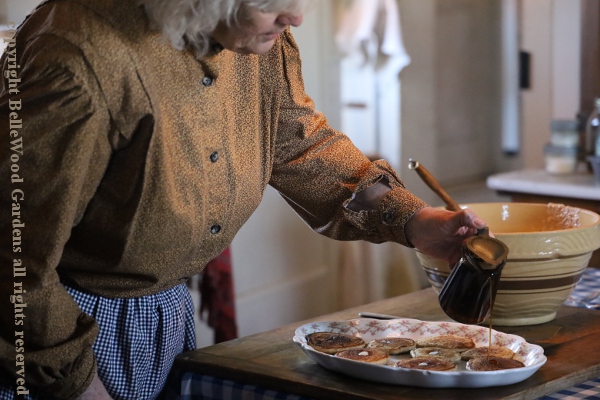 And the pancakes cooked on the griddle are finished with a dollop of real maple syrup made
here on the farm. 100% pure maple syrup, not a need-to-read-the-label maple corn syrup blend.
Here at Howell, it's all real. Always.
There will be another maple sugaring event on Saturday, 29 February 2020.
Otherwise, you need to wait until next year. See you then, down on the farm.
---
Back to Top
---
Back to February
---
Back to the main Diary Page