.
Garden Diary - June 2020
---
If you have any comments, observations, or questions about what you read here, remember you can always Contact Me
All content included on this site such as text, graphics and images is protected by U.S and international copyright law.
The compilation of all content on this site is the exclusive property of the site copyright holder.
---
June
---
Janet's Victorious Vegetable Garden
Friday, 12 June 2020
---
You have no doubt noticed that Covid-19 has been having an effect beyond the disease. Toilet paper quickly became a major "empty shelf syndrome" item, along with yeast and flour. As social distancing, just stay home, work from home, became the new normal it turned grocery shopping into an exciting event: prepare a list, arrive at store ready to mask up, disposable gloves, sanitizing wipes - and hope that the items on your list would be available for purchase.
Cannot manufacture toilet paper at home. No, only use it. There were articles about the Victory Gardens of World War II. And people decided that a victory garden was the very thing to do. They would grow their own vegetables! They bought seeds at big box stores. They mail ordered seeds from Burpees and Johnny's Selected Seeds and Renee's Garden with such enthusiasm that the mail order sources could not handle the demand. Orders that typically were promptly shipped had lengthy delays.
There's another issue. Once upon a time many families had a vegetable garden, or had relatives or neighbors with one. Today it might be a pot or three of tomatoes. So the practical, hands-in-the-dirt knowledge of how to grow a diversity of vegetables is limited. Tools. Fertilizer. Soil preparation. It's not like you can just make a hole in the lawn and plop in seeds. But there are those who do have gardens and do know what they are doing. Like my friend Janet.
Janet has been tending an exemplary vegetable garden for many years, for decades. She keeps journals of what's been planted, when it was planted, how it cropped. Starting back in March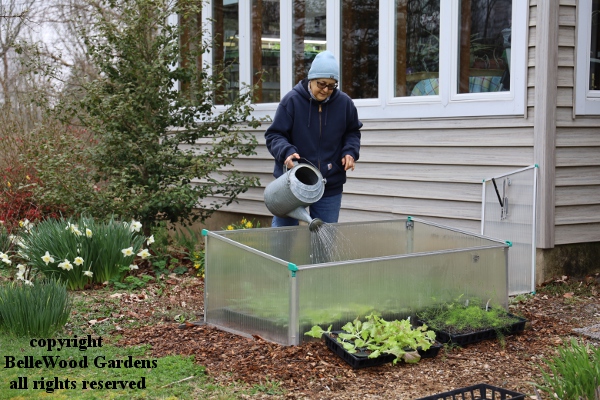 when some seeds were started under grow lights, now hardening off in a coldframe. Vegetables like early lettuce. And artichokes. An aside: Artichokes flower their second year, but we're too cold for them to winter over. An early start ensures the long growing season they need to flower. Not that the novice vegetable gardeners are likely to be looking beyond warm weather crops such as tomatoes, squash, beans, and broccoli. By May the local community Facebook pages have urgent requests for where to buy seeds, where to find transplants. Now that they are looking the stores are out of stock. Supply chain issues.
Now it is June. And Janet tells me to come for strawberries and lettuce.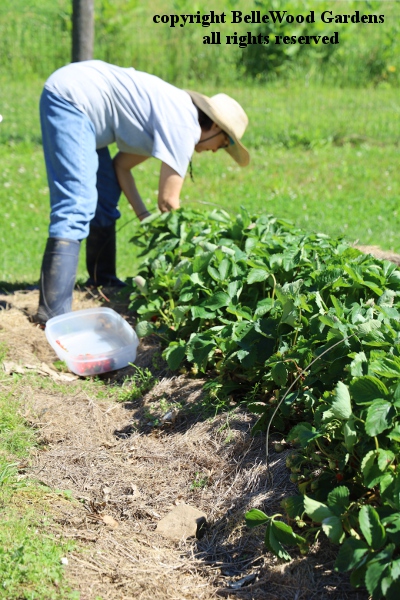 Usually she plants two rows of strawberries. This year she has three
because one of the previous year's rows was doing to well to rip out.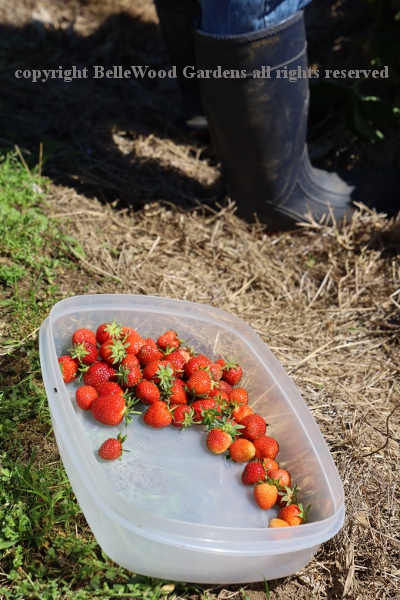 And of course one of the very best summertime ways to enjoy them -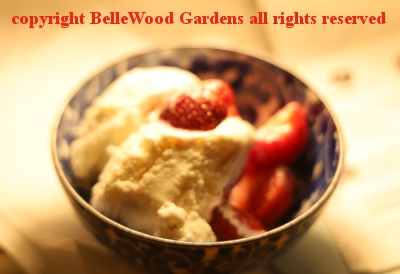 slice some strawberries and toss with sugar in a bowl.
Top with vanilla ice cream. Enjoy the taste of summer.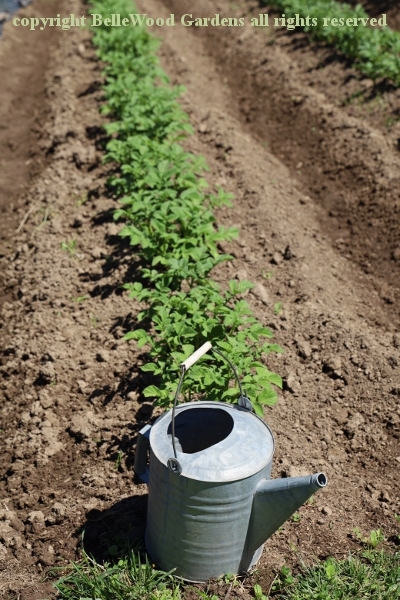 A row of potatoes. Everything shifts, from year to year. So potatoes, tomatoes, eggplants, and peppers are planted in rows where some other, unrelated vegetables were grown last year. This simple technique avoids issues with diseases and soil nutrient depletion. Like I said, it is not as simple as tearing up the lawn and planting vegetables.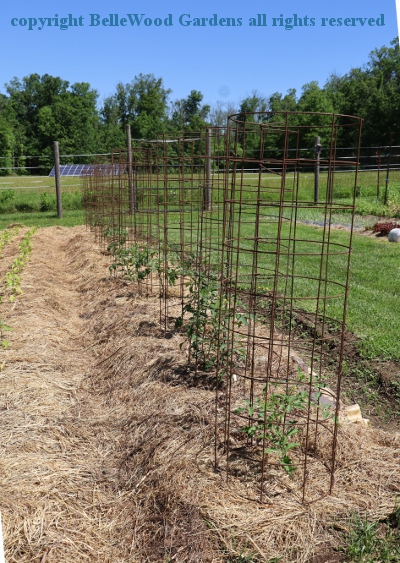 The tomato plants are still young but have already been caged, a chore
in preparation for their late summer bounty of delicious, luscious red fruit.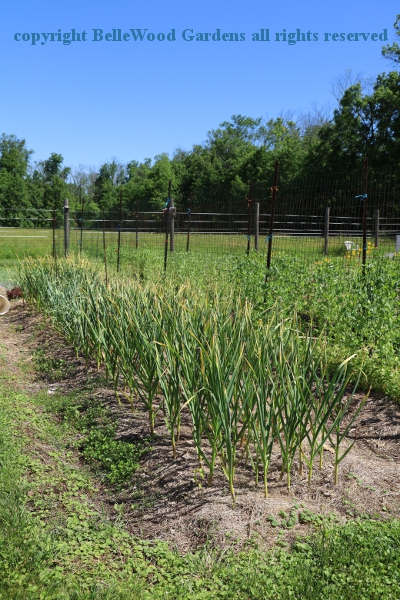 Garlic, planted last fall, is showing its maturity with the browning
of their leaves and the formation of flower scapes. I cut some to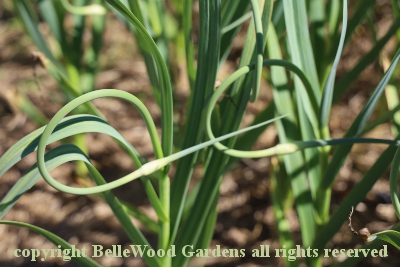 take home with me. I cook with them, and pickle too.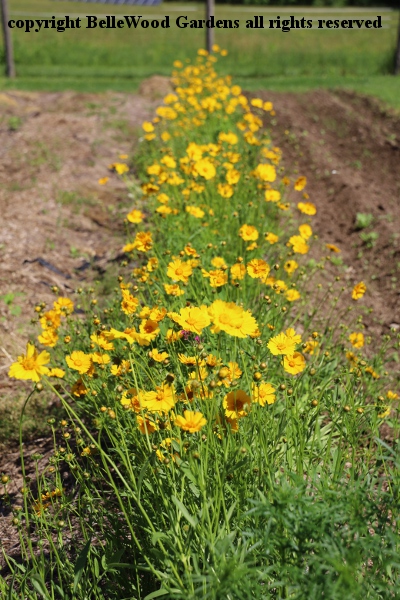 Janet's garden is welcoming to pollinating insects,
as this row of bee-friendly coreopsis clearly indicates.

I was puzzled by this row of what-the-heck-is-it. "Oh,"
said Janet, "it's kale, gone to seed. Goldfinches love it."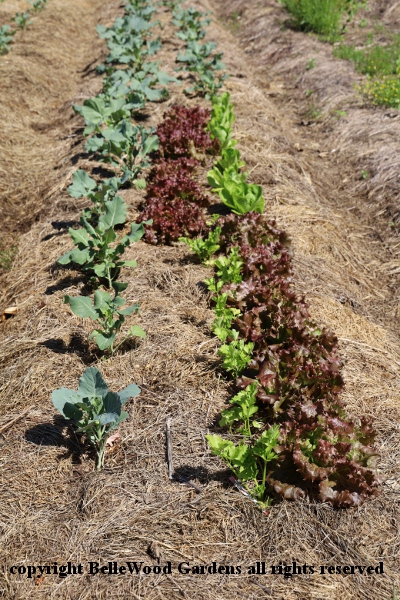 A row of broccoli, on the left. To the right, tender red leaf lettuce and celery. Janet is concerned about the broccoli. We had several quite chilly nights in May, and the broccoli "buttoned," which means the young plants made tiny, button-like heads. She went along the row and snapped them off in the hope that the plants will continue to grow and make the normal, branched heads. Time will tell.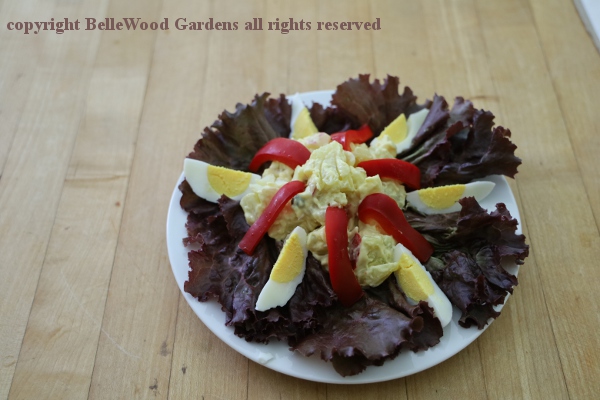 I was sent home with some of the lettuce. And we had a splendid lunch of potato
salad (home made, of course) and hard boiled egg deliciously displayed on the
lettuce (which was also happily eaten when we got down to its supporting level.)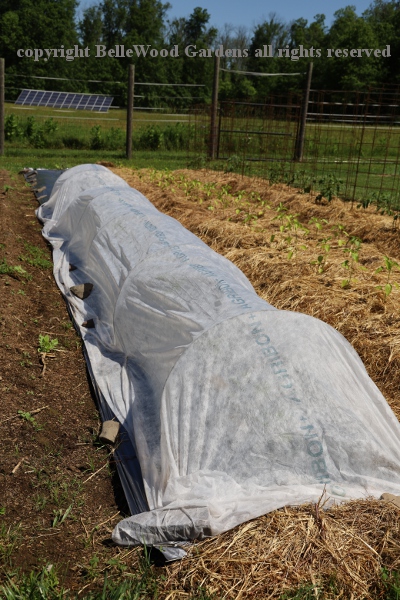 Fleece covering the eggplants. Not that they're cold. It protects from flea beetles.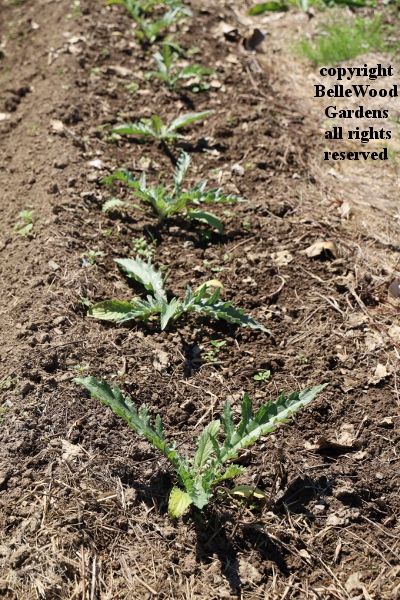 Artichokes, started lo those many months ago are now beginning to look
like actual plants. They still have months to go before actually producing.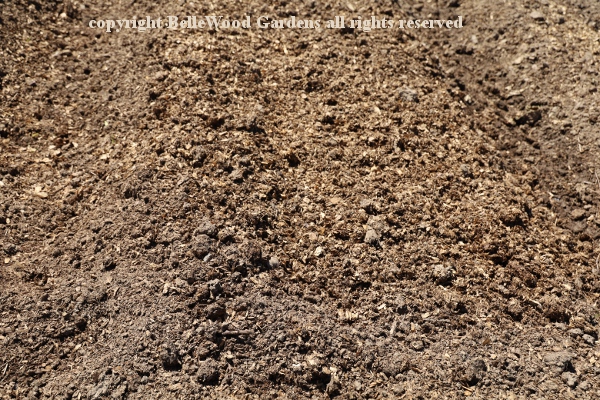 Well manured ground. Holds moisture without getting soggy. Till the soil,
prepare the ground, and then: sow, weed, water, work. Victorious garden.
---
Back to Top
---
Back to June
---
Back to the main Diary Page