.
Garden Diary - December 2020
---
If you have any comments, observations, or questions about what you read here, remember you can always Contact Me
All content included on this site such as text, graphics and images is protected by U.S and international copyright law.
The compilation of all content on this site is the exclusive property of the site copyright holder.
---
December
---
Greenfeast: Autumn, Winter, a book review
Tuesday, 29 December 2020
---
A recent December visit to my friend Janet, she of the exemplary vegetable garden, sent me home with potatoes, sweet potatoes, and carrots. She apologized for making me wait while she gathered the lovely produce. "They're stored all over the house." she said. "Sweet potatoes where it is warmer, carrots on the bulkhead stairs where it stays a few degrees above freezing. And the potatoes somewhere dark and cool."
Once upon a time we ate what was seasonally available and produced locally. Air transport changed things. Bananas and oranges are now commonplace, year round , rather than luxurious winter holiday treats. Asparagus in autumn, flown up from South America. But as the seasons change, so too does what I enjoy cooking and eating. Short winter days, long slow cooked dishes.
With Greenfeast: Autumn, Winter, Nigel Slater has a book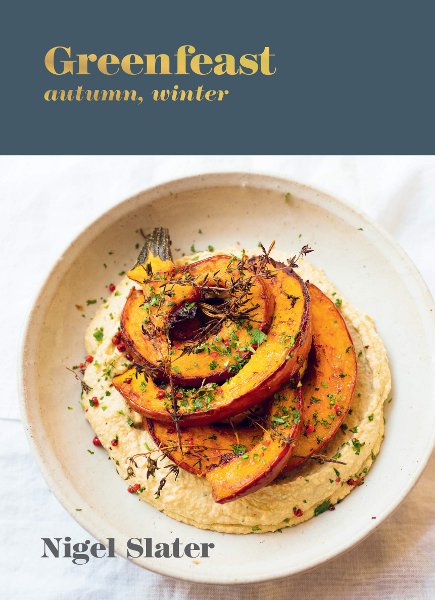 photograph copyright 2020 by Jonathon Lovekin
that's just right for this time of year.
There's a lovely opening introduction, discussing the changes in the weather, an increased use of the oven, more use of carbohydrates. Yes, as you should expect from a cookbook named "Greenfeast" it is vegetarian, with a fairly heavy use of dairy. Discussion of two Winter Basics, stock and porridge. The first, made from onions, celery, carrots, and miso paste, slowly simmered for an hour with thyme, bay leaves, and shiitake. Drink it as a restorative broth, use it as a base for a soup, use it wherever stock would be appropriate.
Nigel has a way with words. Writing about winter porridge he calls it "An oat-based slop . . . A sort of internal down coat . . . with bells and whistles; a trickle of treacle, . . . ribbons of maple syrup . . ." Lyrical while being encouragingly informative.
Many cookbooks divide their recipes by ingredient, here a section for potatoes, there another for onions. Greenfeast divides its chapters by technique. Reminding me of "If you give a mouse a cookie" there are chapters for In A Pan, On Toast, In the Oven, On a Plate, and so forth. Fortunately if you are staring at the three small recently purchased rutabagas and wondering what to do with them, there is a good index.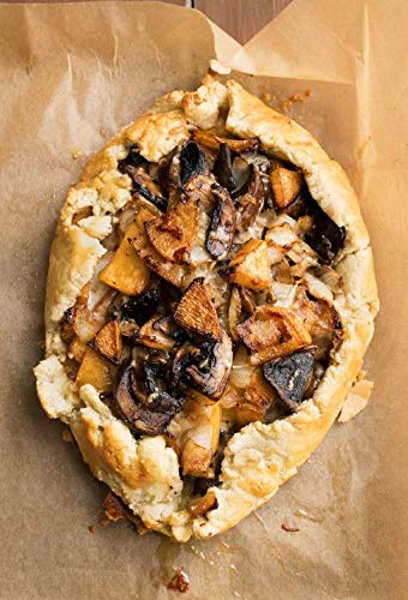 photograph copyright 2020 by Jonathon Lovekin
Perhaps "Herb scented, rib-sticking filling. Crumbly pastry." on page 154
with brown button mushrooms, onion, Gruyère cheese. And rutabagas.
Recipes are on left hand pages, paired with a colorful photograph on the facing page. Simple and elegant plates and pottery, plain white or beautifully rustic earth tones display the food without distracting from it. Quantities for most ingredients are given in weight (both pound and metric), spices and liquids by volume (teaspoons and cups.) But even within a recipe there may be omissions. Onions, in particular, are suggested by quantity but not by weight even if the cauliflower or cabbage in the same recipe does have a suggested weight.

The recipe I decided to try was this interesting one
for roasted cauliflower with an onion and milk sauce.
There is a wonderful farm market in the next town over. Excellent produce.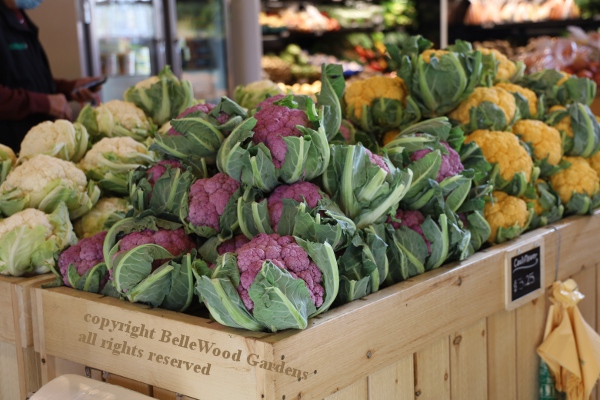 They have colorful cauliflower, in purple and gold as well as white.
Since the cauliflower is oven roasted, I chose a traditional white.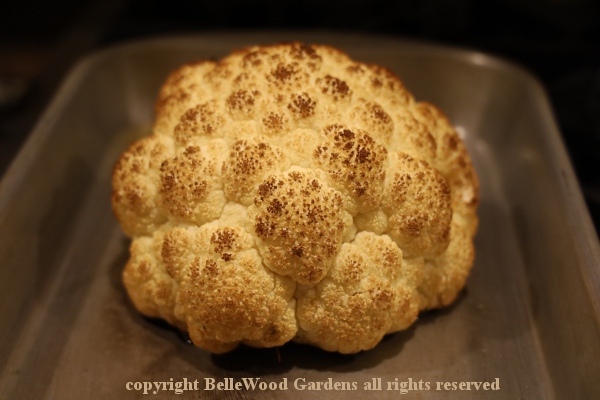 Roasting it not a technique I have ever considered for cauliflower. Mine, doused with oil and roasted for an hour at 450° Fahrenheit was definitely done when tested with a skewer but not as nicely evenly golden as that in the illustration. While it roasted I made the sauce of slowly sautéed roughly chopped white onion. Added milk, brought to a boil then turn off the heat while infusing with bay, cloves, and black peppercorns. Let me note that I decided to make half the suggested quantity of onion sauce and there was ample.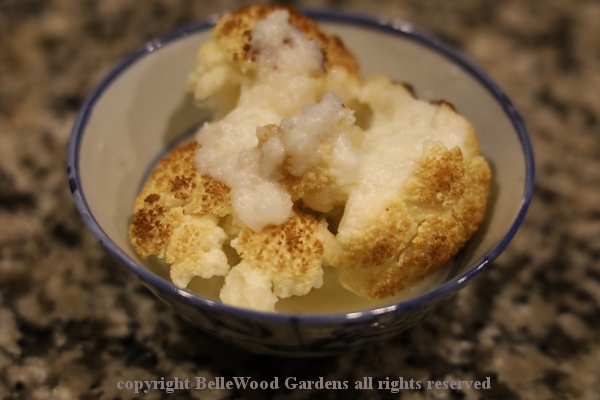 Nigel makes mention, early on in the book, that main dishes are intend to serve two people but desserts (in the last chapter) are for four servings. A 2 pound 2 ounce cauliflower has the bulk for two servings but I don't know that it would be a meal. When I make this again I think I will cut the cauliflower into large florets, adjust the time, and perhaps rather than just an initial pour of olive oil I will douse it a couple of times.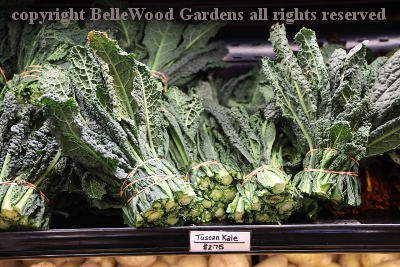 .
I very much like winter greens such as Tuscan kale, cavolo nero, and the more tender rainbow Swiss chard with its bright hues. There's a recipe on page 220 for pearl barley, kale, and goat cheese that sounds simple, simply delicious, and filling. Nigel suggests options: orzo pasta instead of the barley, almost any brassica instead of kale, mozzarella to "add strings of cheesy joy to the barley, as would Fontina."
There are similar little suggestions scattered here and there throughout the book. If you happen to find smoked almonds elusively not to be found, for the slightly pickled red cabbage and carrot salad, fret not. There are a couple of sentences at the bottom of the recipe on page 140 that tells how to make your own.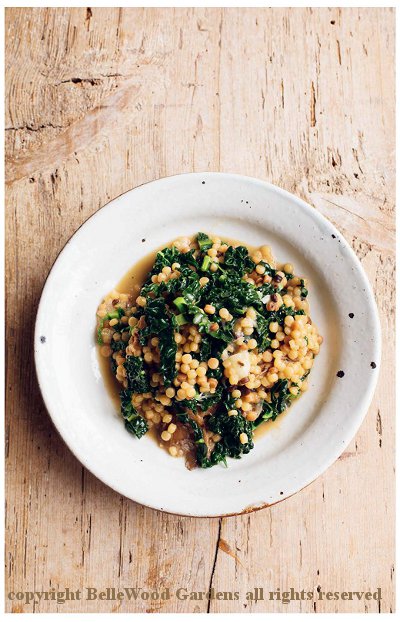 There's another recipe for greens, this one with fregola and pecorino.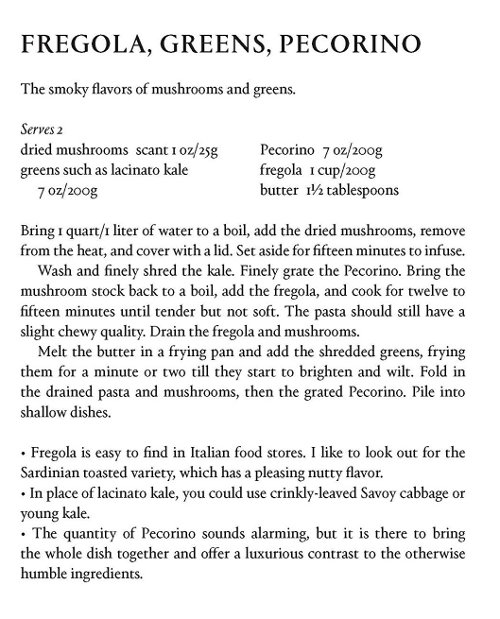 Tuscan kale is readily available, as is the suggested substitution of crinkly leaved Savoy cabbage. Fregola - that's another matter. Easy to find, writes Nigel, in Italian food stores. If only there were any such in my semi-rural neighborhood. I will likely end up substituting couscous. The larger varieties should work perfectly well as a substitute. Both are dried pastas.
The recipes read very nicely. Not unduly complicated, nor with a plethora of ingredients per each. I will snark at the very few that call for a fresh tomato. At this autumn, winter time of year I find tomato-shaped vegetable products in the stores, nothing like the height of summer version, satin skinned, bursting with juice and flavor.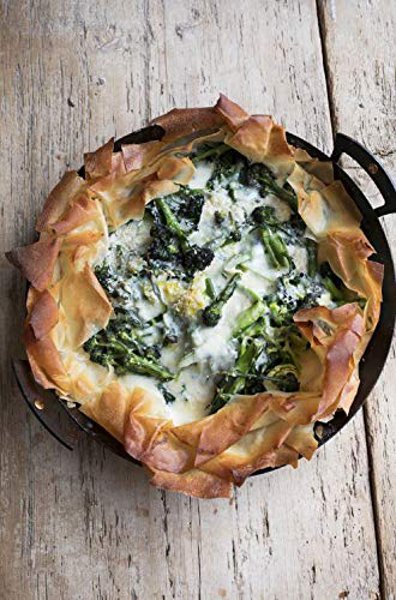 photograph copyright 2020 by Jonathon Lovekin
Recipes such as one that combines filo pastry with cheese and greens
certainly offer delicious options for autumn, winter vegetarian feasts.
Greenfeast: Autumn, Winter
by Nigel Slater
published by Ten Speed Press, an imprint of Random House,
a division of Penguin Random House LLC, New York
Hardcover, ISBN: 978-1-984-858-733, $26.00,
First U.S. Edition released 2020
A review copy of this book was provided by the publisher.
---
Back to Top
---
Back to December
---
Back to the main Diary Page