.
Garden Diary - May 2020
---
If you have any comments, observations, or questions about what you read here, remember you can always Contact Me
All content included on this site such as text, graphics and images is protected by U.S and international copyright law.
The compilation of all content on this site is the exclusive property of the site copyright holder.
---
May
---
Flowers Around Town in May
---
Since the seriousness of covid-19 became apparent early in March people have pretty much been isolating at home, other than expeditions shopping for groceries and similar necessities. Occasionally I drive or Himself drives me in a loop around town to photograph what's in flower. I take some images from inside the car, others from just outside the car. Fewer vehicles on the road, occasionally a person walking or bicycling. Let me share what I have seen.
There are links to other months and their flowers at the bottom of this entry.
---
Thursday, 21 May 2020
Noticed this splendid purple rhododendron when at the Frenchtown Market for my every week to ten day shopping spree. But my camera is no longer my constant companion because with mask and gloves and bleachy washcloth I don't know how I would mange to take pictures. So a special trip was made, just for the picture.
---
Monday, 18 May 2020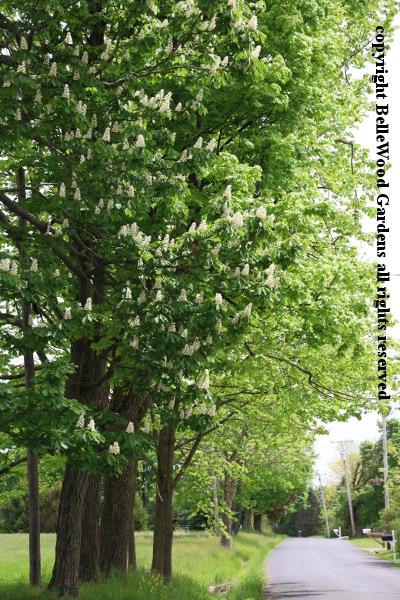 A lovely mature horse chestnut, Aesculus hippocastanum on Ridge Road. The fresh, tender green leaves look perfect at this time of year. Later on the leaves often turn brown from fungal disease.

Detail of branch, leaves, flower clusters
and a closeup of a single flower truss.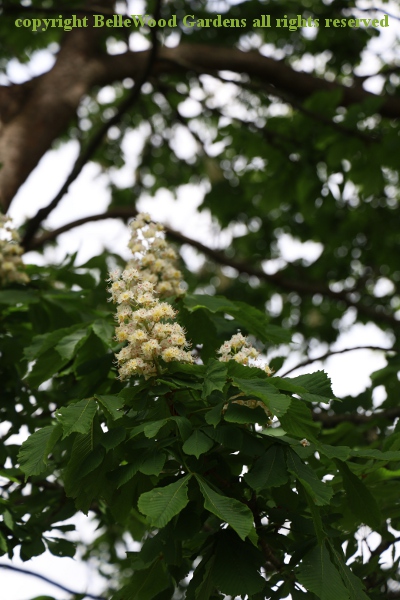 ---
Thursday, 7 May 2020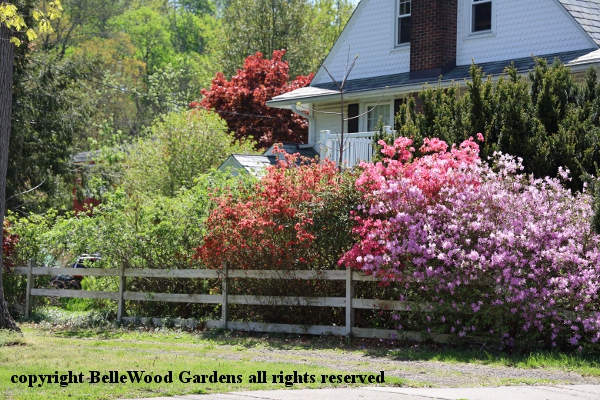 Some floriferous azaleas crowding against a fence in Frenchtown,
noticed as we drove along the Milford-Frenchtown Road.
Go to Flowers Around Town in March
Go to Flowers Around Town in April
Go to Flowers Around Town in June
Go to Flowers Around Town in July
---
Back to Top
---
Back to May
---
Back to the main Diary Page